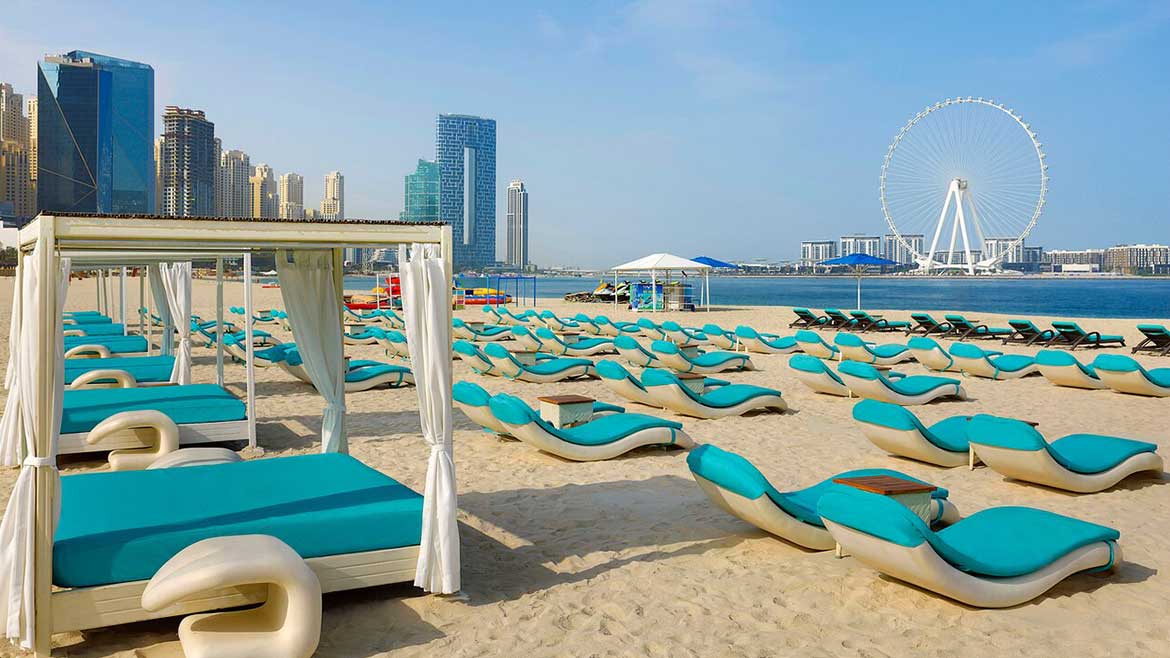 Top-Rated Beach Resorts in Dubai
Dubai is well-known throughout the world as a posh vacation destination. The emirate has miles of beaches and a natural coastline, as well as enormous artificial archipelagos, making it a fantastic beach vacation location. The World Islands development & the 3 Palm Island projects are made up of these groups of artificial islands (Palm Jumeirah, Palm Jebel Ali & Palm Deira).
Although Dubai has miles of Persian Gulf (also known as the Arabic Gulf) coastline, many seaside resorts are located in the recognisable Palm Jumeirah & JBR – Jumeirah Beach Residence. These places have a lot of affordable and a few luxury seaside resorts. With our list of the top beach resorts in Dubai, you can discover your new favorite beach side resort to stay.
Explore the Best Luxurious Beach Resorts in Dubai
All of the most well-known deluxe hotel chains in the world have branches in Dubai, and some of them have more than one. On the Palm Jumeirah, there are many lavish beach resorts that offer luxurious accommodations, a variety of eating options, and an abundance of water and beach activities.
Burj Al Arab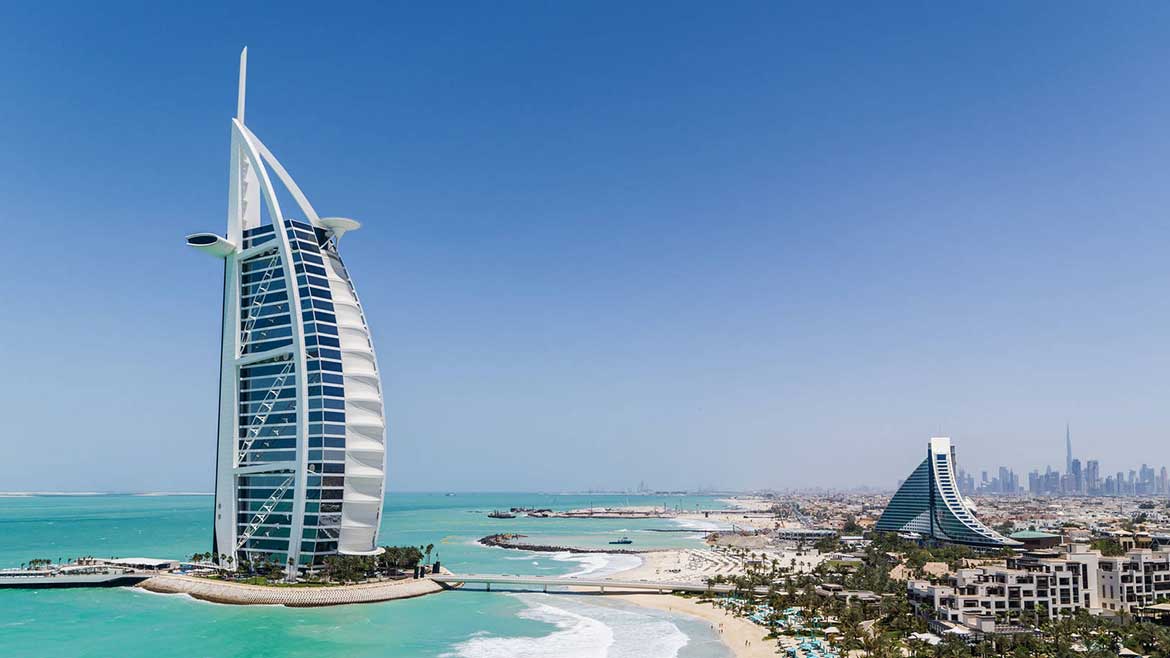 The iconic Burj Al Arab Jumeirah, one of the iconic beach resorts, must feature on any ranking of Dubai's luxurious beach resorts. It is regarded as the world's finest hotel and the only one with 7 stars (two more than 5 stars). In addition to being well-known for its stunning sail-inspired design, the lavish retreat is located close to Jumeirah Beach on a small peninsula just off the coast. The massive structure has 201 duplex apartment units and the tallest atrium in the world at its center. When you arrive, your attendant will unpack your luggage, make meal or travel plans, and even plan your bath.
The Burj Al Arab Terrace is an artificial beach that leads into a large infinity pool directly next to the ocean. You feel as though you're diving into the ocean, but with all the safety and luxury of a pool. There are nine distinct restaurants and various dining options available to you.
When you're about to leave the premises, you can drive or be driven in one of the hotel's fleet of exotic supercars, which includes Aston Martin, Rolls-Royce, Ferrari, and Lamborghini. Or perhaps arrange a trip on the Burj's private boat for the afternoon.
Address: Umm Suqeim 3 – Dubai – United Arab Emirates
Phone: +971 4 301 7777
Atlantis, The Palm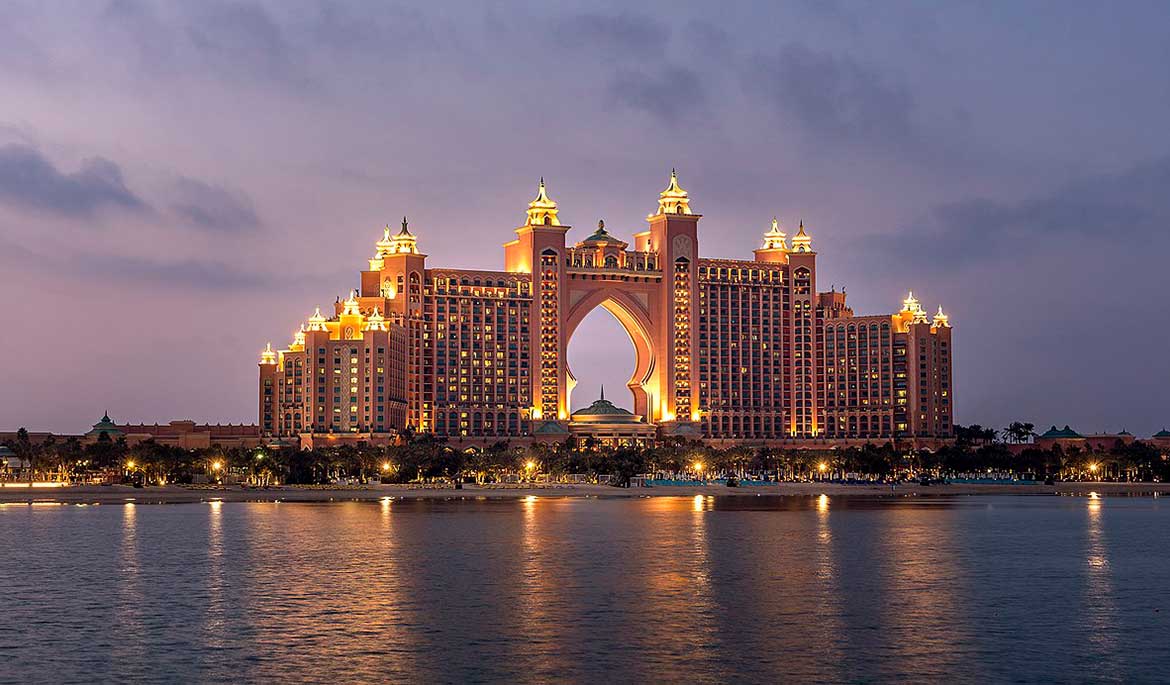 The sprawling Atlantis, The Palm, arguably the one of the world's most luxurious beach resorts, is located on the top of the Palm Jumeirah development, with its iconic middle open portion facing the Persian Gulf. It resembles a huge tan palace that serves as an entryway to Dubai.
With options like Signature Suites, which feature "underwater" suites with glass walls that face into one of the resort's aquariums, the rooms are truly spectacular. The classic Royal Bridge Suite, the most costly one in Dubai, is located above the hotel's enormous open portion. With places like the The Lost Chambers Aquarium, Aquaventure Waterpark, Dolphin Bay, and Sea Lion Point on-property, it's more than just a seaside resort; it's also an amusement & water park and an aquarium. You can even get into the ocean and swim (snorkel, scuba, or dive with an Aquatrek helmet) inside one of the aquariums, the Ambassador Lagoon.
Address: Crescent Rd – The Palm Jumeirah – Dubai – United Arab Emirates
Phone: +971 4 426 2000
The Ritz-Carlton, Dubai
One of the lavish beach resorts in Dubai is situated on a private tract of JBR shoreline in the Marina neighborhood. You receive a luxurious, all-inclusive seaside resort experience with renowned Ritz-Carlton service that is convenient to anything and everything when you want to explore. The outdoor mall JBR The Walk is just a few meters away. The 294 rooms and suites at The Ritz-Carlton Dubai are decorated in a lavish manner with noticeable Arabic influences. All the rooms have furnished external balconies or terraces. There are Club Rooms available, which include entry to the Club Lounge and extra perks like in-lounge check-in & complimentary breakfast, lunch & mid-afternoon hors d'oeuvres.
The suites are extremely lovely and spacious, and they all have sizable sea view terraces or balconies that function as outdoor living spaces. There are family suites available with two bedrooms and 2 bathrooms. Along with being well-liked by hotel guests, the lavish hammam-based spa, The Ritz-Carlton Spa, offers a wide variety of skin and body treatments. You may spend your entire holiday in Dubai at the Ritz-Carlton resort since there are 9 different restaurants there. Among the culinary highlights are Amaseena's outdoor Bedouin-style dining experience and Blue Jade's Asian cuisine with Vietnamese influences. 
Address: Ritz-Carlton Hotel Company | Jumeirah – Dubai – United Arab Emirates
Phone: 971 4-399-4000
So, are you ready to explore the above-listed beach resorts in Dubai? Visit these and find out which one you like the most. Keep visiting Dubai Local for more information like this. Happy vacation!