The Best Fragrance Perfume Shops in Dubai: Top 2023 Updated List
7 Best Fragrance Perfume Shops in Dubai You Should Definitely Visit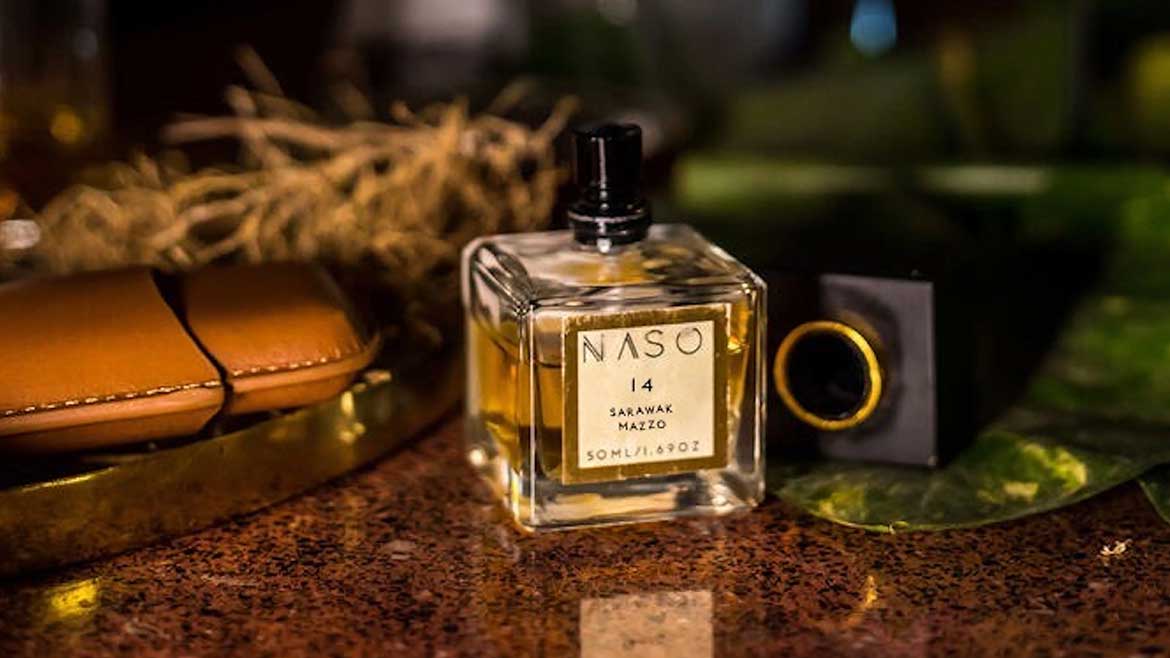 Dubai is renowned for providing some of the  fragrances, perfumes, and oils. There are many shops that offer popular and reputed brands to ensure you get total value for the money.
With that said, the shops mentioned below are in no particular order. Yet, rest assured that they offer the best when it comes to perfumes.
Ajmal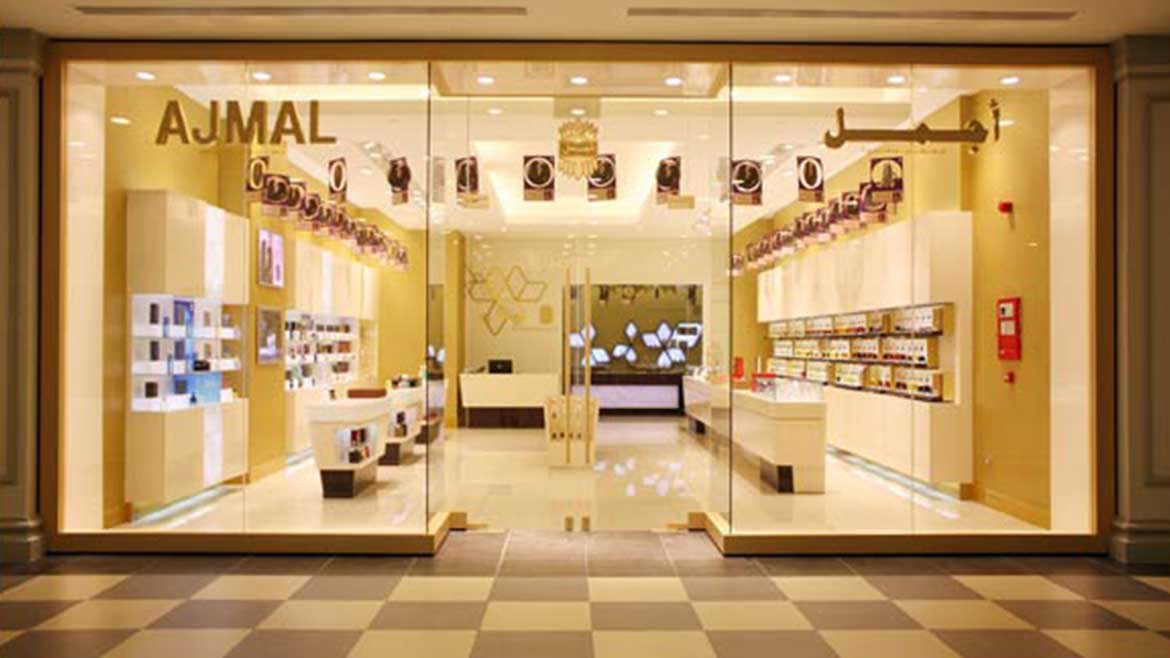 Launched in 1951, Ajmal is one of the oldest and most popular brands providing more than 300 types of fragrances. What makes it the best fragrance perfume shops in Dubai is their collection of signature and assorted perfume oil blends. They also have a collection of unisex perfumes, known as Qafiya. Ajmal also exports perfumes to more than 40 countries. Some of the in-demand perfumes launched by Ajmal are Aurum winter, Amber Poivre, Incense Wood, and Verde.
Nabeel Perfumes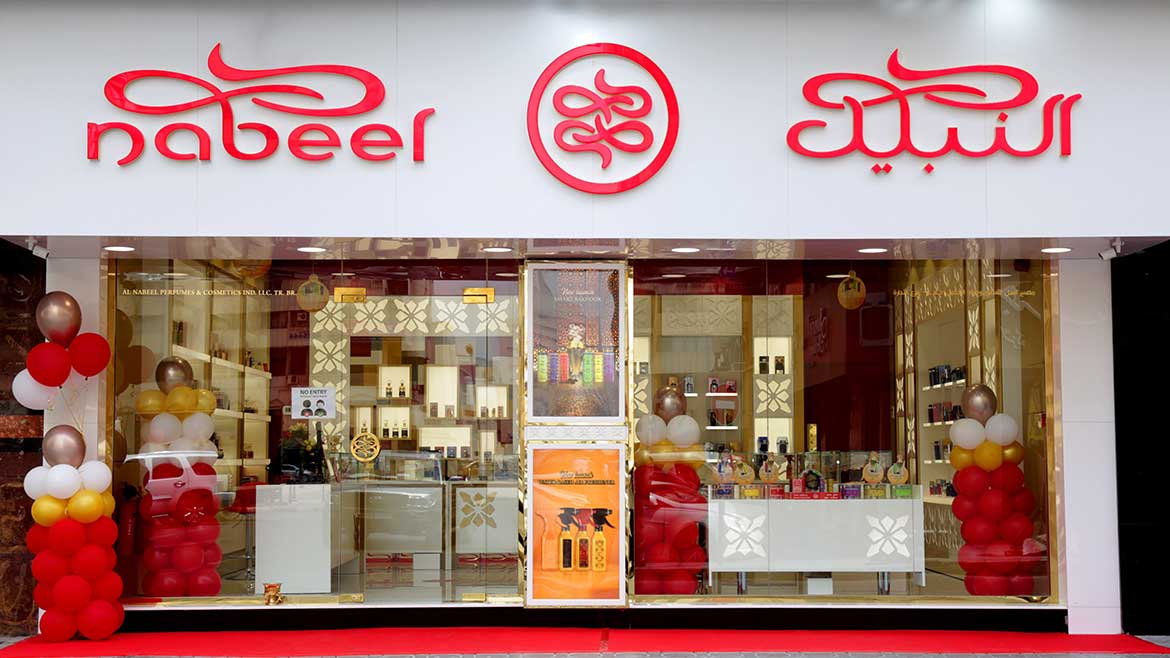 Established in 1969, Nabeel is now a popular Emirati fragrance house with some of the best perfumes in Dubai. Nabeel has more than 79 perfumes in its fragrance collection, and these include oil perfumes, Arabic, and spray perfumes. Some of the popular unisex perfumes available at Nabeel include Al Amakin, Al Ghadeer, Ala Baali, and Ashjan. Nabeel also has a collection of females-only fragrances namely Bold Women, Cinderella, and Al Hajes.
Atelier Perfumery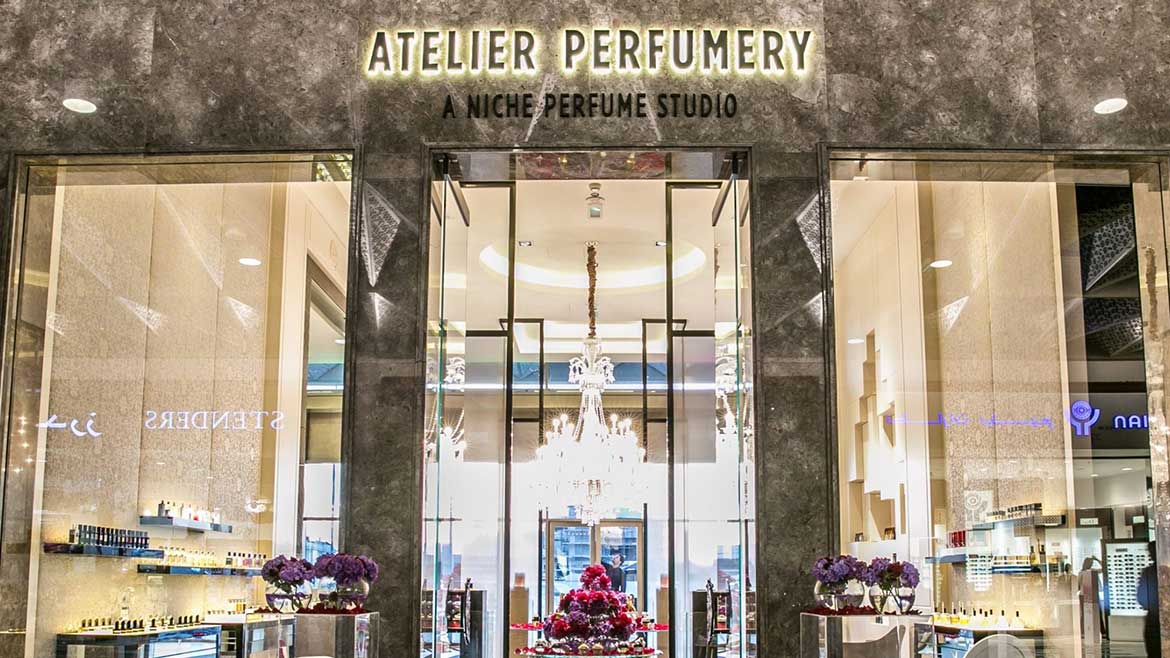 Located in the Galleria Mall, Atelier Perfumery is a popular spot to find speciality perfumes. Some of the top brands available at Atelier are Jouri, Prada, Orto Parisi, JFS Berlin, Nasomatto, and Lorenzo Villoresi. It is amongst the best fragrance perfume shops in Dubai that offers fragrances for men and women. Atelier also has a vast collection of hair oils and unisex fragrances. They offer some of the most long-lasting perfumes in Dubai, which includes Jouri Layal Edp, Jouri Cambodi, and Nasomatto Duro.
Arabian Oud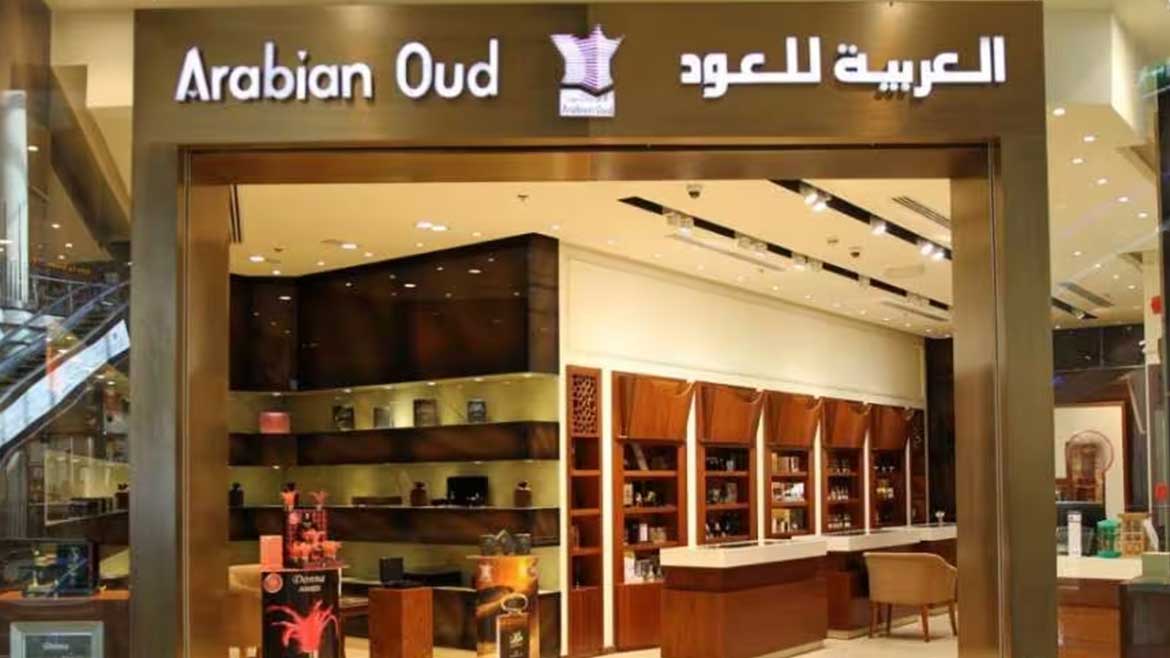 Arabian Oud is amongst the top perfume selling shops in Dubai, and has branches in more than 50 cities and 33 countries. They offer some of the best perfumes in male, female, and unisex categories. The best perfumes for males includes Oriental Oud, Centro, Lines, and Saudi Mukhallat Silver. For the ladies, they have Black Perl, Velvet Touch, Donna, and Bella. In the unisex category, you can choose from Mejestio, Layal, Woody, and Gharam.
Al Haramain Perfumes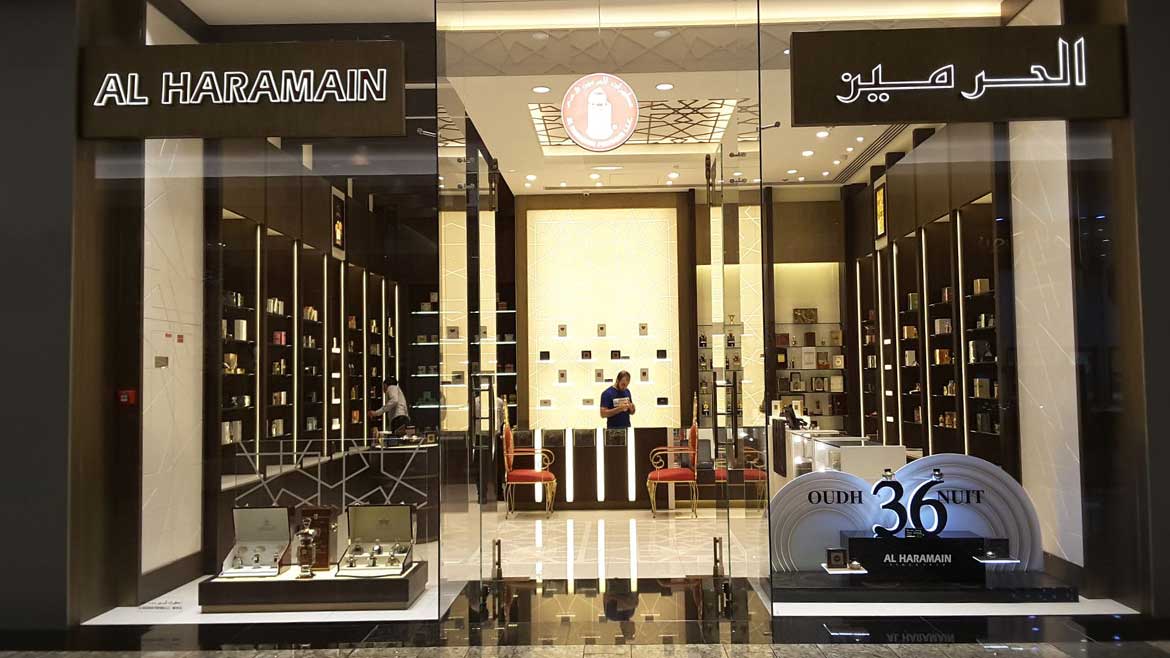 With an experience spanning more than 5 decades in manufacturing some of the best perfumes, Al Haramain is counted amongst the best fragrance perfume shops in Dubai. Some of their trending perfumes include Junoon Noir, L'Aventure Fonne, and Neroli Canvas. The fact that all ingredients of the fragrances available at Al Haramain are ethically sourced makes it stand apart from others.
 My Perfumes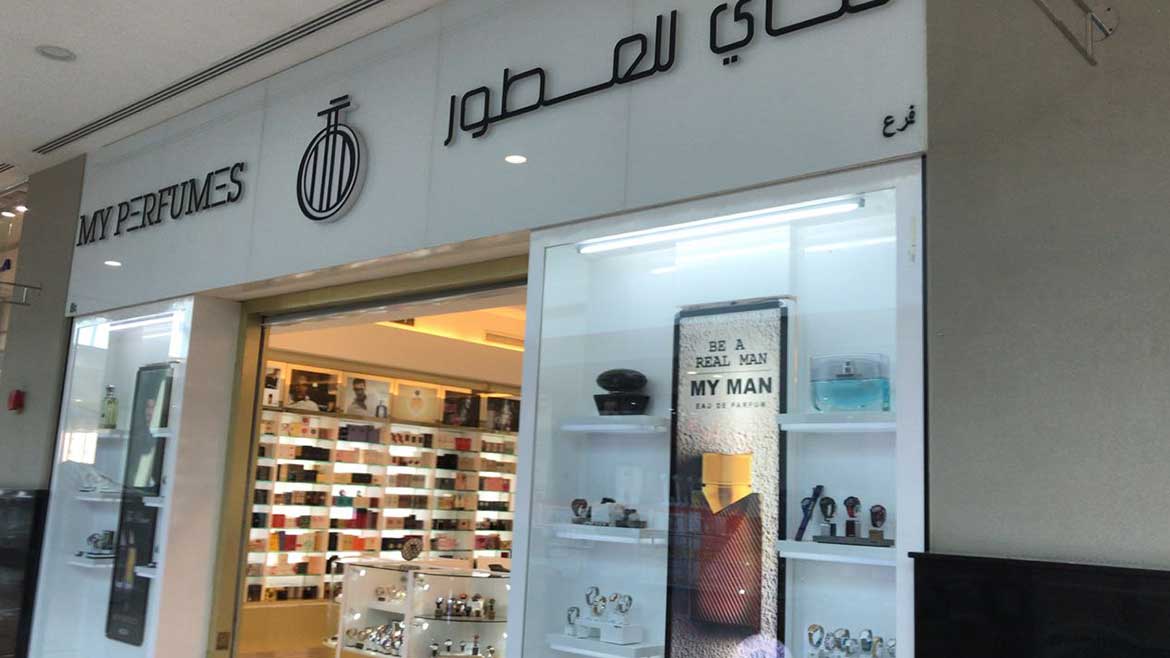 My Perfumes has made a name for itself with specialization in French and Oriental perfumes. It offers more than 14 brands at a good discount. You can also find alcohol-free perfumes under its brand My Perfume Select. My Perfumes also has a website, which is amongst the top online stores for branded perfumes in Dubai.
Coral Perfumes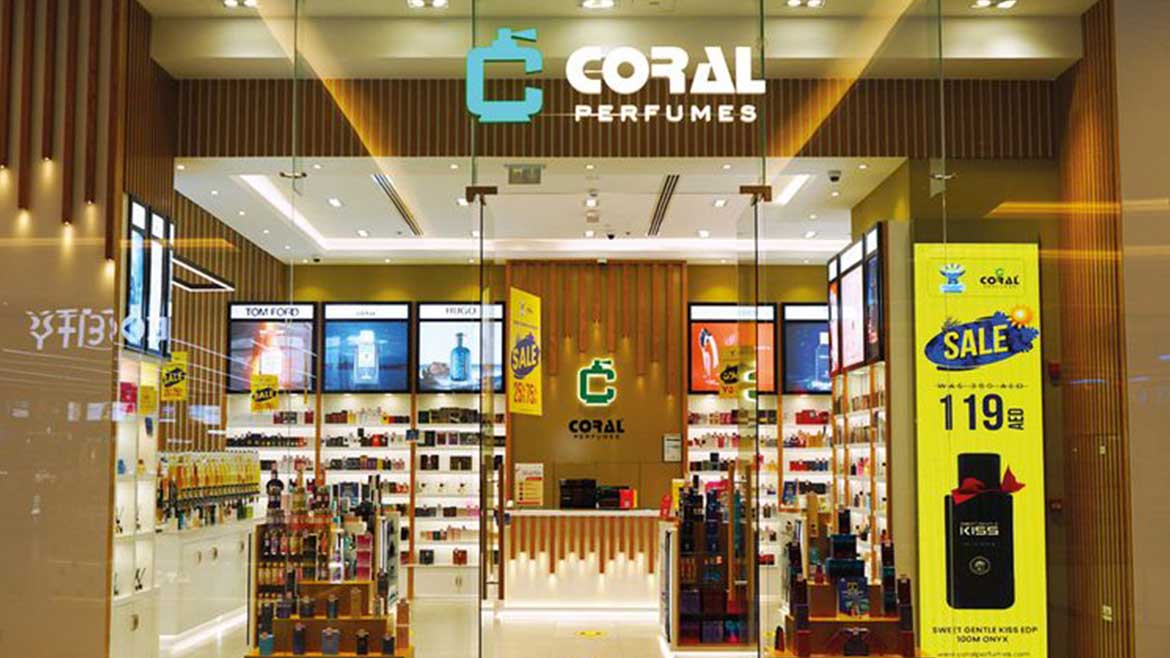 If you want to purchase a female perfume, visit Coral Perfumes. It is one of the best fragrance perfume shops in Dubai that offers Burberry Brit Sheer, Tobacco Vanilla, Candy Eau De Parfum, and Oud Wood. You can buy perfumes within a range of $30 and will surely come back for more.
That is not all! You can also go for these premium Arabian perfumes if budget is not a matter of worry for you.
10 Best Arabian Perfumes to Try Out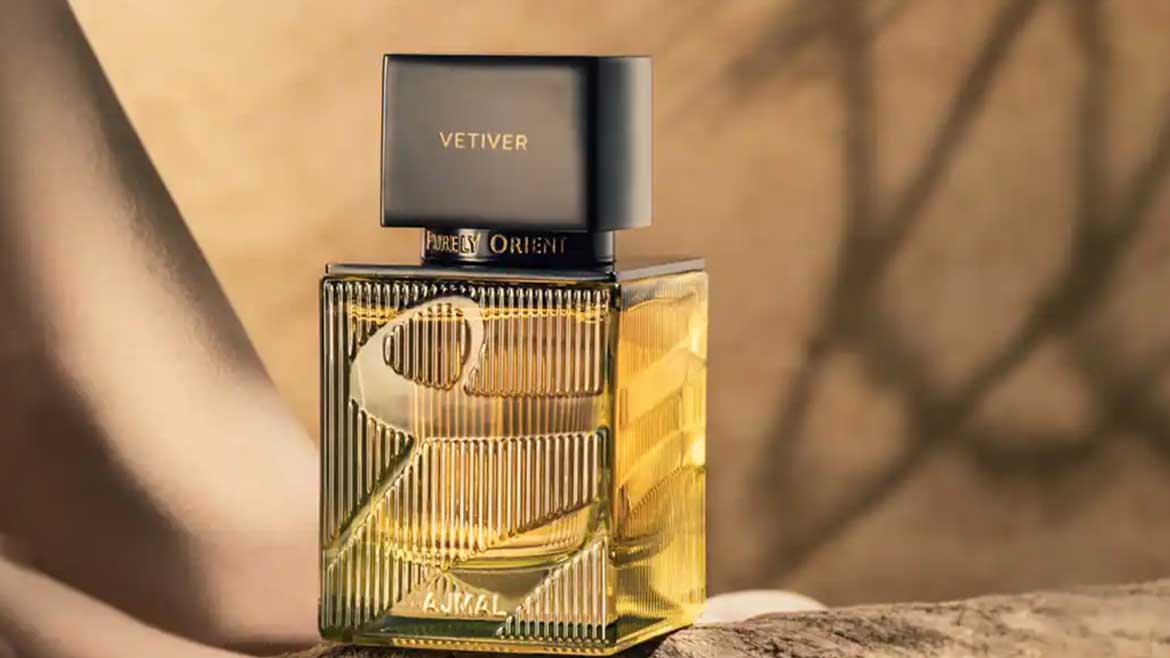 Swiss Arabian Layali Eau De Parfum

Swiss Arabian Amaali Perfume Oil

Shaghaf Oud Eau De Parfum

Hijaz Saffron Oud Alcohol-Free Scented Oil

Arabian Oud Sehr Al Kalemat
However, no matter which perfume you decide to put your money in, there are some tips you should follow to keep the fragrance alive for a long time.
Tips to Preserve the Perfume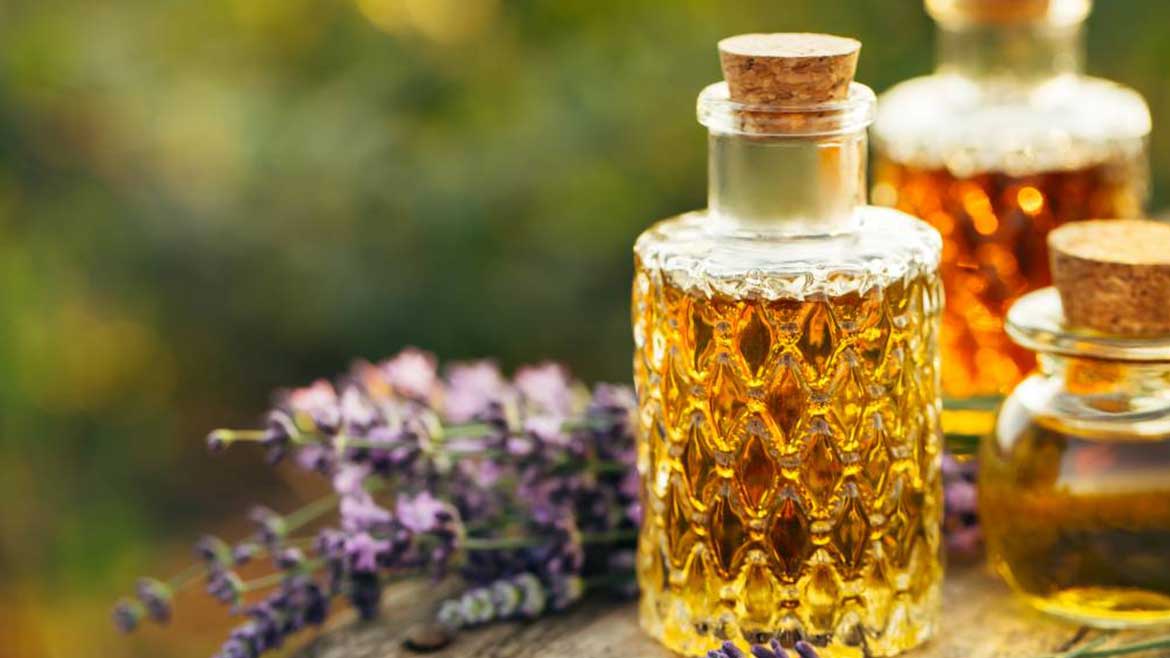 Never put the perfume bottle in front of direct sunlight.

Do not place the perfume bottle near a chimney, or any other source of heat.

Do not shake the perfume bottle.
In Summary
Dubai is a land of palm trees, sand dunes, gold, and some of the best fragrances money can buy. Just make sure when you decide to buy one, do it from the best fragrance perfume shops to avoid investing in a counterfeit product.