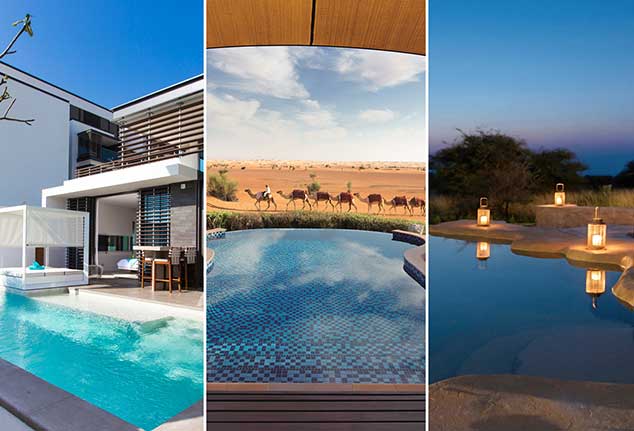 17 Top Dubai Resorts and Hotels Having Private Pools
Visiting Dubai in the United Arab Emirates is already essential for any aspiring traveler because it is one of the most distinctive and cutting-edge cities in the Middle East and the entire world. The entire city of Dubai has a lot to see and do, including many historical sites, street food markets, futuristic structures, a thriving nightlife with clubs and jazz bars, and attractions that are unique to Dubai and cannot be seen anywhere else in the world. As a result, this wonderful city is producing more opulent hotels with private pools Dubai and resorts.
Arjaan by Rotana – Dubai Media City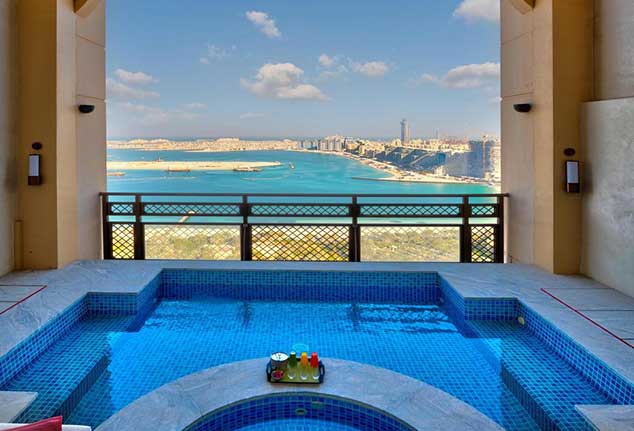 Arjaan by Rotana, a four-star hotel with private pool Dubai with stunning views of Palm Jumeirah Island, is located in Dubai Media City. Every unit has a sizable balcony where you can enjoy your morning coffee and the scenery.
Visitors of all ages can enjoy themselves here because there is an outdoor swimming pool for both adults and children.
Address: King Salman Bin Abdul Aziz Al Saud Street
 Rixos The Palm Hotel & Suites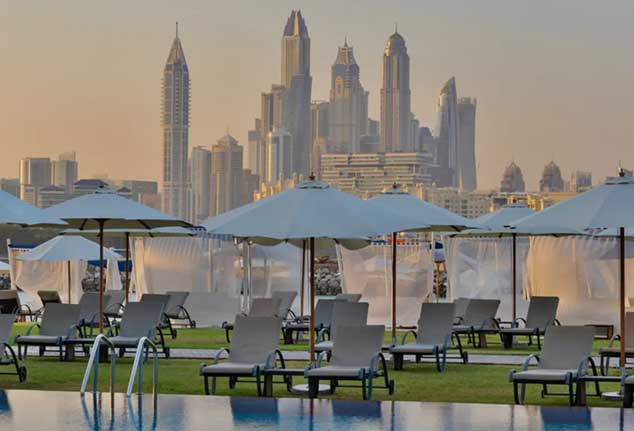 The five-star Rixos The Palm Hotel & Suites boasts a magnificent beachfront setting and provides breathtaking water views. You may easily have a relaxed vacation here because the property has a pool with an oasis motif. A balcony, a flat-screen TV for entertainment, and a private bathroom with a bathtub are included in each lodging.
Address: The Palm Jumeirah,East Crescent,Plot C40 P.O Box18652
Lapita, Dubai Parks and Resorts, Autograph Collection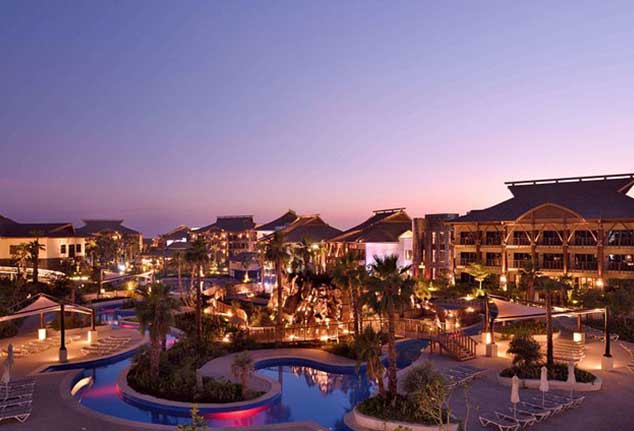 Free WiFi is provided all over this opulent four-star hotel with private pool Dubai so that visitors may stay in touch with their loved ones. You may comfortably eat tasty meals without leaving the property thanks to the four on-site eating options. For those who want to stay active, there is a fitness center that is well equipped.
There are three outdoor swimming pools here, one of which is designed exclusively for children if you want to go swimming.
Address: Dubai Parks & Resorts, Sheikh Zayed Road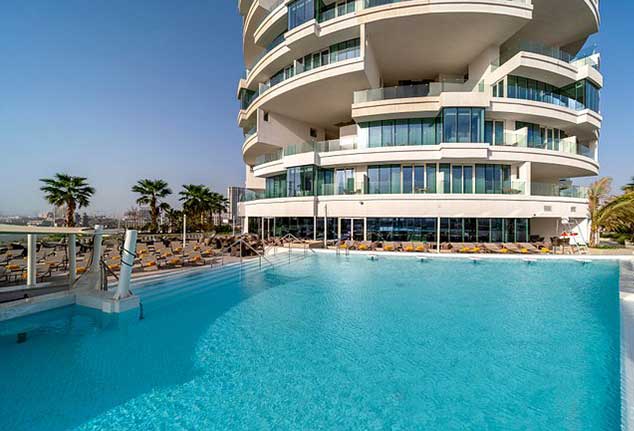 Four on-site restaurants in this opulent five-star hotel provide a variety of cuisines, from Middle Eastern to Thai. There is an outdoor pool there where you can swim some cool laps. Choose a villa with a private pool if you like a more private swim.
Address: Jumeirah Village Circle Dubai
Hilton Garden Inn Dubai Al Jaddaf Culture Village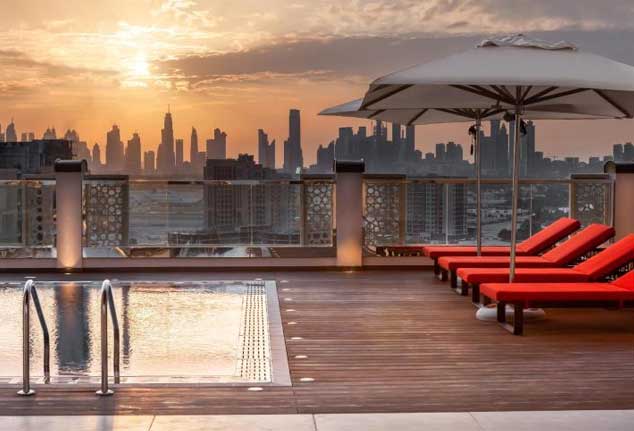 This four-star hotel offers roomy quarters with free WiFi, a minifridge, and an HDTV to keep visitors occupied indoors. On the rooftop is a spa where you can get some soothing treatments. On the rooftop, where the pool is located, you can see the city skyline.
Address: Al Jadaf
 Anantara The Palm Dubai Resort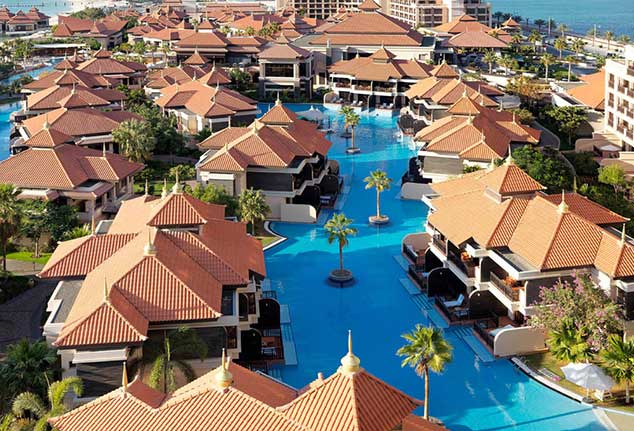 Anantara The Palm Dubai Resort, one of the best engineering feats ever created, is situated on the enduringly famous Palm Jumeirah island and offers its guests unique access to a very sandy white beach. The hotel with private pool Dubai has four restaurants and a total of three swimming pools. Every one of their individually decorated guest rooms has a personal Nespresso coffee maker, free Wi-Fi, and an interactive LED TV with a media hub. A private infinity pool and over-water villas are located in the hotel's beach pool villa.
Address: The Palm Jumeirah, Crescent Road (East)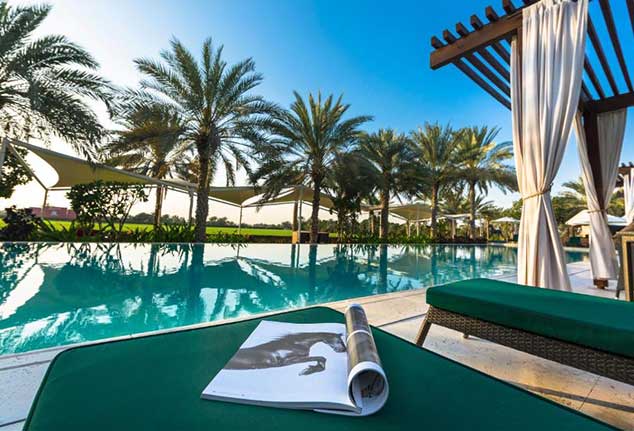 The extremely opulent Meliá Desert Palm Dubai is only a short distance from Dubai's most famous tourist attractions, including the Dubai Mall and the Downtown Burj Dubai. The guest rooms at this hotel resort are well-appointed and feature surround sound, an in-room entertainment center, LED TVs, Nespresso coffee makers, and a sumptuous minibar. The villas also feature private swimming pools, spa services, and an indoor BBQ area with a personal chef to cater to your culinary needs.
Address: Al Awir Road
 Al Maha, a Luxury Collection Desert Resort & Spa, Dubai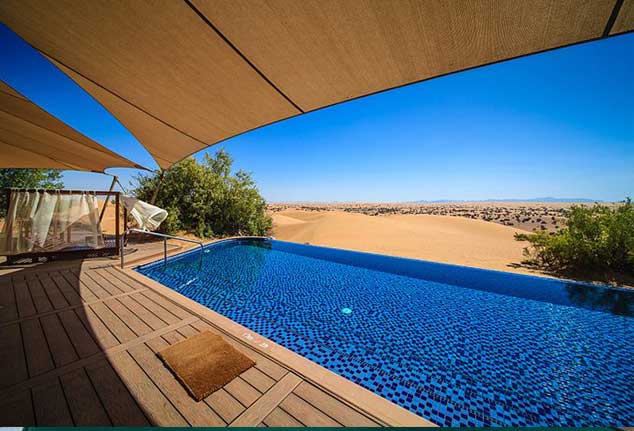 While staying at the Al Maha, a Luxury Collection Desert Resort & Spa, Dubai, you will receive first-class service and a VIP experience. It is a very exclusive desert resort with 42 private suites for relaxation, guaranteed desert views, and free-roaming wildlife. The resort's tents are all decorated in a highly opulent Bedouin manner. You also receive a sizable bedroom, a roomy bathroom with a soaking tub, a separate rain shower, a Nespresso coffee maker, and so much more. You may unwind in their temperature-controlled private swimming pools or private sun decks.
Address: Dubai Al Ain Road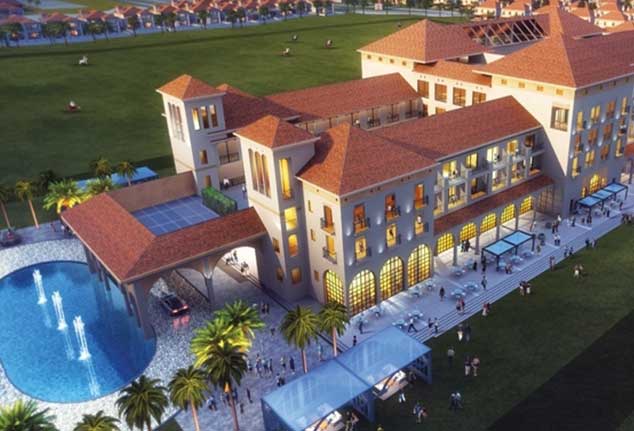 Al Habtoor Polo Resort offers luxurious villas that are ideal for families and even groups of friends, and it is situated right in the middle of four lush green polo fields in the centre of Dubailand. These upscale villas each feature four bedrooms, a private pool, a BBQ terrace, a maid's room, and a fully functional kitchen.
Address: Wadi Al Safa 5 Emirates Road 611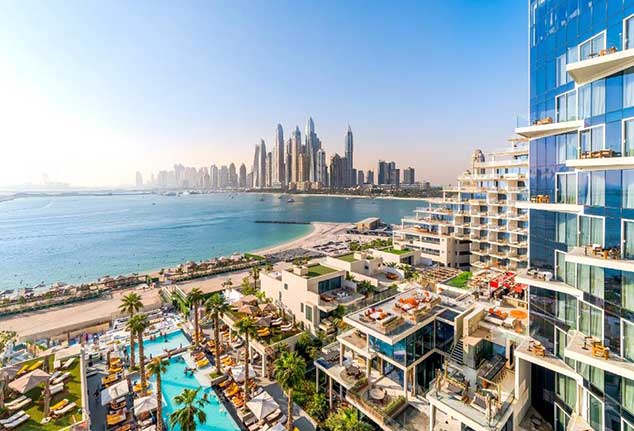 Book your stay at Five Palm Jumeirah Dubai right away if you're looking for a hotel with private pool Dubai with a private pool. This establishment is renowned for its amazing fusion of modern architectural style with a very distinctive service that makes every moment spent there extremely unforgettable. It is renowned for having its own private beach, five outdoor swimming pools, and free Wi-Fi.
Address: Palm Jumeirah
Nikki Beach Resort & Spa Dubai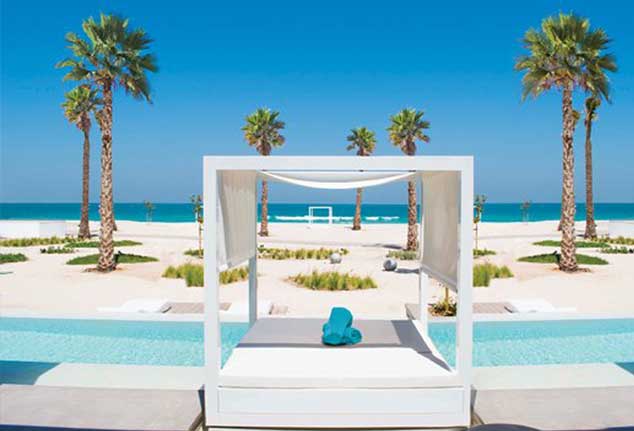 The Nikki Beach Resort & Spa Dubai is ideally situated right in the centre of Palm Jumeirah next to the Dubai Canal and boasts its own outdoor pool and private beach.
Address: Pearl Jumeirah
One&Only Royal Mirage Resort Dubai at Jumeirah Beach 
One&Only Royal Mirage Resort Dubai, an exquisite hotel with private pool Dubai in Al Sufouh, offers access to a private beach and themed lodging options in the Palace, Arabian Court, and Residence & Spa. Take a plunge in the private pool or spend the morning lazing on the beach in one of the shady sun loungers.
Address: King Salman bin Abdulaziz Al Saud St
When you stay at the opulent Bulgari Resort, you can only think of the sun, sand, and sky. You will have access to their private marina because their five-star hotel is situated on the created Jumeirah Bay. Book a stay in one of the 20 Bulgari villas or one of the deluxe suites and take in views of the garden, the private pool, or the ocean.
Address: Jumeirah Bay Island, Jumeirah 2
When you stay at Jumeirah Dar Al Masyaf, you'll receive first-rate service. All the watersports offered here, including swimming, windsurfing, and canoeing, will excite water sports enthusiasts. You will have access to the exclusive beach and pool as well as the complimentary shuttle service to explore the city.
Address: King Salman bin Abdulaziz Al Saud Street, Madinat Jumeirah Resort
By reserving a room at this hotel with private pool Dubai on the Palm Jumeirah, you can experience the height of luxury in Dubai. One&Only The Palm Dubai features accommodations with seaside views and top-notch service. Select the two-bedroom villa with the private pool for the finest stay. Each lodging has comfortable furnishings, carpeted flooring, and gold accents.
Address: Palm Jumeirah
Experience the top-notch service and opulent setting that Jumeirah Zabeel Saray, one of the best hotels with private pools Dubai, has to offer. You will get unrestricted use of the spa, a private movie theater, and a kids' club while you are here. You may also take a swim in the sparkling outdoor pool or savor some delectable food at one of the nine restaurants located on the property.
Address: The Crescent (West), Palm Jumeirah
Quintessential Quarters – Burj Khalifa and Sea Views 
The Burj Khalifa, a building well-known around the world, is, together with the Burj Al Arab, the most iconic landmark in Dubai. Book this apartment in Downtown Dubai if you want to be close to this tall skyscraper and have simple access to the best retail complex in the city. The private pool, the garden, free private parking, and free WiFi are all available to guests.
Address: Standpoint Tower A Apartment 2306, Downtown
For more information related to hotels with private pools Dubai, follow the Dubai Local for more updates.