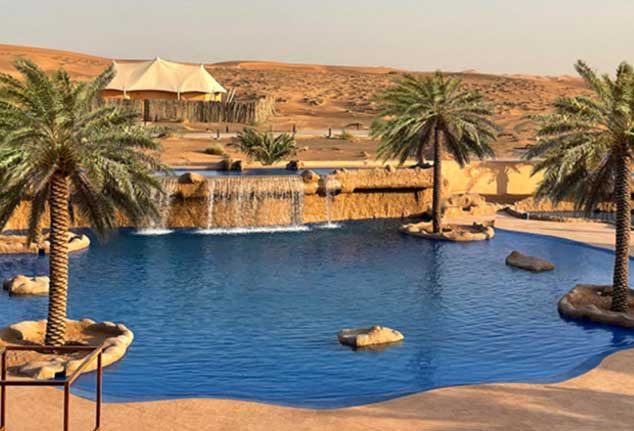 Top Desert Resorts in the UAE You Should Explore!
Even though the emirates are filled to the brim with lavish beachside resorts and tall city skyscraper hotels, few places to stay can compare to the UAE's finest desert resorts for a peaceful getaway. Many provide a plethora of adrenaline desert adventures, exquisite villas with private pools and luxury inspired by Bedouin culture. They are frequently located amid vast, flaming dunes. The top 8 most stunning desert resorts in UAE are listed below.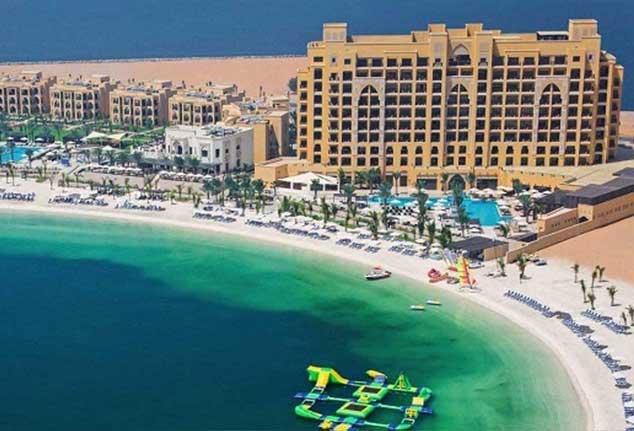 A 1,235-acre protected reserve with breathtaking scenery is the setting for The Ritz-Carlton Ras Al Khaimah, Al Wadi Desert. The Bedouin-styled homes, which feature private pools and decks, lounge areas, and spectacular desert views, offer peace, a beautiful landscape, and rich culture. For the more daring traveller, arrange a camel journey in the desert, a private archery lesson, a bird-watching excursion, or simply go for a nature stroll and take it all in. Five eating options are available at the desert resort, including the recently opened Sonara Camp, the farm-to-table Farmhouse, all-day dining at Kaheela, the open-sky Moon Bar, and the laid-back Moorish bar.
Address: The Ritz-Carlton Ras Al Khaimah, Al Wadi Desert, Wadi Khadija, Ras Al Khaimah.
Telephone: (07) 206 7777.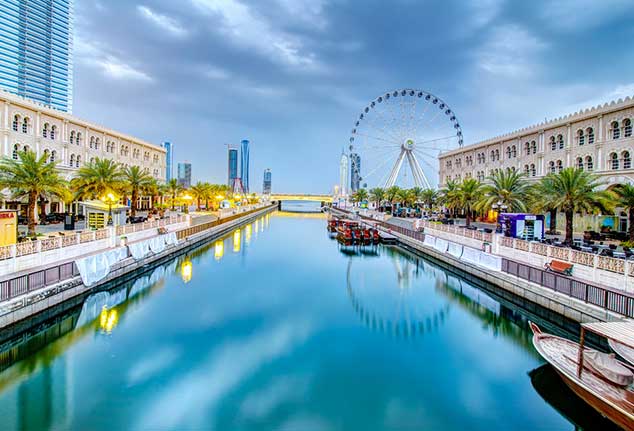 20 luxurious tents with private plunge pools are available at the Mysk Kingfisher Retreat, which is situated in Kalba on the east coast of the United Arab Emirates. The apartments are furnished in soothing, natural colors for optimal relaxation and provide contemporary conveniences while maintaining a simple coastal aesthetic. Go to the spa area, where a variety of treatments are offered, or relax by the fire pit at the main tent. A turtle breeding region and other endangered bird species are found in the nearby mangroves. Try archery, kayaking, or paddleboarding for something a little faster-paced. You can also go on a hike in the highlands or stop at the neighboring Mangrove Center.
Address: Mysk Kingfisher Retreat, Khor Kalba, Sharjah.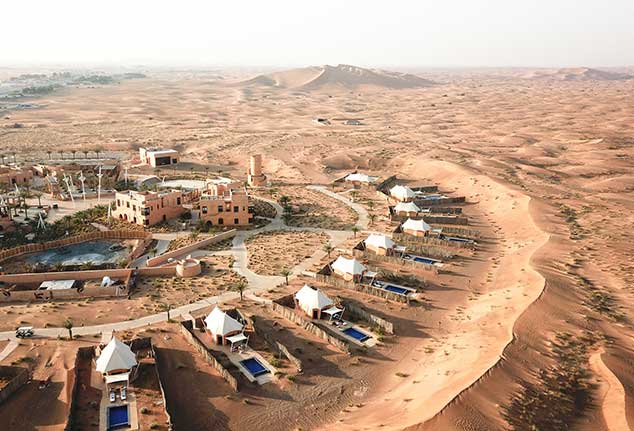 If you're seeking adventure, peace, and a taste of Emirati culture, Mysk Al Badayer Retreat, Sharjah's deluxe glamping resort, is the ideal place for your staycation. Al Badayer, one of the UAE's most environmentally conscious desert resorts, is housed inside a classic Arabian fort but offers all the essential modern conveniences. Also available at the desert resorts in UAE are specialized desert activities including falconry, dune-bashing, quad biking, horseback riding, and desert safaris.
Address: Mysk Al Badayer Retreat, Sharjah.
Phone: (06) 556 0777.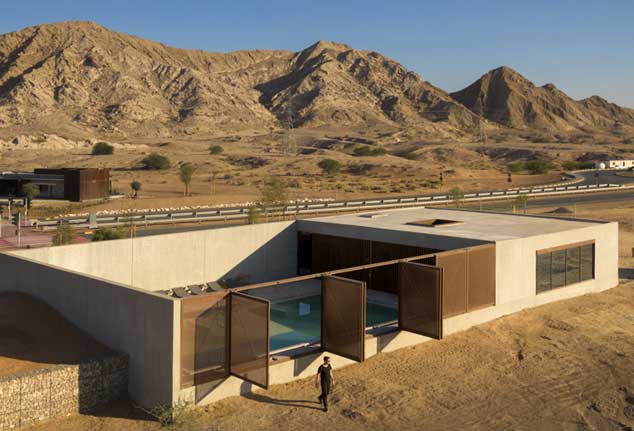 At Mysk Al Faya Retreat, where seclusion and tranquility are the norm, follow in the footsteps of the Bedouins. The retreat, a tastefully renovated location that was initially constructed in the 1960s and is tucked away in the dunes of the Mleiha desert, gives visitors the chance to explore the renowned archaeological site and learn about its intriguing history. For those seeking a bit less adventure, there is a unique hands-free spa with a herbal room, salt pool, and tropical shower walk, as well as a swimming pool where guests can unwind.
Address: Mysk Al Faya Retreat, Mleiha desert, Sharjah 
Telephone: (0)6 538 7857
Al Wathba, A Luxury Collection Desert Resort & Spa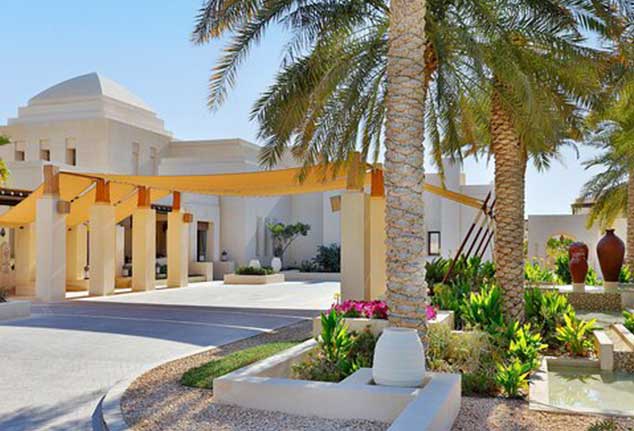 This Arabian-style desert resort in UAE covers 22,000 square meters of serene desert and takes design cues from an old town. Al Wathba offers a dreamy getaway with its 90 conventional hotel rooms, 13 villas with private pools, and six restaurants and cafes. With a 1000 square meter pool and a luxurious spa that provides services and amenities including hammams, crystal salt saunas, and a specific cryo treatment area, there is a strong emphasis on wellness here.
Address: Al Wathba, A Luxury Collection Desert Resort & Spa, Al Wathba District
Telephone: (02) 204 4444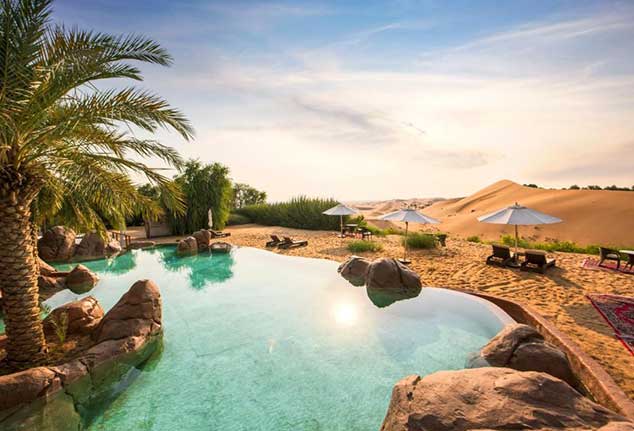 A natural conservation area is visible from this rustic-luxe resort in Al Ain, which also has unbroken views of the surrounding desert landscape. The rooms, villas, and suites in this  desert resort in UAE all feature Emirati-inspired decor, which includes traditional artwork, arabesque accents, and timelessly elegant local accents. Deluxe rooms and a three-bedroom villa with a private pool and jacuzzi are both available as accommodations. Book a spa treatment or unwind in the cozy library for a tranquil stay. ATV rides, ziplines, and desert safaris are all available for those with an adventurous spirit.
Address: Telal Resort Al Ain, Al Ain. 
Telephone: (03) 702 0000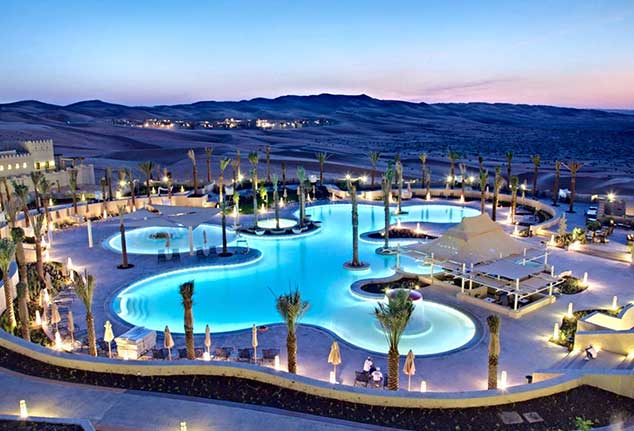 One of the most popular Arabian desert resorts in UAE is Anantara Qasr Al Sarab, which is tucked away among the Empty Quarter's sea of undulating, flame-orange dunes. An isolated desert oasis, it offers 140 rooms, 14 suites, and 52 pool villas, all of which are furnished with classic arabesque elements and have unending views of the dunes. The rooms, which are separate from the main resort and each have a private pool, are referred to as "secluded desert sanctuaries".
Address: Anantara Qasr Al Sarab, Liwa Desert, Abu Dhabi. 
Telephone: (02) 886 2088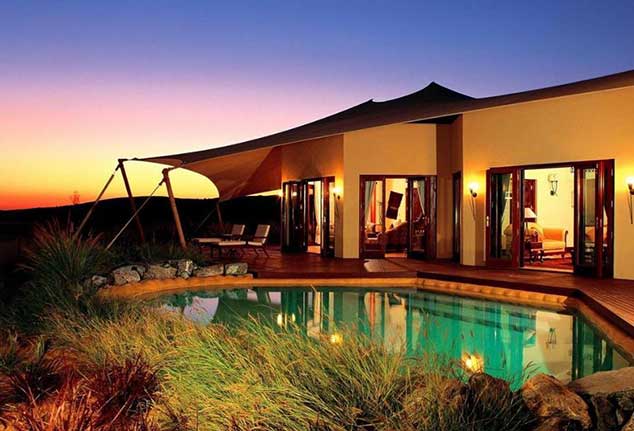 Al Maha Desert Resort may be found an hour outside of Dubai. Individual villas with private pools can be found in this breathtaking desert oasis, along with an all-day dining restaurant called Al Diwaan and a tranquil spa with single and couple treatment rooms. Visitors can pass the time in their personal pool or at the lovely outdoor pool with a view of the vast desert dunes. When you arrive for a luxurious staycation, don't be shocked to meet Arabian oryx and gazelles who will be your neighbors as you eat breakfast on your outdoor patio.
Address: Al Maha Desert Resort, Al Ain Road, Dubai.
Telephone: (04) 832 9900.  
For more information on the desert resorts in UAE, follow the Dubai Local for more updates.