Did you know?
Dubai is the fourth most visited place in the world.
The lavish architecture, stunning beaches, fine dining restaurants, and much more that dot Dubai promises a memorable experience for every tourist. The city is sure to offer you plenty of enjoyable experiences throughout your stay, no matter when you come. Aside from sightseeing, you can engage in interesting activities or simply relax while admiring the scenic views of the city. 
If you're planning a trip to Dubai or wish to visit, then you've come to the right place! Here are 10 places in Dubai that every visitor should visit when they are on a Dubai trip.
Discover the world's tallest tower and one of Dubai's top attractions, the Burj Khalifa! It is located at 163 Sheikh Mohammed Bin Rashid Blvd and contains a variety of elements, like restaurants, and fountains that engage visitors. Upon approaching the building, you will be stunned by the Islamic architecture infused with contemporary style. Take a look at the beautifully planned city from the observation deck, The Top, on the 124th floor of the hotel.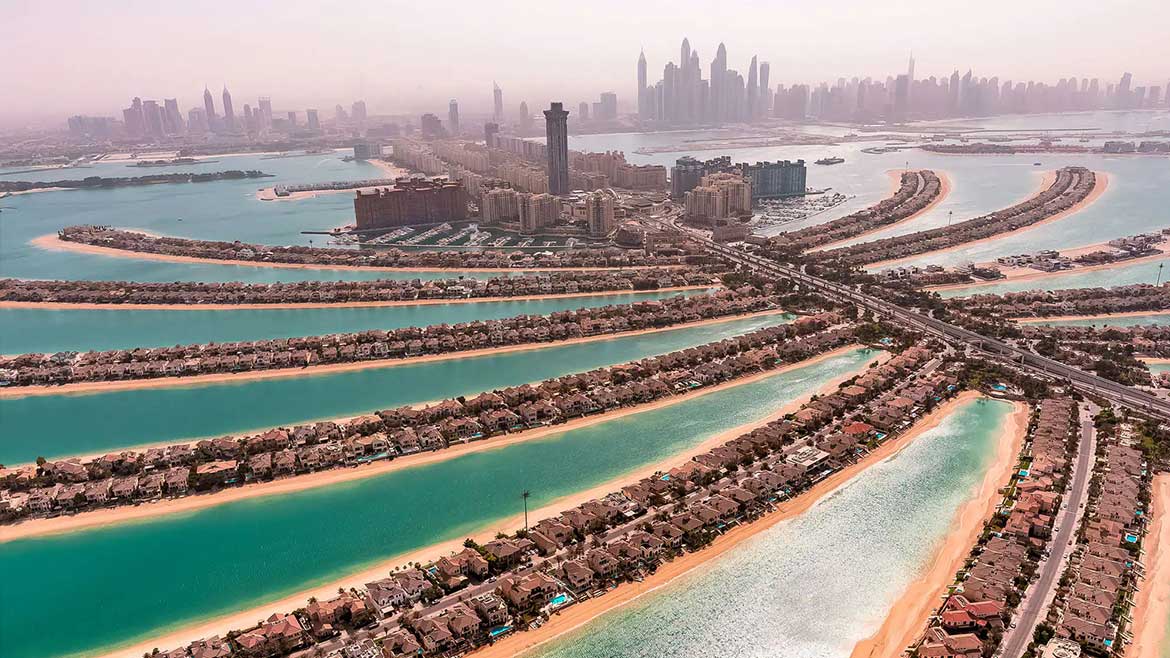 Palm Jumeirah is visible from Burj's observation deck, which is an archipelago resembling palm trees! After you've enjoyed the stunning view of this unique man-made archipelago, why not explore its beaches in more detail? Here, you can stroll on the beach, indulge in water sports, or relax at one of the beach clubs or restaurants. If you want to see some of the most spectacular Dubai tourist attractions, we recommend going for a speedboat ride.
When it comes to Dubai sightseeing, you cannot get wrong with this saltwater brook. Plays, firecrackers, music, and live shows are all regularly performed here. Book a cruise on Dubai Creek to enjoy views of glittering water, city lights, and some of the city's wonders such as the Grand Mosque, Rolex Twin Towers, and Old Boat Fort. In these places, you will get beautiful views.
If you're looking for places to go in Dubai, don't miss this specialized theme garden. Why is this place so special? The best part is the Glow Garden, which is one of four themed parks at the park. Multiple lavish structures within the area are illuminated by an abundance of energy-saving lights. This beguiling backdrop will surely not let you forget to take some pictures! Additionally, you'll get the chance to explore Mushroom Park, Animal Kingdom, Art Park, and Dinosaur Park, which all contain the elements that their names suggest.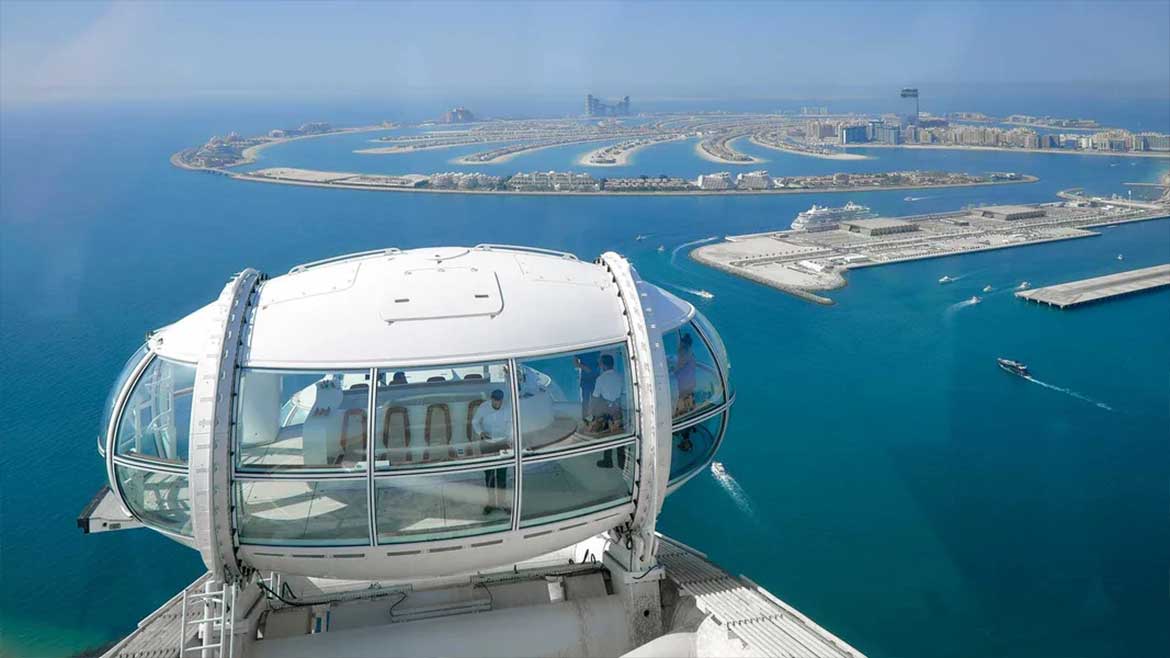 Get the best view of Dubai's splendor at Ain Dubai. You can ride in one of the larger gondolas and get a 360-degree view of the alluring surroundings from atop this 250-meter-tall giant wheel. The wheel allows you to view all the wonderful things Dubai has to offer, including Jumeirah Beach and the Burj Khalifa. Even so, if you come in the evening, you can enjoy a spectacular view of the city lights.
Dubai Aquarium and Underwater Zoo
In Dubai, you have the opportunity to visit this underwater zoo if you have always wanted to learn more about aquatic creatures. More than 140 types of underwater creatures are on display here, including rare species like sand tiger sharks. This zoo also offers a variety of ecological zones for you to explore. Examples include living oceans, rocky shorelines, and rainforests. Get a stunning view of the oceanic world and its creatures by walking inside the 48 m tunnel.
Experience the cultures of various parts of the world at the Global Village in Dubai and spend an entertaining day. No matter what your favorite activity is, you'll find it here. Whether you like dining, shopping, thrilling rides, or watching entertaining shows, you can find it all here.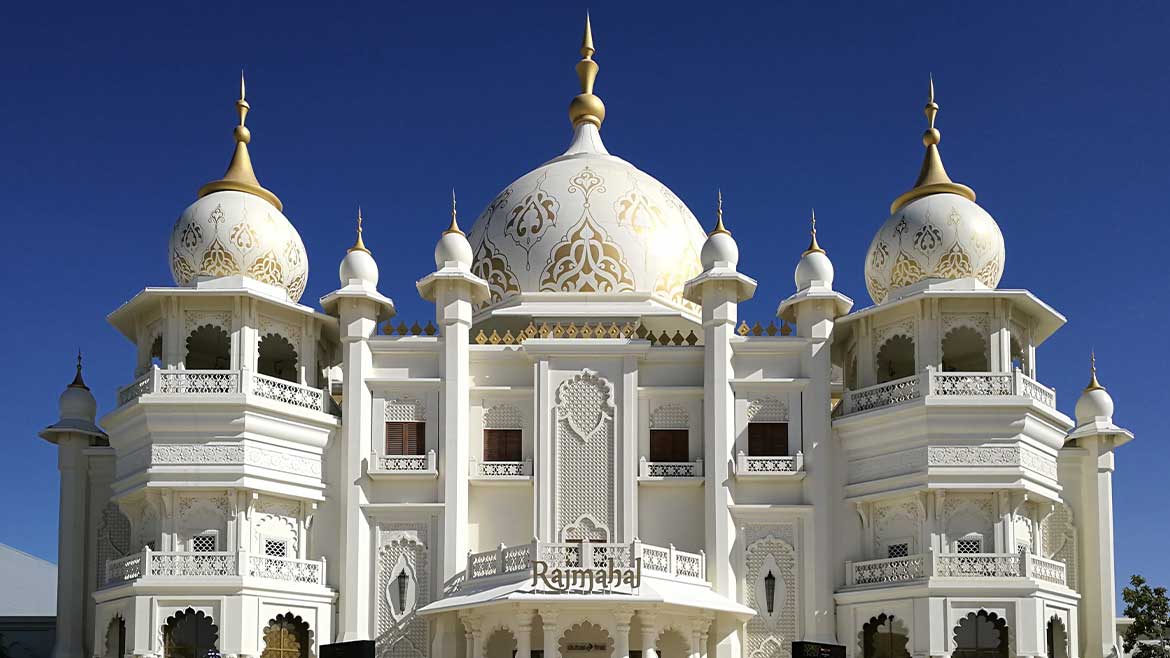 Bollywood is one of your favorite movies? The Indian film industry can be explored at this theme park if this is of interest to you! Bollywood Film Studios, Rustics Ravine, Mumbai Chowk, and three Bollywood Boulevards are some of the Bollywood-themed attractions here. You can witness live performances by international artists at the Rajmahal Theatre. Moreover, inside the park, you can explore five themed zones and enjoy twelve rides inspired by Bollywood.
Are you looking for an amusing place in Dubai to spend a day with friends and family? When you are trying to meet your goal, then this adventure park might be the best place to visit in Dubai. The park is open from 11 am to 6 pm, so you can enjoy many rides and other activities. Take part in twin slide races like the Twin Chasers or LEGO Slide racers or build a boat or a raft with Build-A-Boat.
Step inside the museum in Dubai for an experience that's out of this world. The Rotating Cylinder and Vortex Tunnel are sure to amaze you with their mind-blowing illusions. You can even experience gravity absence during an Anti-Gravity experience, where you will find everything upside down. What a cool idea! Enjoy all these and many other unique collections such as puzzles, holograms, and paintings inside.
Aren't the places worth visiting? Then what are you waiting for, book your Dubai tickets and enjoy your vacation at the place that will leave you awe-struck for sure!