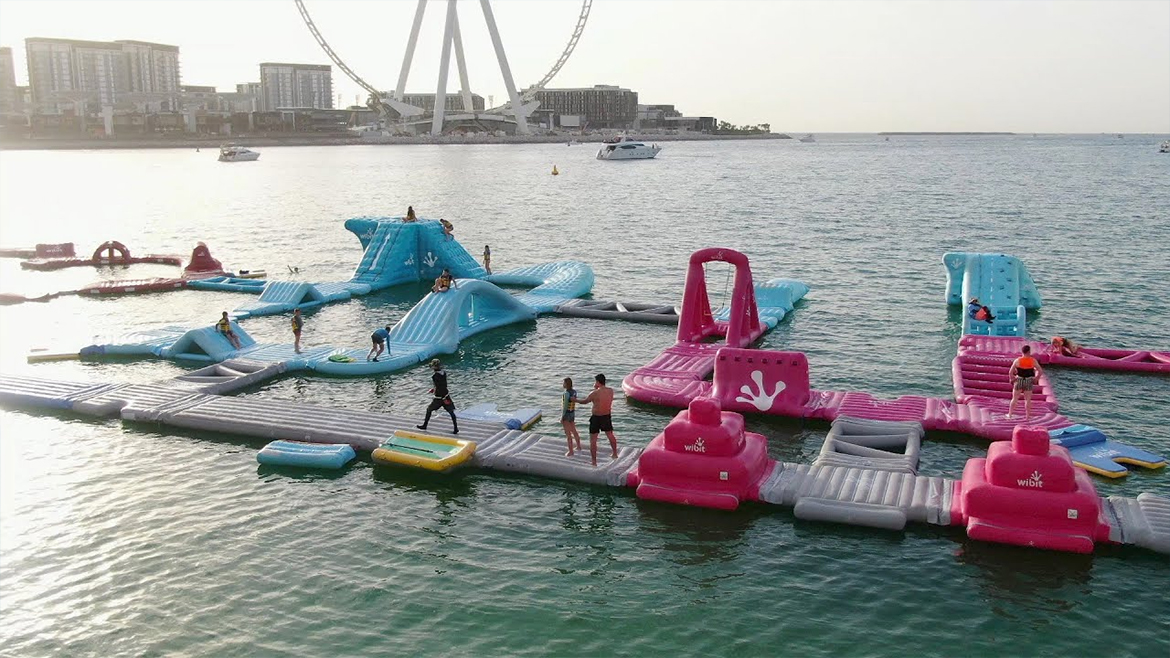 Enjoy Your Day at Aquafun Dubai
Aquafun Dubai is the world's largest inflatable water park. It is open all year long and holds the Guinness World record. It's a huge obstacle course that spans over 2700 sq m.
If you're searching for some coastal thrills in Dubai, this multi-award-winning waterpark should be at the top of your list. It offers unmatched views of the renowned Jumeirah Beach Residences in the background. The entire floating park spells out "Dubai", even if it could be difficult to see from the ground.
Anyone seeking a tonne of enjoyable memories to share with friends, kids, and family should visit AquaFun Dubai. So, if you enjoy wild water activities and don't mind getting wet, a trip here guarantees you a marvelously exhilarating experience. 
Float, slither, and wash your stress away! Immerse yourself in absolute fun. It's not just a waterpark, it's an Aquafun.
What is Special About Aquafun Dubai?
The Aquafun water park is unique because it floats on the ocean of the Dubai Marina. Not only children can have a lot of fun but there is so much for adults also. The on-site lifeguard is another fringe benefit.
Challenge yourself and your buddies to the most enjoyable obstacle course on earth. Capture hilarious, priceless, and unforgettable memories at the world's largest inflatable water park.
How Do You Reach Aquafun Dubai?
Aquafun Water park is located on JBR Beach. It is situated at the peak of the Jumeirah Beach residences in the Dubai Marina. You can drive to JBR Beach, the Beach, or Jumeirah Beach Residences by following the signs. Remember that the Dubai Marina is usually busy, especially on weekends and in the afternoons, so be prepared for any traffic jams.
Parking is available in the Beach's parking garage, which is situated beneath the area. The parking fee is charged on an hourly basis.
If you are traveling by taxi, it is better to specify that you want to go to the Beach or the Hilton Jumeirah hotel. It will drop you off at JBR Beach. After that, you can be dropped off close to the beach for easy access.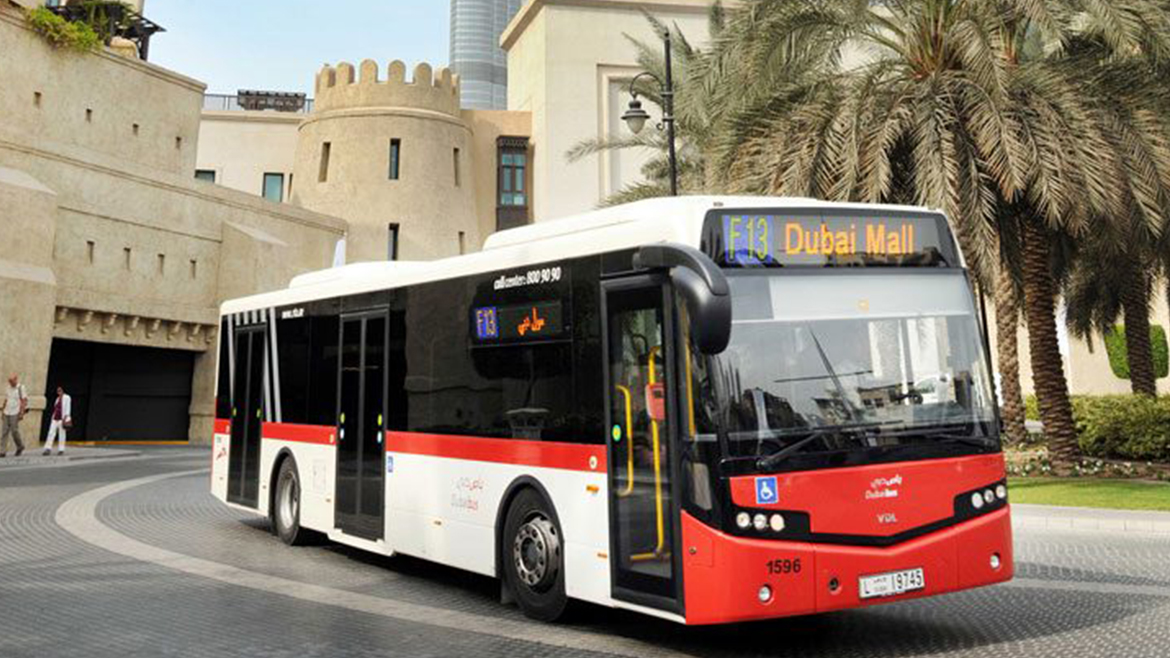 If you intend to use public transportation, it is recommended to use the Dubai metro and stop at either the Jumeirah Lake Towers(no. 24) or the Dubai Marina metro stop (no. 23). The final path may be covered on foot in 10 to 15 minutes, or you can take the Dubai Tram to JBR Beach. The Dubai Tram stops at JBR Beach at two different stations. JBR Beach/The Beach can be reached on foot from both station 1 (Jumeirah Beach Residences 1) and station 2 (Jumeirah Beach Residences 2).
Celebrations at Aquafun Dubai
Casual Events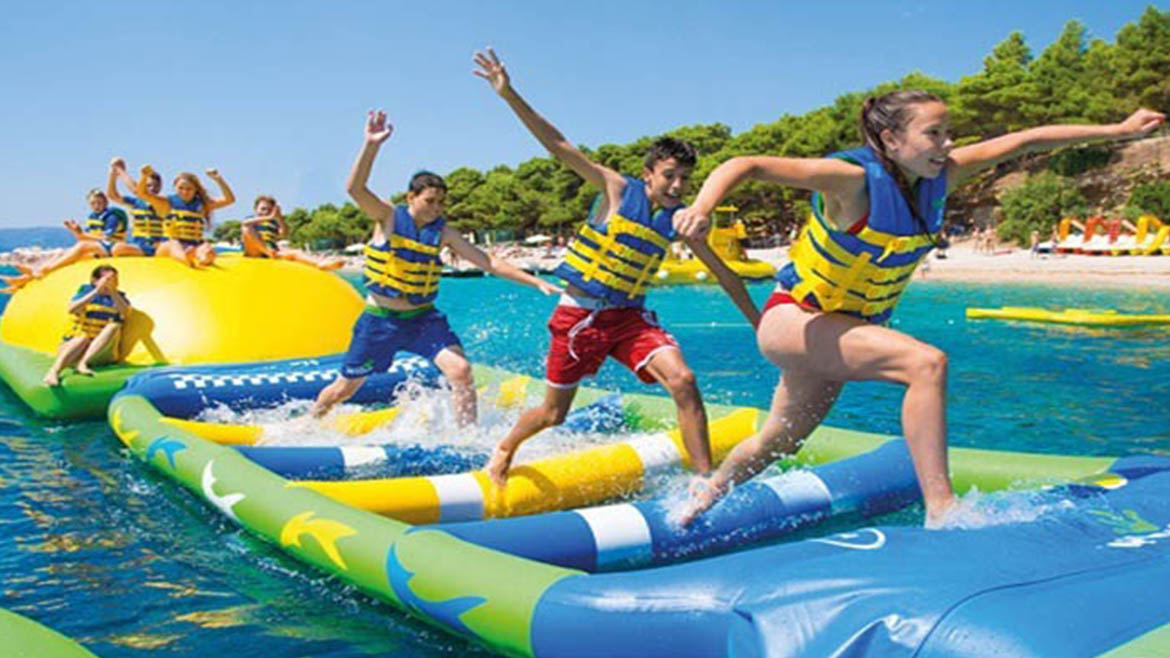 Want to plan a memorable family gathering or a birthday party? Simply reserve a day at AquaFun Park Dubai and splash around as much as you like.Official Events
Want to enhance the bonds within your company with some fun team-building exercises? Request a business event package, which contains activities that will allow you to test your wits.
Make sure to instruct your group to bring sun protection products, towels, food, and beverages to the attraction.
Water Park tickets include
Water park Entry Ticket (Full Day Access)

Beach Access

Life Jackets

Lifeguards
Exclusions
Pickup and Drop at your own expense.

Anything not specifically mentioned on the ticket.
Ticket Cancellation Policy
If you cancel within 24 hours before the trip, there are no cancellation costs.

A 100% cancellation fee will be applied if you book before 24 hours of departure.
Money will be returned to your account within 7 working days if you qualify for a refund

.
Terms and Conditions
The park visitors should be at least 6 years old.

Every visitor must be at least 110 cm tall to enter the park.
This tour is not advised for anyone with a medical condition, including pregnancy, epilepsy, breathing or heart-related disorders, or anyone wearing a cast.
Summing Up
Tourists travel to AQUA FUN from more than 120 different nations. Aqua fun Dubai is located at Jumeirah Beach Residence, one of the busiest beachfront in the United Arab Emirates (JBR).
This must-visit waterpark is highly recommended for anyone who is visiting or lives in Dubai. 
Gain once-in-a-lifetime experiences that last forever! The sunset over the entirety of JBR is undoubtedly one of those life moments that makes you shout "WOW" in wonder.