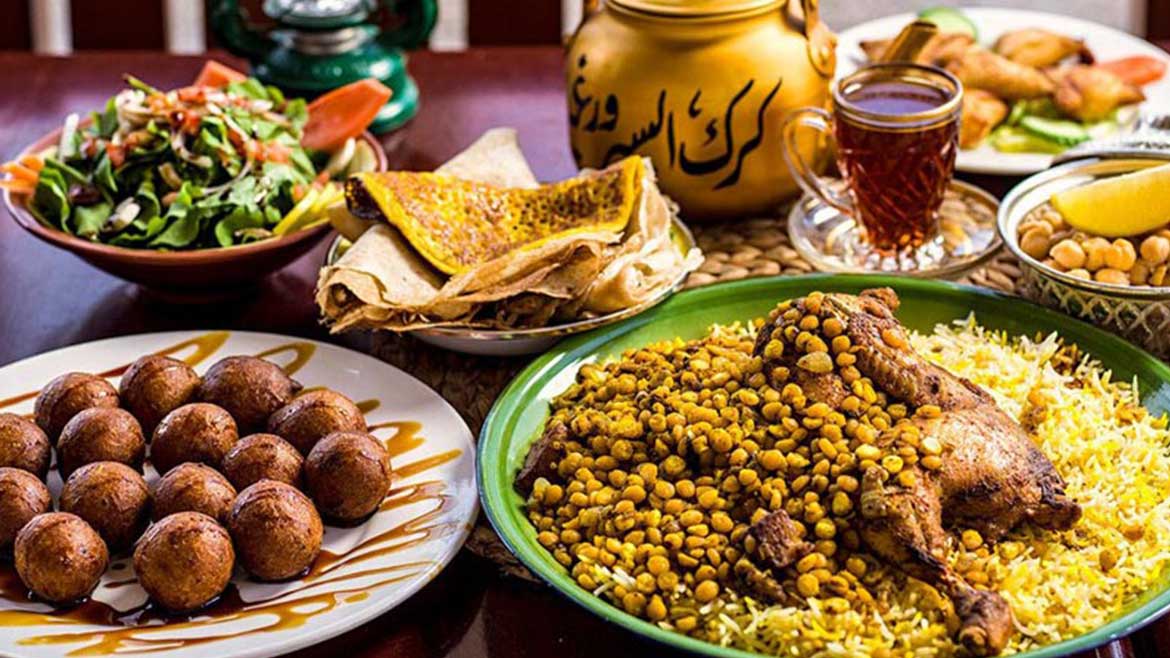 The Ultimate Guide to Dubai's Top 10 Must-Try Dishes
Dubai is a city that reflects the evidence of multiculturalism in all its aspects. The cuisine is an extended and expanded sector in the city. If you are scheduling your visit soon to the city, you can't nod on the ultimate Arab cuisine that is full of flavors. The flavors burst in your mouth with each gulp of the Dubai dishes you intake. 
Whether you are a vegetarian or non-vegetarian, Dubai dishes name is all you need to find to delve down into a plethora of options. There are an ample number of, starters, main courses, and dessert band beverage options that serve the uniqueness of the flavors of Arab. 
Here in this blog, we will be exploring the dishes of Dubai that caters to your cravings and choices. 
Top 5 Vegetarian Dishes in Dubai:
Hummus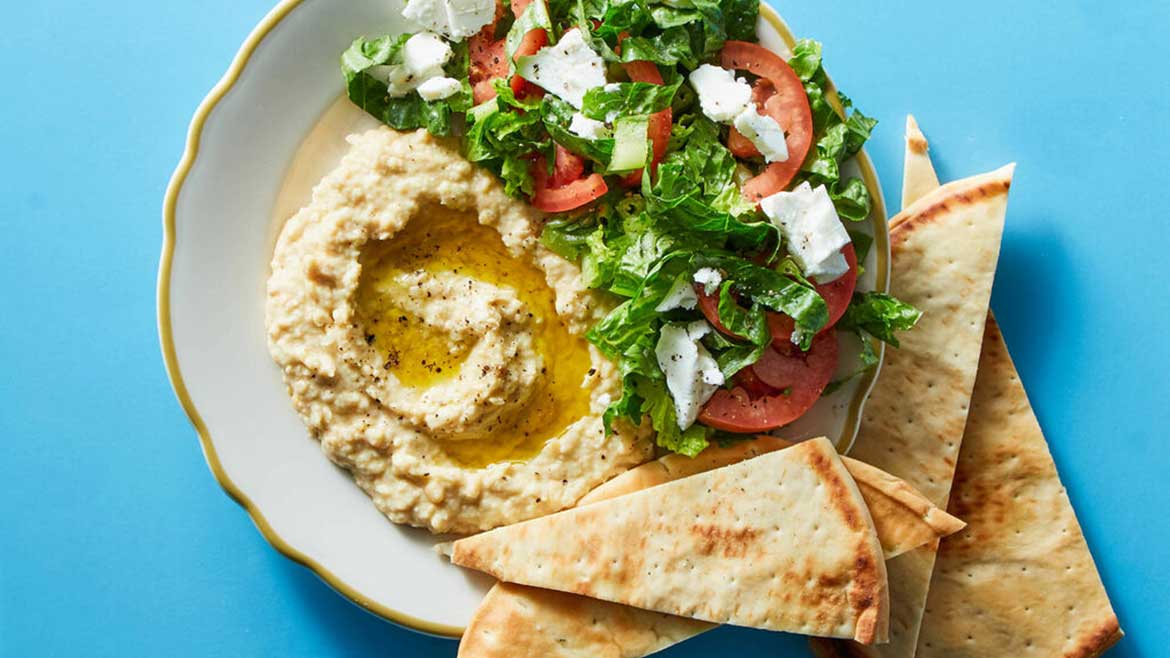 Hummus is a popular Middle Eastern dip that is prepared with mashed chickpeas, tahini, olive oil, garlic, and lemon juice. It is a staple food option that people in Dubai consume on a regular basis. You can find a variety of hummus on every menu in Dubai restaurants and food chains. Hummus is served best with pita bread, lavash, saute veggies, and falafel. It is guilt-free and healthy to consume. If you are a vegetarian, a hummus platter can be the ultimate option to drive your appetite. Hummus is usually served with pita bread, vegetables, or falafel. 
Fatayer
Fatayer, often served with a variety of dips is a traditional Middle Eastern pastry containing fillings of spinach, cheese, or zaatar, that are mashed together with spices. Fatayer is basically prepared as a triangular or boat-shaped pastry that is baked, till it turns golden brown. You can find it in many restaurants, bakeries, and food chains within the city. It is a perfect snack or breakfast item to have with a hot beverage, like coffee or tea.
Tabbouleh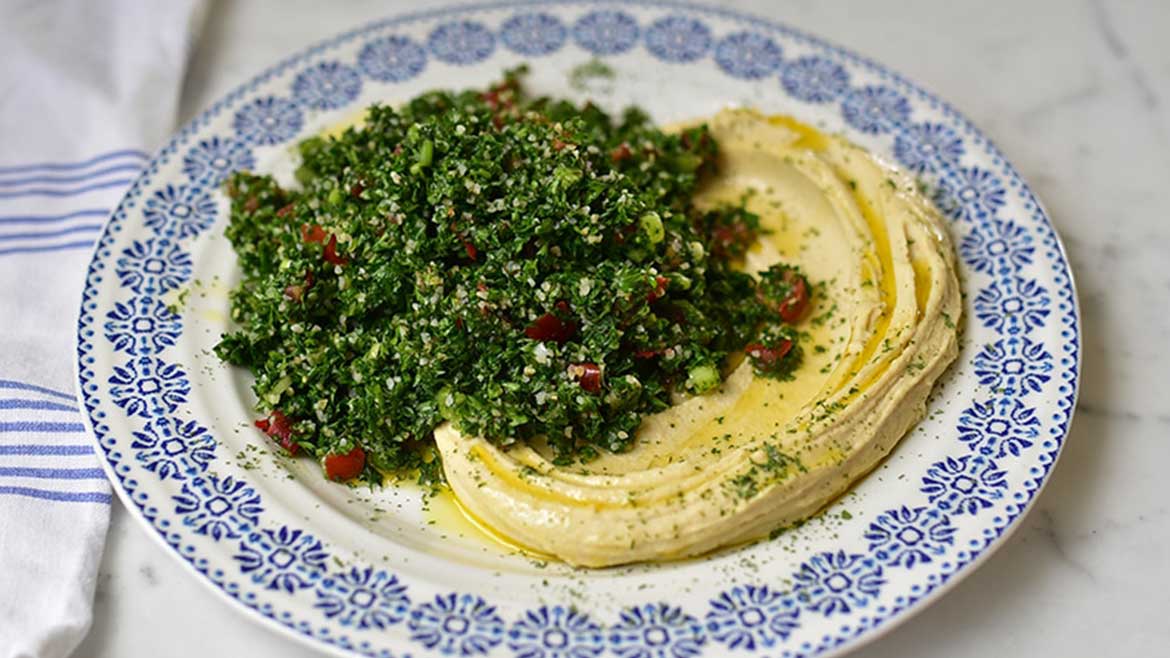 Tabbouleh is a popular Lebanese salad that is prepared from chopped parsley, tomatoes, onions, mint, and bulgur wheat. It is beautifully dressed using olive oil and lemon juice and can be served as a side dish or a main course. Tabbouleh is a healthy snack alternative that you can have on the go, as a vegetarian it is a great option to consume as it is full of different flavors and is nutritious. 
Stuffed Grape Leaves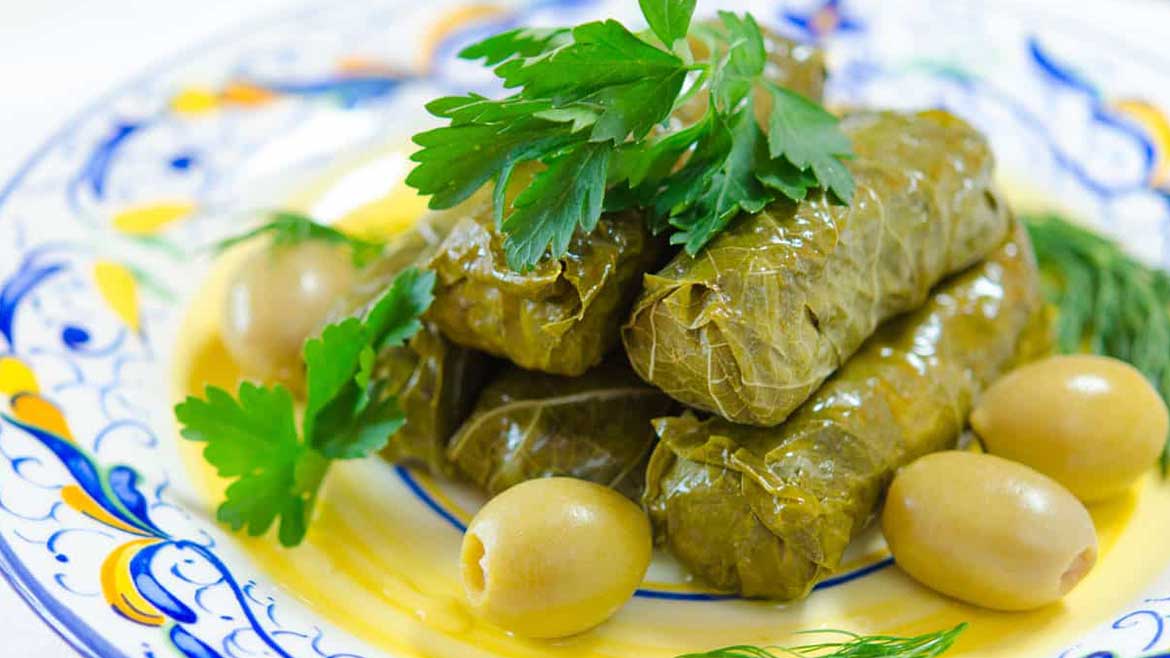 Stuffed grape leaves, commonly known as dolma, is a popular Middle Eastern dish that is prepared by wrapping a mixture of rice, herbs, and spices in grape leaves. The dish is usually served cold or at normal room temperature and can be filled with a variety of ingredients, such as onions, tomatoes, and mint. Stuffed grape leaves are a perfect appetizer option or a side dish for vegetarians.
Falafel Wrap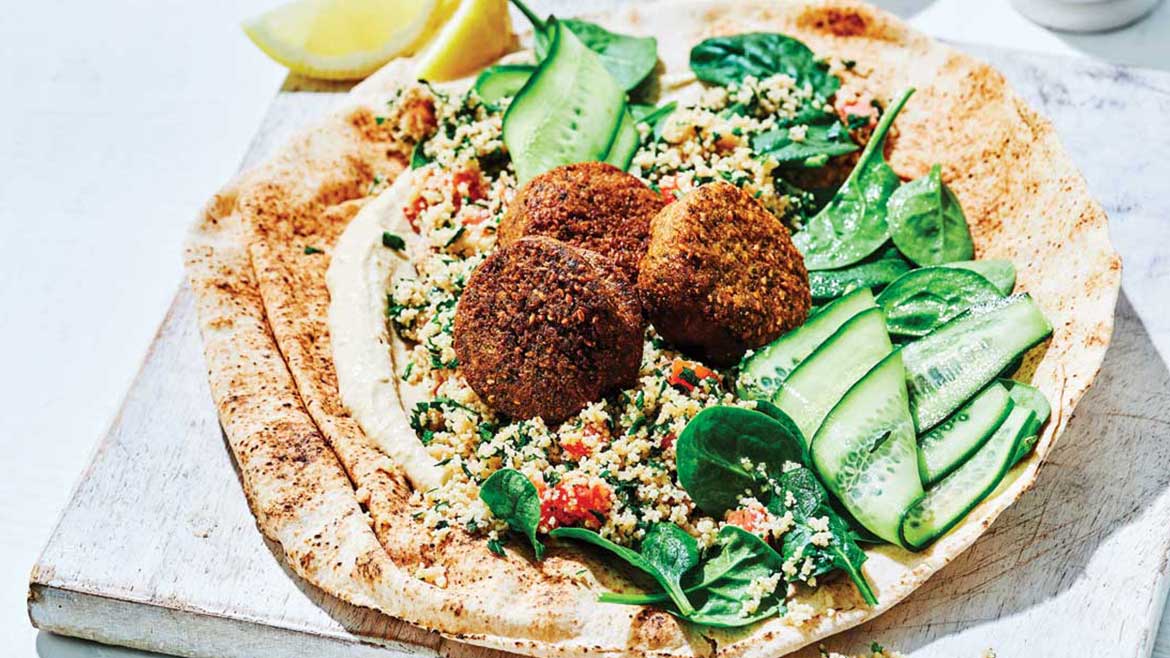 Falafel is a renowned Middle Eastern dish that is prepared from ground chickpeas, onions, garlic, and spices. The mixture is formed into balls or patties and deep-fried until they turn golden brown. It is crunchier on the outside and soft inside. Falafel is usually served with pita bread, vegetables, and a variety of dips. A falafel wrap is a perfect meal for vegetarians who are looking for a quick and filling lunch.
Top 5 Non-Vegetarian Dishes in Dubai:
Shawarma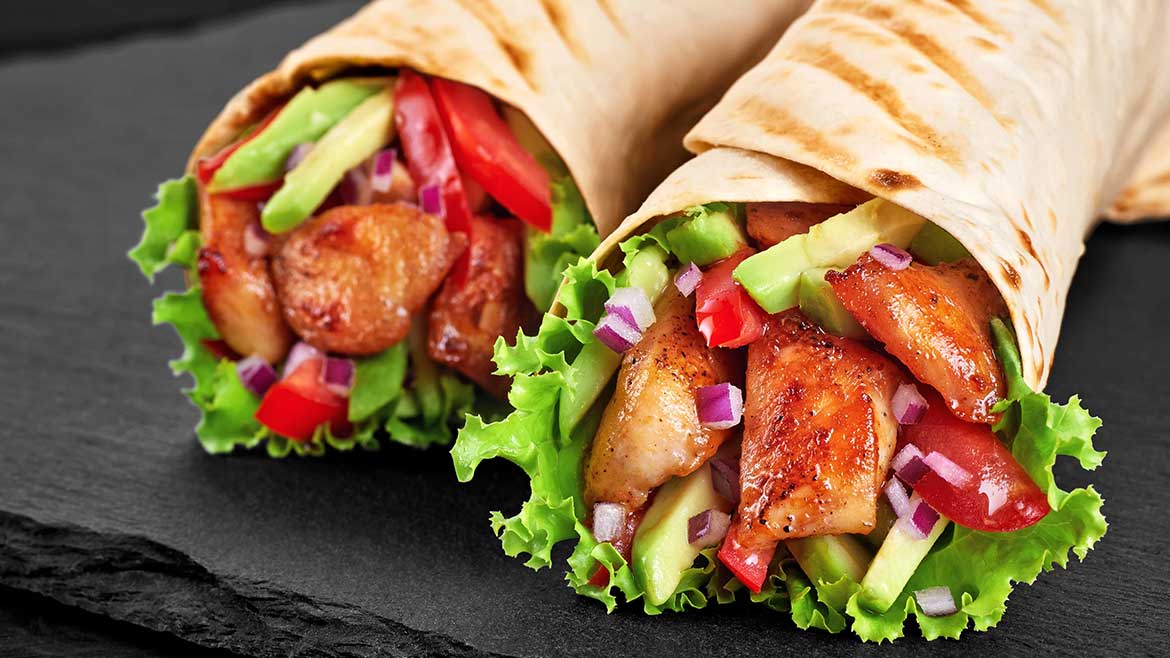 Shawarma is the best dish to indulge in a burst of aromatic and lip-smacking flavors. With a subtle taste outside and a spicy filling inside. The non-veg version of shawarma is prepared by roasting meat on a spit and then slicing it thinly which brings out a shredded texture. The meat can be chicken, or lamb and served in a wrap or pita bread with vegetables and sauces. It is filling and serves the appetite with unique flavors.
Grilled Meat Platter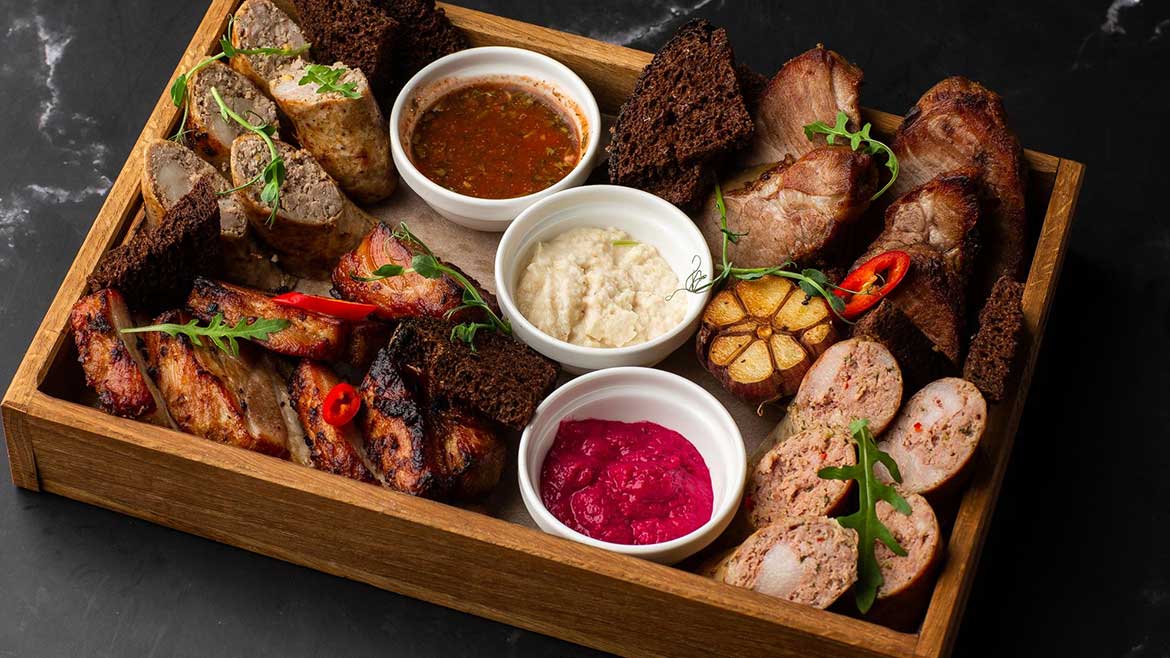 A grilled meat platter is a perfect meal option for non-vegetarians who love meat. It usually includes a variety of grilled meats such as lamb chops and chicken tikka kebab. The platter comprises a side of vegetables, rice, or bread. A grilled meat platter is a perfect mea choice if you are looking for a hearty and satisfying dinner.
Machboos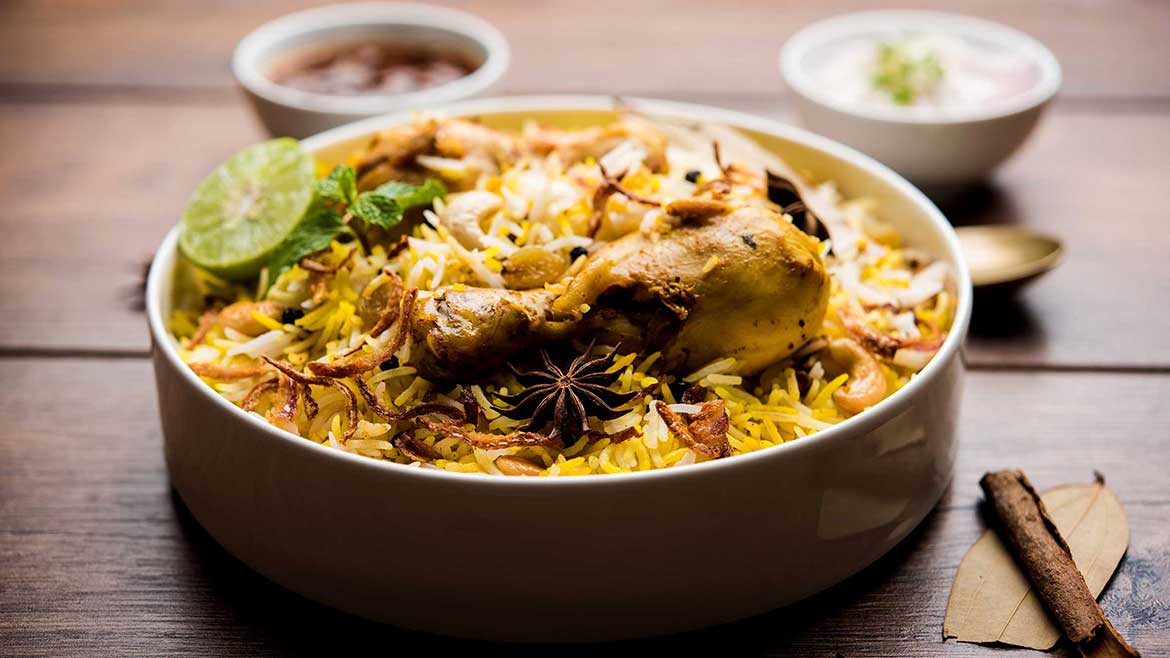 Machboos is a traditional Emirati dish, prepared with rice, meat, and spices. The meat can be chicken, lamb, or beef and is usually cooked with a variety of spices such as saffron, cinnamon, and cardamom. The dish is further served with a side of vegetables such as onions, tomatoes, and peppers. 
Biryani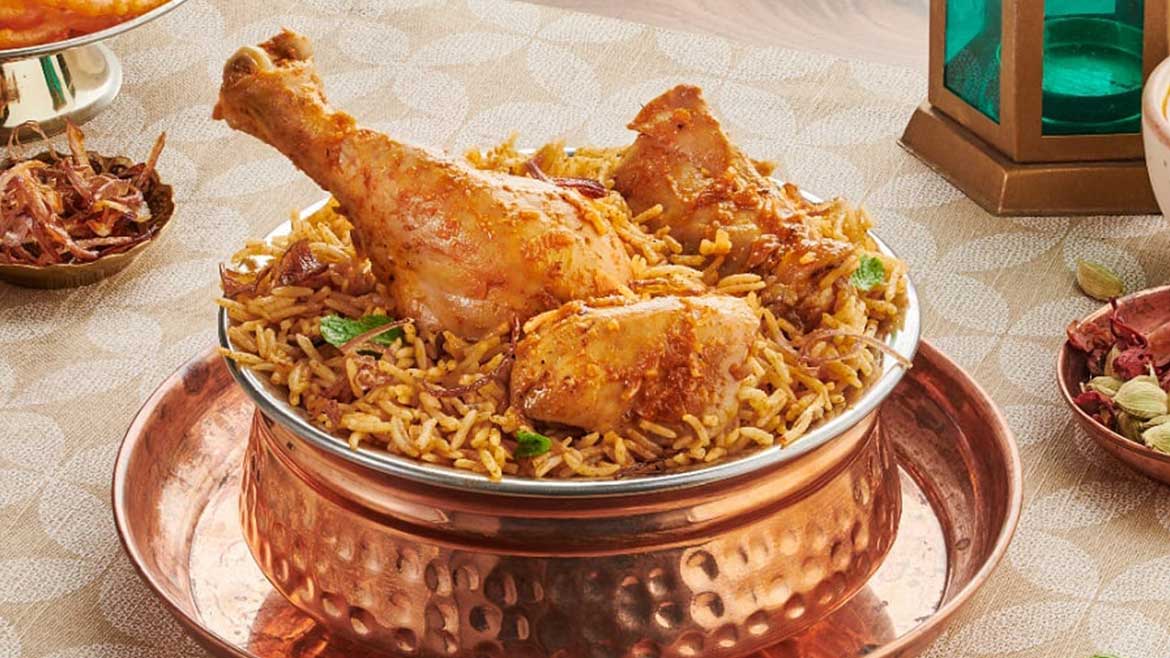 Chicken biryani or Mutton Biryani is a famous dish cooked with a variety of spices and long-grained rice. It is usually consumed with a variety of gravies and salad. Biryani is a popular dish in the world, however, there are many biryani points in Dubai that serves the best of authentic taste to indulge in.
Harees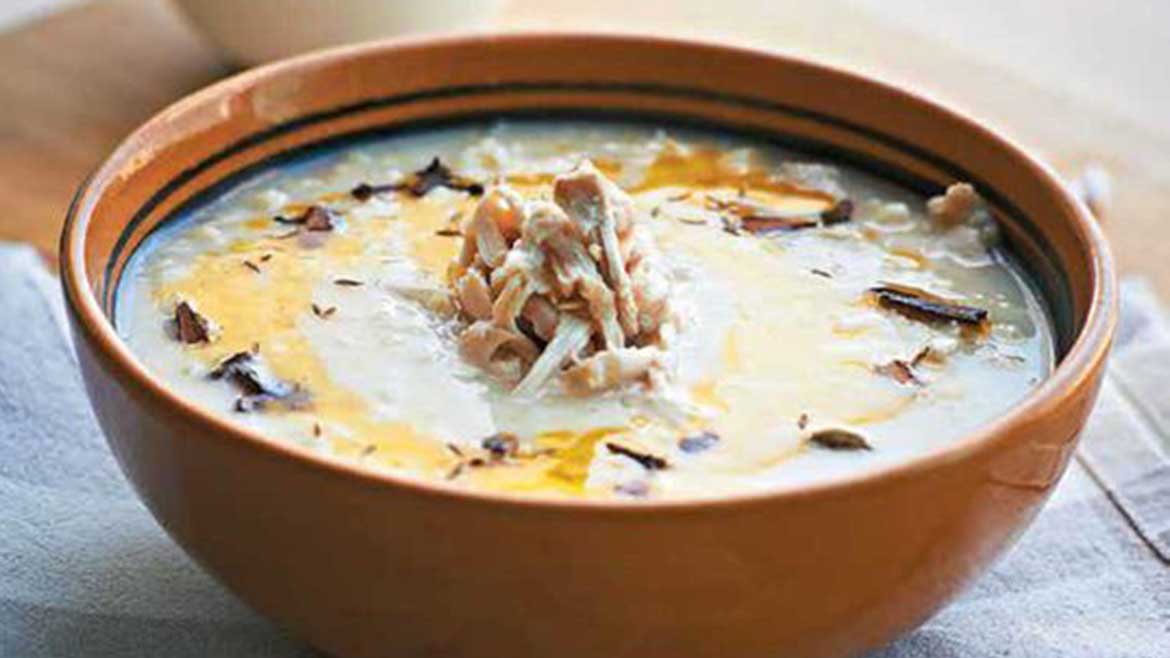 An Arab dish made with meat and a slurry of wheat, the taste of it is authentic and unique. If you are thinking of trying something special, hares is an ideal option to order on your next Dubai visit. It tastes best when taken with your choice of slices of breads.
Wrapping Up!
The above-listed dishes will serve your appetite and give a unique blend of flavorful aroma and taste. The uniqueness of Dubai food dishes lies in their ingredients and the way of preparation. Dubai special dish is just an order away, make sure to try these on your next visit. 
Dubai Local presents you with the most authentic  dishes of Dubai and venues that serve the best.