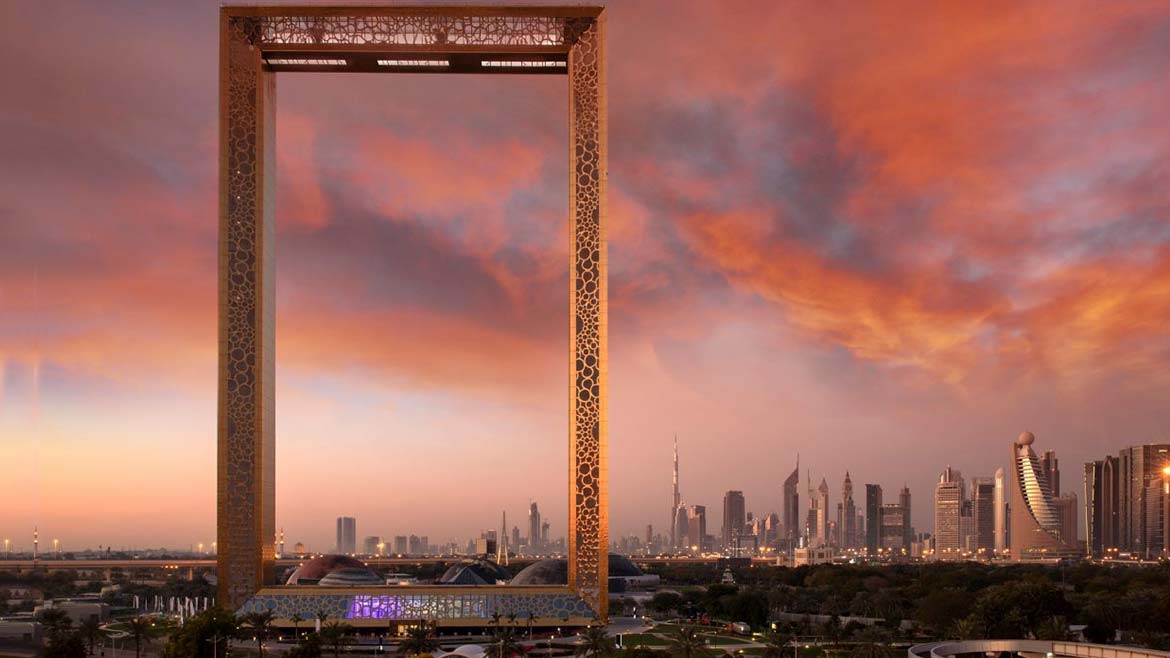 The Ultimate Guide to Dubai Frame
Dubai, a city well known for its exposure, has yet added another feather to its cap. Dubai Frame, an iconic structure in Zabeel Park that captures a view of old and new DUBAI, offers an impressive view of old and new Dubai. At the Dubai Frame, you have a panoramic view of the past, present, and future of old and modern Dubai. It is a prominent landmark that traces Dubai's history and reflects its prestige. The attraction was opened to the general public in January 2018 and has quickly become one of the most popular places in the entire UAE. If you are looking for a place to spend your vacation in Dubai, then your visit to Dubai Frame will definitely be worth it. 
Are you looking for information about Dubai Frame's visiting hours, ticket prices, etc.? If yes, then you are at the right place. This blog will give you all the answers to your Dubai Frame related queries. Let's get started.
Dubai Frame – An Iconic Landmark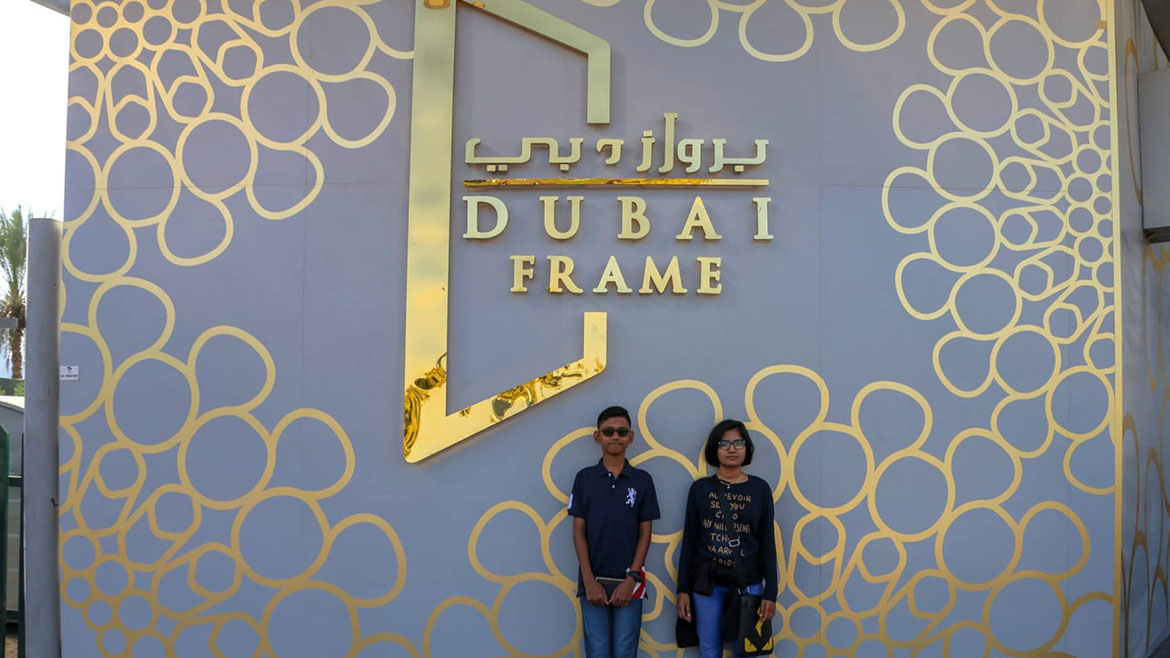 There is no doubt that Dubai Frame is the largest picture frame in the world with a height of 150 meters and a width of 93 meters. In order to construct this iconic structure, 9,900 cubic meters of reinforced concrete, 2,900 square meters of laminated glass, and 2,000 tons of steel were used. On the north side, you will see Dubai's older historic neighborhoods framed within the glittering structure. Toward the south, it features glitzy infrastructure and lovely skyscrapers.
Dubai Frame is both controversial and impressive at the same time. Fernando Donis, winner of an international architecture competition held by the Dubai government, designed this. Though Donis' idea was adopted for the iconic landmark, he did not receive payment and also sued the municipality for stealing his ideas.
Take a Look Before You Go
If you are driving, it is a bit confusing to get into the park since the roads are a bit curvy. Throughout the year, Dubai Frame is open to the public, including public holidays and weekends. Dubai Frame's opening hours may vary during the holy month of Ramadan. The usual opening hours are 9:00 a.m. to 9:00 p.m.
Ideal Time to Visit Dubai Frame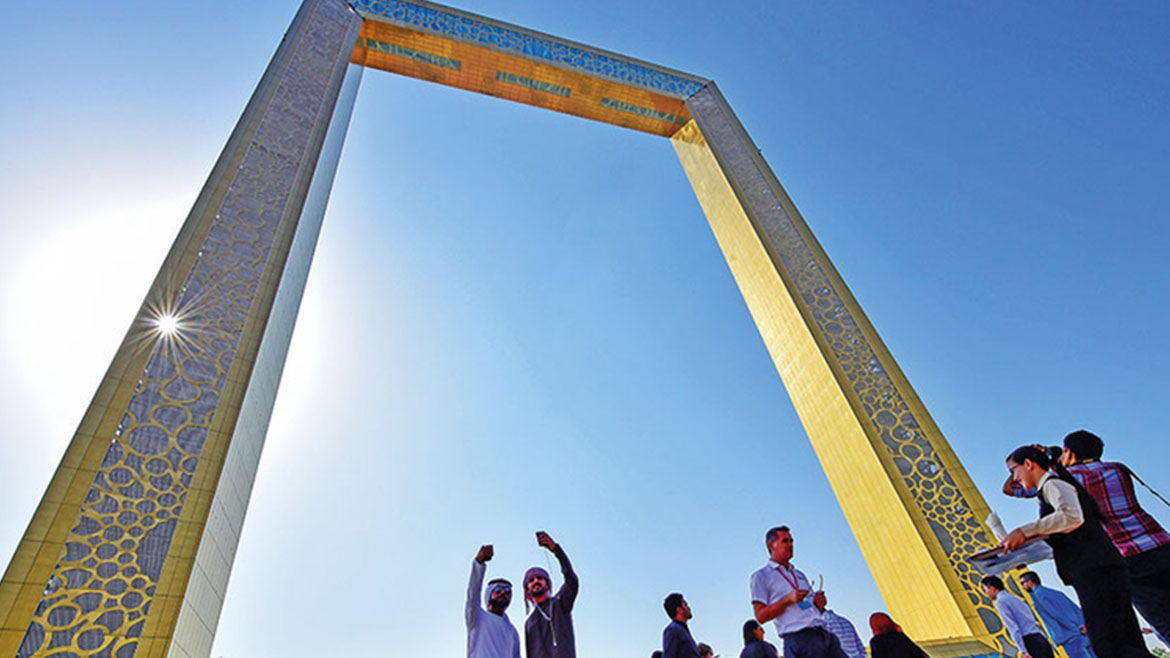 September is the best time to visit Dubai Frame. In September, the weather is generally milder in Dubai, which makes it a pleasant experience. In the morning, you can enjoy the panoramic view and in the evening, you can watch the sun set and the lights as it gets darker. There is a high chance of overcrowding during the festive season or on weekends. You can avoid crowds by visiting on weekdays. Therefore, you can come here at any time during operating hours and make the most of your day.
 Dubai Frame: How to Get There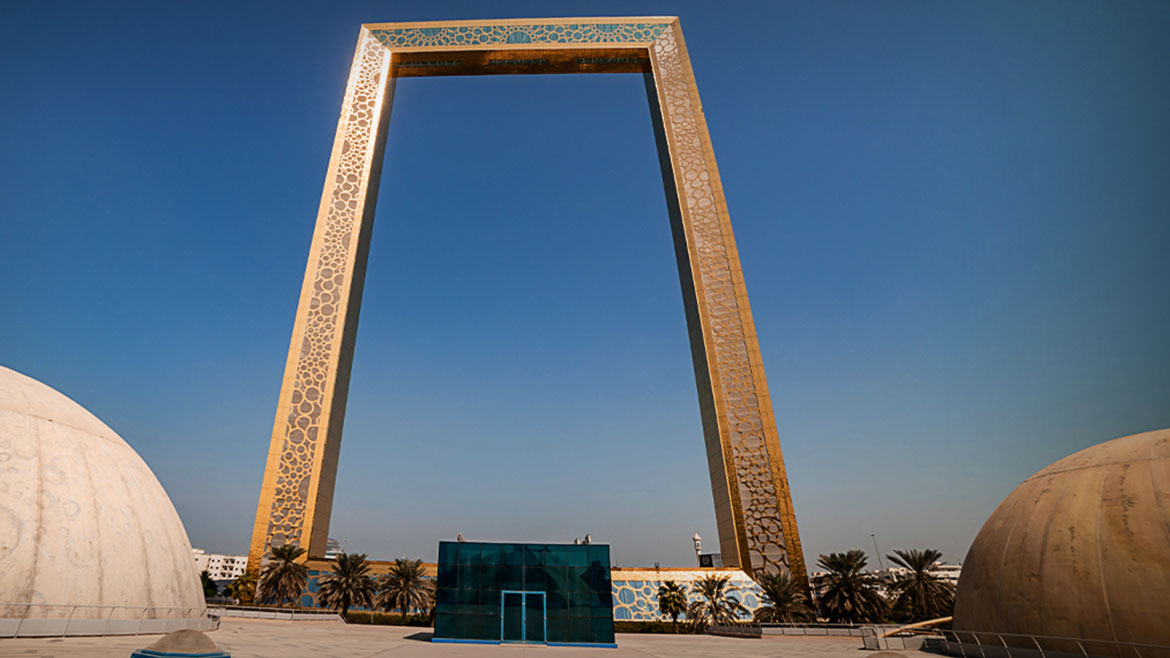 Take the metro when you want to avoid traffic and get an amazing view as you drive towards Dubai Frame. It's convenient, easy to hop on, and very cheap. The Al Jafiliya stop on the Red line is the closest metro station to Dubai Frame. You can reach Dubai Frame by walking a few minutes from the metro station.
Using the Zabeel Park Gate to feed into your GPS will help you reach the public parking near Zabeel Park. Just a short walk away, you'll find Gate 4 of the Dubai Frame.
If you are visiting Dubai from another emirate, then the bus is the best way to get around. The public transportation system is really efficient and costs less than the private transport system, with intercity routes from Abu Dhabi, Fujairah, Sharjah, and Hatta. It is easy to get on Bus F09, which stops right outside the Dubai frame building, just next to the bus stop.
What to Keep in Mind When you Visit Dubai Frame?
The area is strictly non-smoking.

Putting children on barriers or sitting on them is not allowed.

The area is not pet-friendly.

It is forbidden to carry toys or sharp objects.

Even though there is no specific dress code, dress modestly.

Food items are not allowed. 

Baby carts and large baggage are prohibited. Before entering the frame, you'll have to go through a security check.

Children under 12 must be accompanied by an adult.

Touching or tampering with any exhibit or article on display is prohibited.
Verdict
If you are planning to visit Dubai, then Dubai Frame is a must-see. Every public place has certain rules, especially Dubai. That is why if you plan to visit this place, you should first read this blog.