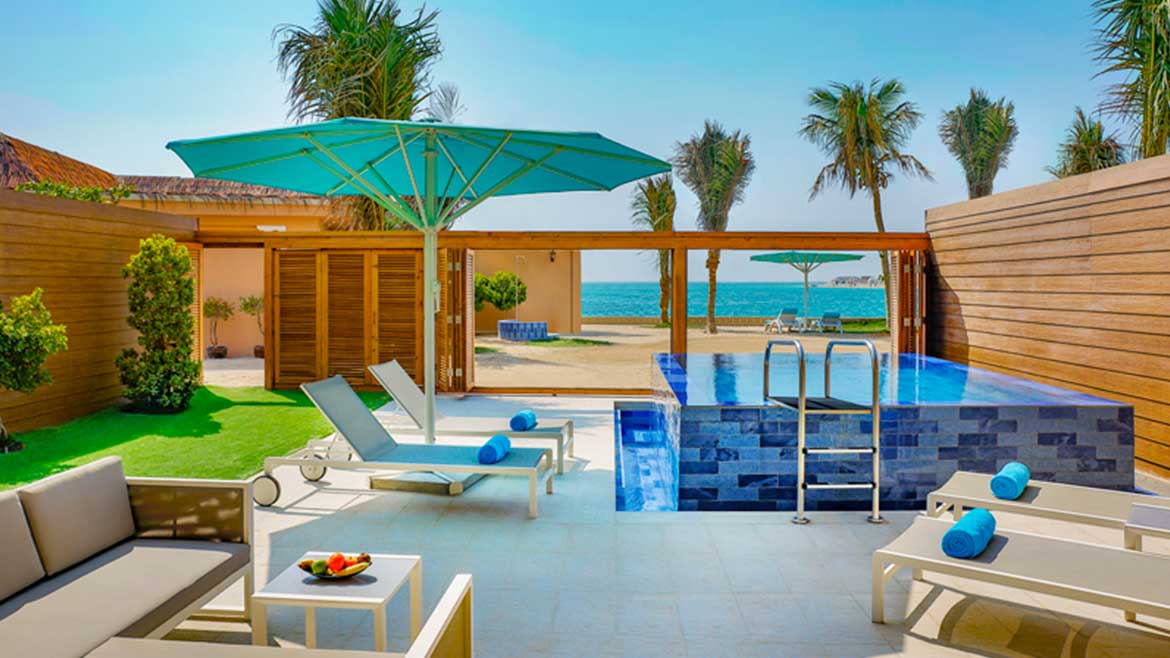 Exploring Unique Accommodations in Dubai's Surroundings
Welcome to the vibrant and mesmerizing city of Dubai and its enchanting surroundings. In this blog, we will embark on a journey to discover some of the most unique and extraordinary accommodations that will enhance your experience and leave you with unforgettable memories. From luxurious resorts to cozy desert retreats, Dubai offers a wide range of accommodation options that cater to every traveler's taste. Let's delve into the world of accommodations in Dubai and explore the best places to stay during your visit.
Desert Oasis Retreat: Al Maha, a Luxury Collection Desert Resort & Spa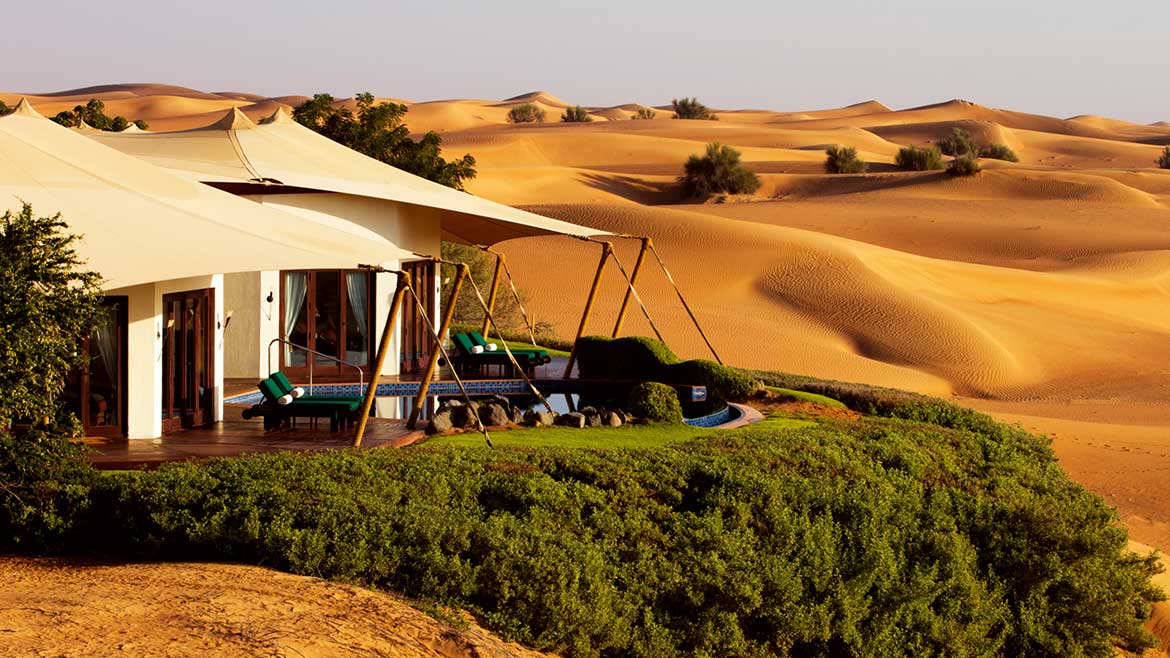 Nestled amidst the mystical desert landscape, Al Maha offers a remarkable experience for those seeking tranquility and natural beauty. This secluded resort provides exclusive villas with private pools, offering panoramic views of the rolling dunes. Immerse yourself in the Bedouin-inspired decor and indulge in the finest Arabian hospitality. Al Maha ensures an authentic desert experience combined with exceptional luxury.
Address: N 55° – 24°47'21.3 – 36'27.8″E Al Ain – Dubai Rd – Dubai – United Arab Emirates
Phone: +971 4 832 9900
Iconic Splendor: Burj Al Arab Jumeirah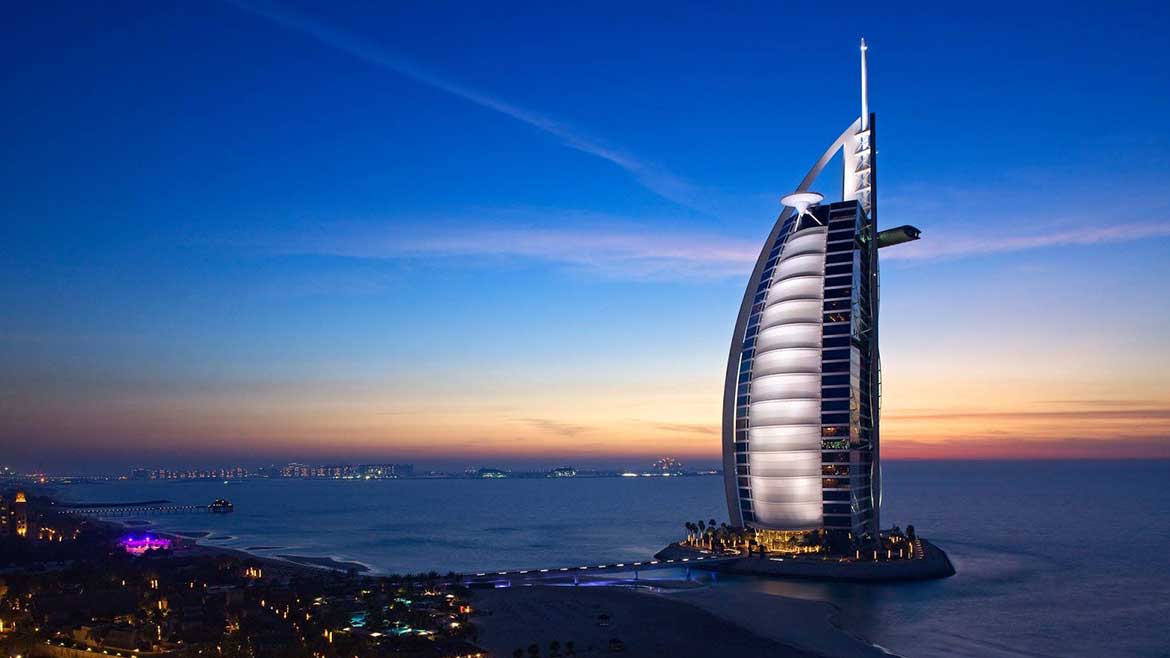 Dubai's iconic symbol of luxury, the Burj Al Arab Jumeirah, stands tall as one of the most luxurious accommodations in Dubai. Shaped like a billowing sail, this architectural marvel is renowned for its opulent suites, personalized service, and breathtaking views of the Arabian Gulf. Indulge in a lavish spa treatment, savor exquisite dining options, and revel in the ultimate extravagance that defines the Burj Al Arab Jumeirah experience.
Address: Umm Suqeim 3 – Dubai – United Arab Emirates
Phone: +971 4 301 7777
Seaside Serenity: One&Only The Palm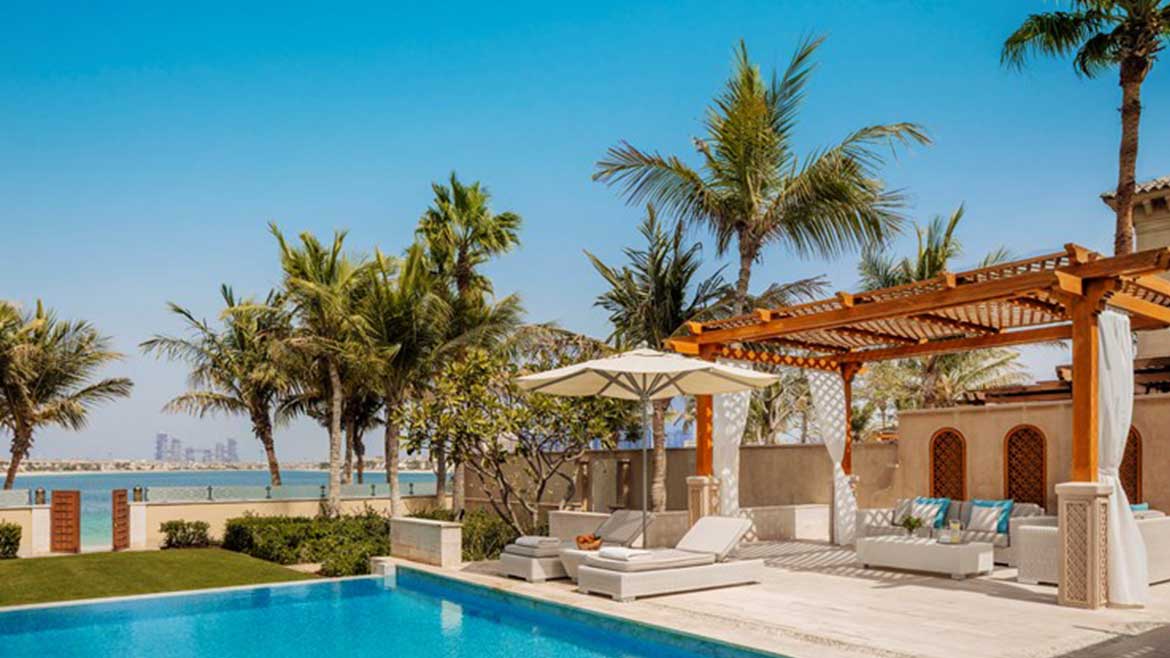 Situated on the pristine Palm Jumeirah island, One&Only The Palm offers an idyllic coastal retreat away from the bustling city. This elegant beachfront resort combines Moorish and Andalusian architecture, providing a tranquil ambiance. Unwind in luxurious rooms and suites adorned with exquisite furnishings, relax on private beaches, and relish gourmet cuisine at the resort's world-class restaurants. One&Only The Palm exudes serenity and sophistication.
Address: West Crescent, Palm – Jumeirah – Dubai – United Arab Emirates
Phone: +971 4 440 1010
Heritage and Tradition: Al Bastakiya Quarter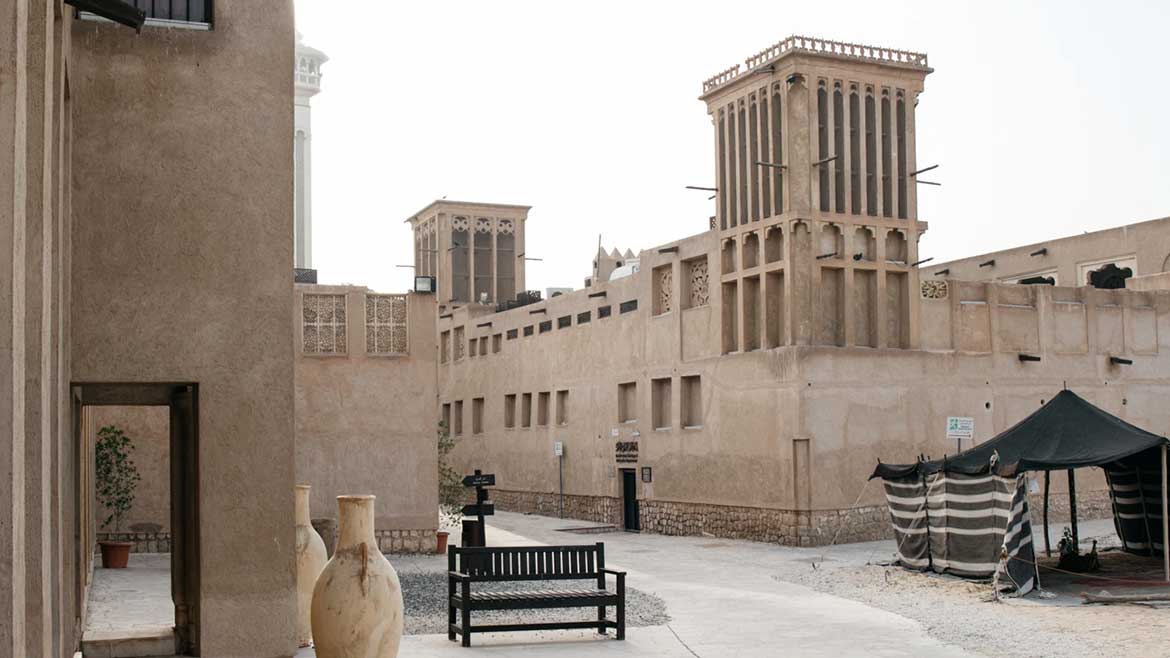 For a unique cultural experience, venture into the historic Al Bastakiya Quarter, a restored neighborhood showcasing traditional Arabian architecture. Within this heritage enclave, you'll find boutique accommodations that immerse you in the charm of Dubai's past. Experience the warmth of Arabian hospitality, explore art galleries and museums, and stroll through narrow alleyways adorned with wind towers. Al Bastakiya Quarter offers an authentic glimpse into Dubai's rich history.
Address: Al Fahidi – Dubai – United Arab Emirates
Phone: +971 800 33222
Modern Elegance: Armani Hotel Dubai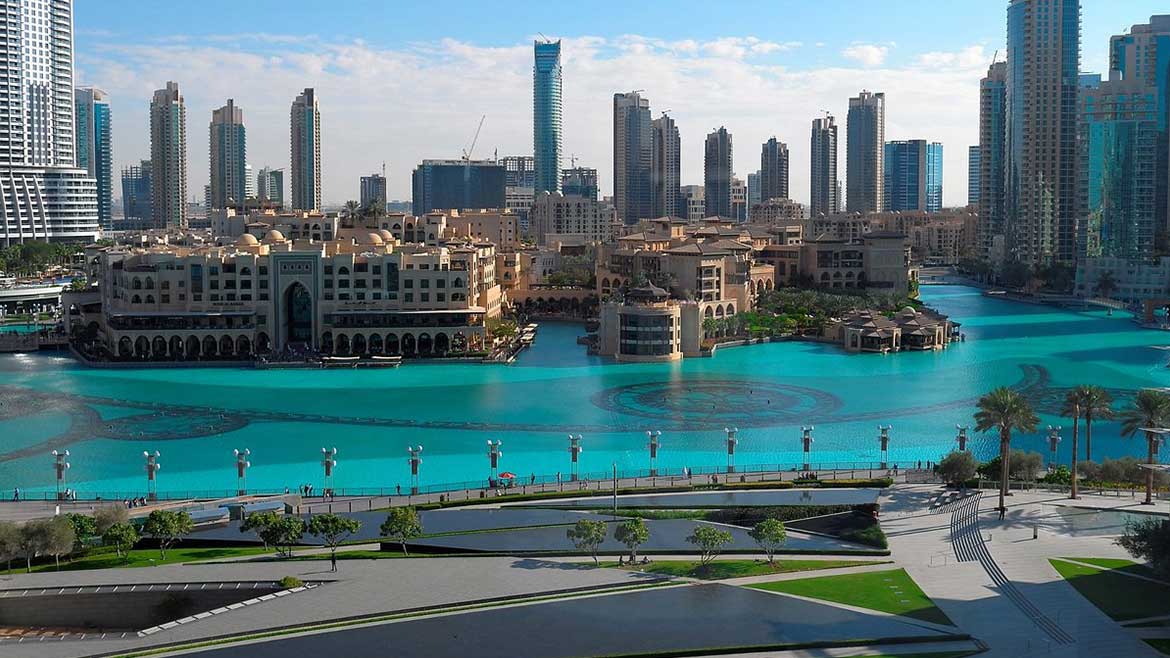 Set within the iconic Burj Khalifa, the world's tallest building, Armani Hotel Dubai embodies refined elegance and contemporary design offering the best accommodations. Each room and suite is meticulously designed by fashion maestro Giorgio Armani, exuding sophistication and luxury. Enjoy unparalleled views of the city, savor delectable cuisine at award-winning restaurants, and unwind at the spa. Armani Hotel Dubai epitomizes style and offers an extraordinary stay in the heart of Dubai.
Address: Sheikh Zayed Rd – Al Barsha – Al Barsha 1 – Dubai – United Arab Emirates
Phone: +971 4 395 1373
Eco-Friendly Resorts in Ras Al Khaimah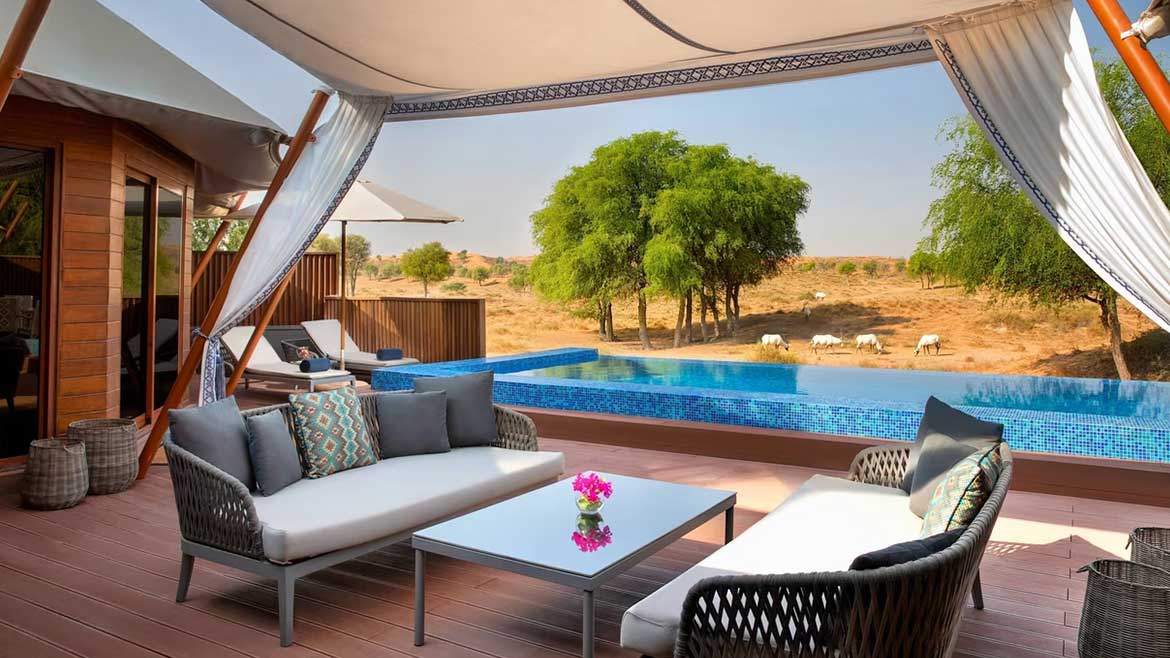 For those seeking a sustainable and eco-conscious experience, Ras Al Khaimah offers a range of accommodations that prioritize environmental conservation. One such resort is the Al Wadi Desert. Situated in a nature reserve, this resort provides luxurious villas with private pools, desert views, and a chance to engage in conservation activities. Immerse yourself in the serene desert surroundings while contributing to the preservation of the local ecosystem.
Address: Al Mazraa Wadi Khadija – Al Ashish – Ras al Khaimah – United Arab Emirates
Phone: +971 7 206 7777
Treehouse Retreats in the Hajar Mountains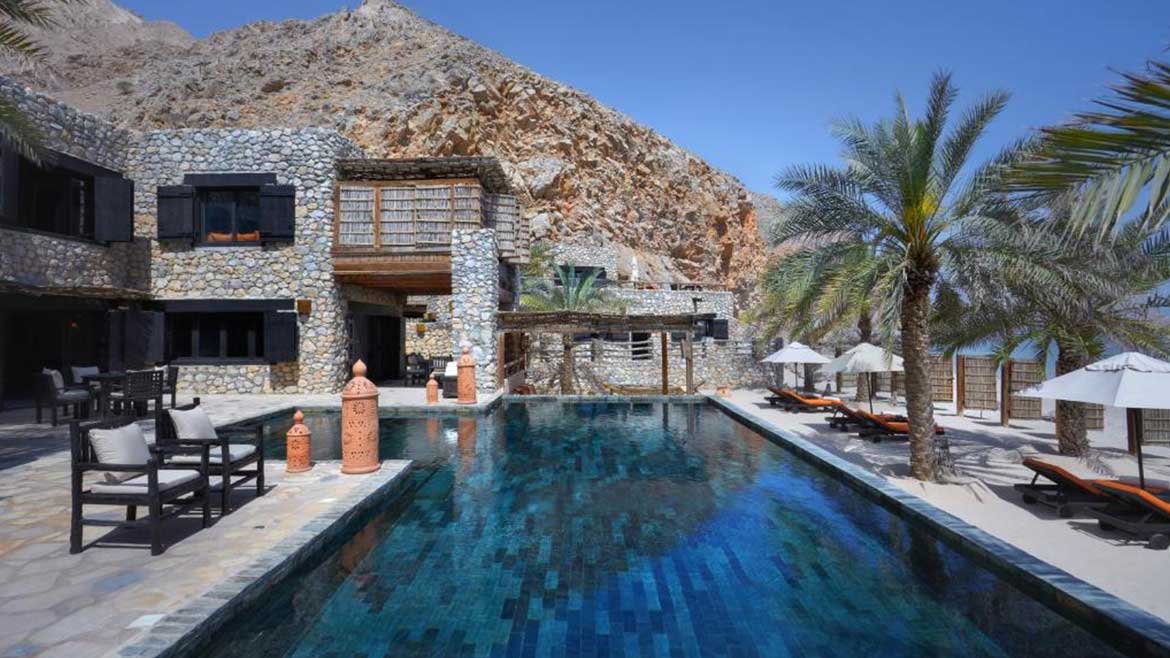 Escape the city and venture into the Hajar Mountains, where you can find unique treehouse retreats that provide a peaceful and secluded getaway. The Six Senses Zighy Bay is an extraordinary resort offering the best accommodations nestled among the mountains. The spacious treehouses provide a harmonious blend of natural beauty and modern comfort. Wake up to panoramic views of rugged cliffs, lush valleys, and the crystal-clear waters of the Gulf of Oman.
Address: Renaissance Downtown Hotel – Marasi Dr – Business Bay – Dubai – United Arab Emirates
Phone: +971 4 512 5566
Floating Villas on The World Islands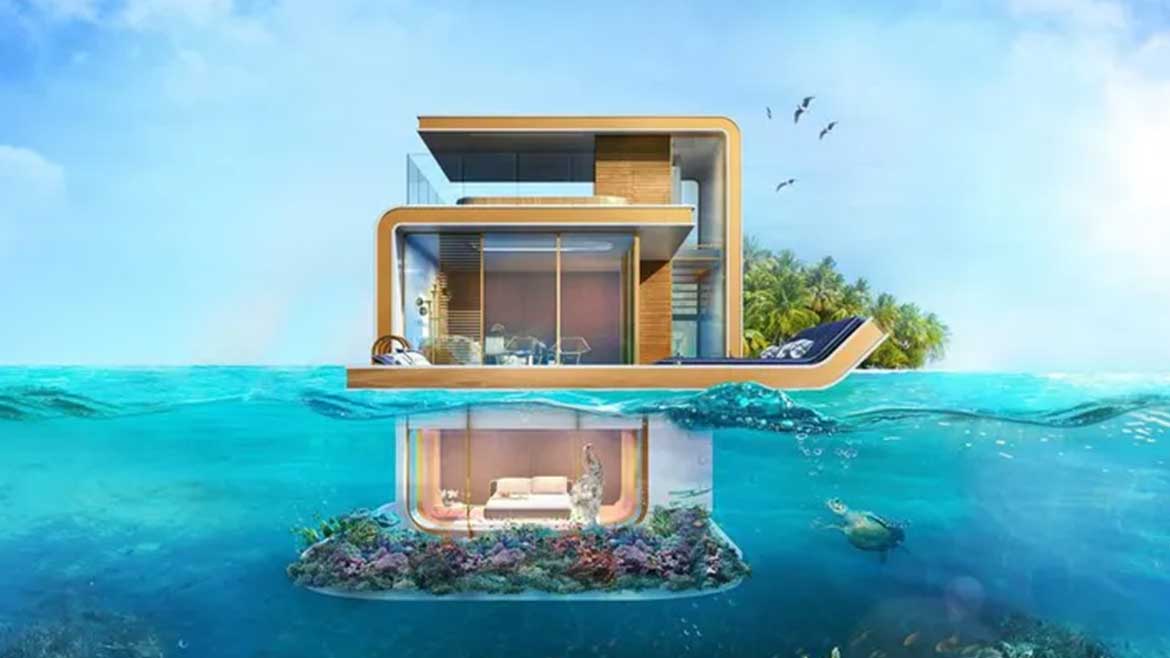 Dubai is known for its ambitious and extraordinary construction projects, and The World Islands is one such marvel. These man-made islands shaped like a map of the world offer an exclusive and unparalleled experience. The Floating Seahorse Villas located on these islands redefine luxury. These stunning villas feature underwater bedrooms, glass-walled living areas, and breathtaking views of the Arabian Gulf. Immerse yourself in the beauty of the ocean and indulge in the ultimate seafaring lifestyle.
Address: 65F7+F9Q – The World Islands – Dubai – United Arab Emirates
Final Words!
Dubai's surroundings offer a remarkable array of the best accommodations that cater to every traveler's desires. Whether you seek desert tranquility, seaside serenity, cultural immersion, or modern elegance, Dubai has it all. From the luxurious Al Maha and Burj Al Arab Jumeirah to the serene One&Only The Palm and the heritage charm of Al Bastakiya Quarter, each accommodation provides a distinct experience. Embark on your Dubai adventure and create cherished memories in these extraordinary settings. If you are searching for accommodations in Dubai or accommodation near me, do visit Dubai Local.