Dubai's Must-Try Local Street Foods
Dubai is much more than gold souks, a king-like lifestyle, skyscrapers, and a vibrant social life. It also holds the World Record for constructing some of the amazing man-made marvels like the Dubai Frame, Palm Fountain, and the zipline at Urban Marina. Yes! It is credited with some of the best engineering marvels, but its street food is no less popular. The street food in Dubai is a mix of Middle-Eastern and Asian cuisines, which makes it every gastronome's dream.
But, Dubai is also a mixture of different cultures, and this is evident in the wide number of cuisines on the menus of its many local restaurants or cafes.
To help satisfy your craving for some great food, given below is a comprehensive list of the best street food items you should try when in Dubai.
8 Must-Try Local Street Foods in Dubai
Keep in mind, the best street food in Dubai uses some commonly available ingredients like meat, grain, and dairy. Apart from this, spices like saffron, thyme, cardamom, and turmeric are widely used to provide that distinct aroma and taste.
Shawarma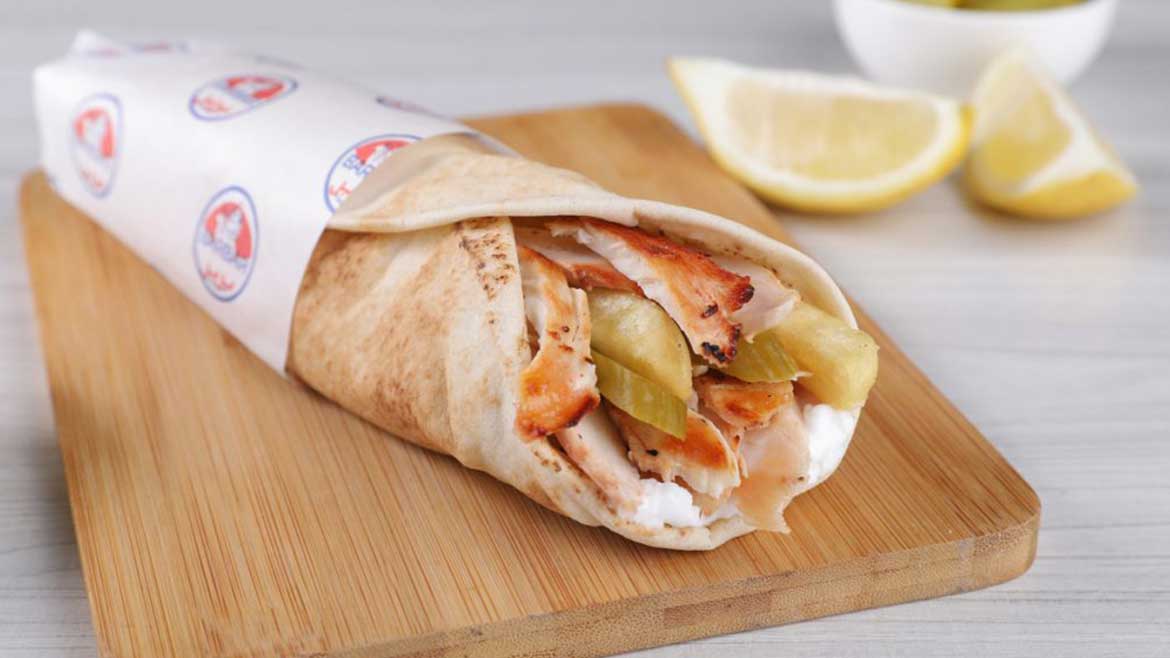 Shawarma originated in the Ottoman empire, but is a famous Middle Eastern dish. It is the most traditional street foods available in Dubai. Shawarma is made by folding a flatbread into a cone-like shape, filling it with some tasty sliced meat (roasted slowly over a vertical rotiserrie). The filling can be sliced chicken, lamb, or beef. Shawarma is also filled with onion, vegetables, and various sauces to give it an other-worldly taste.
Shish Tawouk Sandwich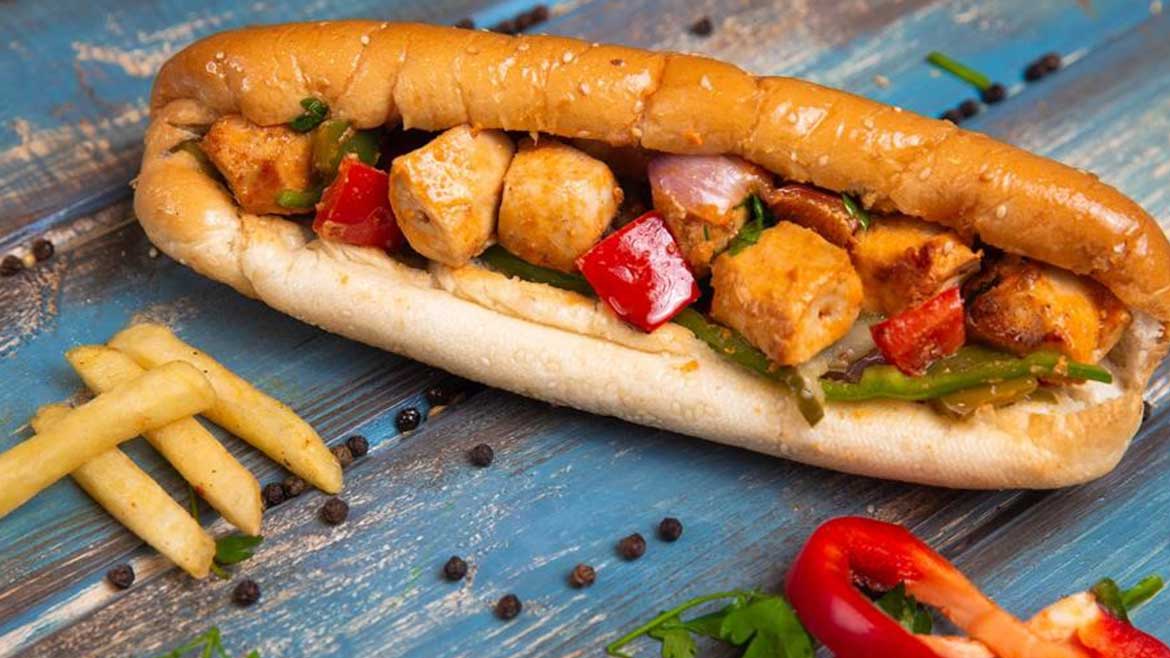 Shish Tawouk Sandwich is one of the best street food in Dubai, yet it is an undiscovered gem that many tourists are unaware of. It is a non-vegetarian dish made by filling a flatbread with sliced chicken pieces, and contains spices, vegetables, pickles, and herbs. You can order it in one of the serving middle-eastern dishes eating joints.
Tabbouleh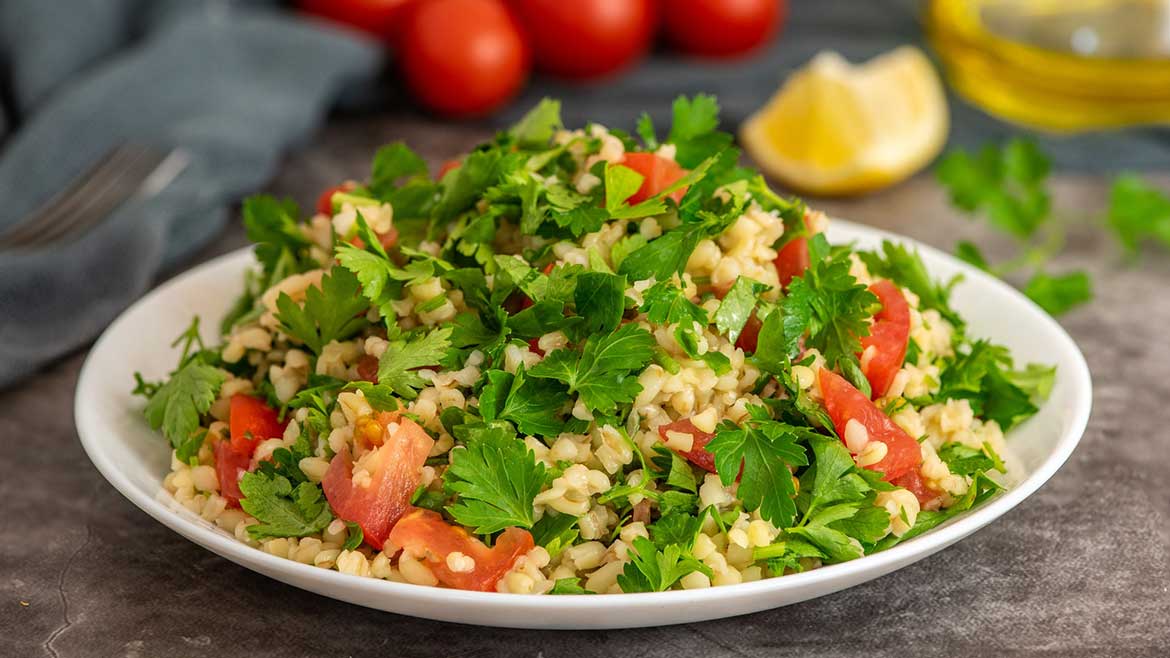 If you want to taste street food that is a bit on the vegetarian side, try Tabbouleh. Originally from Lebanon, it is a popular vegetarian street food in Dubai. Tabbouleh is a salad made from tomatoes, parsley, cucumber, lemon juice, mint, green onions, and sweet pepper.
Knafeh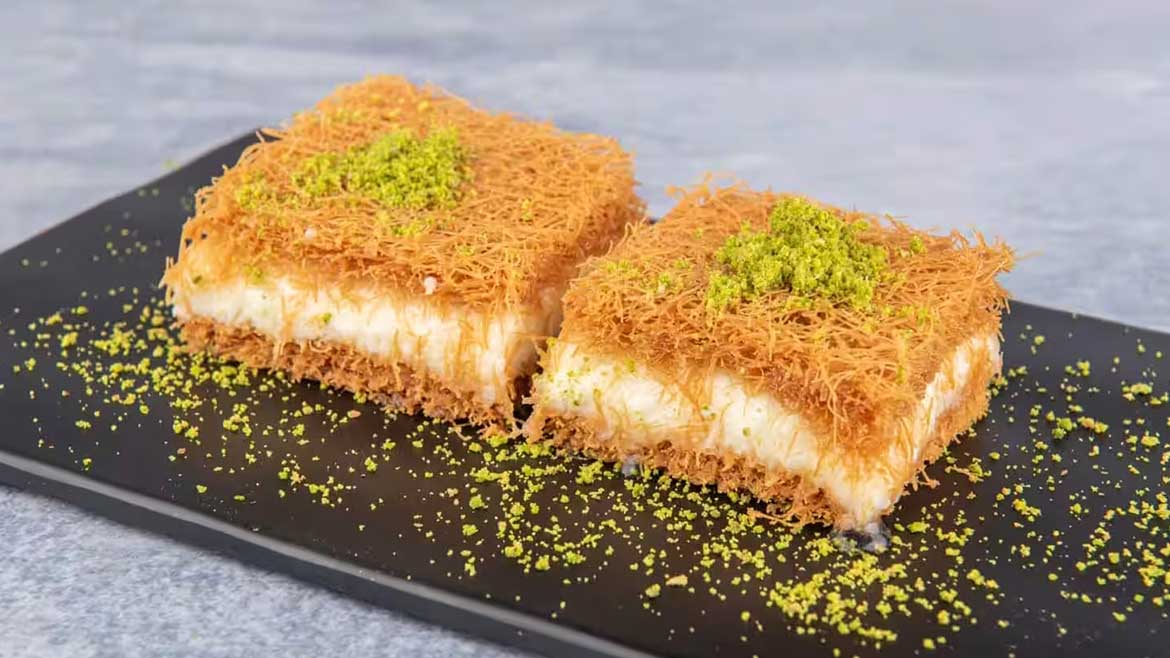 Knafeh, popular as the "queen of dessert" is one of the best street food in Dubai for those with a sweet-tooth. This dish is prepared using a spun pastry (Kataifi), saturated with a sugar-based syrup, with clotted cream layered on top, cheese, nuts, pistachio, and a host of other ingredients. It has an outer crunchy layer and a soft and juicy inside filled with cheese and rose syrup. Knafeh is the perfect dish if you love the combination of cheese and sweets, and is quite popular amongst locals and tourists in Dubai.
Harees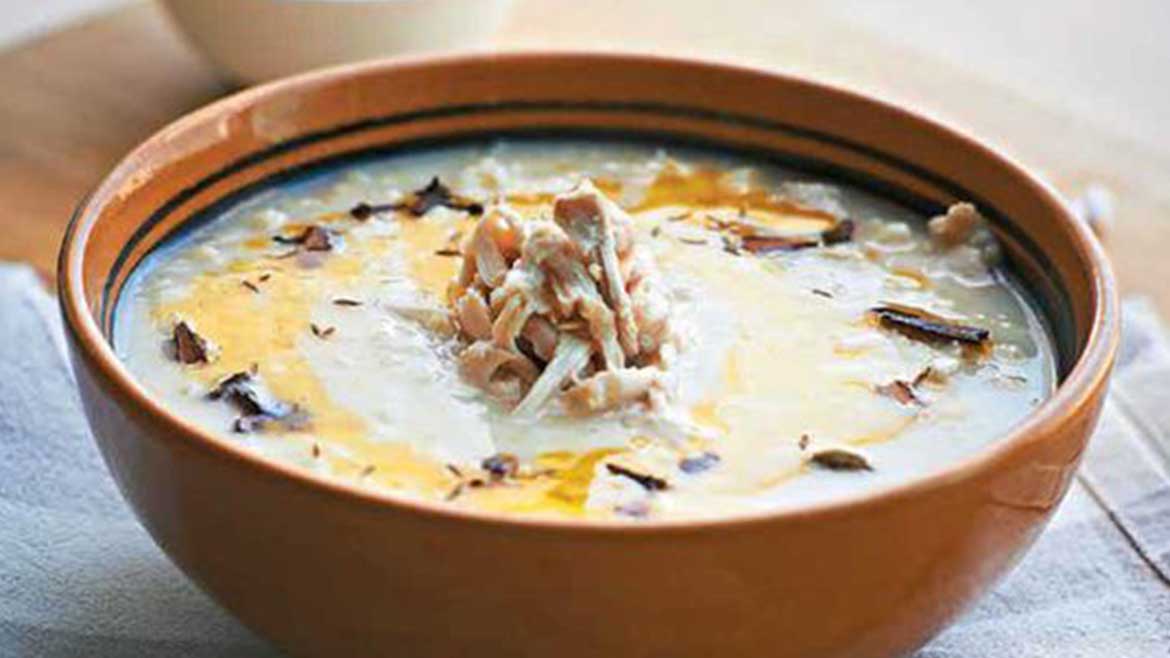 Harees is amongst the best street foods of Dubai and a popular Emirati dish. It is prepared with wheat and meat (chicken or lamb), and spices like cardamom, and nutmeg to add to the flavor. To add to its aroma, Harees is garnished with ghee, roasted nuts, and a little rosewater. It is mostly available during Ramadan, Eid ul-Fitr, and Arab weddings, as it takes a bit of time to prepare.
Luqaimat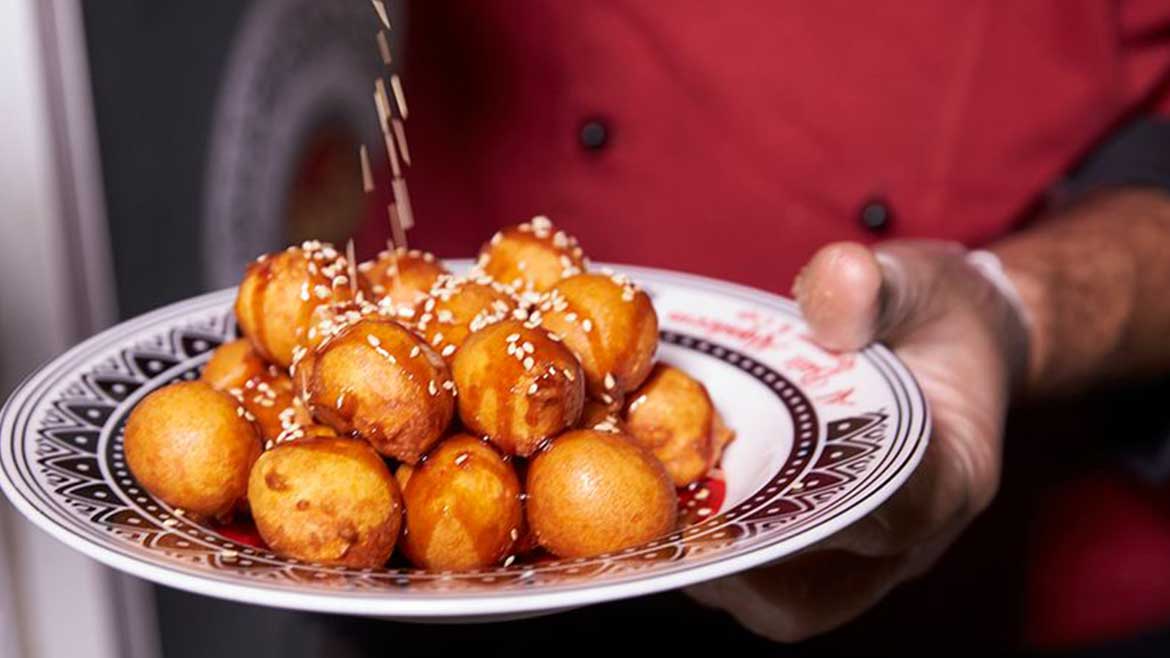 Luqaimat, also popular as Arabic dumplings is a traditional Emirati dessert and a famous street food in Dubai. These are prepared using a combination of flour, sugar, yeast, and saffron-mixed water. It also has sesame seeds sprinkled on top, fried on the outside, soft on the inside, and soaked in date or honey syrup.
Falafel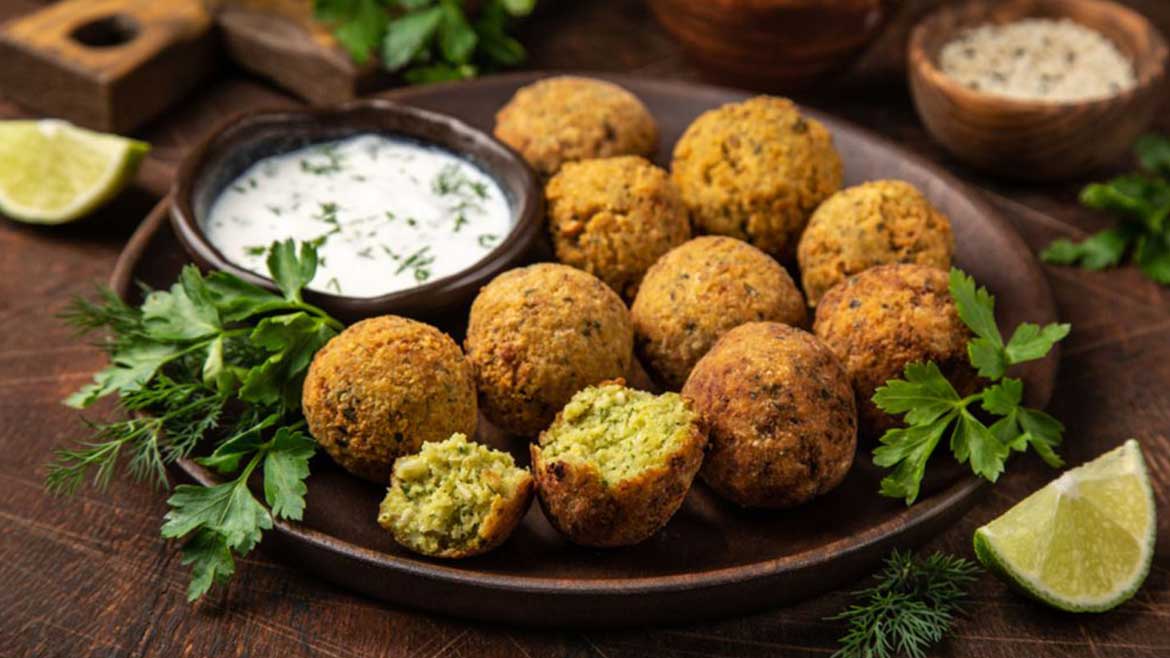 One dish that is common between North Africa, Middle East, and Levant is Falafel. It is made from deep-friend ball made of chickpeas, fava beans, or both. When wrapped in a roll with fresh vegetables and different dressings, Falafel becomes a mouth-watering street food. Falafel is easily available at many restaurants and cafe throughout Dubai. It was the Lebanese immigrants who introduced Falafel to the world of street food in Dubai.
Machboos
Machboos is the best street food in Dubai if you want to witness first-hand the aromatic magic of Arabian cuisines. It is a rice dish prepared using a mixture of spices, slow-cooked meat, and rice. Machboos is garnished with raisins, nuts, and fried onions to give it that distinct flavor. Using a combination of saffron, turmeric, cardamom, and cinnamon adds in that Emirati delight to the dish.
To make it easier for you to enjoy street food item mentioned above, here are the best places you should try out in Dubai.
Best Places for Street Food Lovers in Dubai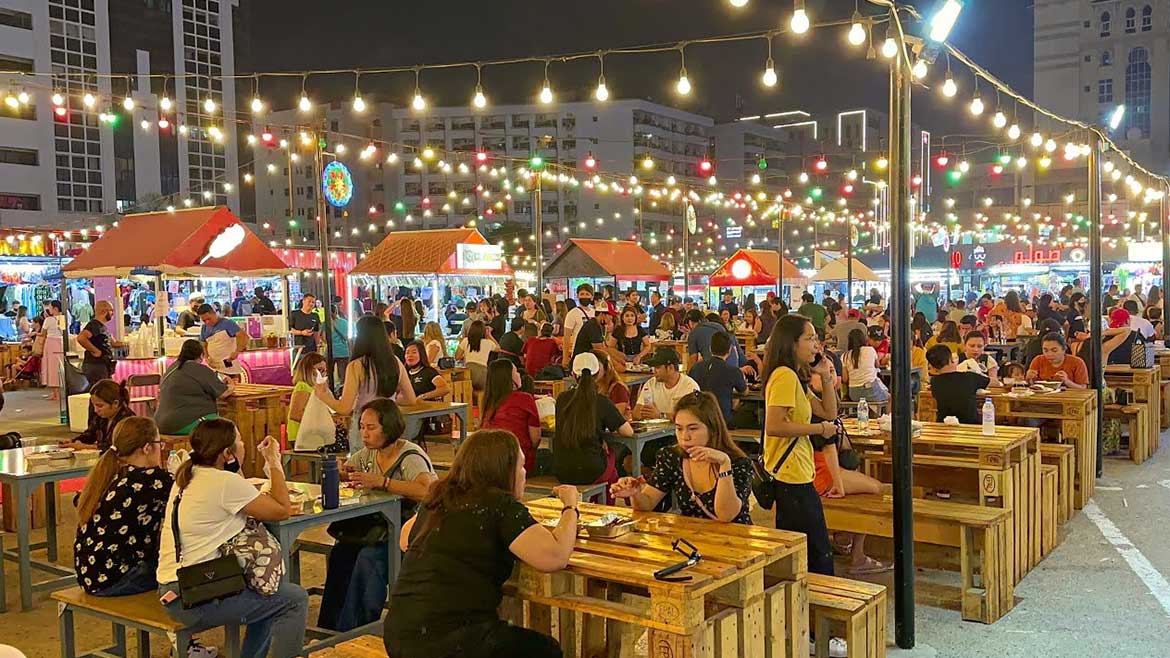 Meena Bazar

Ripe Market

Downtown

Bur Dubai

Global Village

Satwa
Conclusion
Dubai is not just a place to shop and splurge, it is a city that caters some of the best cuisines from different cultures. So, if you consider yourself a serious gastronome, make sure to taste the best street food in Dubai, especially the ones mentioned above to get a taste of actual Emirati cuisines.