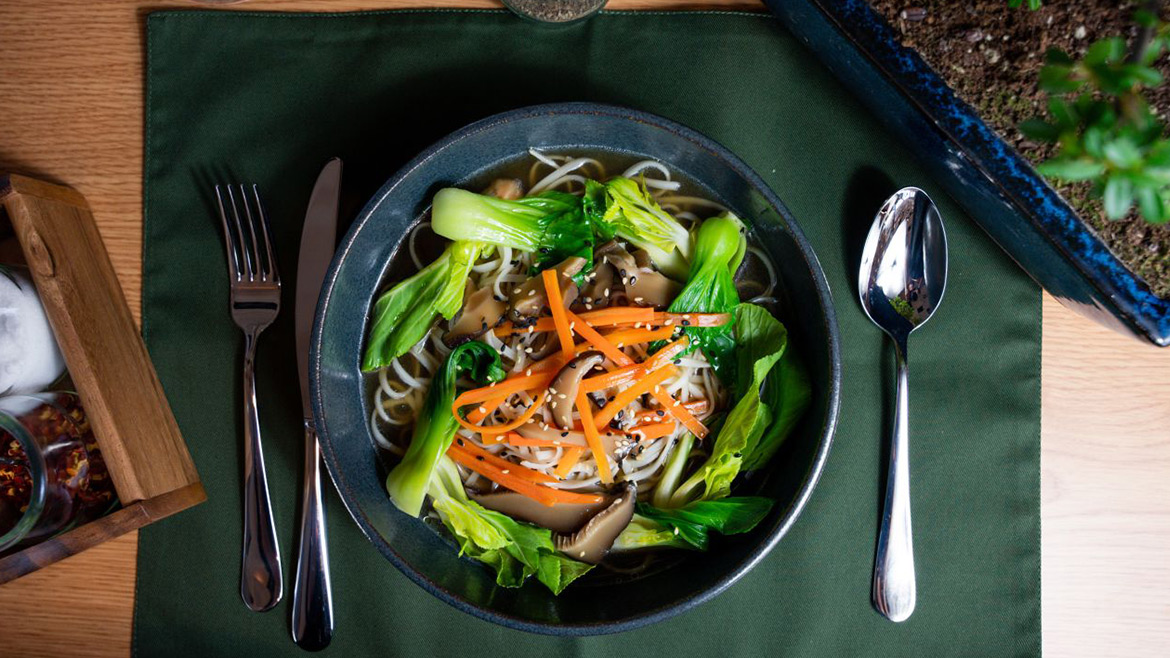 Best Dubai Places Serving Delicious Arabic Food
Dubai is one of the best places to spend your holidays by visiting world-class architectural models like Burj khalifa. One of the world-class experiences people feels at the city of gold with unlimited shopping, trying the best cuisines and authentic Arabic dishes. Dubai got a few interesting things for everyone so that no one gets bored with Dubai city. There are entertainment arrangements for local residents and tourists for daytime and nightlife. Feel the magic of this Dubai city and try the best Arabic dishes at old & famous restaurants for Arabic food and cafes to take away the best moments with your loved ones. 
Em Sherif Cafe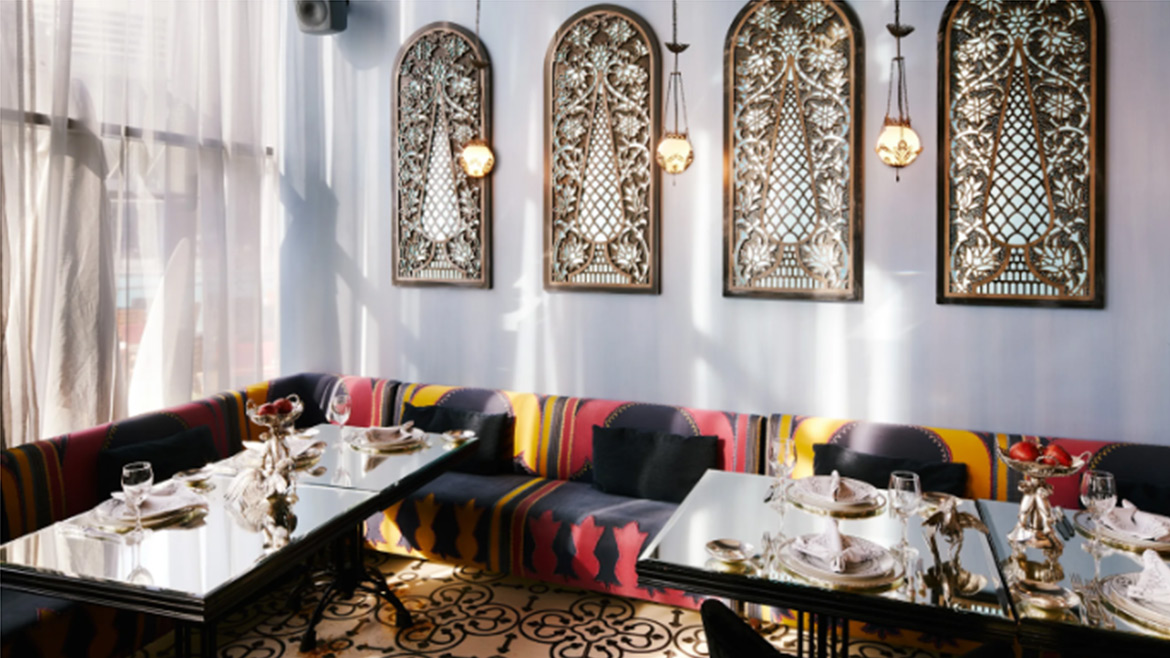 Em Sherif Cafe can be translated as Sherif's Mother, this is one the best restaurants in Dubai that serve you Lebanese-founded dishes. They prepare Arabic cuisine with freshness, and rusticity that leave you with the best Arabic food experience. Em Sherif Cafe presents classy interiors, quality staff who serve you with a smile, and premium chefs who create detailed plating. So, keep Em Sherif Cafe on your list for your next visit to popular restaurants in Dubai.
Address: Sheikh Mohammed bin Rashid Blvd – Downtown Dubai – Dubai – United Arab Emirates
Timings: 10 AM – 2 AM 
Phone: +971 56 577 7900
Karam Beirut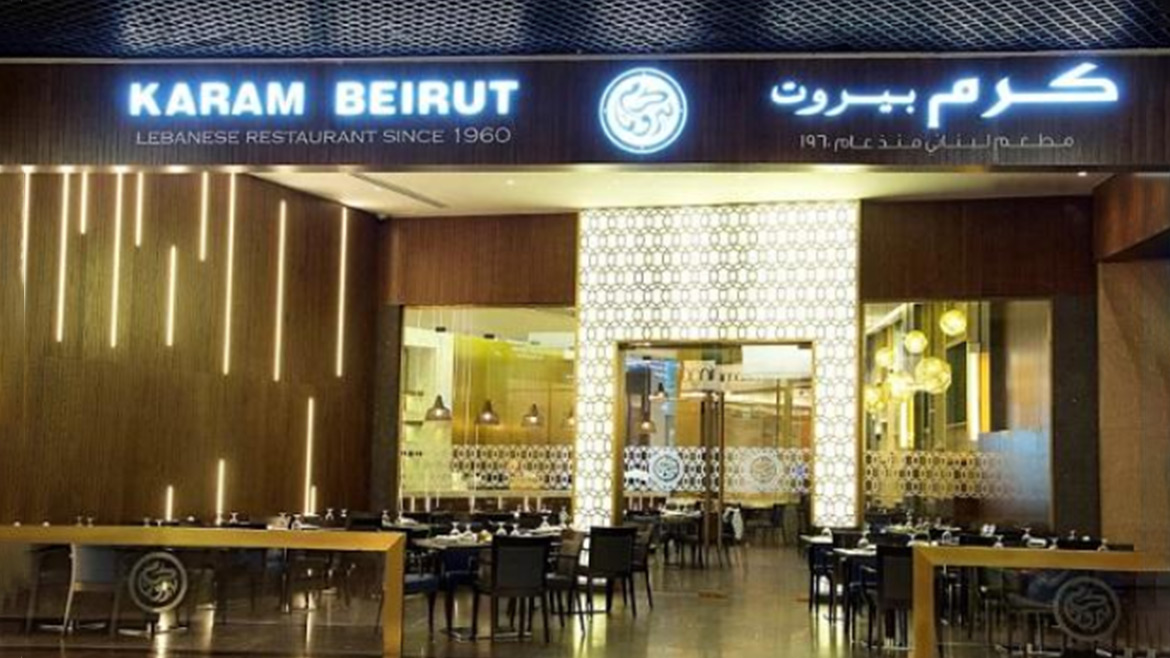 Taste some authentic Lebanese menu with a variety of options at Karam Beirut. You can try every Arabic delicacy here that brings you an amalgamation of flavors and brings richness with every bite. Check out their Kibbeh Nayeh and chargrilled specialties. Karam Beirut is a perfect blend of spices and flavors that increase your craving for Arabic food.
Address: Financial Center Street, Along Sheikh Zayed Road, Next to Burj Khalifa – Dubai The Dubai Mall – Financial Center Rd – Dubai – United Arab Emirates
Timings: Monday – Thursday 12:30 AM – 12 AM 
                Friday – Sunday 12:30 – 1 AM 
Phone: +971 4 339 9789
Arabian Tea House Restaurant & Cafe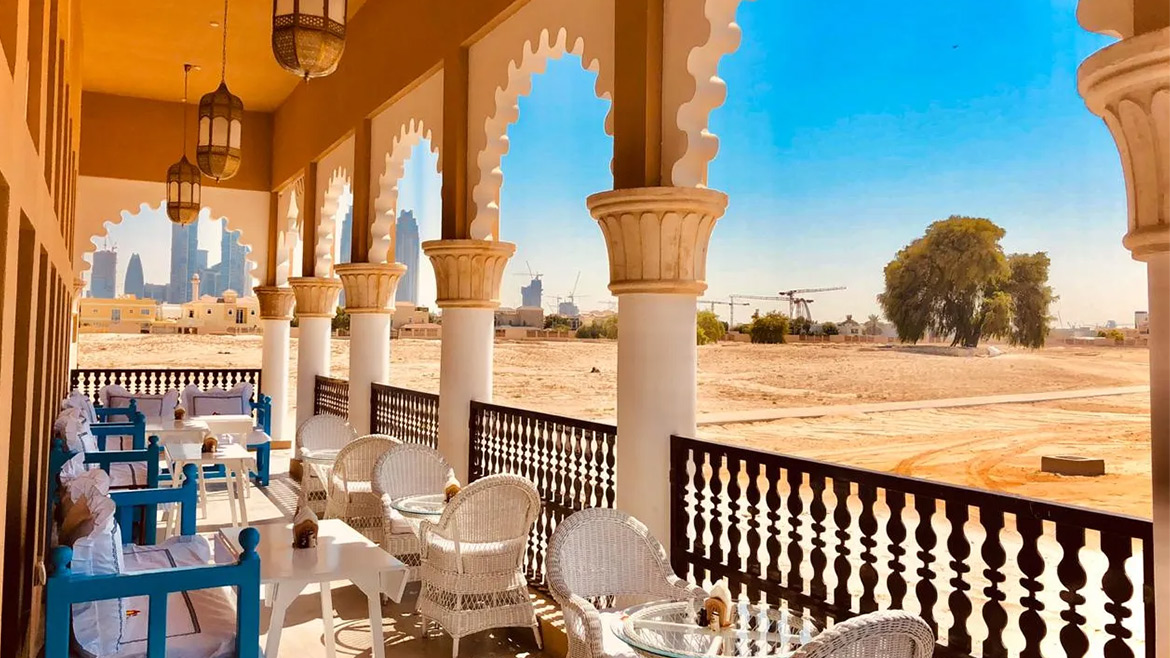 With the name, only you can guess the vibrant Arabic food menu that fills your heart with joy. Arabian Tea House is considered a treasured place for local residents as they love to join the cafe. They serve top-class Arabic dishes like machboos, rice dishes, fragrant meats, chickens, seafood, or vegetables. Also, grab some authentic Arabic coffee to improve your taste buds. Best known chefs of the cafe are: Geoffrey Zakarian and culinary star Martha Stewart.
Address: Bastakiya Opposite Musalla Post Office – Al Fahidi St – Bur Dubai – Al Fahidi – Dubai – United Arab Emirates
Timings: 7AM – 11PM 
Phone: +971 4 353 5071
Al Safadi Restaurant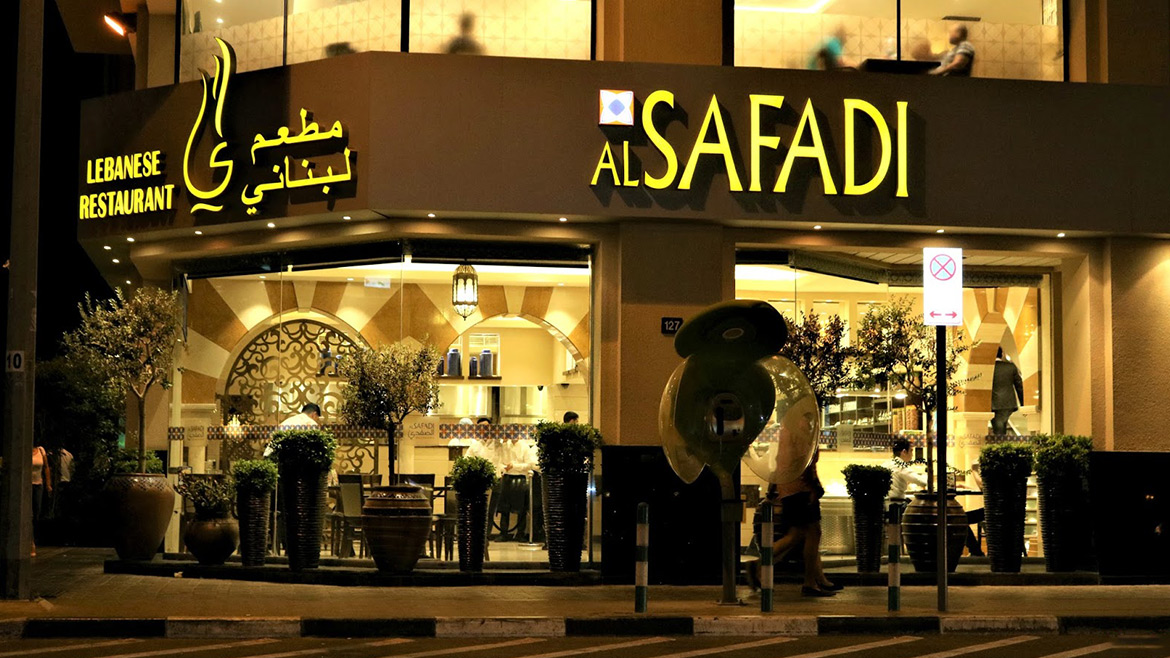 Al Safadi Restaurant serves you the best Arabic food in Dubai, such as Chicken Shawarma Sandwich, tender spiced chicken, sour pickles, fluffy fries, and a punchy garlic sauce. Most people recommend you to AL safadi restaurant to try wholesome dishes prepared with mezze style and aromatic ingredients.
Address: 127 Sheikh Zayed Road – Trade Centre – DIFC – Dubai – United Arab Emirates
Timings: 9 AM – 1 AM 
Phone: +971 600 500601
Bab Al Mansour
Level up your Arabic food taste with Bab Al Mansour as they bring royal feasts to the restaurant. They serve you Moroccan food and welcome visitors into the best interiors designed in kaleidoscopic patterns. The menu includes more than 70 Moroccan-sourced ingredients used for preparing dishes, along with Moroccan mint tea. Mark this Bab Al Mansour to experience some royal Arabic food taste.
Address: Sheikh Mohammed bin Rashid Blvd – Downtown Dubai – Dubai – United Arab Emirates
Timings: 10 AM – 1AM 
Phone: +971 4 350 9440
Siraj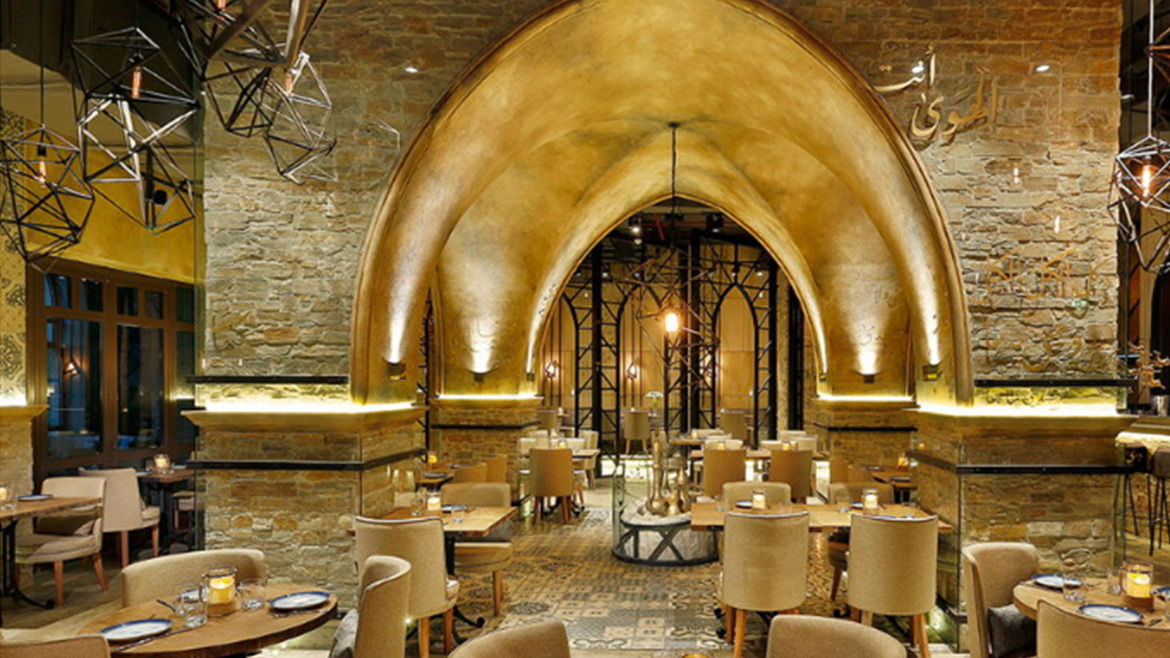 Siraj brings the best Emirati & Arabic dishes preferred by local residents and tourists to grab real Arabic flavors. The unique thing about Siraj is that they serve you homemade pickles and jam jars that signify simplicity, authenticity, and relatability with customers. Siraj considers it one of the best choices when people search for the best Arabic restaurant in the town. 
Address: Souk Al Bahar – Downtown Dubai – Dubai – United Arab Emirates
Timings: 12 PM – 1 AM 
Phone: +971 52 267 3840
Al Beiruti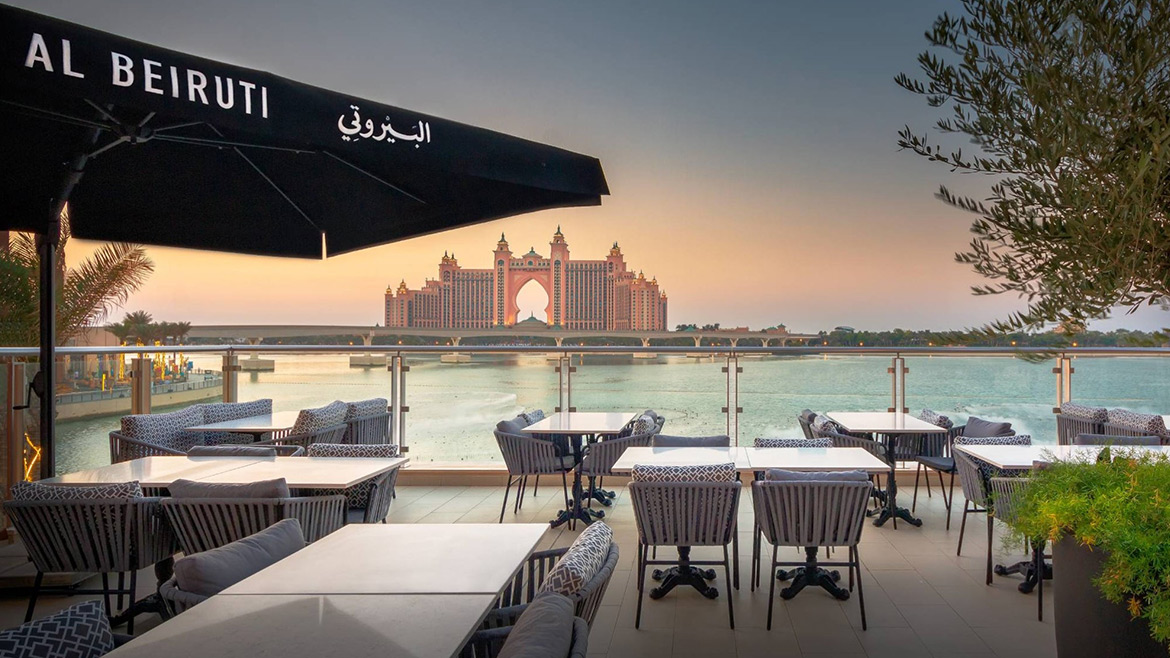 Join this amazing restaurant at Al Beiruti this summer to get an authentic taste of Arabic food. Al Beiruti brings the best breakfast platters, feast options, and an open kitchen. You must try their flavorful tawle that creates a blast of spicy taste in your mouth. The ambiance keeps your attention with a geometric tiled floor, rich-wood aesthetic decorations, and a terrace. 
Address: Exit 41 – Sheikh Zayed Road – Umm Al Sheif – Dubai – United Arab Emirates
Timings: 8AM – 2AM 
Phone: +971 4 320 0043
Tagine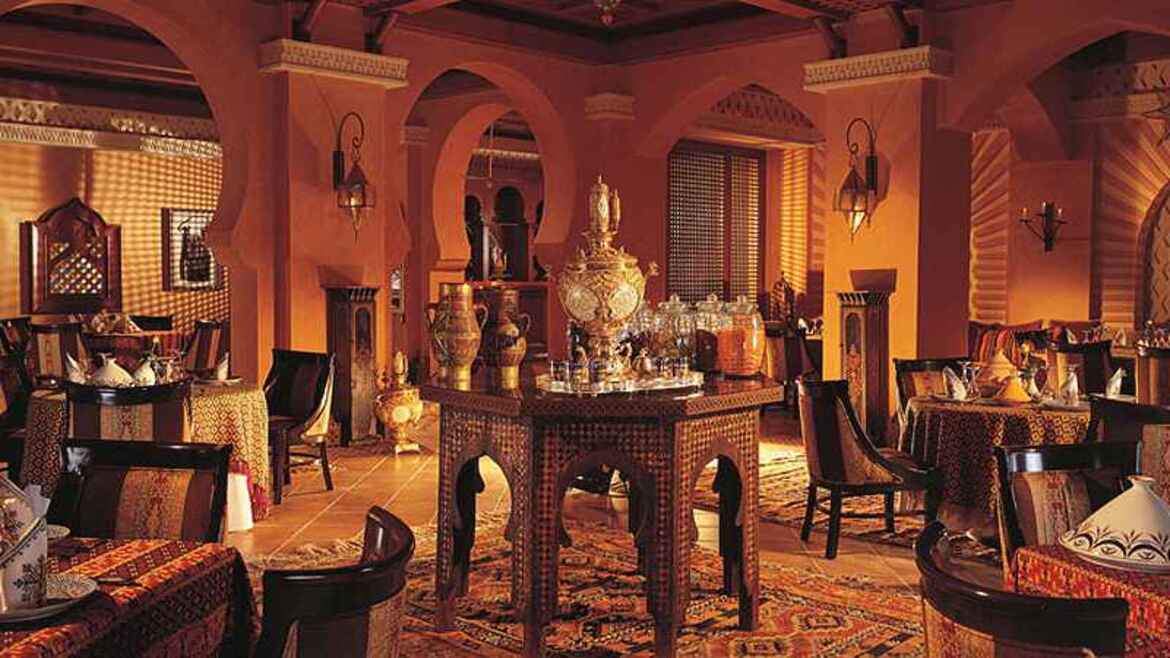 Tagine can bring you the best Dubai dishes with authentic spices, broths, and slow-cooked meats. Sit back with the beautiful interior lanterns, stained glass windows, and cozy space that will fill your heart, mind, and stomach. Tagine marks its name on the list of best Arabic restaurants in Dubai. Visitors recommend their mechoui, a roasted lamb shoulder served with mint, saffron rice, and almonds.
Address: One & Only Royal Mirage Palace – King Salman Bin Abdulaziz Al Saud St – Dubai – United Arab Emirates
Timings: 7 PM – 12 AM 
Phone: +971 4 399 9999
Bottom Line!
Just like the recommendation for the best place serving Arabic food in Dubai, We at Dubai Local present you with more exciting information, famous architectural places, restaurants & cafes, beauty spa centers, and other service-based locations. Dubai Local becomes your best local guide to explore without hustle.