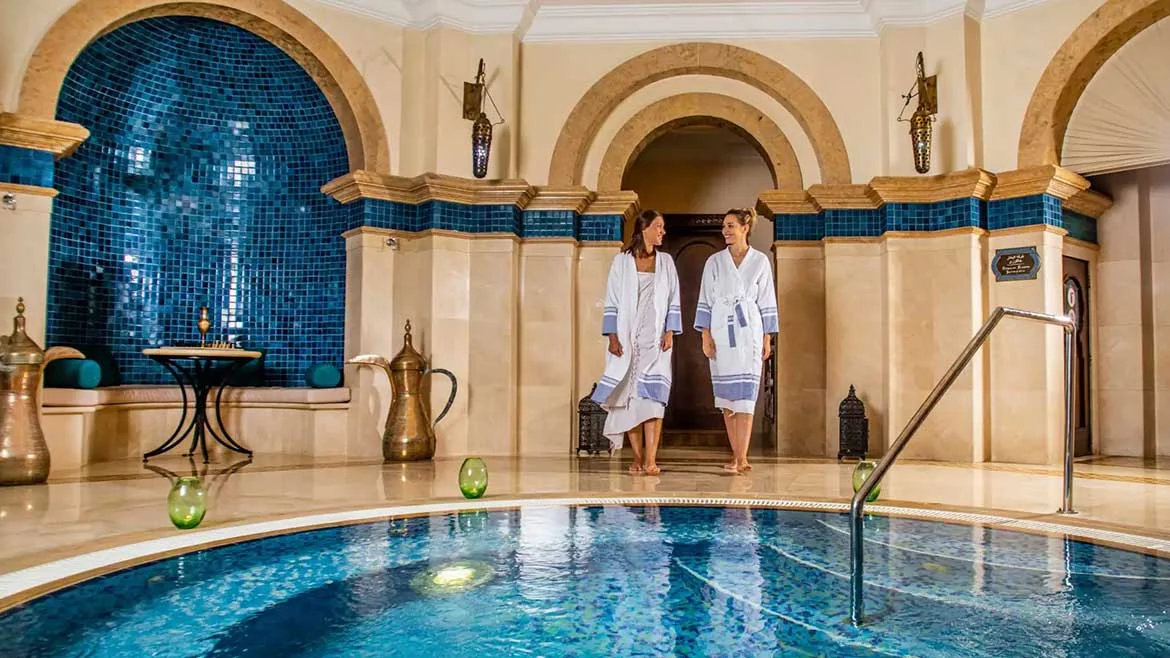 5 Best Indian Spas & Wellness Centres in Dubai
Discover the pinnacle of rejuvenation and relaxation at the best Indian spas in Dubai. Located within this busy city life, these places offer an authentic journey into the world of ancient Indian wellness traditions.
Enjoy luxurious therapies and treatments that integrate modern techniques with traditional Ayurvedic practices to soothe your soul, body, and mind. Each spa offers a getaway from the urban chaos and helps you to unwind in your spot of peace. 
These luxury spas have everything you need and everything you dream of, including lavish interiors and qualified therapists. 
Discover how Dubai's sophistication and Indian tradition have merged to create an exceptional spa experience designed for your whole well-being.
Best Places to Get Full Body Massage by Indian Therapists in Dubai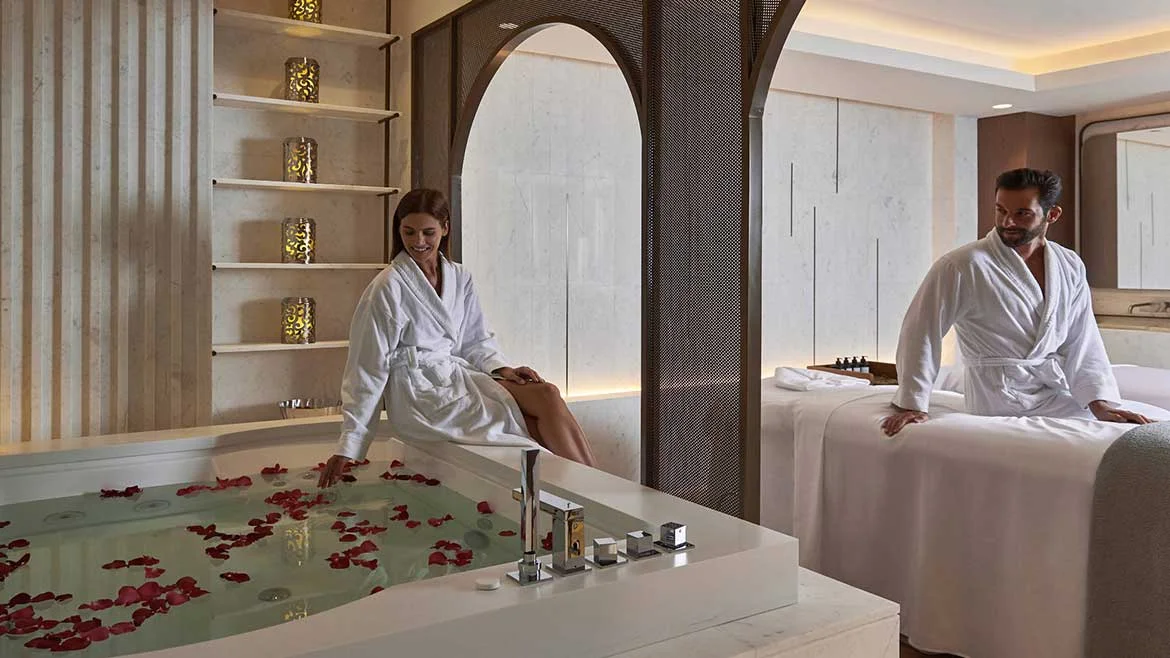 Here we have carefully curated a list of five top Indian Spas in Dubai, where you can get the best Indian spa experience. So read on and choose which one's the best for you. 
1. Mango Spa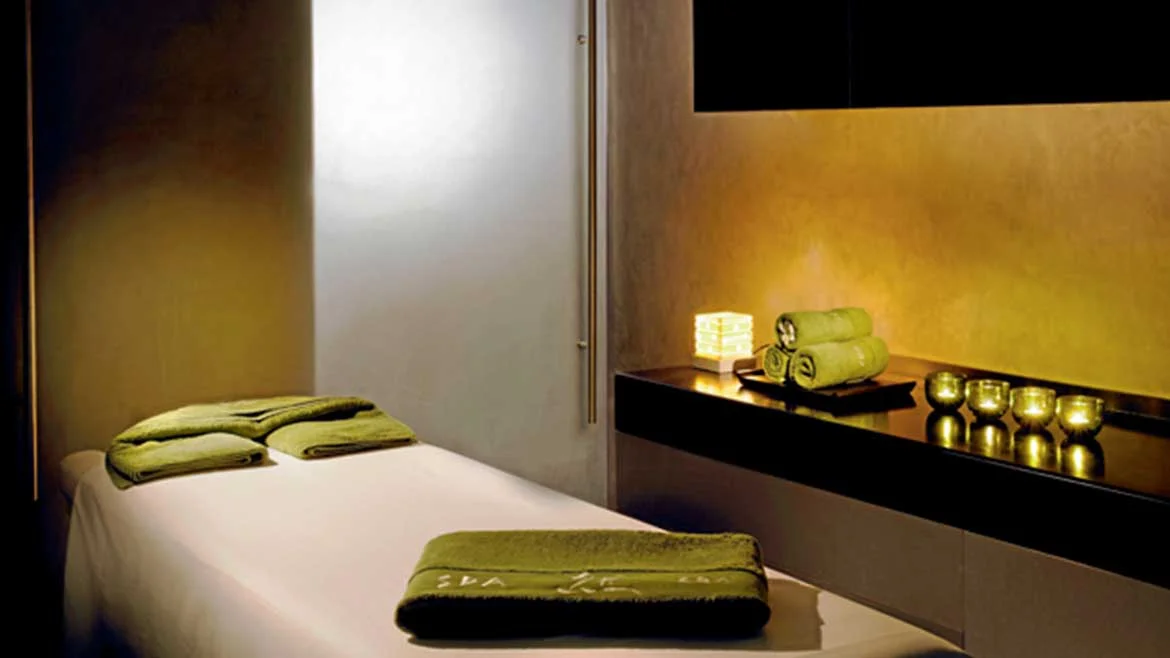 In the centre of this lively city, Mango Spa offers a magnificent and soothing escape. The spa offers a peaceful environment for relaxation and well-being with a fusion of modern elegance and classic charm. Mango Spa presents a quiet atmosphere where guests may relax and revitalise amidst the urban buzz.
Expert spa therapists receive training in a range of treatments, from calming massages to stimulating facials, all of which can be modified to meet the tastes and needs of each client. The spa's specialty treatments frequently include locally derived substances, giving the treatment an authentically Emirati feel.
The whole journey that Mango Spa promises will take care of the body, mind, and spirit and leave visitors feeling refreshed and delighted in the typical Dubai style.
Price

: The massage price starts from 130 AED and ranges up to 220 AED depending on the spa style and other services. 

Address

: Mango Spa, Sam's Store Building – 2nd Floor – near Al Bassam Center – Deira – Dubai – United Arab Emirates

Timings

: 10.30am- 2.00am (everyday)
2. J Wellness Circle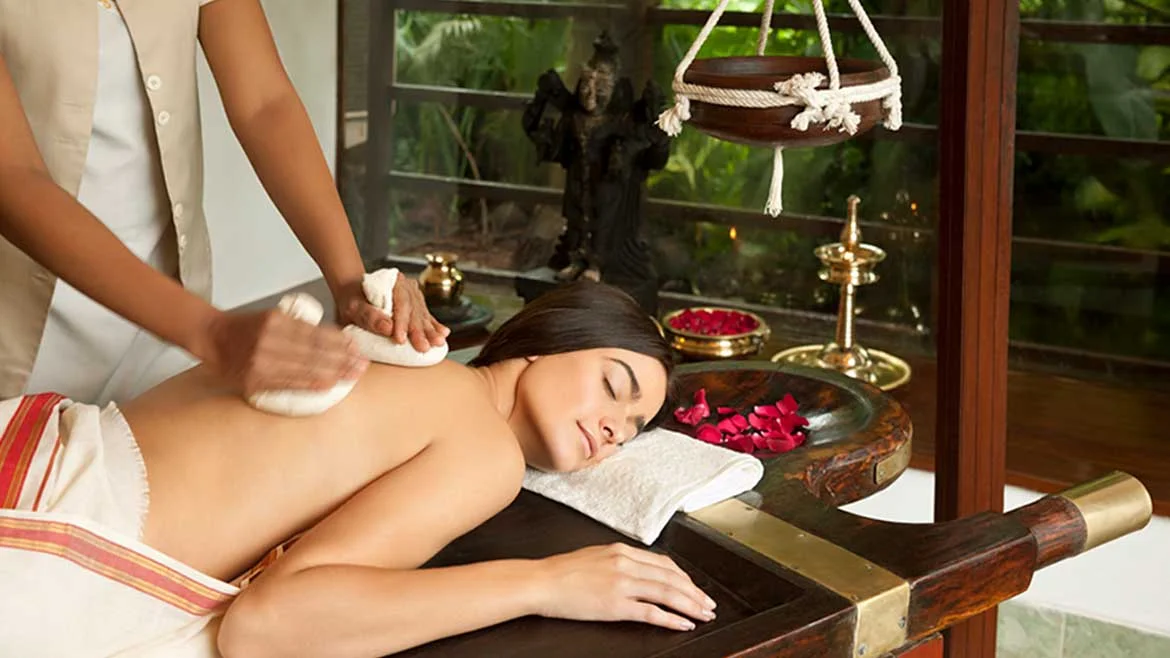 The J Wellness Circle, located inside the famous Taj Dubai, is a model of lavish rejuvenation and holistic health. This hideaway provides a transforming respite in the middle of the city by seamlessly fusing luxury and wellness.
Taj Dubai's J Wellness Circle is proof of the hotel's dedication to providing guests with exceptional experiences. It offers a wide range of carefully designed wellness services.  Each guest's individual well-being journey is catered to with the utmost accuracy according to the centre's commitment to personalised care. 
Furthermore, J Wellness Circle takes wellness to an extraordinary level by using the power of nature's bounty. The spa carefully produces treatments that include natural components specially made from Indian herbs, essential oils, and specific elements, driven by a commitment to authenticity and well-being. 
Perched conveniently above the gym and pool deck, it offers a seamless fusion of relaxation and healing. With four attractive treatment rooms, including a lavish couple's suite, the spa guarantees each visitor an exclusive personal experience.
Price

: Starts from 450 AED and ranges up to 1600 AED 

Address

: Taj Dubai, Burj Khalifa St – Business Bay – Dubai – United Arab Emirates

Timings

: 10.30 am- 10.00pm (every day)
3. Sandhi Ayurveda Massage Centre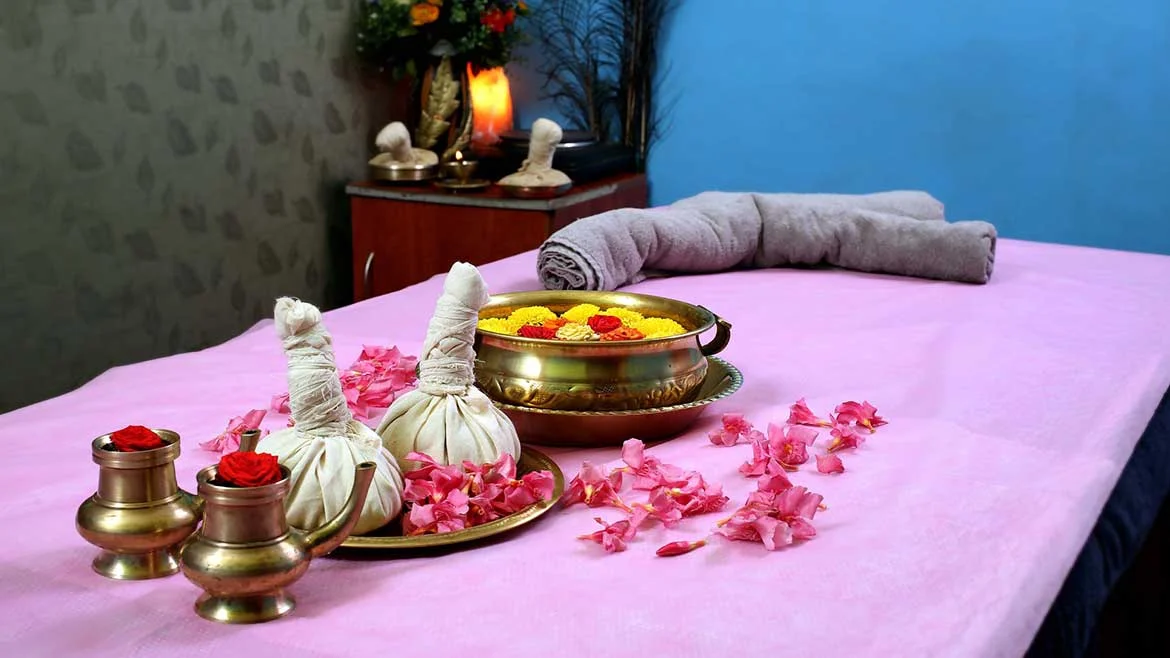 For those looking for real Ayurvedic wellness experiences within the busy urban environment of Dubai, Sandhi Ayurveda Massage can be a perfect choice. Sandhi Ayurveda, which has its roots in ancient Indian traditions, offers a complete method of healing and relaxation.
The spa, which is known for its therapeutic massages, hires qualified therapists with training in Ayurvedic practices that focus on balancing body energy. These therapies seek to balance every aspect of one's being in order to boost relaxation. Each service is carefully planned to reduce stress and improve general well-being, from Shirodhara, a calming therapy that involves continuously pouring heated oil on the forehead, to Abhyanga, the classic full-body oil massage. 
Price

: Yearly package starts from 2625 AED 

Address

: New Building – Dubai 5 Street – 5 – Al Karama – Dubai – United Arab Emirates

Timings

: 9.00 am- 11.00pm (every day)
4. Amara Spa
Amara Spa at Park Hyatt is a place of refreshment and peace in the centre of Dubai, located within the luxurious Dubai Creek Resort. Enjoy a world of leisure and well-being at Amara Spa, which offers a hideaway from the busy city with the ideal balance of lavishness and tranquillity.
The spa's luxurious setting, which faces the peaceful Dubai Creek, is enhanced with a wide variety of therapies derived from both contemporary and old therapeutic methods. Through relaxing massages, energising facials, or full body therapies, highly trained therapists create personalised experiences that fit the individual needs of each client. 
The spa's design celebrates the cultural legacy of the area by fusing sophisticated Arabian aesthetics with modern touches. The indoor and outdoor relaxation areas, state-of-the-art facilities, and meticulously crafted treatment rooms contribute to an unforgettable wellness journey.
Price

: Starts from 425 AED 

Address

: Park Hyatt Dubai Dubai Creek Resort – Dubai – United Arab Emirates 

Timings

: 9.00 am- 10.00pm (every day)
5. Cora Spa Massage Centre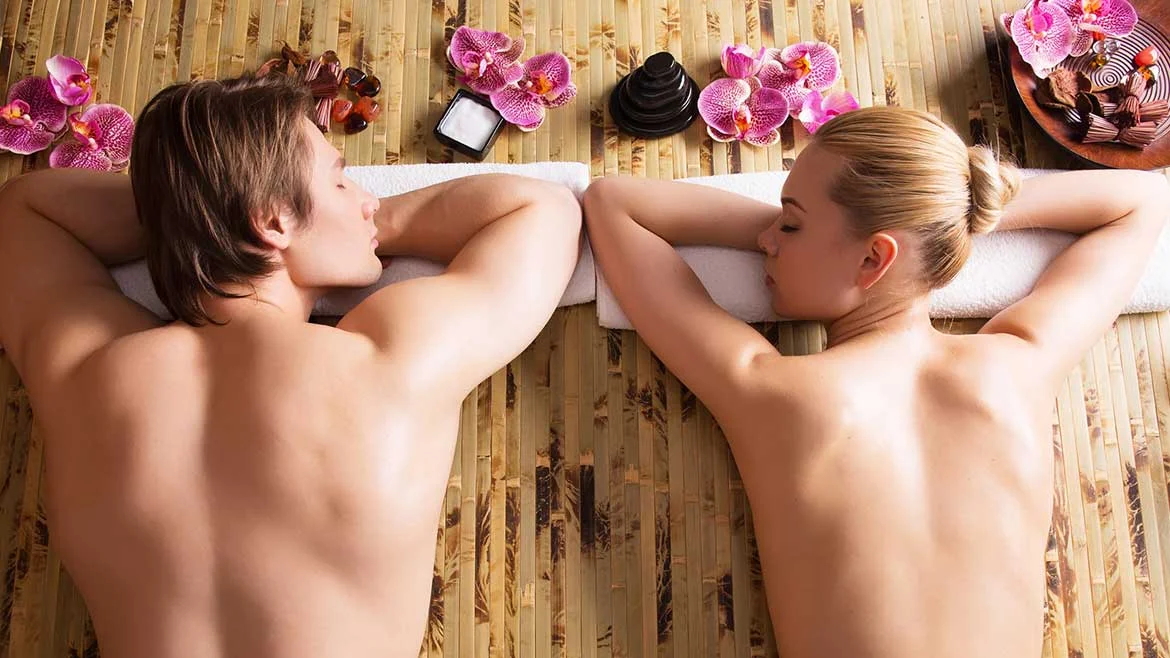 Cora Spa is renowned for its wide variety of massage therapies and wellness treatments. The centre offers a range of services, including traditional deep tissue massages, relaxing aromatherapy sessions, and specialty treatments like Thai or hot stone massage. Each therapy is customised by highly-trained therapists to suit specific needs. These provide a unique and effective experience.
Beyond massages, the spa's dedication to overall wellness includes services like facials, body scrubs, and beauty treatments. Cora Spa Massage Centre offers a place where the stresses of daily life can melt away. It will leave you refreshed and revitalised, whether you are local or a traveller seeking leisure. The spa's luxurious ambience and skilled therapists create an experience of pure indulgence.
Price

: Starts from 150 AED and ranges up to 650 AED based on different services 

Address

: Al Saqr Business Tower Mezzanine Floor, Shop – M01 – Sheikh Zayed Rd – Dubai – United Arab Emirates

Timings

: 10.00am- 2.00am (everyday) 
In a nutshell, Dubai is an ideal place for recovery and rejuvenation because of its amazing blend of Indian hospitality and luxurious spa experiences. The top five Indian spas that we explored perfectly combine Dubai's contemporary majesty with age-old Indian wellness practices. Therefore, these Indian spas in Dubai serve as excellent choices for people looking for a break into a place of peace, where culture and wellness effortlessly mix together.