Top 5 Hot Air Balloon Rides in Dubai
Dubai is a city of awe-inspiring marvels, from towering skyscrapers to stunning desert landscapes. One of the most unique and thrilling ways to see the beauty of this city is through a hot air balloon ride. 
Soaring high above the desert dunes and taking in breathtaking panoramic views, a hot air balloon adventure in Dubai is a bucket-list experience like no other. From witnessing the desert sunrise to indulging in delicious breakfasts and watching falconry shows, these rides promise memories that will last a lifetime.
List of Top 5 Air Balloon Rides in Dubai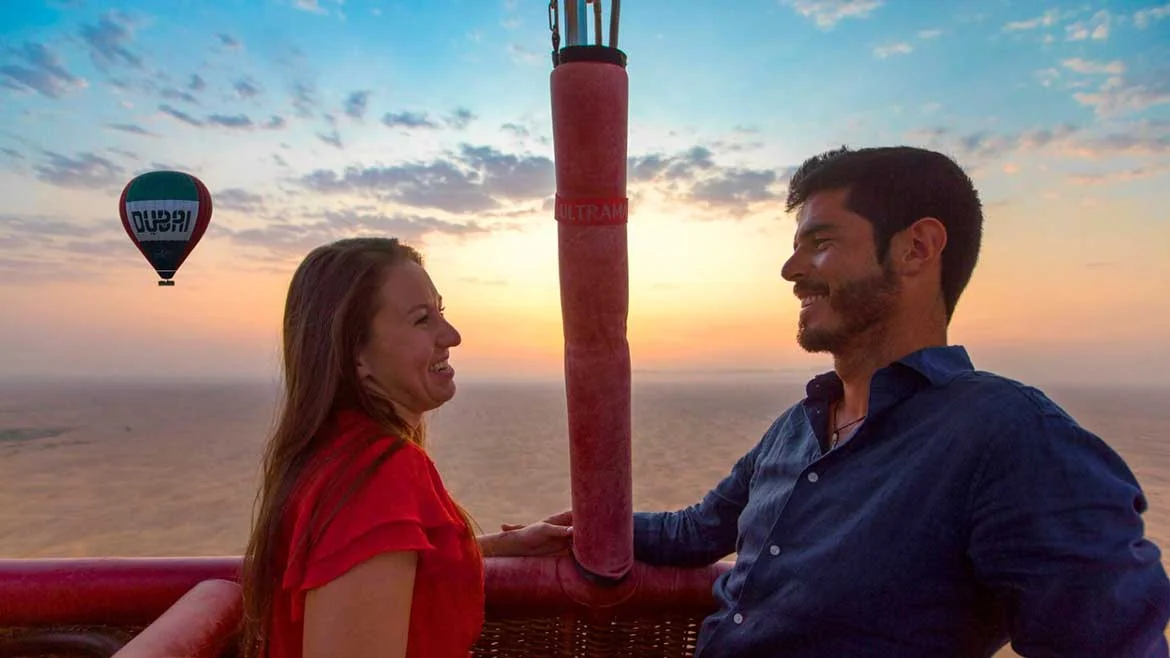 Here are the top 5 hot air balloon rides in Dubai sorted as per the pricing offered.
1. Balloon Adventures Emirates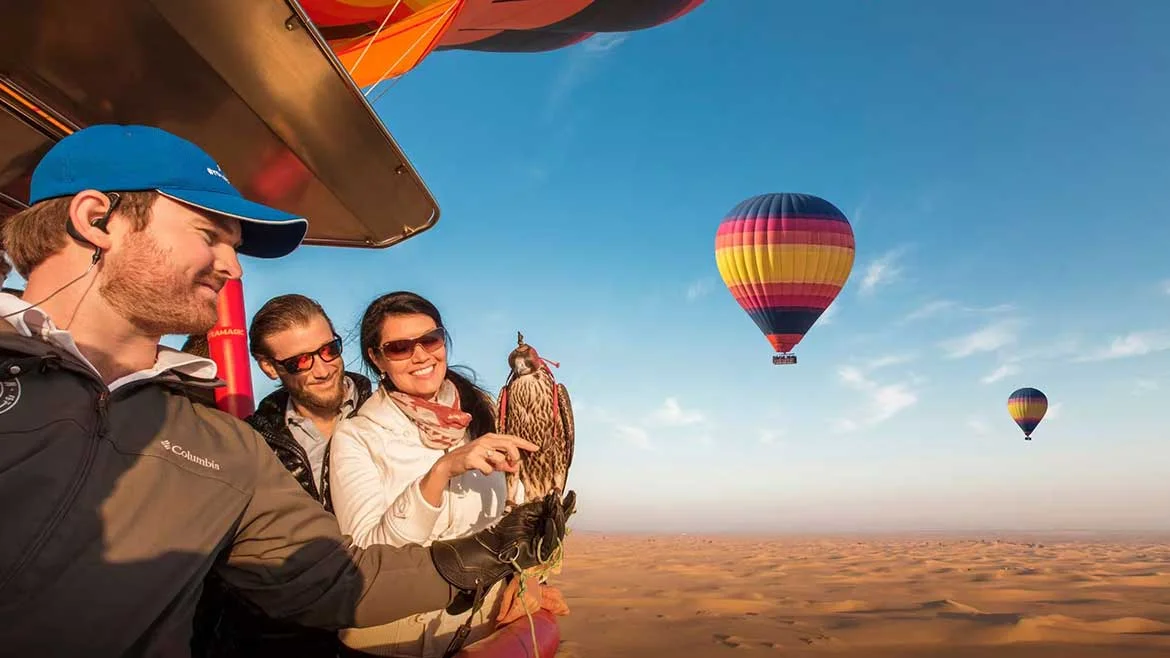 This company was the first one to introduce hot air ballooning in Dubai. It offers both a solo and a group ride. You can enjoy the sunrise over the Dubai Desert in a hot air balloon. Moreover, it also provides an ultimate private experience to celebrate special occasions with your family and friends. Each balloon has a GoPro camera, recording beautiful memories while you float through the air. The whole tour takes around 4 to 6 hours.
Adults – AED 1350 to AED 2200

Children – AED 1100 to AED 1750
Location:

1303 Control Tower, Motor City, Dubai, United Arab Emirates
Timing:

5:00 am to 9:30 pm
Transportation

Drone show

Gourmet Breakfast and Dinner

Desert Safari
2. Cappadocia Air Hot Balloon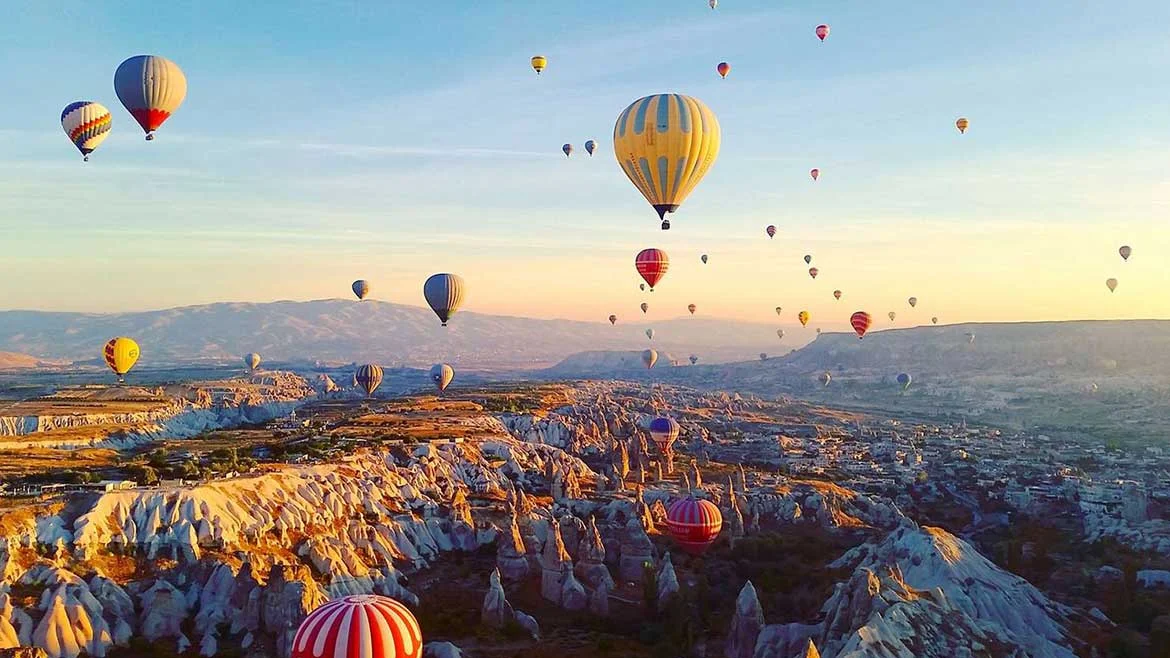 Cappadocia Hot Air Balloon Dubai holds the title of being the longest-operating Hot Air Balloon Company in Dubai. When you embark on a balloon tour during sunrise, you will be captivated by the mesmerising scenery of Cappadocia. It has the capacity to hold around 24 to 28 people. Its flight time ranges from 1 to 1.5 hours based on the package you choose.
Price:

AED 1140 to AED 1350, Private Flights cost around AED 12500
Location:

23 Marina Tower Office no. 507 – Dubai – United Arab Emirates
Timing:

3:45 am to 10:00 am
Transportation

A flight certificate

Enjoy falcon show

Horse or Camel Ride

Unlimited Drinks, Coffee and Water
3. Hot Air Balloon Dubai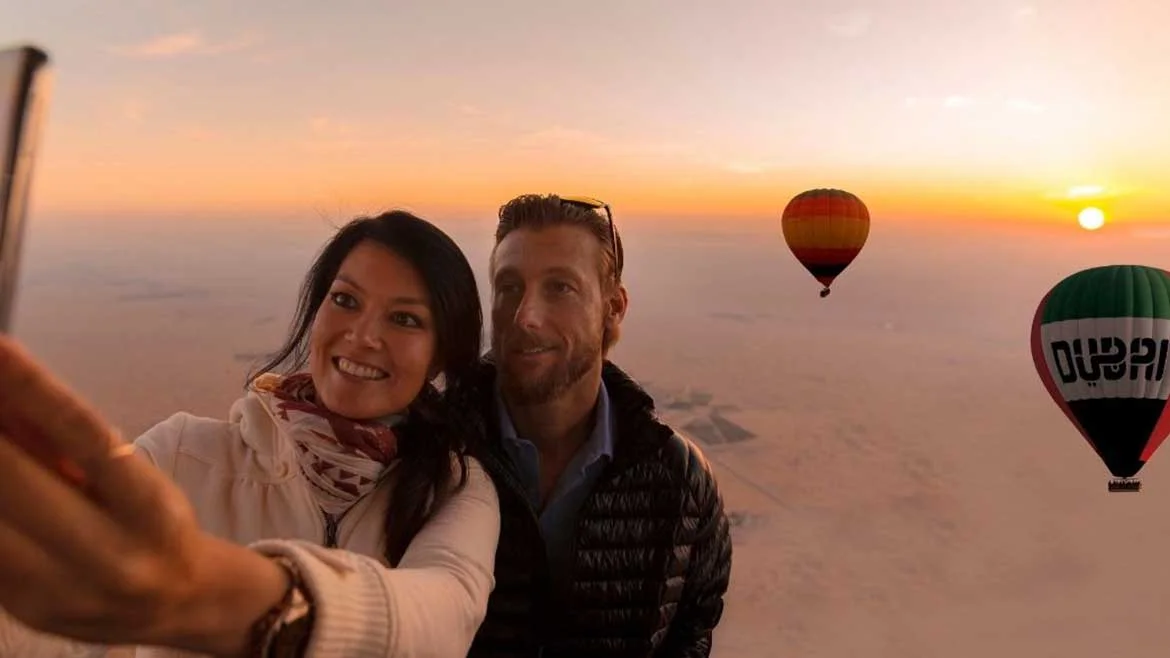 It provides a hot air balloon ride with up to 21 passengers at a time. It offers different packages of hot balloon rides – standard, deluxe and adventure. Moreover, here you can also book a private hot air balloon ride on request. Usually, the flight is around 1 hour long, but it may change according to the flying criteria. 
Adults – AED 1100 to AED 1399

Children – AED 1000 to AED 1199
Location:

Suit no: 1202, Tiffany Tower, Cluster W-JLT, Dubai-UAE
Timing:

9:00 am to 5:00 pm
Transportation 

Exciting offers 

A flight certificate

Capture memories with pictures and videos of your experience

Enjoy in-flight snacks 

Enjoy falcon show

Desert Safari

Free wifi on board

Camel ride
4. Sindbad Gulf Balloons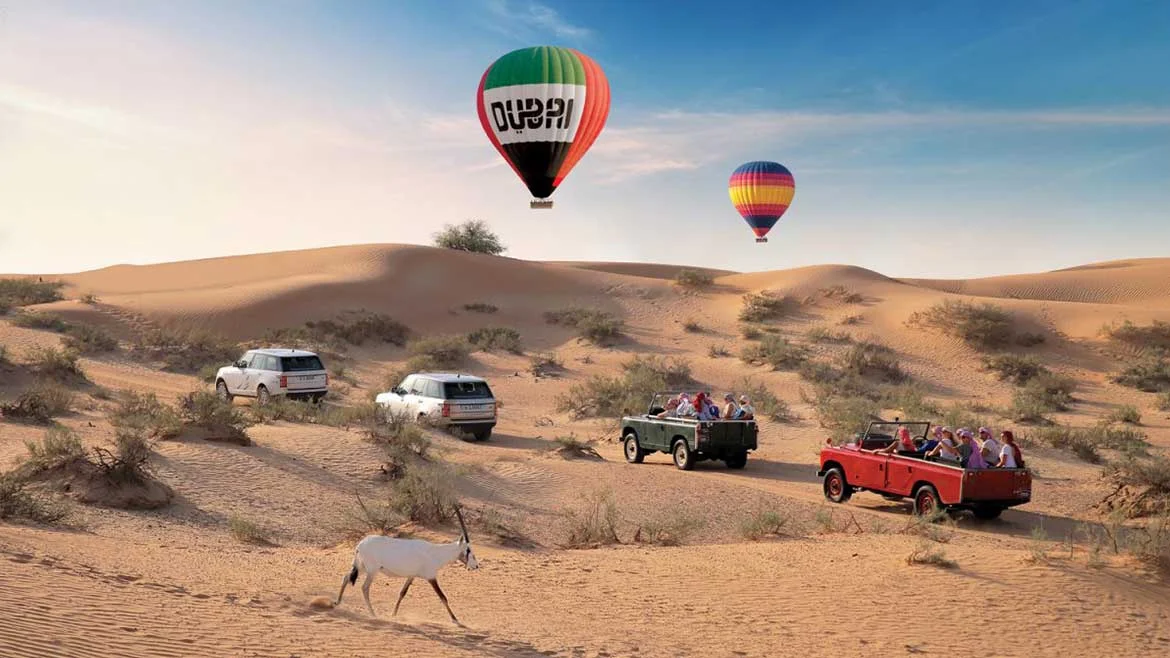 It can accommodate around 20 passengers and can be reserved for 6 people. They offer a range of packages including Standard flights, Deluxe flights, and Premium flights. Each tour takes around 4 to 5 hours. It also includes packages for proposals, birthdays, marriage ceremonies, or any special occasion. 
Adults – AED 1049 to AED 1349

Children –  AED 999 to AED 1249
Location:

Makateb building, Al Maktoum St, Deira – Dubai – Dubai – United Arab Emirates
Transportation

A flight certificate

Savour a gourmet breakfast 

Enjoy falcon show

Enjoy road safari 

Dune Bashing and Quad Bike
5. Amigos Balloons
The tour provides a view of the desert in Dubai where you will meet the local wildlife such as oryx, gazelles, desert rabbits, camels, etc. When you choose this hot air balloon service you can select among standard, deluxe and private flights. The entire experience will last around 3 to 4 hours, with one hour of actual in-flight time.
Price:

 Charges range from AED 950 to AED 6500
Location:

Bin Sougat Building, Nad Al Hamer Rd, Al Kheeran – Dubai – United Arab Emirates
Transport

A flight certificate

Gourmet Breakfast
All the above rides include highly skilled pilots, making your experience truly memorable. They guarantee a smooth ride with minimal air disturbance. Each of these top five hot air balloon rides in Dubai offers a unique and magical experience. So, make sure to add this once-in-a-lifetime experience to your Dubai itinerary and create unforgettable memories high in the sky.