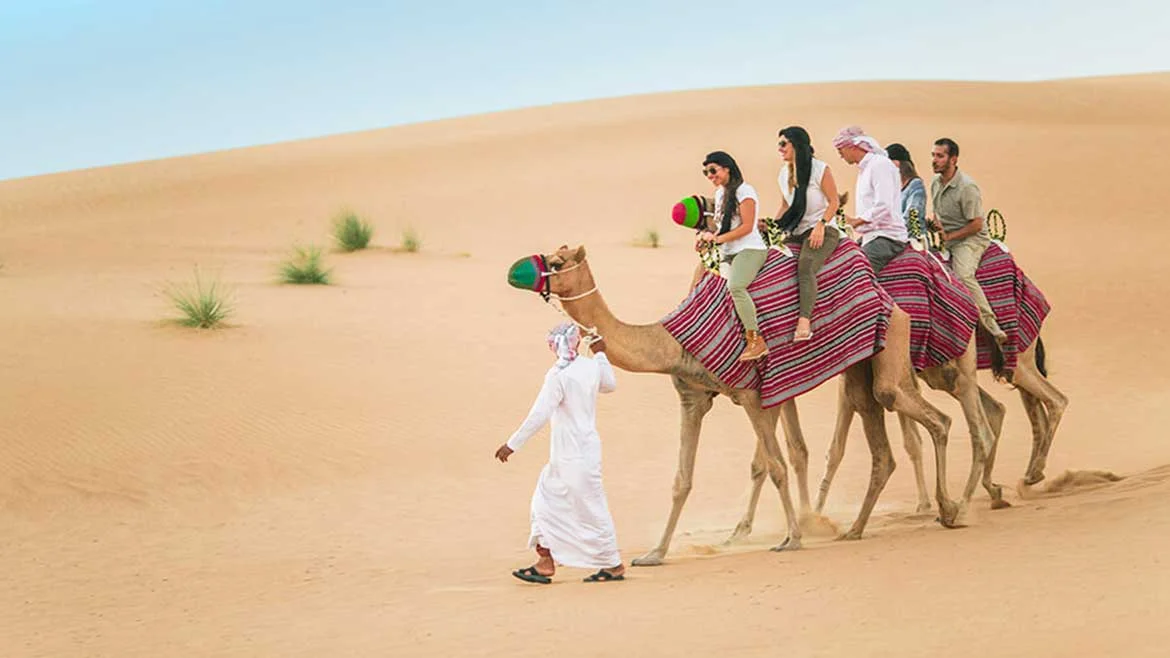 Morning Desert Safari – End-to-End Guide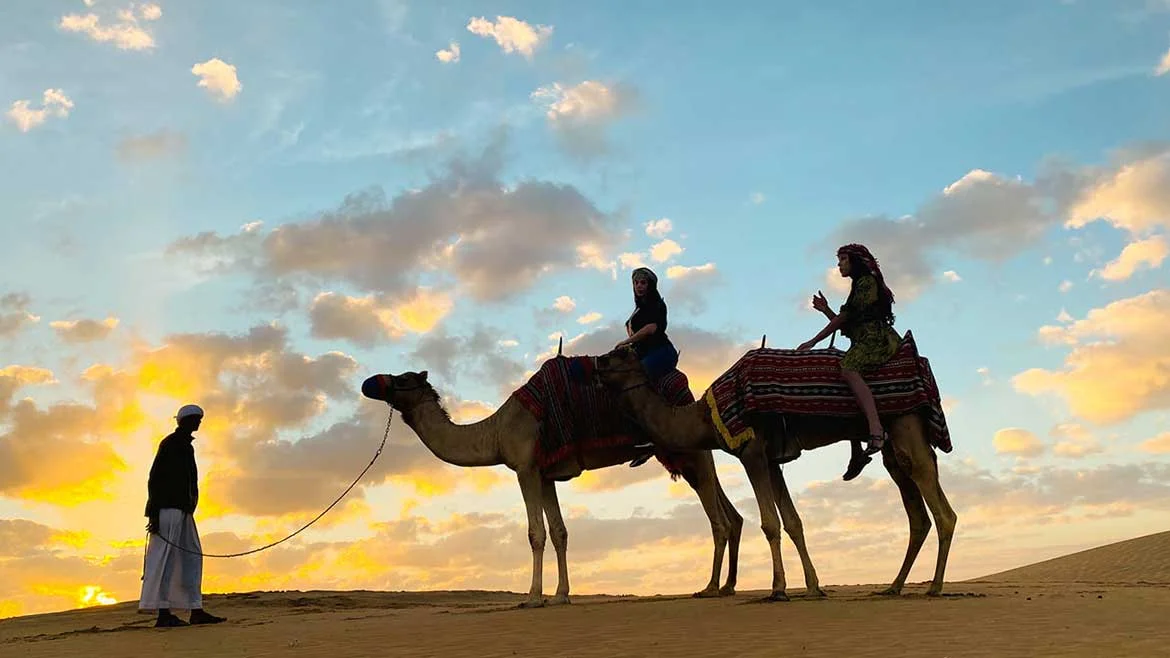 As the sun rises over the golden sands, go on a magical morning desert safari in Dubai that promises a thrilling trip. This one-of-a-kind adventure provides the ideal balance of adrenaline and calmness which welcomes you to explore the magnificent desert terrain in the mellow morning light.
Walk down beautiful dunes and take pictures of the breathtaking desert panoramas. Enjoy a delicious breakfast while taking in the serene surroundings and Bedouin culture. A memorable way to start your day in Dubai is with a morning safari through the desert. 
In this guide, we will share essential information about morning desert safari in Dubai to help you experience a hassle-free trip. 
Overview of the Desert Safari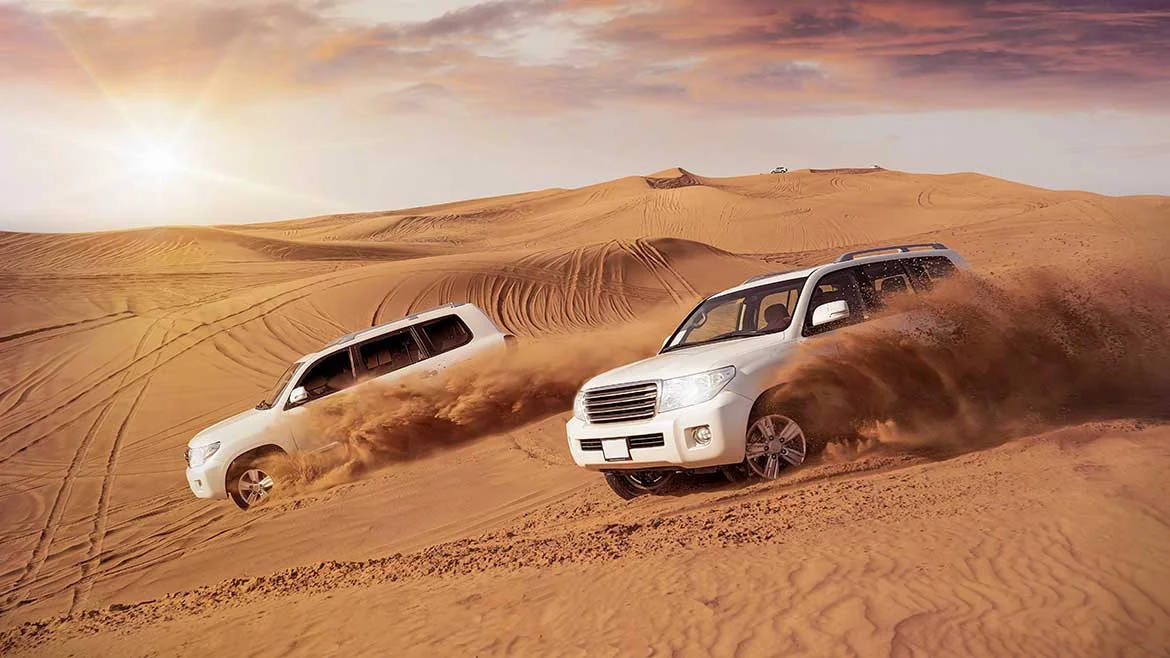 Experience the magic of the Arabian desert with the Morning Desert Safari in Dubai. This thrilling journey presents a distinctive variation on the conventional desert safari as the sun rises over the golden dunes. If you go early, you will experience milder temperatures and get to see the desert in its pristine morning beauty.
A 4×4 vehicle will take you on an amazing dune-bashing experience as skilled drivers negotiate the shifting sands. To fully experience the desert way of life, try sandboarding, an exhilarating activity that allows you to ride a board down the dunes, or go for a more conventional camel ride. In the broad expanse, the early morning light creates an amazing setting for stunning photographs. 
The tour starts when a driver picks you up from your accommodation. You arrive at the Lahbab Desert after leaving the monotonous city life behind.  You arrive at the Al Khayma Campsite after a 35–40 minute dune bashing journey, where you are greeted with Arabic coffee ('Gahwa') and local dates. Participate in a photo shoot with falcons to capture the Arabian Desert's early majesty. 
Later, you can enjoy the thrill of desert sports like camel riding and sandboarding. Before being dropped off at your hotel, the trip concludes with a delicious Arabian breakfast spread featuring regional and local cuisine that will please your taste buds. 
Know What's Included 
Here are some of the things your tour morning desert safari tour package will include: 
Pick up from your hotel, home, villa, or near the airport 

Pick up by a 4X4 vehicle 

Dune bashing in the Lahbab Desert

A professional tour guide who speaks English

A thrilling drive to the high dune for a photo stop

Refreshments: Cold beverages, water bottles, soft drink

Desert Safari Camel Trekking

Sandboarding on the high dunes 

Drive back to Dubai and drop off at your accommodation 
Additional Details to Know Before You Set Out for the Safari 
Before starting your safari, be sure to understand the following essential details:
Booking and confirmation:

To ensure a smooth start to your vacation, confirm your booking information in advance.

Accessibility:

Determine whether the safari area is wheelchair accessible. Some terrains may be difficult for those with mobility issues.

Travelling with Infants:

If you are travelling with an infant, inquire about the availability of infant seats or suitable accommodations.

Health considerations:

Be mindful of any current medical issues. Travellers with back issues or cardiac concerns should consider their suitability as safaris can involve physically demanding activities or rough rides.

Pregnancy:

Take into account the safari's physical requirements. Travellers who are expecting are typically advised to stay away from activities that require jolts or a lot of physical effort.

Medical Conditions:

Make sure you are aware of any medical conditions that might affect your participation. Your safety and comfort should always come first.

Participant Suitability:

Most safaris are designed to accommodate a wide range of participants. Consider your level of fitness, nevertheless, and see if there are any limitations.

Timeframe and Route:

Be aware of the safari's length and schedule. You can use this to organise your day and psychologically get ready for the events.

Local Regulations:

Know any local laws, regulations governing the protection of wildlife, and customs you should observe while on safari.
Things to Carry
Before starting your journey, make sure to carry these things in order to avoid any inconvenience in the middle of the desert: 
Clothing and Sun Protection:

Dress in lightweight, comfortable clothing suitable for the desert climate. To protect yourself from the harsh morning sun, remember to pack sunscreen, sunglasses, and a hat with a broad brim.
Footwear:

Opt for closed-toe shoes to protect your feet from the hot sand. It is advised to wear trainers or sandals that are cosy.

Camera and Binoculars:

Capture the stunning sunrise and beautiful dunes with your camera. Additionally, binoculars can improve your chances of viewing wildlife and natural scenery.

Hydration:

Even in the early morning hours, the desert can cause dehydration. Bring a reusable water bottle with you so you can keep hydrated while on the safari.

Medicines:

Let your tour operator know in advance if you have any allergies, medical conditions, or specific needs. Bring any prescription medications you might need. 

Cash and ID:

Carry some cash for purchasing souvenirs, tipping, and other incidental expenses. Also, have your identification handy for verification purposes.
Cost Estimations for Morning Desert Safari 
The average cost for a morning desert safari can vary largely in different service providers. It can range from 100 AED to 1000 AED per person depending on which tour plan you are choosing and which perks are included. The basic cost for this safari can start from as low as 100 AED per person. Dubai desert safaris which include activities like Dune bashing and Quad bike rides start from an average of 250 AED. 
This cost typically covers activities like dune bashing, sandboarding, camel rides, and a visit to a Bedouin camp with refreshments. However, keep in mind that prices can fluctuate based on the time of year (tourist seasons might have higher prices), the level of luxury offered, and any additional services. It is always a good idea to research and compare different tour operators and inquire about what's included in the package to make sure that you are getting the best value for your money. 
A morning desert safari in Dubai is a magical and thrilling experience that guarantees life-long memories. This safari offers the peaceful glory of the sunrise over the dunes. Any traveller looking for an exciting and thrilling Dubai vacation should take advantage of the opportunity to lose themselves in the rich Emirati culture through traditional activities and stunning landscapes.