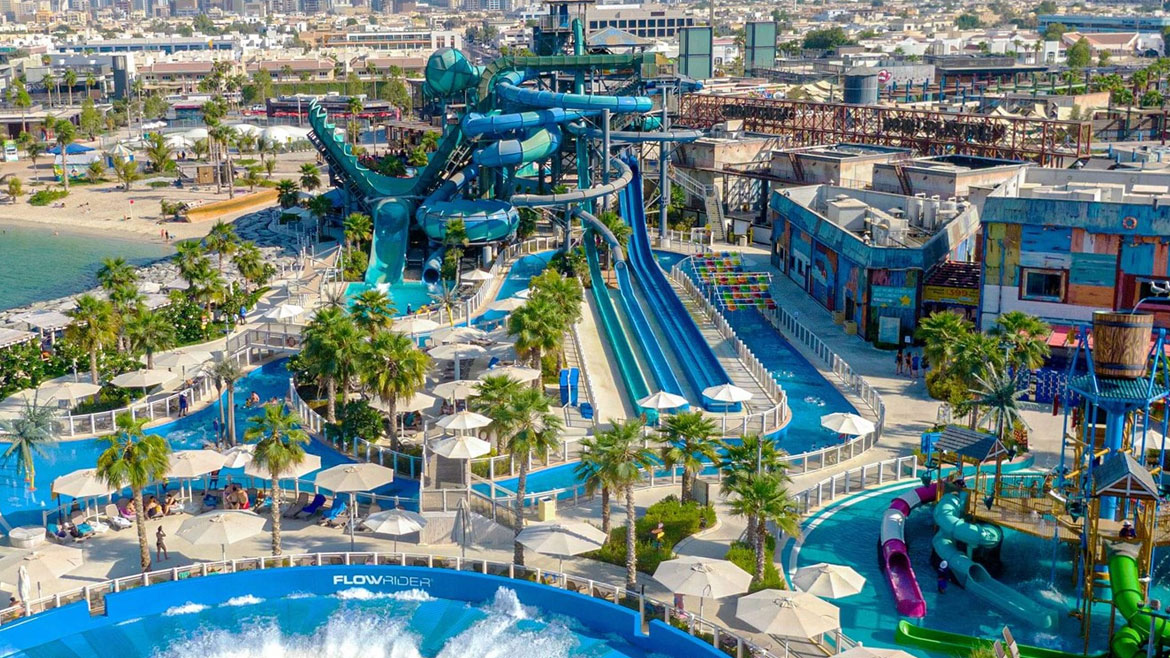 Enjoy your day at Atlantis Aquaventure & Lost Chambers Aquarium
Take a tour of the world's largest waterpark and Aquarium
Atlantis, The Palm is one of the most recognizable buildings in Dubai. The Aquaventure and Lost Chambers Aquarium are two distinct attractions in the city's iconic landmark.
Let's first explore the Aquaventure!
Aquaventure is not just a waterpark, it is more than that. At Aquaventure Waterpark, there are many things to see and do, from interactions with amazing marine animals to thrilling new slides and attractions.
Seriously, you won't ever get bored.
Enhance your experience with exciting Adventures
The largest waterpark in the world offers more than just slides, coasters, and other amusements that will astound you. Upgrade your experience with these fantastic and enjoyable excursions.
For various non-motorized and motorized watersports, visit the Watersports Beach Hut. Alternatively, unwind and enjoy the sun at our beach, the only private waterpark in Dubai.
The 1-kilometer-long Aquaventure Beach features white sand, blue waves, and breathtaking views of Dubai's skyline.
Waterslides- never seen before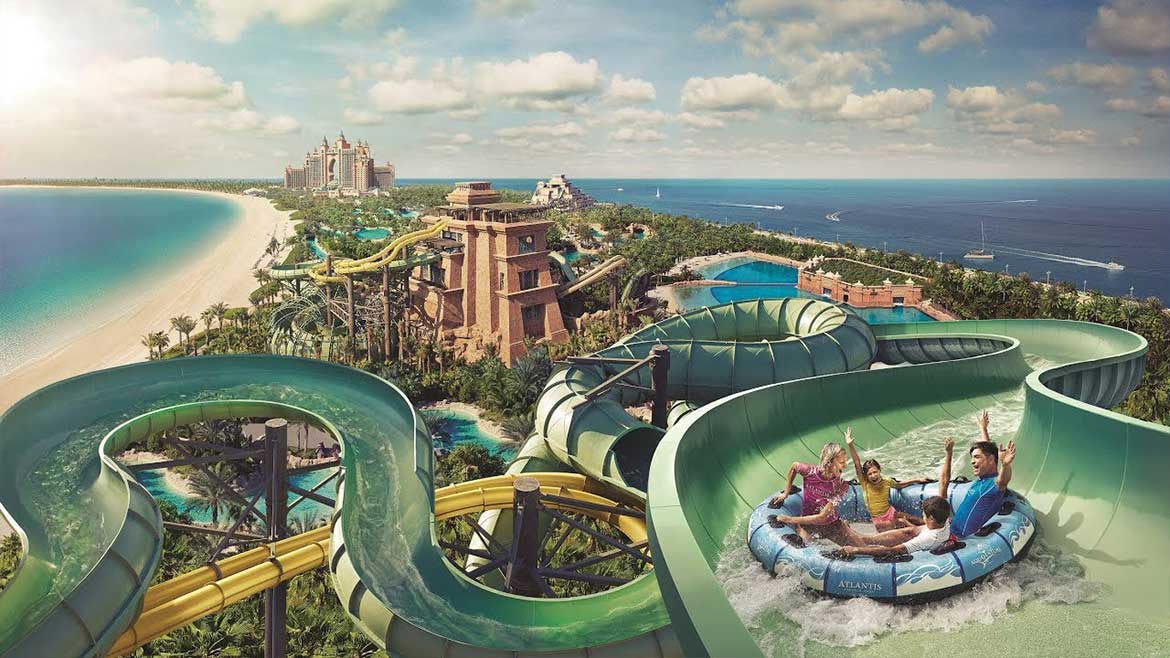 The best waterslides in the world, ranging from spectacular heights and curves to high-speed drops, can be found at Aquaventure Waterpark. Ride in exhilarating vehicles with your loved ones.
Let your little champs discover the splendid waterpark
Bring your little explorers down to the largest kid-only waterpark in the Middle East to create a splash.
Splashers lagoon and cove
Kids rally-racer, a tornado slide, and two brand-new towers specially designed for little and young explorers. It features more than 16 entertaining attractions and all are filled with adventure.
Why wait? Go and explore!
Splashers Island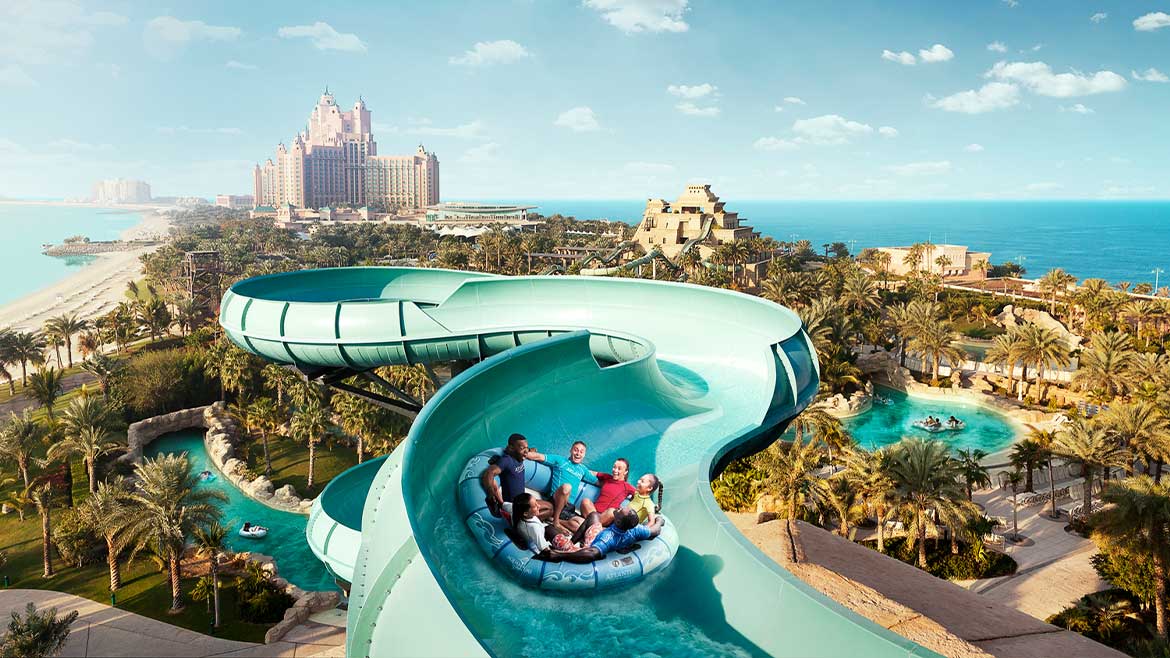 Have fun at Dubai's top splash park, specially constructed for kids under 1.2 m where young adventurers enjoy the selection of seven children's waterslides.
Splashers Mountain
Two big buckets, climbing walls, and a variety of waterslides await children on Splashers Mountain, where thrills abound.
Facilities for families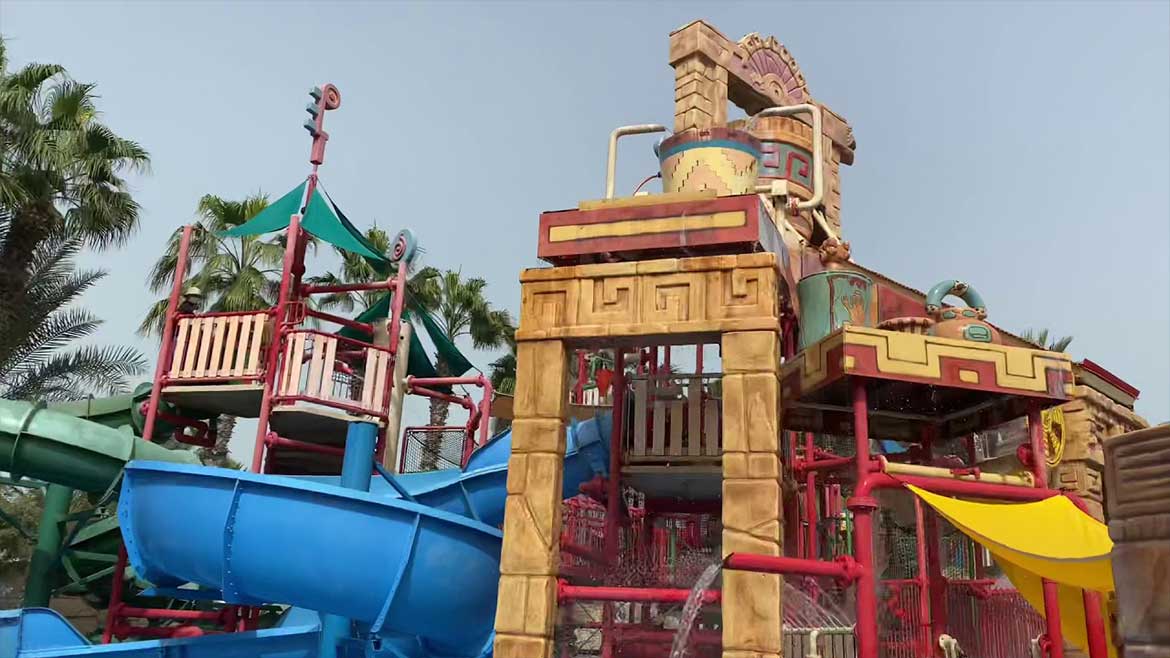 Splashers Lagoon & Cove is solely accessible to families with young children and has a separate entrance inside Aquaventure. This fantastic family area has padded play areas, shady sun loungers, direct access to the river and beach at Aquaventure, restrooms, a store, and experienced lifeguards.
Now let's move on to the Lost Chambers aquarium and discover some exciting facts.
The Lost chamber aquarium
One of the most appealing attractions in Dubai is the Lost Chambers aquarium. It may be found inside the opulent 5-star Atlantis Hotel. It is home to more than 65,000 lovely aquatic creatures of various types and provides tourists with exhilarating adventure activities. For both kids and adults who are interested in aquatic life, The Lost Chambers Aquarium is the place to go.
What makes the visit to Aquarium worthwhile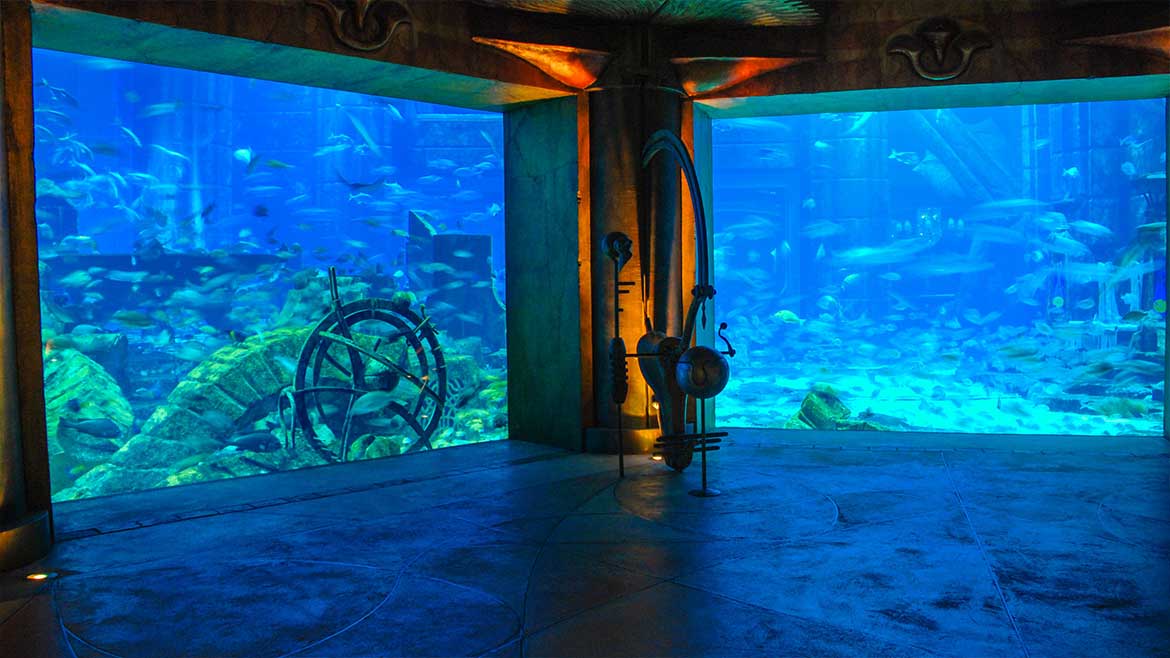 The young ones are quite fond of this activity. Here, you have the chance to hold and touch various sea creatures, like starfish and sea urchins. Learn more about these invertebrates while holding them in your hand and experiencing them in an entirely new way under the guidance of an expert.
Interesting Aquatheater shows
Get the chance to learn more about the underwater world and about scuba diving from knowledgeable, entertaining divers. Additionally, you will have the opportunity to view a feeding demonstration to learn how thousands of fish are fed.
Over 65,000 fish means there will inevitably be some injuries. But fear not; in the event of any such issues, the knowledgeable administration at Lost Chambers has taken care to build a "hospital" for the fish. See for yourself how the crew maintains the fish's health and safety and how the fishes are treated.
Massive Ambassador lagoon
The enormous Ambassador Lagoon is conceivably the destination that receives the most visitors and viewers. 11 million liters of water are stored in this huge container. You read that correctly. This tank is home to the majority of the marine life at The Atlantis. It is one of the biggest aquariums in the world and can hold 4.5 swimming pools the size of the Olympic Games. In one of the various diving experiences offered at Lost Chambers, you can even swim with the more than 150 kinds of fish that are housed in this tank.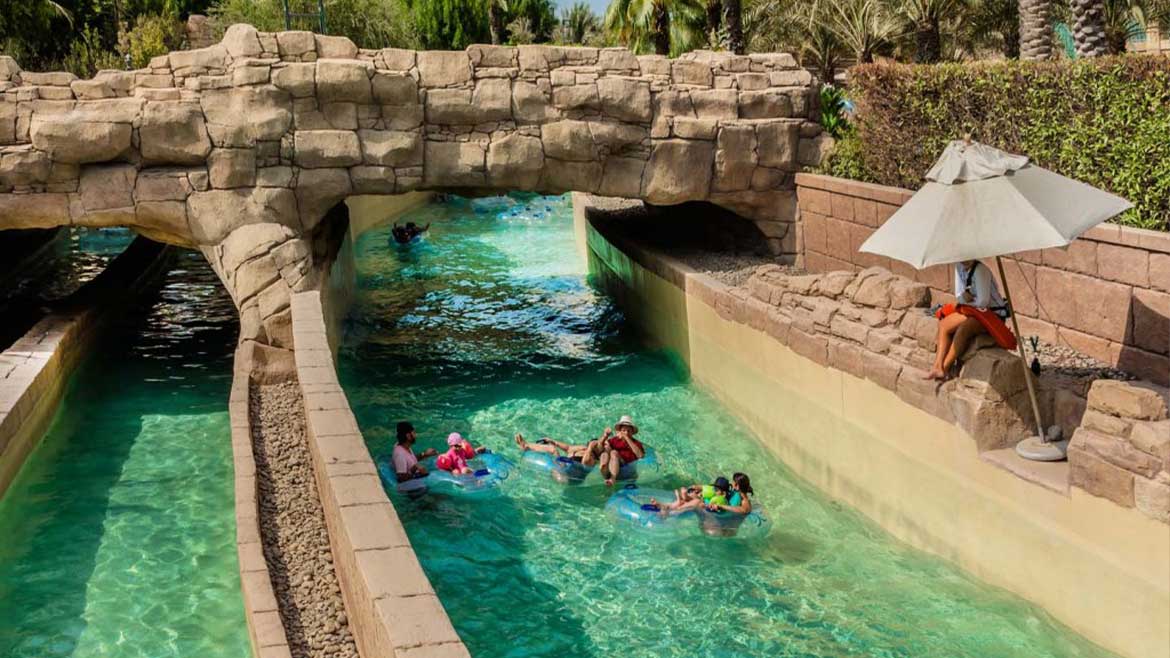 This is the aquarium's ultimate family experience. Take the opportunity to snorkel in the Ambassador Lagoon to observe the animals in their natural environment. Even kids as young as 6 can participate in this experience because no swimming ability is necessary.
Does that seem terrifying? Well, it is a little. You will be able to hand-feed up to 14 different kinds of sharks and stingrays while scuba diving in the Ambassador Lagoon! Do not be scared; you will be closely watched and guided. Only the brave and courageous can experience this adventure.
Winding-up
Ready to have a day full of adventure and excitement? Push your limits and immerse yourself in a maze of underwater glass tubes filled with sharks, stingrays, and lobsters.