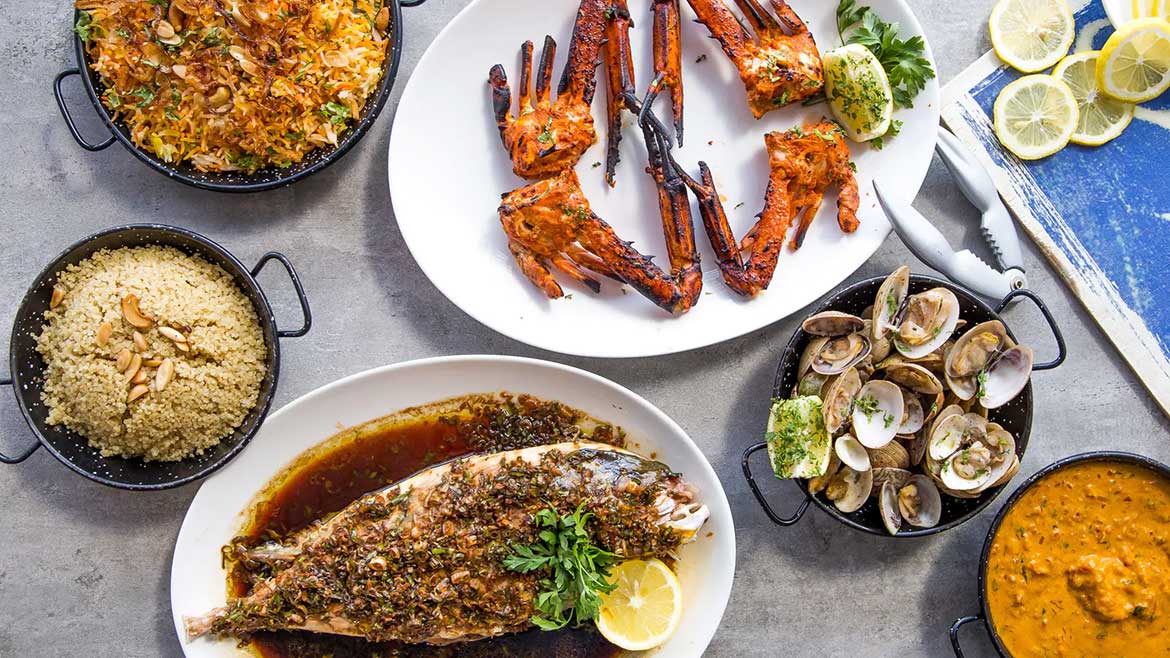 Dubai's Ultimate Seafood Experience
Dubai is known for its luxurious lifestyle and fine dining experiences. When it comes to the best seafood, Dubai's restaurants are at the top of their game. Whether you want to enjoy your meal while admiring the stunning skyline of Dubai or by watching the waves by the sea during sunset, Dubai has some of the best seafood serving restaurants which are authentic and sure to please any seafood lover.
Dubai's ultimate seafood experience offers a range of options to choose from, ranging from traditional Emirati seafood dishes to international cuisine prepared by world-renowned chefs. From fresh oysters to succulent lobster, every dish is prepared with the utmost care and attention to detail to ensure the highest quality and taste. So why not indulge yourself in the ultimate seafood experience and enjoy a meal to remember in one of Dubai's finest seafood restaurants.
Pierchic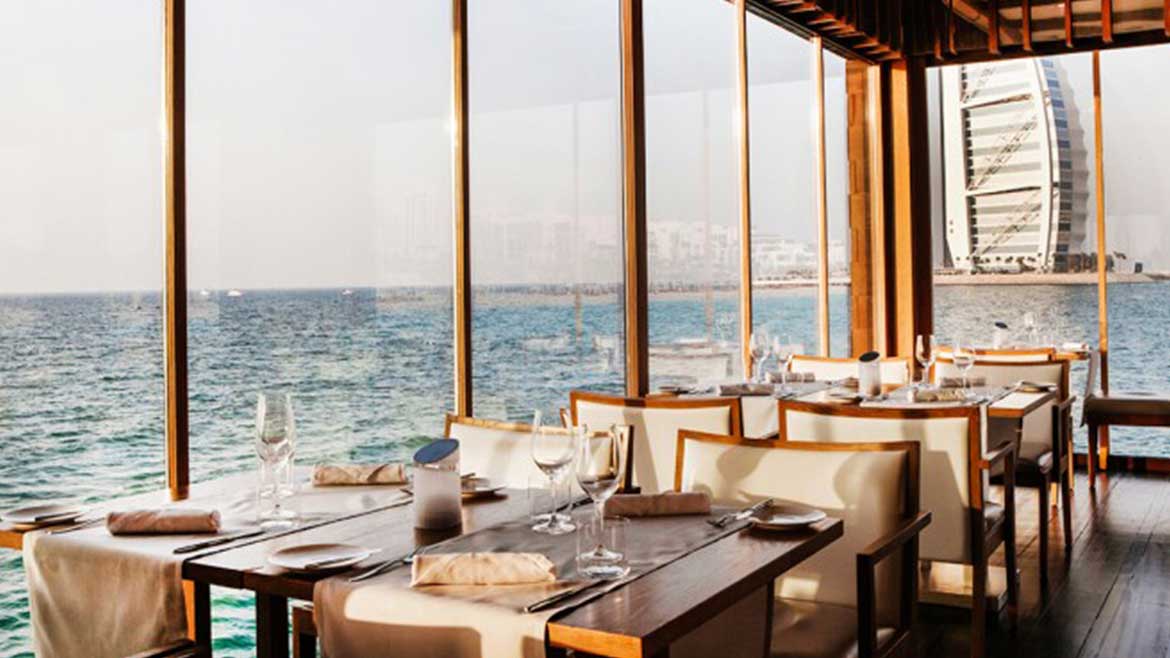 Perched at the end of a long wooden pier that stretches out into the Arabian Gulf, Pierchic Dubai is a seafood lover's paradise. This award-winning restaurant is renowned for its elegant decor, unparalleled views of the Dubai skyline, and, most importantly, its exquisite and best seafood dishes.The gentle sound of waves lapping against the shore, the cool sea breeze, and the stunning sunset views create a relaxing and romantic atmosphere that is perfect for a special occasion or a romantic dinner for two.
Pierchic Dubai's menu features a range of fresh seafood in dubai, from succulent oysters to grilled octopus, king crab legs to lobster thermidor. One of their signature dishes is the grilled whole sea bass, which is cooked to perfection and served with a side of garlic-infused olive oil and lemon. 
Address: Madinat jumeirah – Dubai – United Arab Emirates
Timings: Sun – Thu 1:00 PM – 2:30 PM and 6:30 PM – 10:00 PM, Fri – Sat 1:00 PM – 2:45 PM and 6:30 PM – 10:30 PM
Contact: +971800323232
Fish Beach Taverna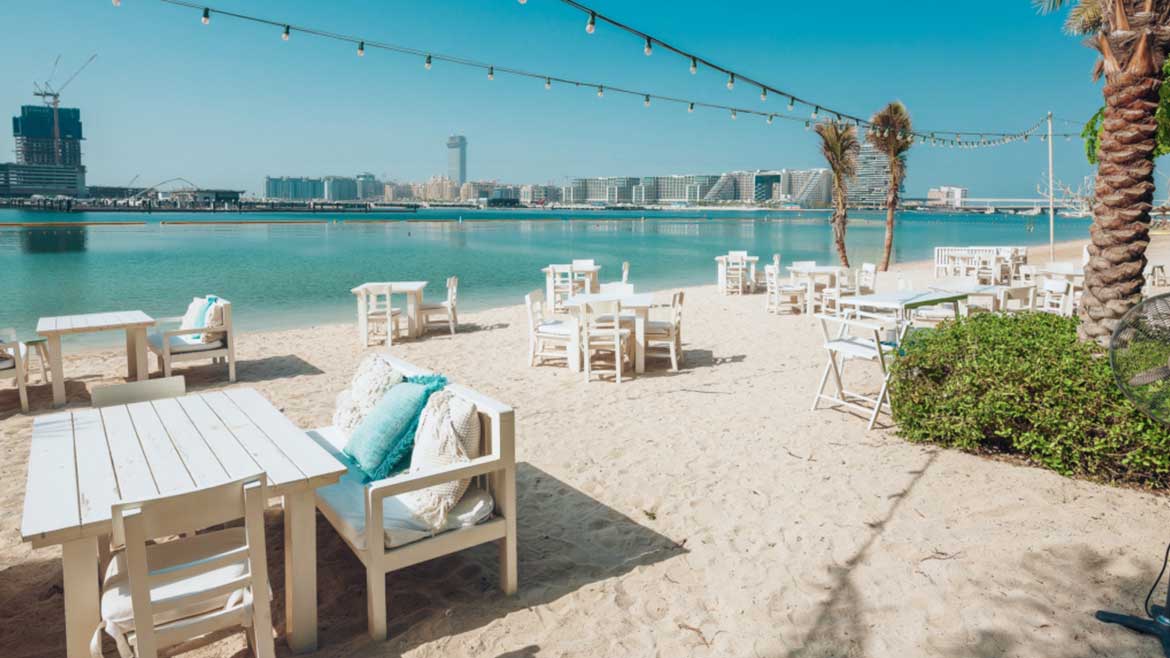 Fish Beach Taverna Dubai is the best seafood serving restaurant that combines the rich flavors of the Aegean with the relaxed atmosphere of a beachfront setting. Located on the beach of Le Meridien Mina Seyahi, Fish Beach Taverna Dubai offers guests an unforgettable dining experience.
The restaurant's menu features an extensive selection of fresh seafood, prepared in a variety of styles, including grilled, baked, and fried. The dishes include grilled octopus, prawns saganaki, and whole sea bass baked in a salt crust. The standout dish, however, is the seafood platter, which includes a selection of fresh fish, prawns, calamari, and mussels, served with a side of Greek salad and tzatziki. The atmosphere is relaxed and laid-back, making it the perfect place to unwind and enjoy a delicious meal with friends or family.
Address: Fish Beach Taverna, Le Meridien Mina Seyahi Beach Resort & Marina – Dubai Marina – Dubai – United Arab Emirates
Timings: Everyday 12:00 PM – 4:00 PM, 6:00 PM – 11:00 PM
Contact: +97145117373
Ossiano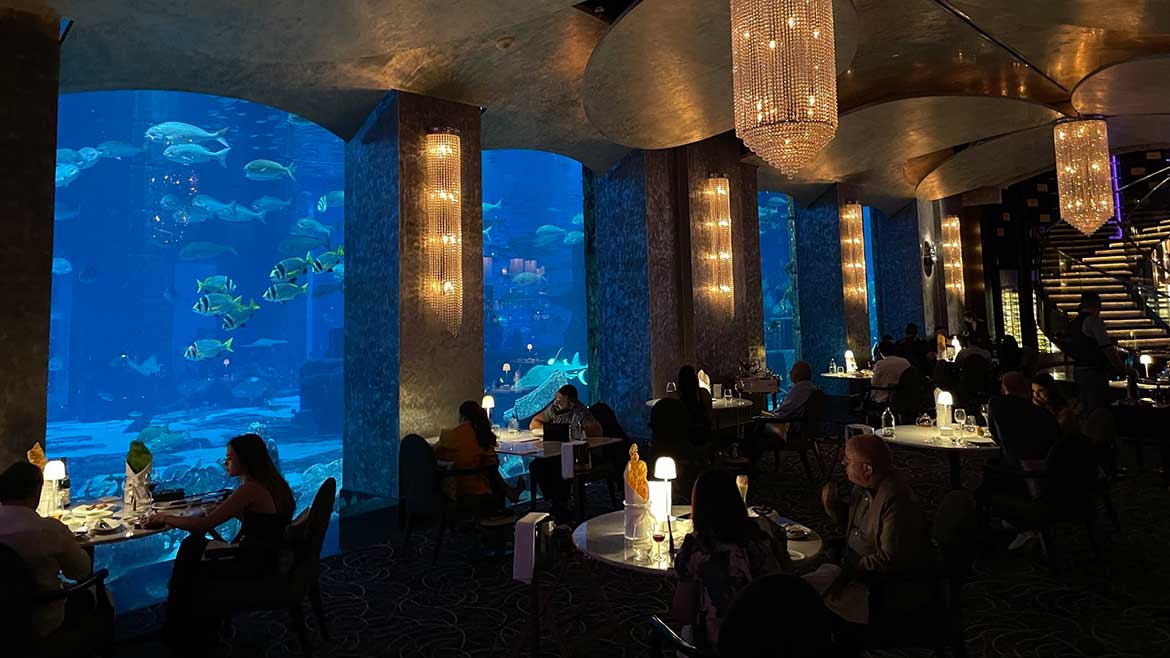 Ossiano is an award-winning and best seafood restaurant located in Atlantis, The Palm, Dubai. The true highlight of the dining experience at Ossiano is the underwater theme. The restaurant is surrounded by the Ambassador Lagoon, which houses over 65,000 marine animals.
The menu at Ossiano is a feast for seafood lovers, with dishes that showcase the freshest catch of the day. Signature dishes include the lobster risotto, sea scallops, and Mediterranean octopus, all of which are cooked to perfection and presented beautifully. The restaurant also offers a range of meat and vegetarian options, but the seafood is the main attraction here.
Address: Crescent Rd – The Palm Jumeirah – Dubai – United Arab Emirates
Timings: Everyday – 6:00 PM – 1:00 AM
Contact: +97144260770
Atmosphere Burj Khalifa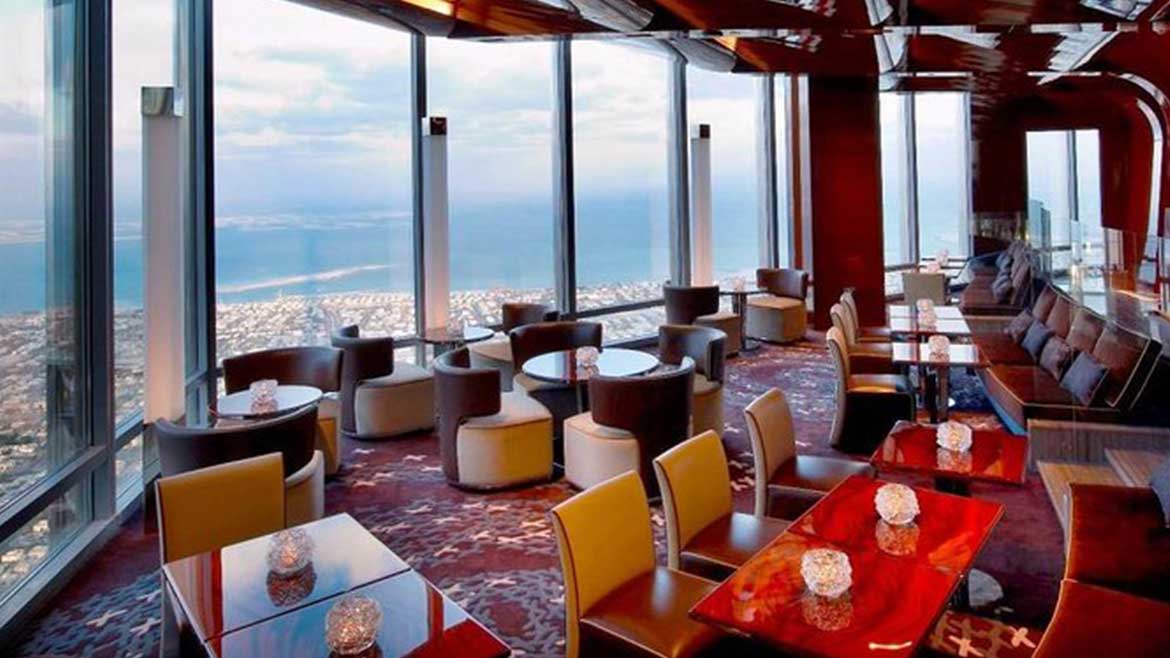 Atmosphere Burj Khalifa is a luxury fine-dining restaurant located on the 122nd floor of the Burj Khalifa, the tallest building in the world. It offers a unique and unforgettable dining experience, with stunning views of the Dubai skyline and an exquisite menu featuring the freshest seafood.
The restaurant's menu features a range of seafood in Dubai, from oysters to lobster, scallops to king prawns. One of their signature dishes is the Scottish salmon, which is prepared with a miso glaze and served with pickled cucumber and avocado. 
Address: Burj Khalifa – 122nd Floor – Downtown Dubai – Dubai – United Arab Emirates
Timings: Everyday – 7:00 AM – 11:00 AM, 1:00 PM – 4:00 PM, and 5:30 PM – 12:00 AM
Contact: +97148883828
Wrap-Up!
Dubai is undoubtedly one of the best places in the world to indulge in seafood. From the casual beachfront tavernas to the award-winning fine-dining restaurants, there's something for every taste and budget. If you are looking for the best seafood near me, Dubai is the place to be with its abundance of seafood. Each restaurant offers its own unique dining experience, whether it's the stunning underwater views at Ossiano, the relaxed beachside atmosphere at Fish Beach Taverna, or the luxurious fine-dining experience at Atmosphere Burj Khalifa.
Dubai Local is a company that helps tourists discover the best of what Dubai has to offer, including its incredible seafood restaurants. With its expert knowledge of the local culture, traditions, and cuisine, Dubai Local provides a comprehensive guide to the city's best seafood restaurants, ranging from casual beachfront tavernas to luxurious fine-dining experiences. By partnering with Dubai Local, tourists can rest assured that they will have access to the most authentic and high-quality seafood restaurants.