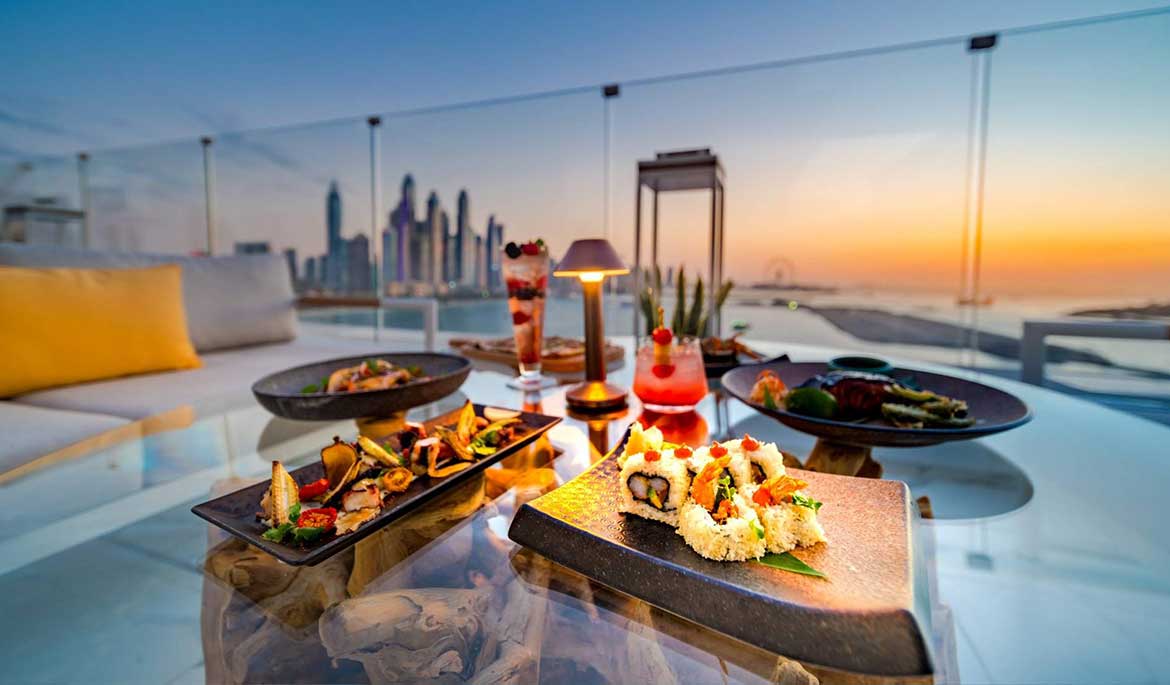 5 Things You Can Enjoy At Palm Jumeirah
For decades, Dubai has attracted tourists with its ultra-modern architecture. Once you step into Dubai, you can immediately see its stunning skyscrapers. It is also known for its man-made islands, one of which is the Palm Jumeriah, one of the world's most famous artificial archipelagos.
If you are visiting Dubai, you must visit the palm tree-shaped island and then indulge yourself in luxury. This stunning architectural wonder is home to some of the world's most luxurious resorts, fine dining restaurants, entertainment centers, and some exciting attractions. We've put together a list of some of the top Palm Jumeriah places to see so you can plan your visit accordingly.
From beach clubs to dining to waterparks, Palm Jumeriah has it all. Enjoy the beach, eat delicious food, and splash around at the waterparks! 
Palm Jumeirah Offers a Variety of Attractions 
In Palm Jumeirah, AI Ittihad Park is a popular attraction. Founded in 2012, the oasis was dedicated to the United Arab Emirates during its 41st National Day celebrations. It covers an area of 1.1 million square feet. It has been designed as a sustainable and eco-friendly center for locals and visitors to Palm Jumeirah. A 3.2 km jogging track surrounds the hotel, and you will see plants and trees that are native to coastal areas, deserts, mountains, and wadis. If you're looking to learn more about plant life or simply want to enjoy the beautiful greenery around, then this is the perfect place for you.
Freefalling over the Palm Jumeirah
It's unlikely that you haven't seen a picture of Dubai skydiving at Palm Jumeirah. One of the most popular tourist attractions on the Palm is skydiving. Try out skydiving when you are in Dubai if you're looking to do something adventurous that will give you the adrenaline rush.
Imagine falling from great heights with a parachute attached to your back. It's a terrifying yet thrilling experience. You will jump out of the plane moving at 120 mph, which will surely get your adrenaline going. In addition, you can see the beautiful Palm Jumeirah Island, Dubai Marina, and the turquoise waters of the Arabian Gulf from the hotel.
The Lost Chambers Aquarium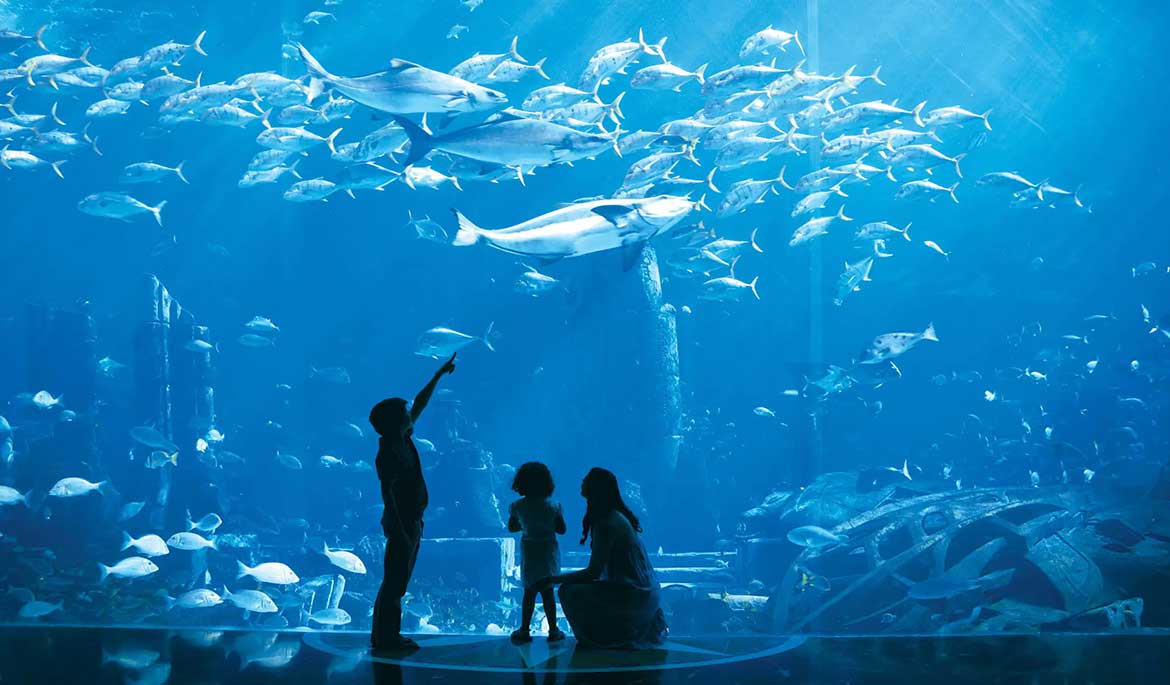 Discover hidden treasures at the Lost Chambers Aquarium, one of the most famous aquariums in the world. The aquarium is themed around the ancient city of Atlantis and features chambers and lagoons.
At the Lost Chambers Aquarium, you can see more than 65,000 marine animals, including seahorses, reef fish, sharks, and rays. It is so much fun to explore the Lost Chambers. Those looking for rejuvenation and relaxation in an aquatic setting should check out a Hatha Yoga class. On different days, there are several fun activities to choose from, including fish tale tours, aqua-theatre shows, snorkeling, aquarium dives, etc. 
Nasimi Beach at Palm Jumeirah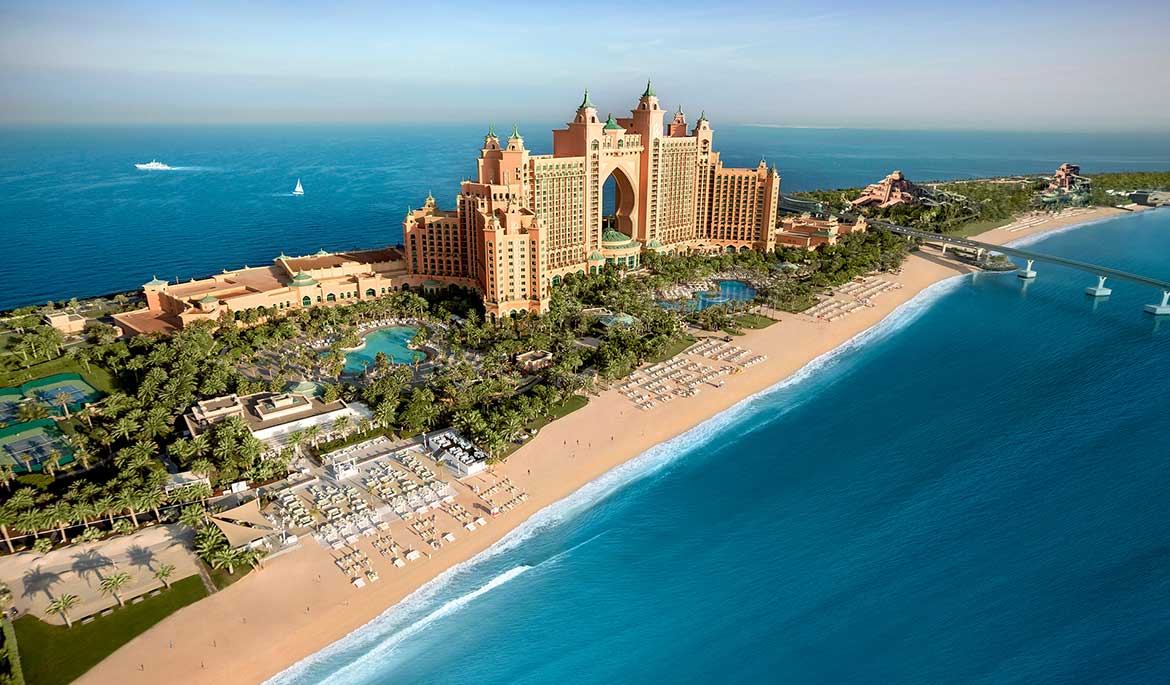 Since opening, Nasimi Beach has attracted a lot of tourists. Nasimi Beach is the perfect place for relaxing, enjoying nature, or having fun at the beach club. You can enjoy Asian and Mediterranean cuisine at the beachfront restaurant, or sunbathe on a sunbed or relax in a cabana. You can enjoy a stunning view of Dubai's skyline while relaxing on a lounger as the sun sets. There is no other view like this on Palm Jumeirah.
Enjoy Sunset Sips at the Penthouse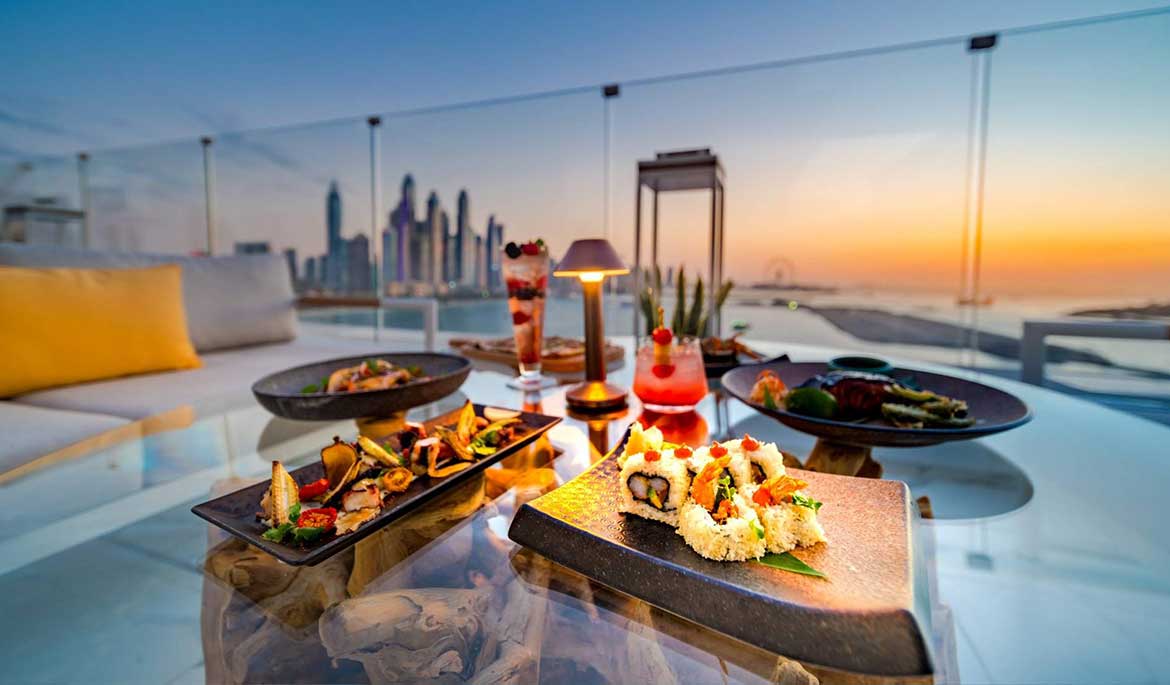 There's no better way to experience Palm Jumeirah than to visit The Penthouse. Penthouse Bar is located on the 16th floor of Five Palm Jumeirah hotel, an ultra-luxury resort. The place is appealing to everyone, regardless of whether you drink or not. There are many things you can do at the Penthouse, including partying till dawn with amazing backdrops, admiring the Dubai skyline from atop the roof, and enjoying world-class cuisine. In addition to penthouse pool sessions, meal vouchers, and massage sessions, the Penthouse offers food and beverage vouchers. It's a must-visit rooftop bar when you're on the Palm.
Final Words
As a whole, if you ever find yourself visiting this beautiful place of Dubai: Palm Jumeirah, then make sure to visit the following 5 places. You will surely enjoy your time while visiting all of these places.