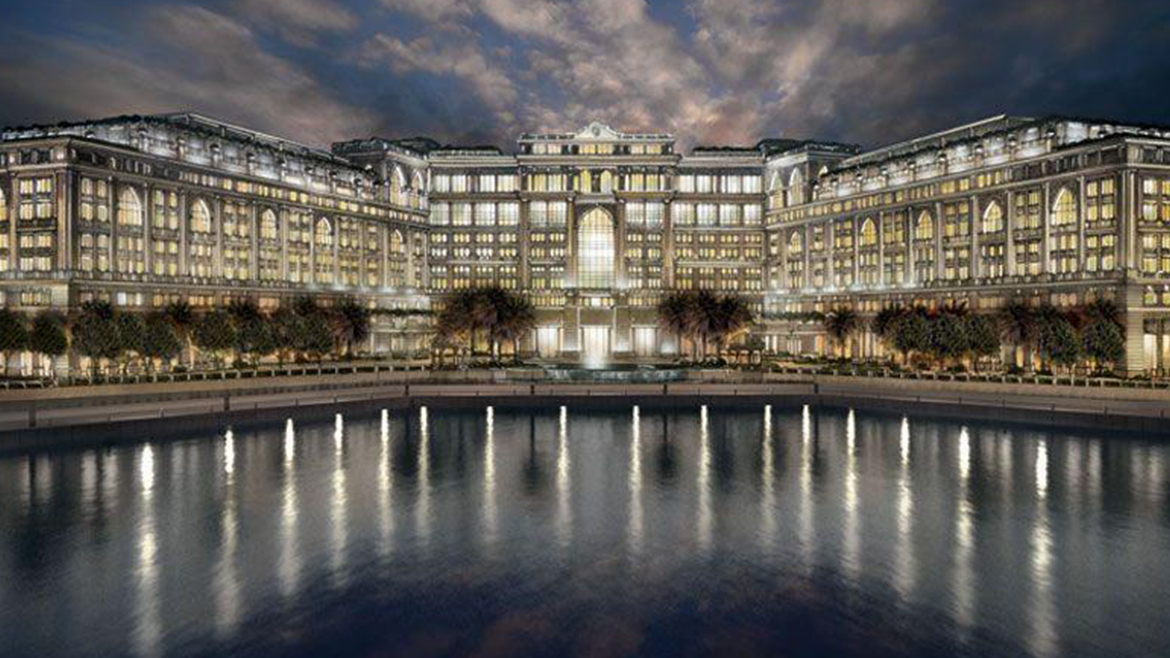 10 Iconic Places in Dubai & Top Things to Do!
Dubai has become the best destination with an astonishing view of tall buildings, architectural monuments, Dubai fountain, cafes & restaurants. Visitors worldwide join Dubai city during holidays to cover more places on their bucket lists. Dubai is setting new standards within the tourism country, and people see it as more than a desert area. The luxurious life of Dubai city attracts business people from around the world to trade and deal with more investors.
Let's explore some iconic places of Dubai everyone must visit:-
Burj Al Arab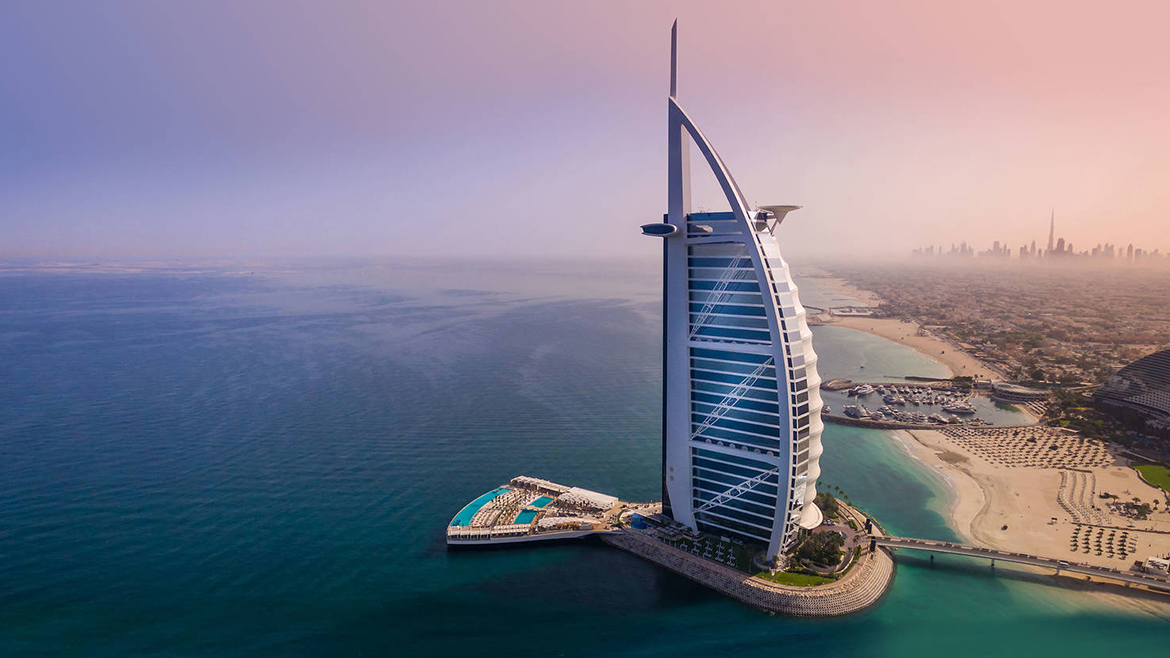 One of the iconic landmarks on Dubai's map is Burj Al Arab. It looks like a sail; the place is a seven-star hotel & world's tallest suite hotel. The tower lifts to 321 meters, consisting of 28 floors, a fascinating mid-air restaurant, pools, bars, a water park & artificial island. Sounds very interesting, right? You can book an 'Inside Burj Al Arab' show ticket to get the knowledge and overall experience of Arabian luxury. The place resembles digital interactives that connect the history of the original architectural designs.
Address: Jumeirah Street – Dubai, PO Box 74147, Dubai, UAE
Burj Khalifa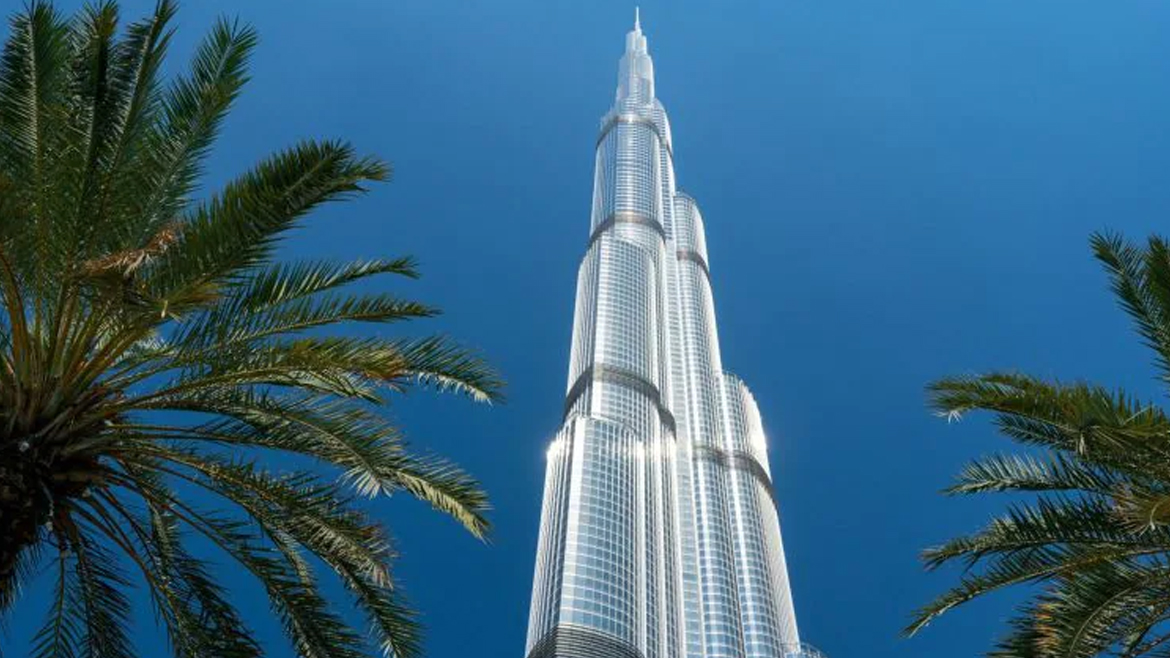 Does it need any detail or introduction? Burj Khalifa is the world's tallest building and the most iconic thing to explore in Dubai. The tall building stretched to 828 meters with 200 storeys and 160 floors. The top view from Burj khalifa is a lifetime experience to witness such a fantastic piece of architecture and engineering design. Dubai city looks more vibrant than Burj Khalifa, and it also contains the longest elevators, somewhere 1653 feet long, and the highest outdoor deck, about 1820 feet.
Address: 1 Sheikh Mohammed bin Rashid Blvd – Downtown Dubai – Dubai – United Arab Emirates
Palm Jumeirah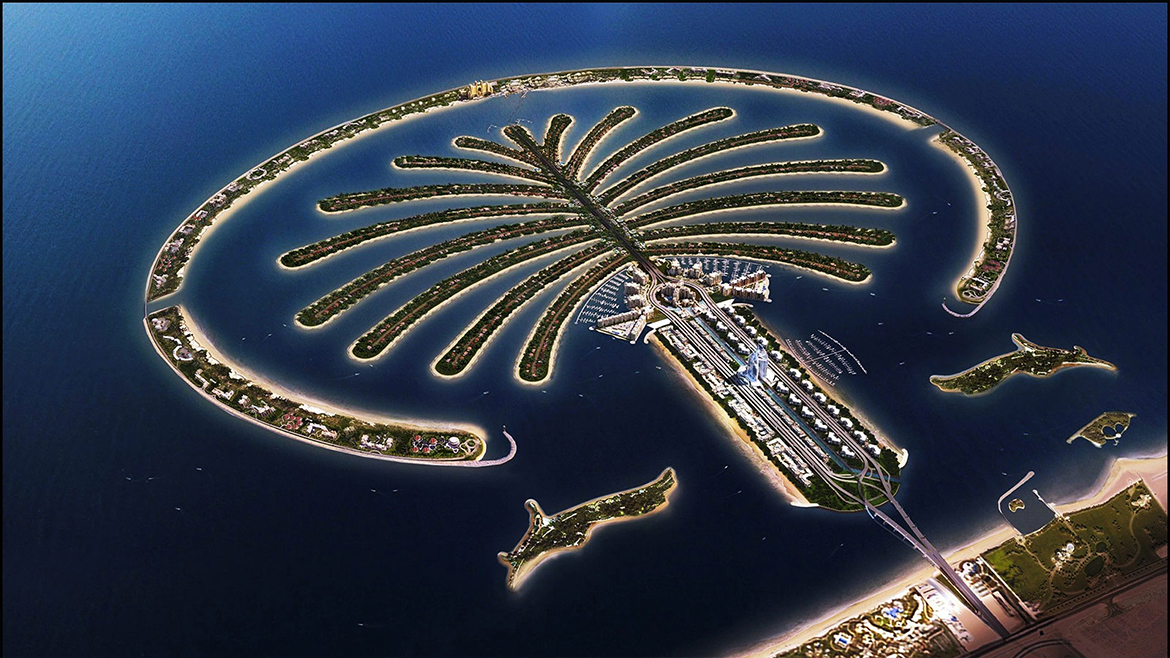 The one and only Palm Jumeirah is an artificial island that you should not miss out on a Dubai trip. It coincides with a series of the best artificial archipelagos, and it has shaped like a palm tree that you can witness from height. The fascinating thing about the place is that no steel & concrete was used for building the Palm Jumeirah. It comprises 120 million cubic meters filled with sand and placed in the seabed. Shopping malls and luxurious beach resorts are major attractions in this place. 
Address: Persian Gulf in Jumeirah, Dubai, United Arab Emirates
Museum of the Future
 
It falls under the list of the world's most beautiful buildings. The Museum of the Future has become a significant attraction for the eyes of visitors. This museum replicated a seven-story hollow elliptical made with stainless steel and inscribed with a few beautiful quotes in Arabic calligraphy. The museum takes you to the year 2071 as it mixes up the latest virtual reality and augmented reality technology, big data analysis, AI, and human-machine interaction. The interesting fact that seven-storey buildings do not have any pillars left you surprised. It stands at the height of 77 meters.
Address: 67CP+H4Q – Sheikh Zayed Road – Trade Centre – Trade Centre 2 – Dubai – United Arab Emirates
Dubai Aquarium & Underwater Zoo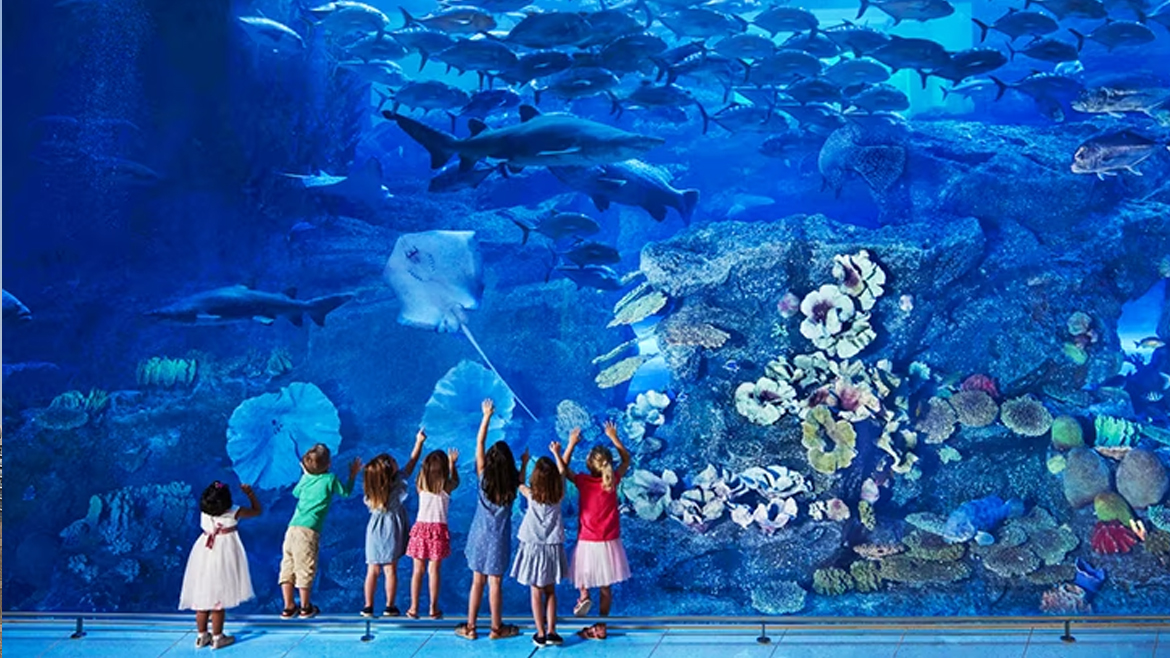 Holding Guinness World Record for the 'Largest Acrylic Pane' Dubai Aquarium & underwater zoo fascinates you to visit the place once in your Dubai vacation. Also, one of the largest indoor aquariums that become a home for over 33000 aquatic animals full of 140 species. Here, the tank occupies 10 million liters of space at the aquarium, including 400 sharks and other diverse marine life. 
Address: Downtown Dubai – Dubai – United Arab Emirates
Aquaventure Waterpark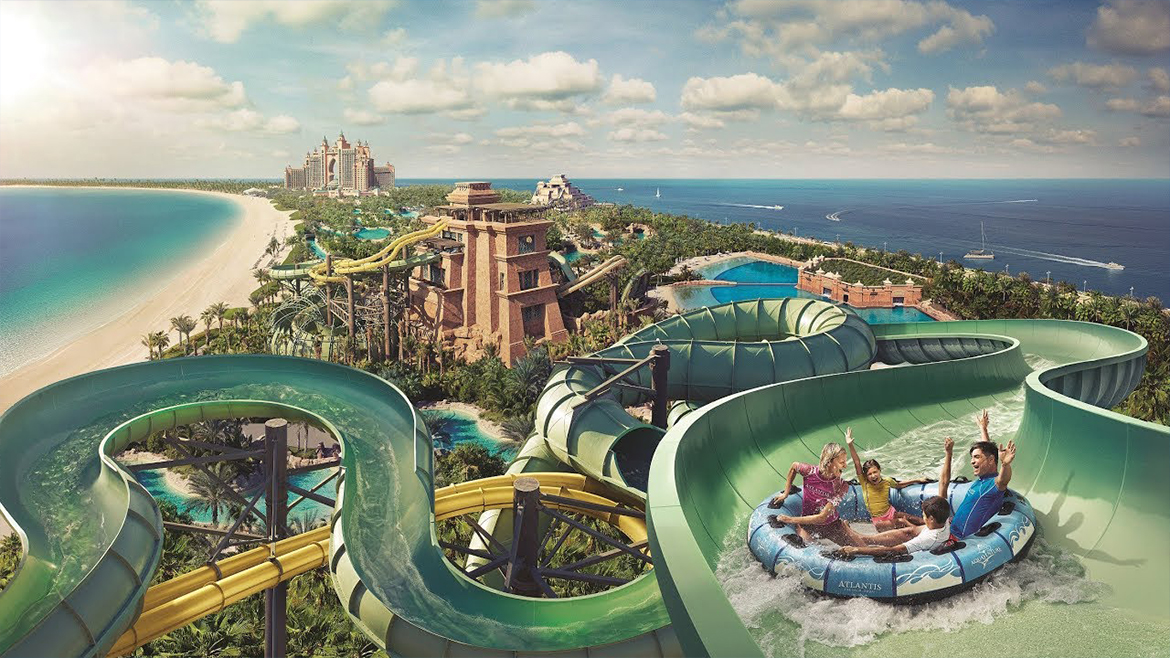 Waterparks are fun to catch up with friends and family, especially kids. Aquaventure Waterpark brings private beaches with kid's play areas. This largest waterpark in Dubai comprises fun rides and attractions adjacent to Atlantis aqua venture. Spread over a 17-hectare area including 30 unique water slides, dive into a 27.5-meter plunge that connects through a tunnel crossing sharks. Two more exciting attractions are Secret Chambers and Atlantis Underwater Zoo.
Address: Atlantis The Palm – Crescent Rd – Dubai – United Arab Emirates
Ski Dubai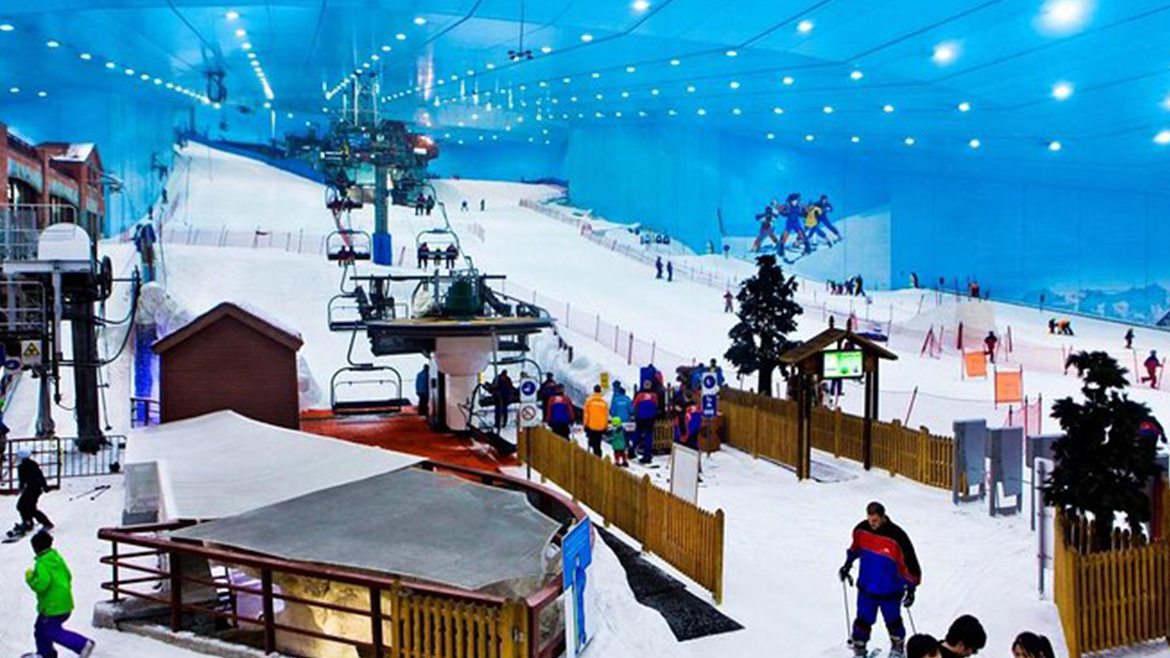 Who doesn't love to play with ice and make castles from small balls? Ski Dubai brings fun snow activities such as snowboarding, skiing, and tobogganing. Other attractive elements are resident snow penguins, must visit place for tube slides with a relaxing chairlift, a giant ball run, an exciting 10-ft ramp, and five ski runs.
Address: Sheikh Zayed Road – Al Barsha – Al Barsha 1 – Dubai – United Arab Emirates
Dubai Frame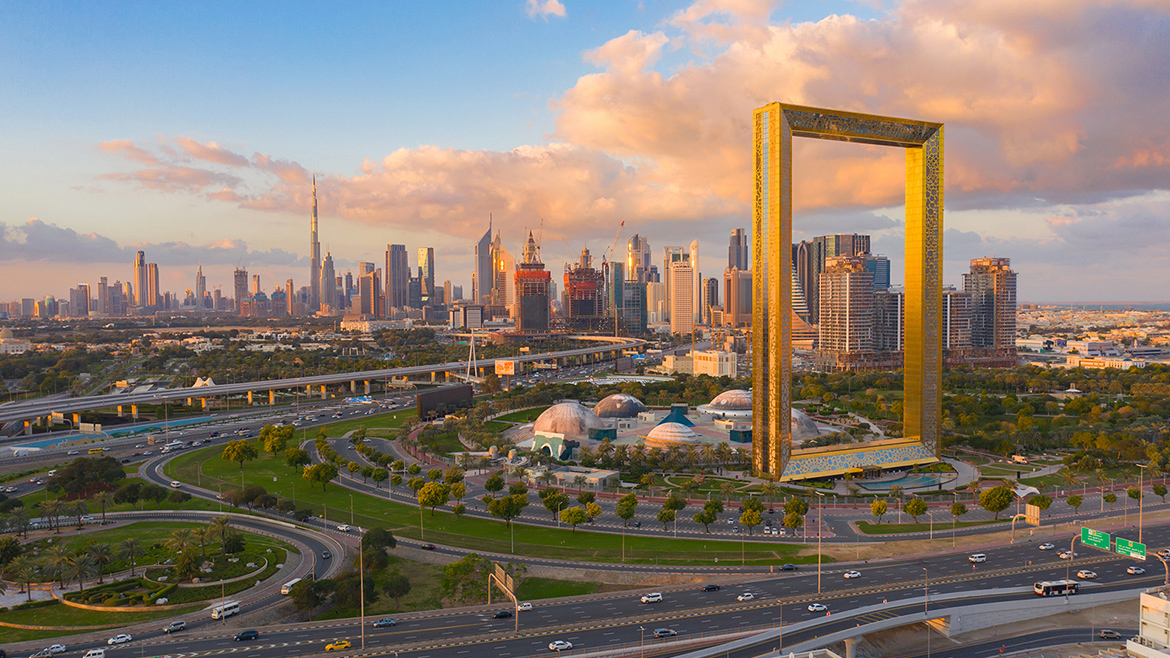 Ever imagine how broad a frame can be? Dubai Frame holds the record of being the largest picture frame placed near Dubai's Zabeel Park. The height of this unique frame is 150 meters, offering tremendous panoramic eye-catching views. State-of-the-art glass bridges which get connected through parallel vertical towers make a shape of a picture frame. Reach by elevator to the top, and walk across the sky bridge frame, to get a perfect Dubai 360-degree view of the city.
Address: Zabeel Park Jogging Track – Za'abeel – Al Kifaf – Dubai – United Arab Emirates
Dubai Miracle Garden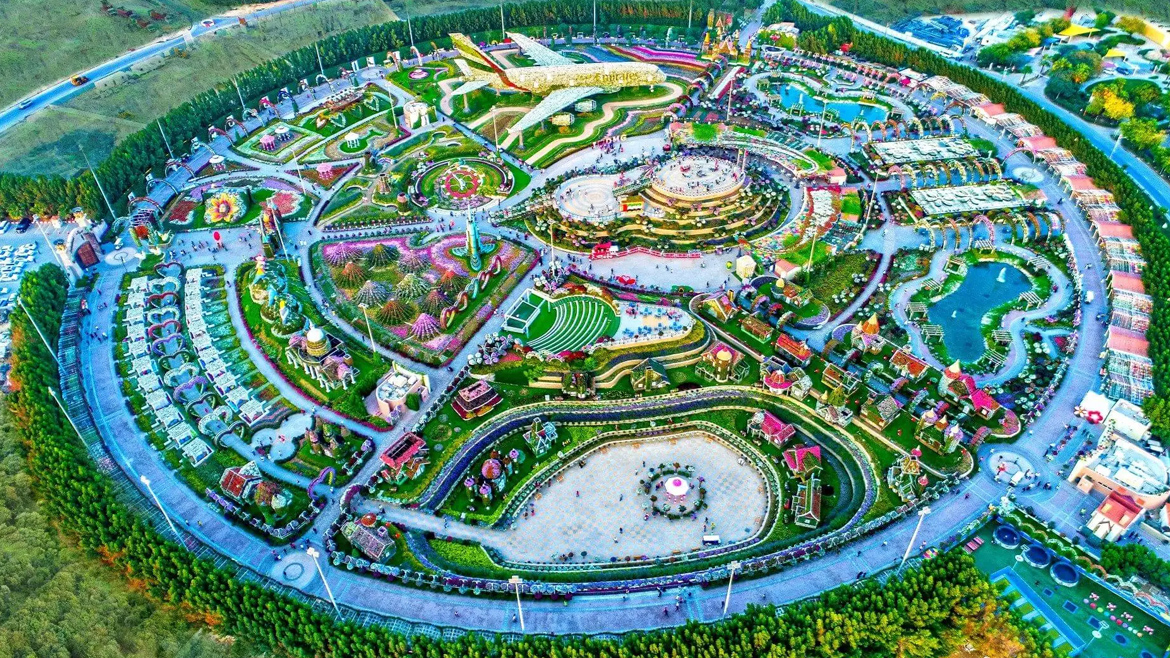 Spread over 72,000 square meters, the aromatic flower paradise shares 150 million blossoming flowers. The garden gets the tag of the world's largest flower garden blending colorful views with the mixed scent of different flowers. Every time you visit the garden, you will take different memories and views due to seasonal changes. 
Address: Street 3 – Al Barsha – Al Barsha South – Dubai – United Arab Emirates
The Dubai Fountain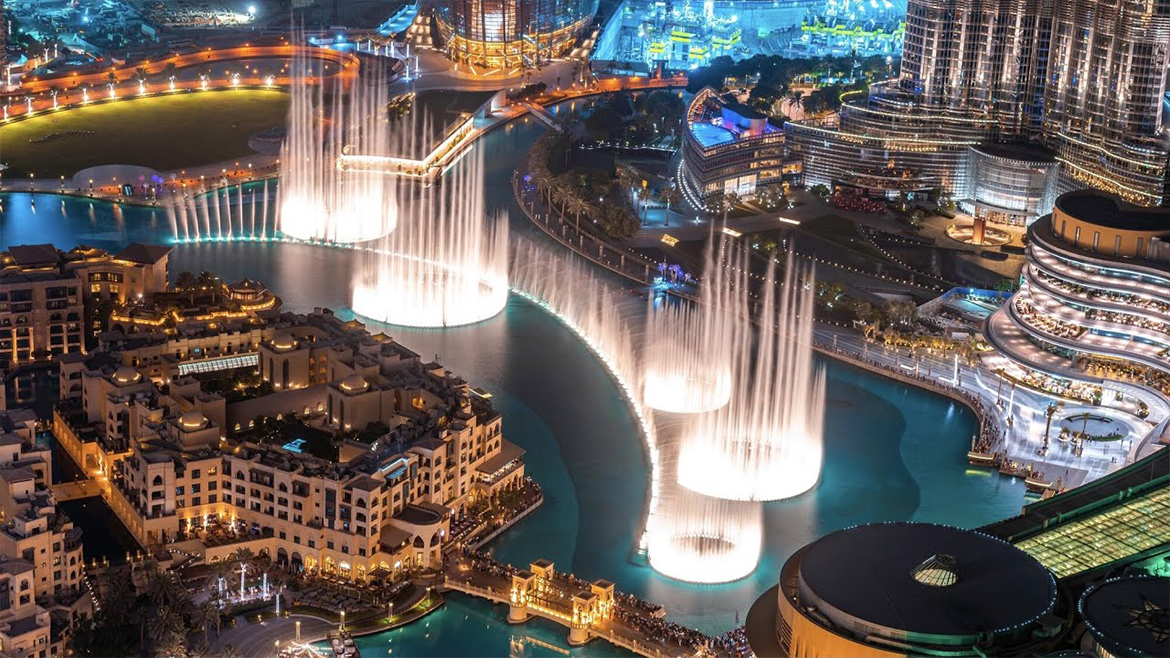 The next iconic place on the list hits the Dubai fountain holding the achievement of the world's largest musical fountain, which is wonderfully designed by the creators of the fountains of Bellagio from Las vegas. A perfect blend of light, music, and wave of the fountain will fill visitors' eyes with joy and happiness. This fountain contains 25 color projectors and 6,600+ lights displaying the iconic engineering masterpiece of Dubai City. 
Address: Sheikh Mohammed bin Rashid Blvd – Downtown Dubai – Dubai – United Arab Emirates
Wrapping Up!
You will never forget your Dubai trip memories by visiting such iconic places and enjoying the best experiences for a lifetime. We at Dubai Local have become an online local guide for Dubai to make your journey better and free from hustles. Our website has detailed information about places, restaurants, cafes, and other services for visitors to explore Dubai city with accurate information.