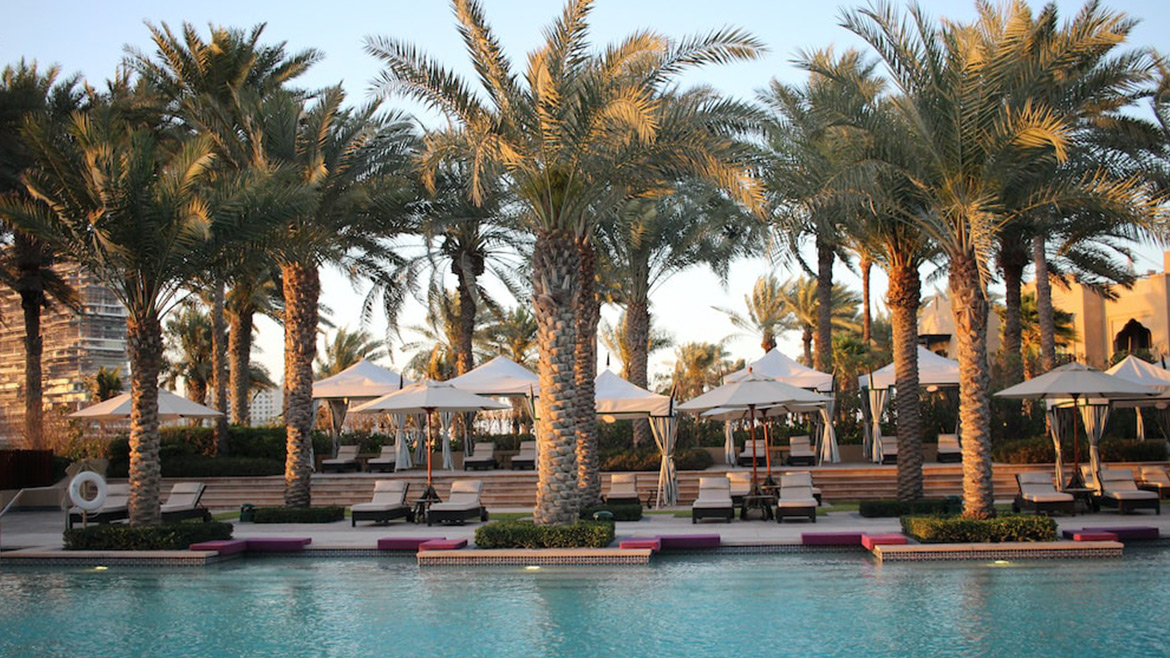 The Top Business Holiday Hotels in Dubai
Many hours of speeches, pitches, and promotions accompany business vacations. Even though the sole reason for your trip may be business-related, it is only fair to take some time off after a long day of work to jump in the pool or devour dessert from a buffet. By staying at one of these business hotels in Dubai, which are just a short distance from the city's business district, you can avoid the horror of getting stuck in chaos or, even worse, taking public transportation in a foreign city. The following hotels in Dubai are the best for business travelers and should be added to your travel itinerary because of their warm hospitality, large rooms, and, of course, their consistent, uninterrupted WiFi. So, check out the below listed business hotels in Dubai.
Hyatt Regency Dubai Creek Heights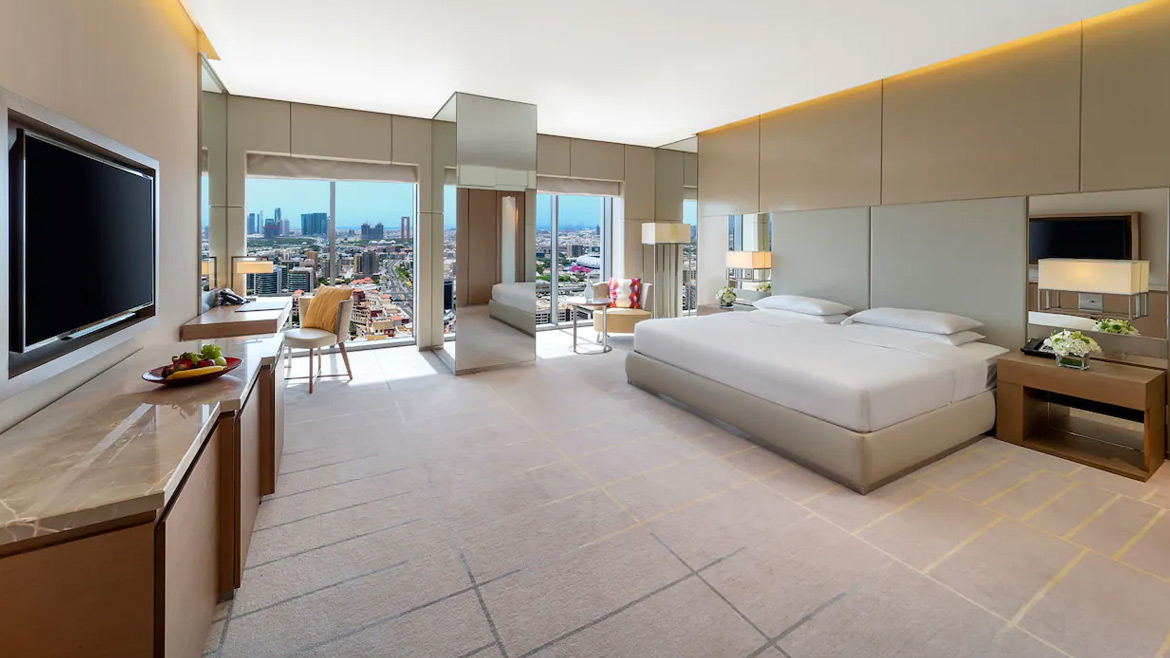 One of the best business hotels, the Hyatt Regency sticks out with regard to convenience, comfort, and variety among the Hyatt chain of luxurious hotels. Set 10 minutes from the Dubai International Airport, board the hotel's shuttle and take in the Gulf vibes before being astounded by the Dubai Creek's most spectacular sights. Your room has a walk-in rain shower so you can rehearse your opening statements for the meetings as often as you like in addition to comfortable beds and a personal workstation.
Address: 20th Street, Dubai Healthcare City, Bur Dubai Hyatt Regency Dubai Creek Heights – Dubai 5668 – Dubai – United Arab Emirates
Phone: +971 4 553 1234
Citymax Hotel Bur Dubai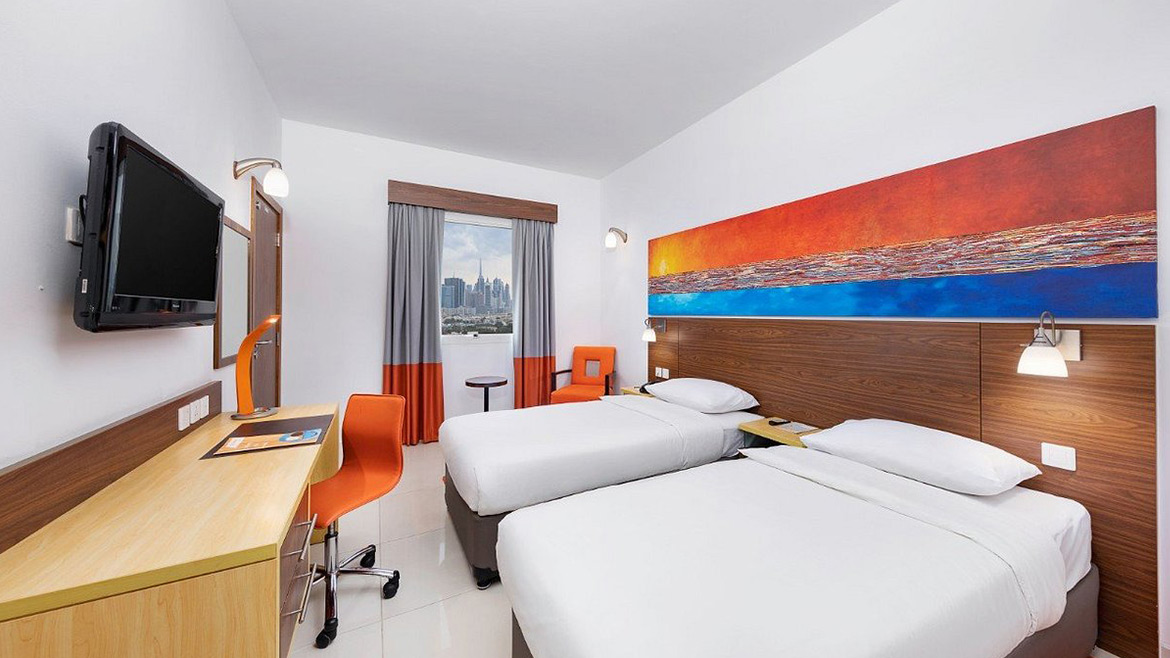 3 km (1.86 miles) from Dubai's World Trade Center, Citymax provides visitors with the ideal fusion of modern utility and elegant aesthetics. Large beds with luxuriously thick mattresses, private bathrooms, and a 24-hour coffee shop guarantee that you are free to relax for however long you like. With costs planned with the modest traveler in mind, you can save money for choosing a trip without sacrificing the services you require for your stay.
Address: Kuwait Street, Mankhool – Dubai – United Arab Emirates
Phone: +971 4 407 8000
Grand Hyatt Dubai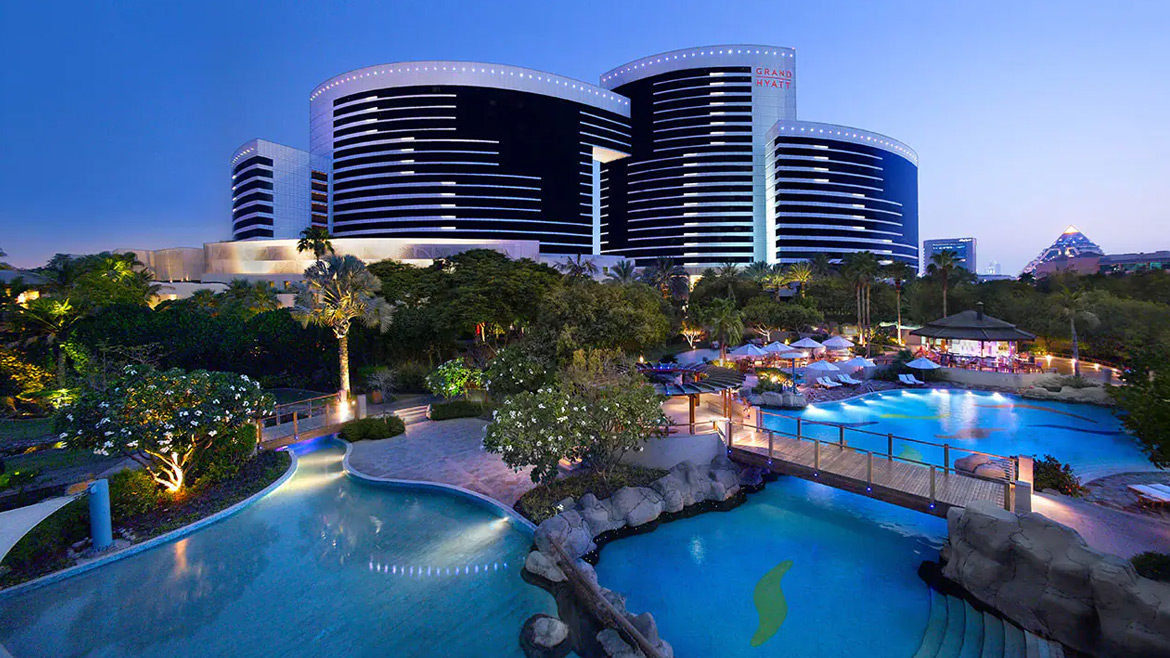 Grand Hyatt Dubai is the ideal location if you're searching for a cozy business hotel without sacrificing style. In spite of the increasing temperatures, Grand Hyatt knows how to keep things cool with spacious, comfortable beds, free WiFi, and in-room minibars! If you're in the mood for some fresh air, walk to the outdoor pool to soak up some vitamin D before having a snack at one of Hyatt's open-kitchen eateries.
Address: Grand Hyatt Dubai Oud Metha Road, Dubai Healthcare City Riyadh Street – Near Sheikh Rashid Road – Dubai – United Arab Emirates
Phone: +971 4 317 1234
Hilton Dubai Jumeirah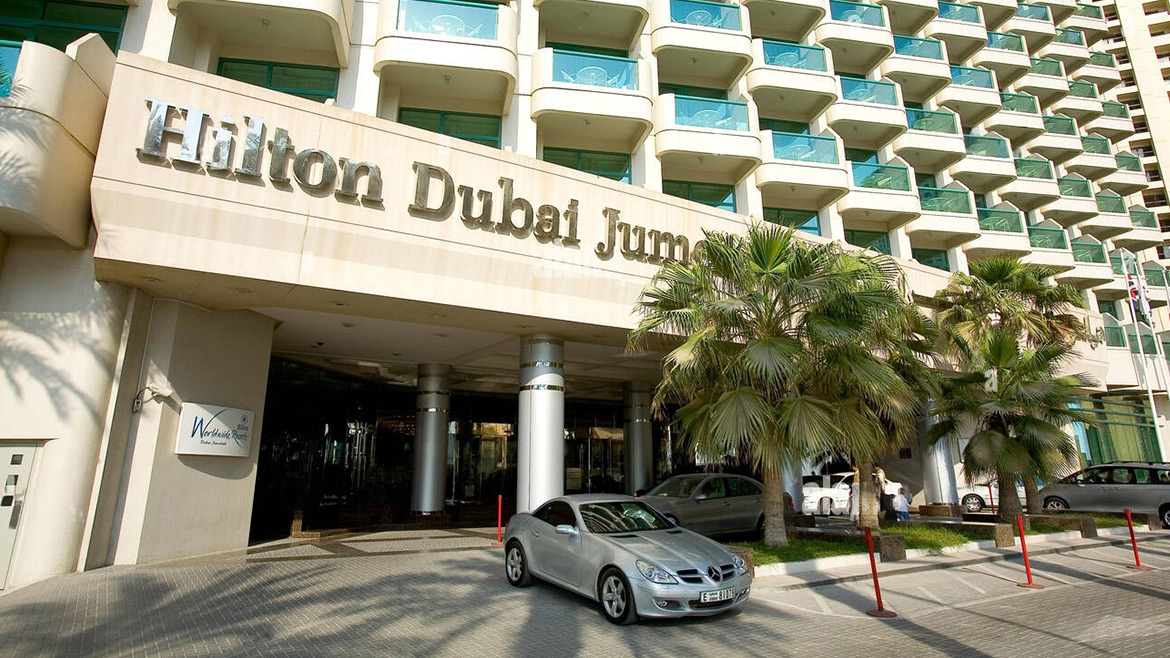 Want to remain close to the lively business area but worry you'll miss the true spirit of Dubai? Visit Hilton Jumeirah Resort to see views of a palm-lined private shoreline. For those working through the night, a work desk and coffee machine are provided in each room. You can take a break and tour the city while you're there since the hotel is only a 10-minute walk from the Dubai Marina Metro Station.
Address: Tower A, The Walk Jumeirah Beach Residence Dubai, United Arab Emirates 00001
Phone: 971 4-318-2999
Holiday Inn Express, Dubai Airport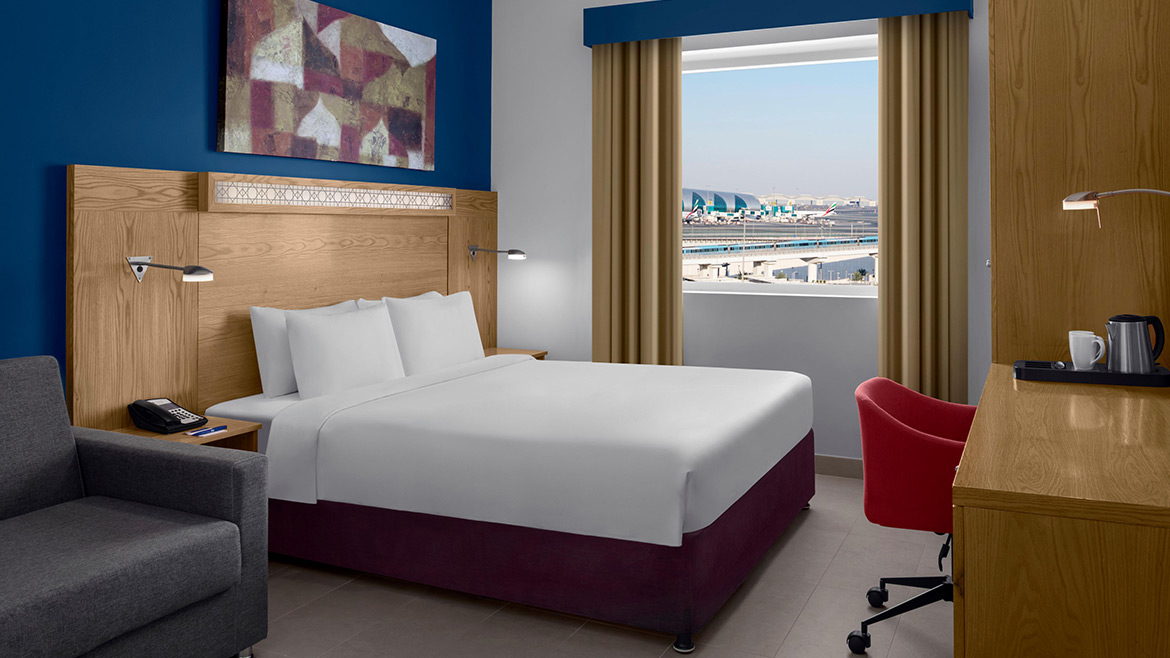 When you're gone from home, phone calls and presentations can be especially exhausting. Your stay at the Holiday Inn Express will be as comfortable as possible. Located directly across from Dubai Airport, you can immediately relax into one of their spacious bedrooms after landing. The Holiday Inn Express creates the ideal working atmosphere with a private work desk, tea and coffee making amenities, and a delicious breakfast buffet.
Address: Oppo Dubai Int'L Airport Terminal 3 – Umm Ramool – Dubai – United Arab Emirates
Phone: +971 4 290 0111
Jumeirah Emirates Towers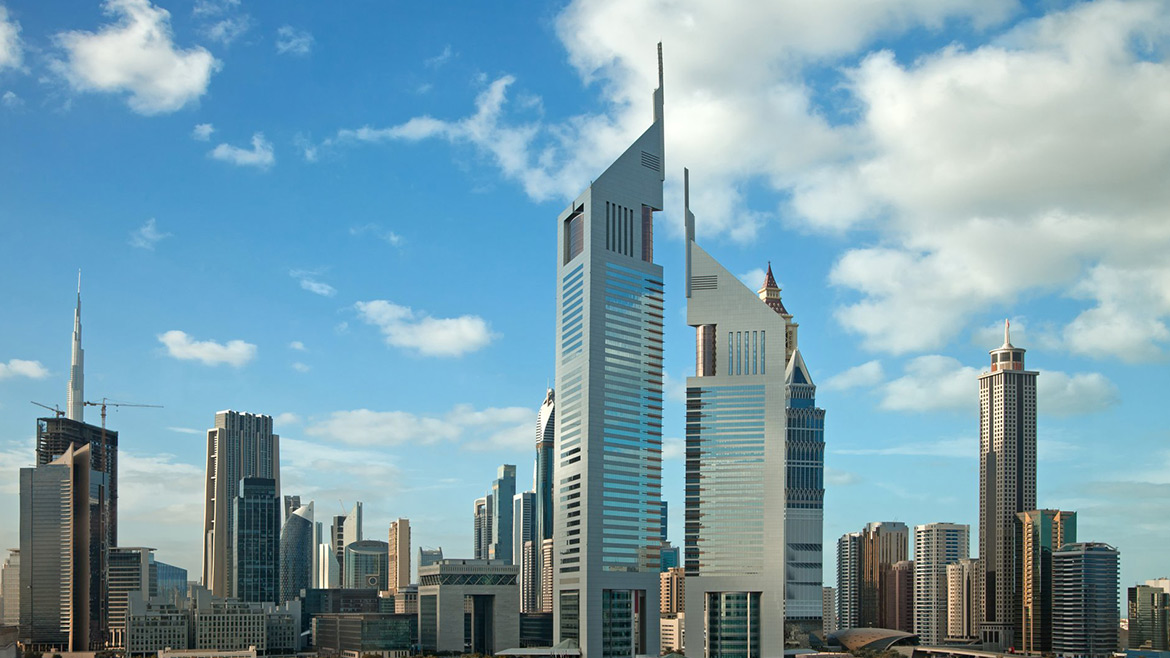 In search of an escape from your unbalanced work-life balance? Make your way to one of the exclusive business hotels, Jumeirah Emirates Towers. You have unrestricted access to Jumeirah's Private Beach during your stay, so you can spend time off relaxing in the sun. Enjoy eating indoors at acclaimed places like The Rib Room and Al Nafoorah. Your accommodation comes equipped with a personal desk, tea and coffee making supplies, and WiFi for when it's time to get back to work.
Address: Sheikh Zayed Road – Trade Centre – Trade Centre 2 – Dubai – United Arab Emirates
Phone: +971 4 330 0000
Running a hotel business is not easy, especially accommodating business travelers with comfort and all the amenities is a big task, but the above listed hotels do it so well. We have listed the best business hotels for you, so that whenever you plan your next business holiday, you won't have to worry about your stay! Stay in your comfort, and keep visiting Dubai Local!