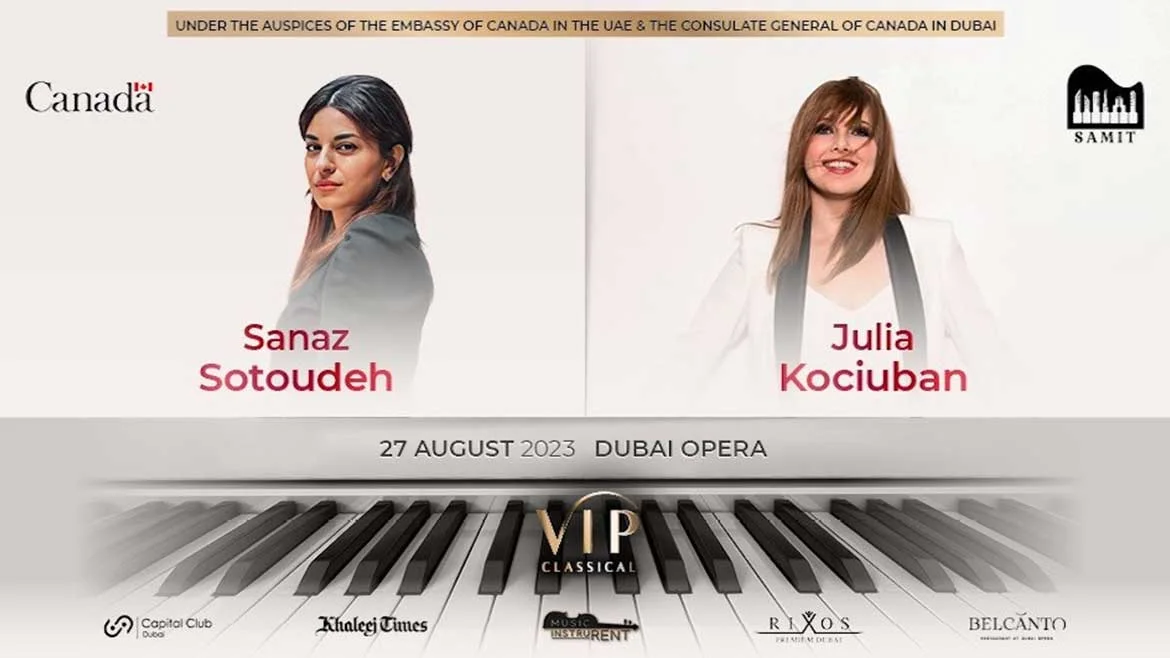 VIP Classical in the Studio Dubai Opera
Date and Time – 18:30 Sun 27 Aug 2023
Location – Dubai Opera – Sheikh Mohammed bin Rashid Boulevard – Dubai – United Arab Emirates
More Info – For a concert at Dubai Opera on August 27th, the UAE will welcome Canadian pianist Sanaz Sotoudeh and Polish pianist Julia Kociuban. The event is part of SAMIT Event Group's VIP Classical concert series and is sponsored by the Canadian Consulate General in Dubai and the Canadian Embassy in the UAE.
Kociuban will open the evening with Grayna Bacewicz's Piano Sonata No. 2, a fascinating 20th-century composition written in 1952, as part of a lively musical program. The Ballade No. 1 in G minor, Mazurkas, Op. 24, Nos. 2 and 4, and Andante Spianato & Grande Polonaise Brillante are a collection of three pieces by Frédéric Chopin.
The Chaconne in D minor from Johann Sebastian Bach's Sonatas and Partitas for Solo Violin will be the first piece on Sotoudeh's set list when she takes the stage following the intermission.
Following Ludwig van Beethoven's very well-known Piano Sonata No. 14, also known as the "Moonlight Sonata," comes Franz Liszt's Liebesträume No. 3, the third and most well-known of a trio of solo piano compositions that were first published in 1850.
Then comes Liszt's transcription of Franz Schubert's Ständchen, which is often referred to as Serenade, before Sotoudeh finishes with another piece by the Hungarian composer, the Étude en Douze Exercices No. 3.