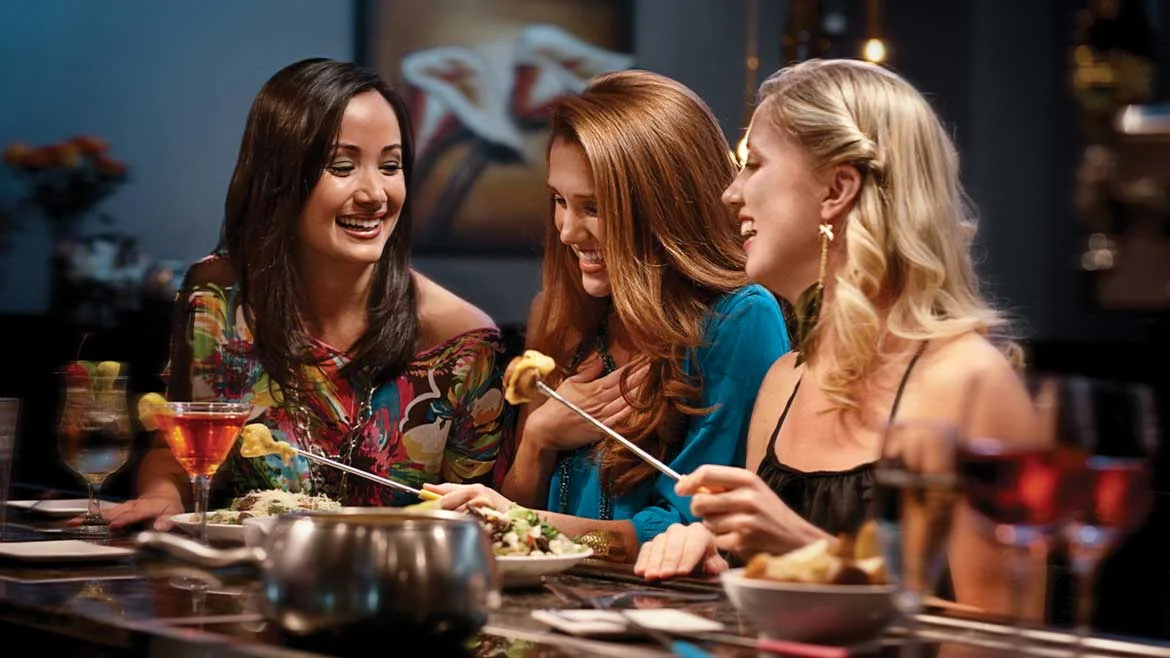 Get Ready to Enjoy the Ladies' Nightlife in Dubai to Have Some Fun and Excitement
The nightlife in Dubai is something you do not want to miss. With several nightclubs for ladies emerging in the city, you are assured to feel magical, dancing and having fun with your friends. From dancing to your favourite pop music to playing fun games, get ready with your girlfriends to experience an amazing nightlife.
All these nightclubs receive numerous people from all around the world. So read along to know more about the best nightclubs in Dubai.
7 Best Nightclubs in Dubai for Ladies to Enjoy the Nightlife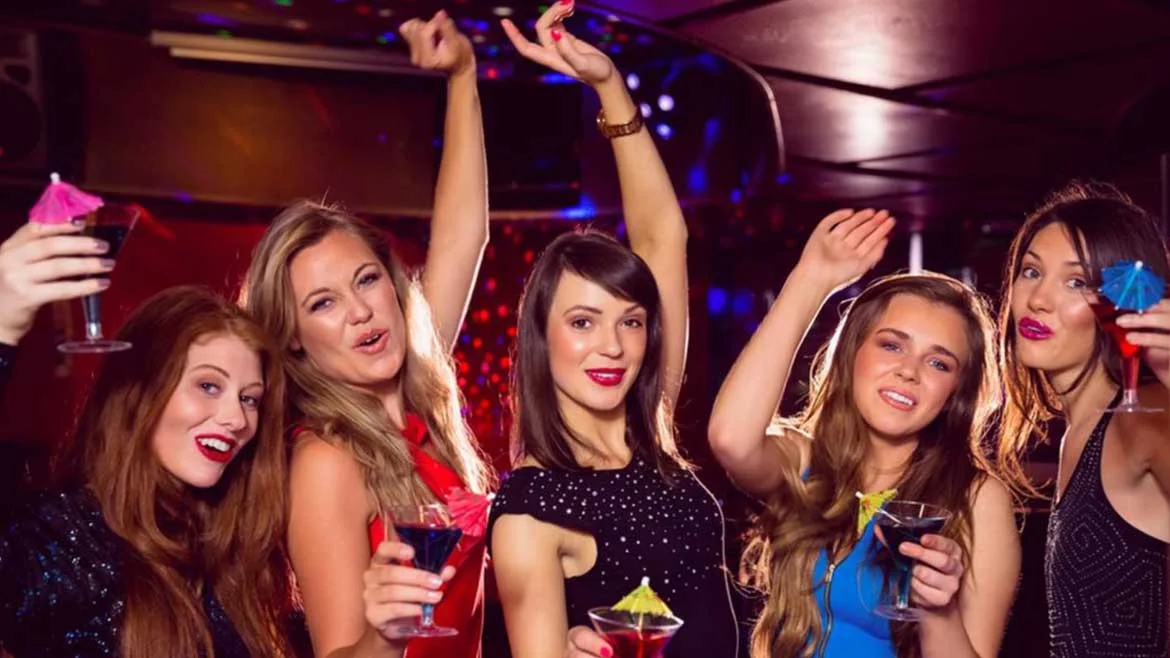 Below is a list of the top 7 nightclubs for ladies in Dubai. Read the comprehensive list further to know about the essential details about them.
1. Bar du Port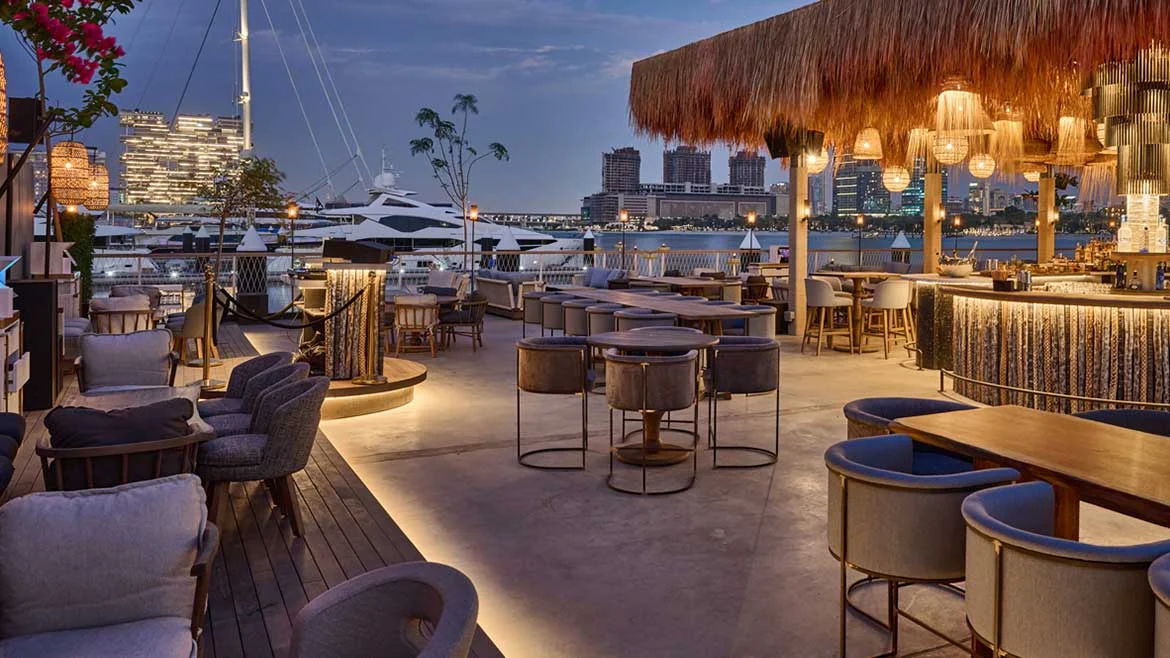 Bar du Port is a French-style restaurant and bar that offers you a sophisticated yet modern experience. It is among the luxurious dining destinations, a perfect place to hang out with your ladies at night.
Furthermore, the place provides its guests with the finest dining experience, which includes combinations of foraged flavours from across the world. Besides, you can enjoy dancing to the beat of music on their dreamy terrace while having their Mediterranean-inspired menu.
The ambience they offer will make you feel magical. So have fun with the varieties of seductive cocktails offered at the place along the side of Dubai's relaxing waterfront harbour.
Location:

Dubai Harbour Pier Club – Dubai Marina – Dubai – United Arab Emirates

Price:

AED50 – AED125 per person

Opening Timings:

12 PM to 3 AM

Contact Information:

+97143324868
2. Armani/ Prive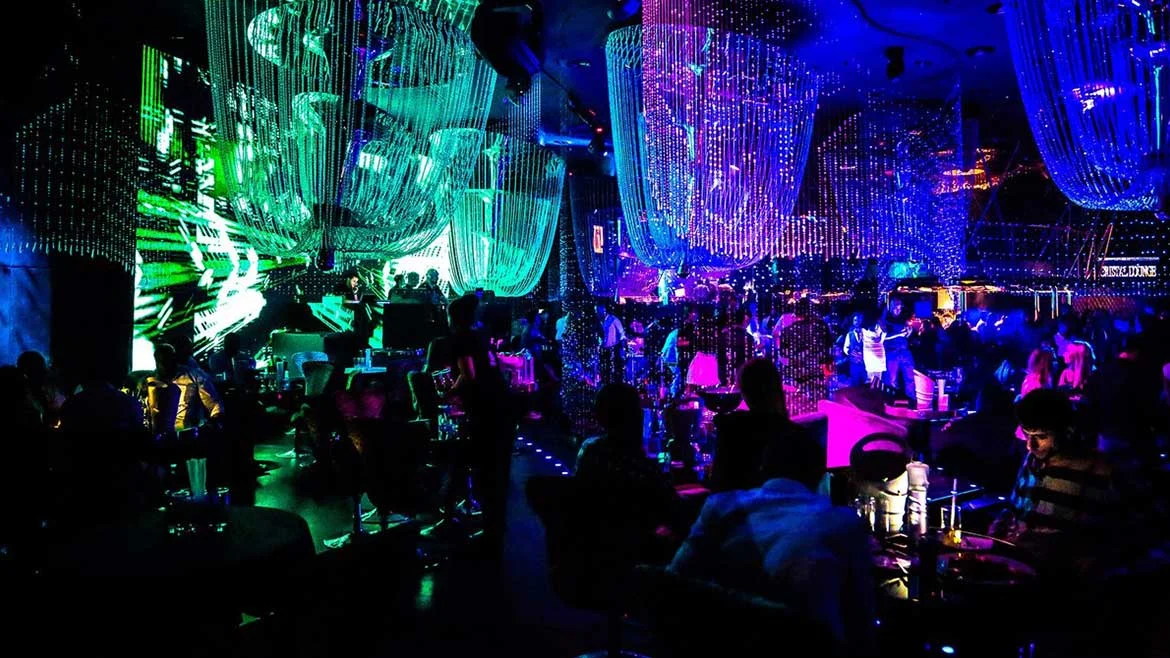 Distinguished by its stylish essence and vibrant beats, the Armani nightclub is widely popular for the signature hospitality it has to offer. Get your girl gang ready for an amazing night out in the city. 
From an unmatched menu to a glamorous ambience, it is the perfect place to spend a luxurious night with your besties. Get well dressed to dance your heart out to the beats of music.
You can hang out with your friends while having exotic drinks. Dancing on the terrace with beaming lights on the floor, you will have a night to remember.
Location:

Burj Khalifa – Lobby Level, Armani Hotel – Dubai – United Arab Emirates

Price:

AED350 per person

Opening Timings:

11 AM to 3 AM

Contact Information:

+97148883308
3. Akira Back
This Japanese-style restaurant is owned by Chef Akira Back, who brings you the old flavours of Japan in a mesmerising night environment. This internationally-owned restaurant in Dubai offers you a versatile menu, including the exotic flavours of Korea.
You can see the breathtaking views while having fun with your girlfriends at night. Moreover, you can arrange or witness multiple parties and shows that are being organised in the restaurant.
Indulge in the delightful experience of culinary specialities while you treat your eyes to the astounding views from its terrace. It is a perfect place to spend your time having fun with your friends.
Location:

Palm Jumeirah – The Palm Jumeirah – Dubai – United Arab Emirates

Price:

AED245 per person

Opening Timings:

7 PM to 12 AM

Contact Information:

+97142455800
4. Americano
An American-style inspired restaurant and bar, Americano is a must-go for all the ladies out there planning to have fun with friends. This perfect hangout place for ladies brings you a lively ambience with a naughty twist. Immerse yourself into the madness grooving to the beats of music.
The place is also internationally renowned for offering an eclectic menu that attracts several people from around the world. This restaurant and bar is the perfect place for ladies who decide to drink as much as they want to eat. 
The place also exhibits a modish vibe with the different accessories it is adorned with. Besides, their cool bartenders are always ready to welcome you at any time of the day.
Location:

Waterfront at Souk Madinat Jumeirah – Dubai – United Arab Emirates
Price:

AED175 per person (approx)
Opening Timings:

12 PM to 2 AM
Contact Information:

+97145846475
5. Seven Sisters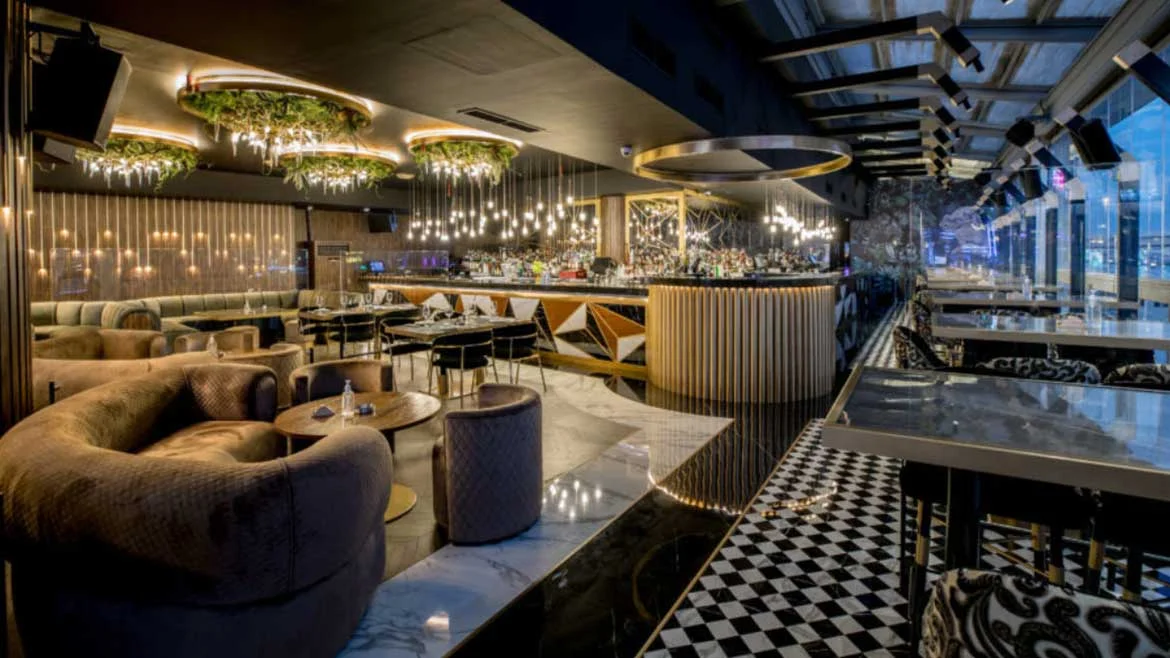 Located in one of the posh regions of the city, the Seven Sisters is among the must-go places for the young generations out there. You can dance your heart out with your girlfriends while you watch the mesmerising view of the Dubai skyline.
With an impressive menu, luxurious ambience and contemporary designs, the place is the perfect venue for a night out with your besties.
Though the restaurant remains open for a short time at night, it lets you indulge in an unforgettable experience of Dubai's nightlife. Get ready to dress yourself well so that you can take some insta-worthy shots with your squad.
Location:

57P4+8J – Business Bay – Dubai – United Arab Emirates

Price:

AED220 per person (approx)

Opening Timings:

6 PM to 3 AM

Contact Information:

+971567754777
6. Canary Club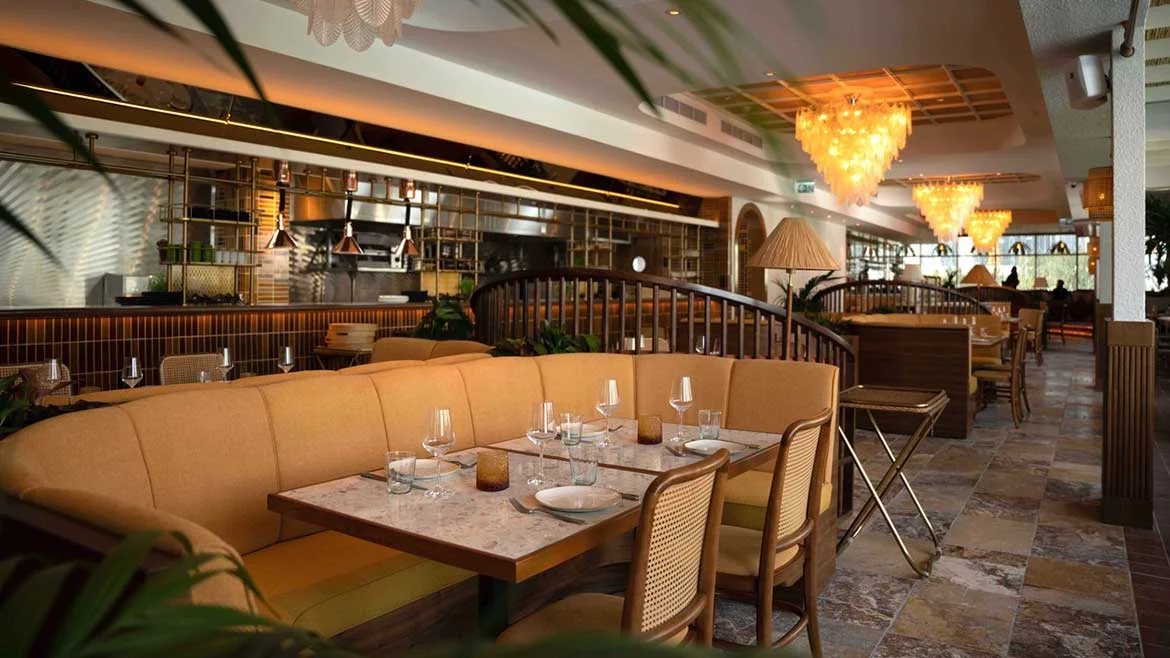 Considered a brainchild of Joey Ghazal, people tend to have high expectations from the Canary Club. It is a relatively new place opened in the city, and all expectations are worth it as it stands out among the best hangout places for ladies at night.
With a vintage interior aroused from the shale pile rugs, rattan furniture, stone fireplace etc. the classic menu is going to steal your heart.
Besides, the restaurant receives a great deal of ladies on all Wednesdays. So, if you are planning to visit a place to dine with your friends at night, the Canary Club is definitely where you should go.
Location:

Banyan Tree Residences – Dubai – United Arab Emirates

Price:

AED237 per person (approx)

Opening Timings:

12 PM to 1 AM

Contact Information:

+97145845999
7. The Penthouse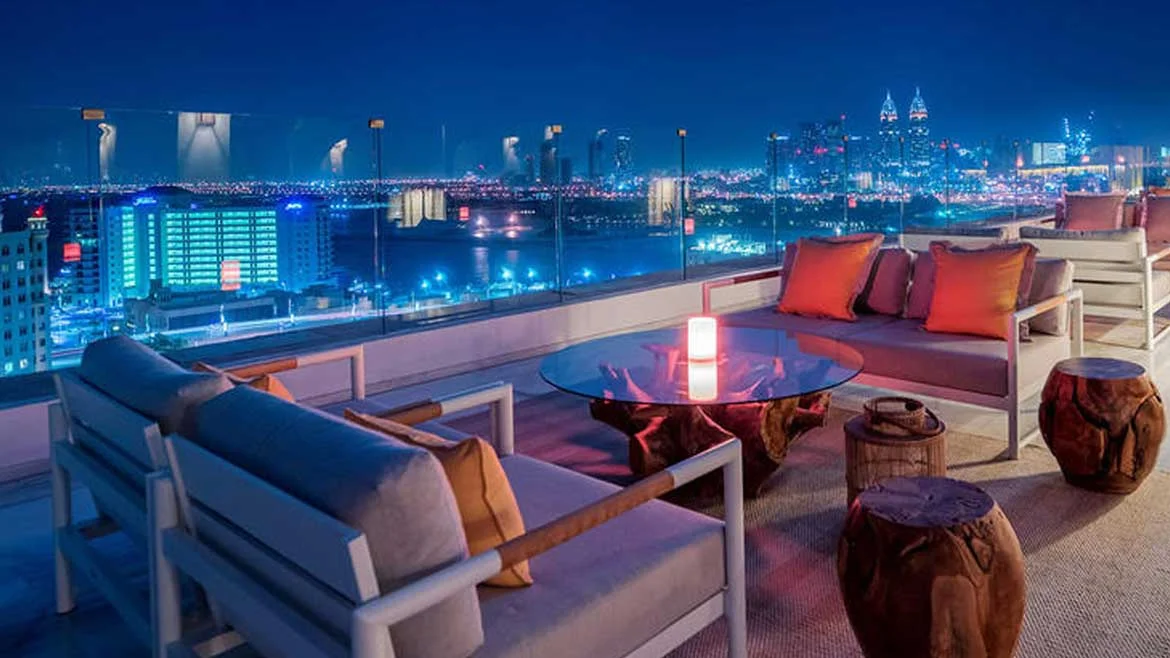 When you talk about a girls' night out, the Penthouse tops the list. Its very popular 150-selection attracts all the attention it gets. Get your girl squad ready to have a night to remember at the Penthouse.
Along with the glamorous ambience, you can opt for the 3-course selection where you get three different cocktails with your ordered menu.
There are many more eclectic options available at the Penthouse while you can dance to your favourite music with your girl gang.
Location:

No 1 Palm Jumeirah – Dubai – Dubai – United Arab Emirates

Price:

AED500 per person

Opening Timings:

5 PM to 4 AM

Contact Information:

+971529004868
When you are looking for a fun night out with your girl squad in Dubai, spending time at the nightclubs of the city and dancing with your gang is the best way to enjoy. It not only releases stress and anxiety, but helps you indulge in fun activities with your besties. So, get ready to immerse yourself in the magical nightlife that Dubai has to offer.