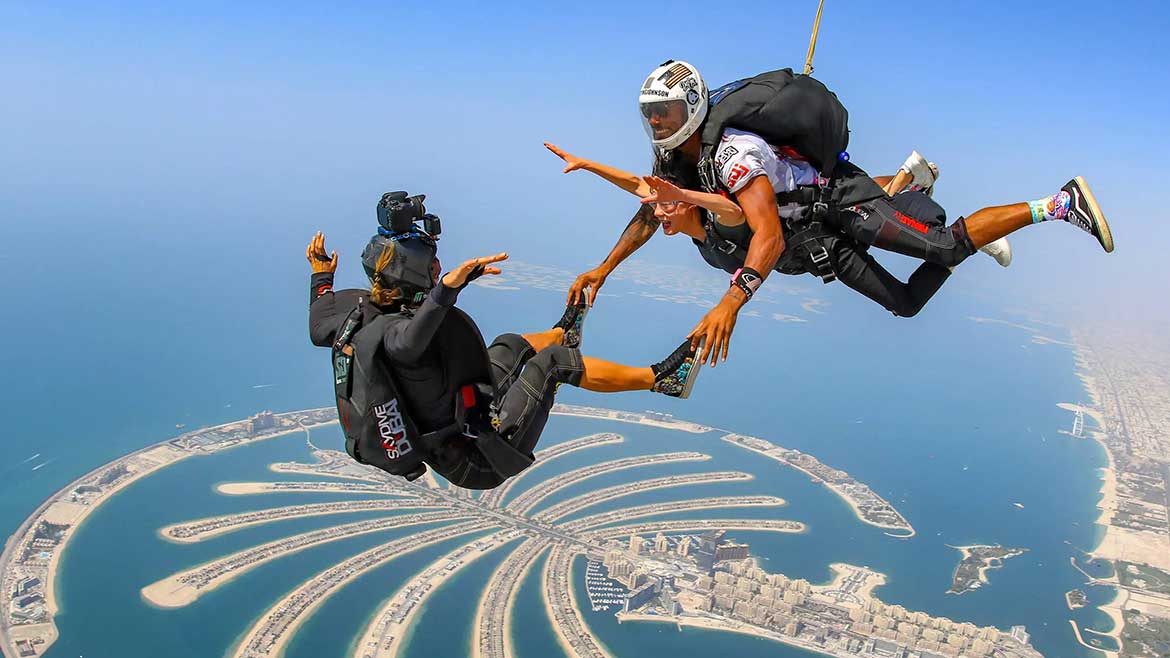 Exploring the Thrilling World of Skydiving in Dubai
Welcome to our exhilarating blog series, where we delve into the heart-pounding world of skydiving in Dubai. If you're an adventure enthusiast seeking an adrenaline rush like no other, Dubai has got you covered. Known for its awe-inspiring skyscrapers, luxurious lifestyle, and cutting-edge attractions, this city takes skydiving to new heights, quite literally. Get ready to soar through the skies and experience the thrill of a lifetime.
In this blog, we will explore everything about what skydive Dubai offers and what you need to know about skydiving in Dubai, from the breathtaking outdoor jumps to the unique indoor skydiving experiences. We'll uncover the best skydiving spots, delve into the skydiving scene, and guide you through the process of obtaining skydive Dubai tickets. Not only that, we'll also reveal the latest skydive Dubai offers and give you insights into the skydiving Dubai price.
Palm Dropzone – The Awe-Inspiring Leap
Nestled amidst the luxurious Palm Jumeirah Island, the Palm Dropzone offers an adrenaline-fueled experience like no other. Take the leap from 13,000 feet and witness the stunning man-made archipelago from above. It's a perfect blend of thrill and tranquility as you freefall with the mesmerizing Palm Jumeirah as your backdrop.
Skydiving Dubai price: 2399 AED
Address: Palm Dropzone: Al Seyahi street, Mina Seyahi, Dubai, United Arab Emirates.
Contact: +97143778888
Desert Campus Dropzone – Where Dunes Meet the Sky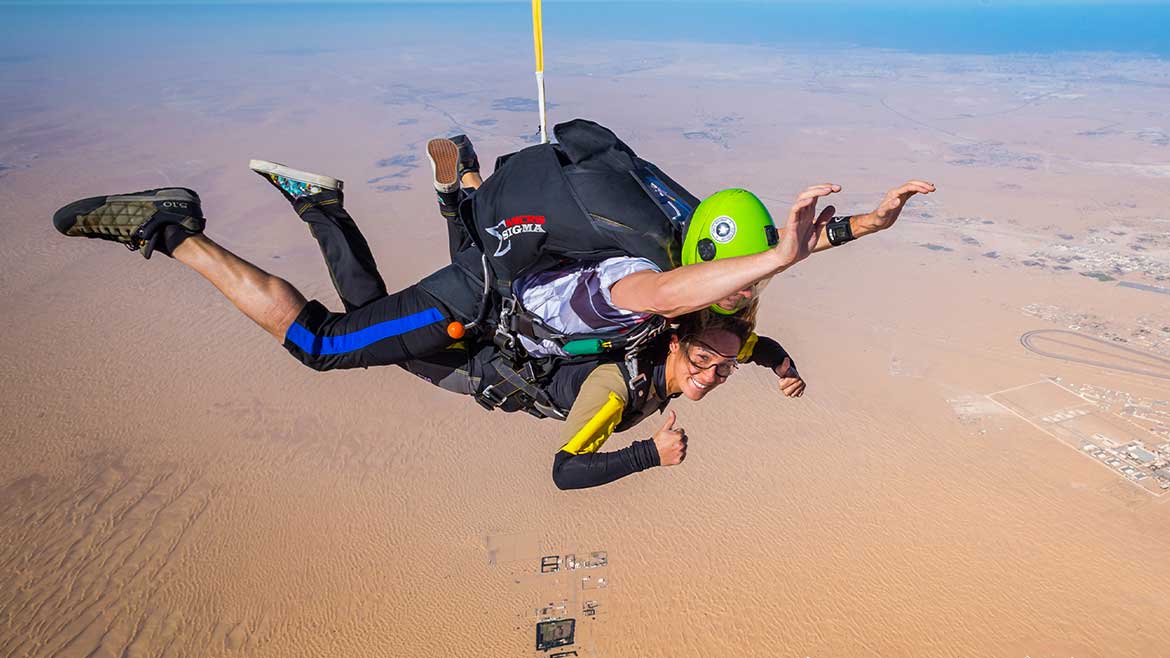 Immerse yourself in the vast expanse of Dubai's desert at the Desert Campus Dropzone. Plunge into the skies and feel the rush as you glide through the air surrounded by golden sand dunes. This unique skydiving location provides a truly immersive experience, combining the thrill of freefall with the breathtaking beauty of the desert landscape. Book your skydive tickets well beforehand so that you can't miss out the fun.
Address: Al Ain – Dubai Road – دبي – United Arab Emirates
Contact: +97148328080
Dubai Marina Dropzone – Urban Skydiving Splendor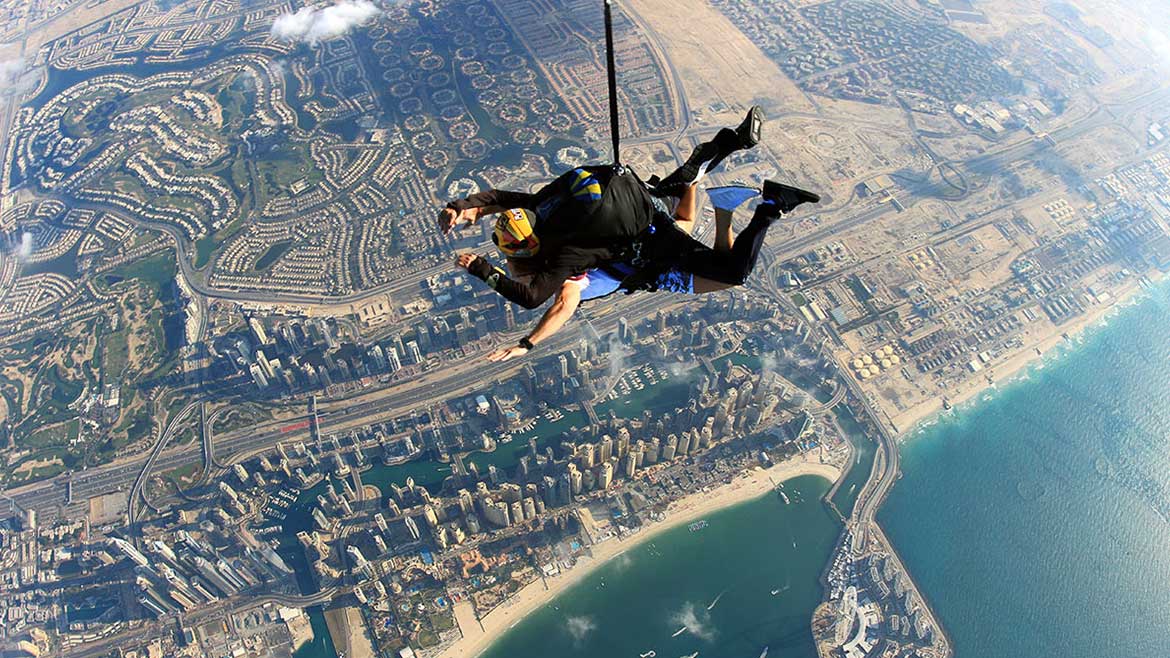 Prepare for a skydiving in Dubai adventure amidst it's iconic skyline at the Dubai Marina Dropzone. As you descend towards the bustling Marina area, catch breathtaking glimpses of the Burj Khalifa, Burj Al Arab, and the glittering Dubai Marina skyline. It's a thrilling journey that offers an incredible perspective on Dubai's architectural marvels.
Address:Al Seyahi St – Dubai Marina – Dubai – United Arab Emirates
Contact: +97143778888
iFLY Dubai
If you want to experience indoor skydiving Dubai, At iFLY Dubai, participants don a specially designed flight suit and helmet before stepping into the vertical wind tunnel. Powerful air currents generated by multiple fans allow individuals to effortlessly float in mid-air, replicating the feeling of a real skydive. Highly trained instructors guide participants throughout the experience, ensuring safety and providing helpful tips to improve body control and maneuverability.
Indoor skydiving at iFLY Dubai is suitable for all skill levels, from first-time flyers to experienced skydivers looking to practice their techniques. It offers a thrilling adventure and a unique opportunity to defy gravity and experience the sensation of flight in a controlled and safe environment.
Address: Third Floor, Play Nation Area, City Centre Mirdif، Ghoroob, Sheikh Mohammed Bin Zayed Road – United Arab Emirates
Contact: +97143216292
Thrills and Chills – The Heart-Pounding Experience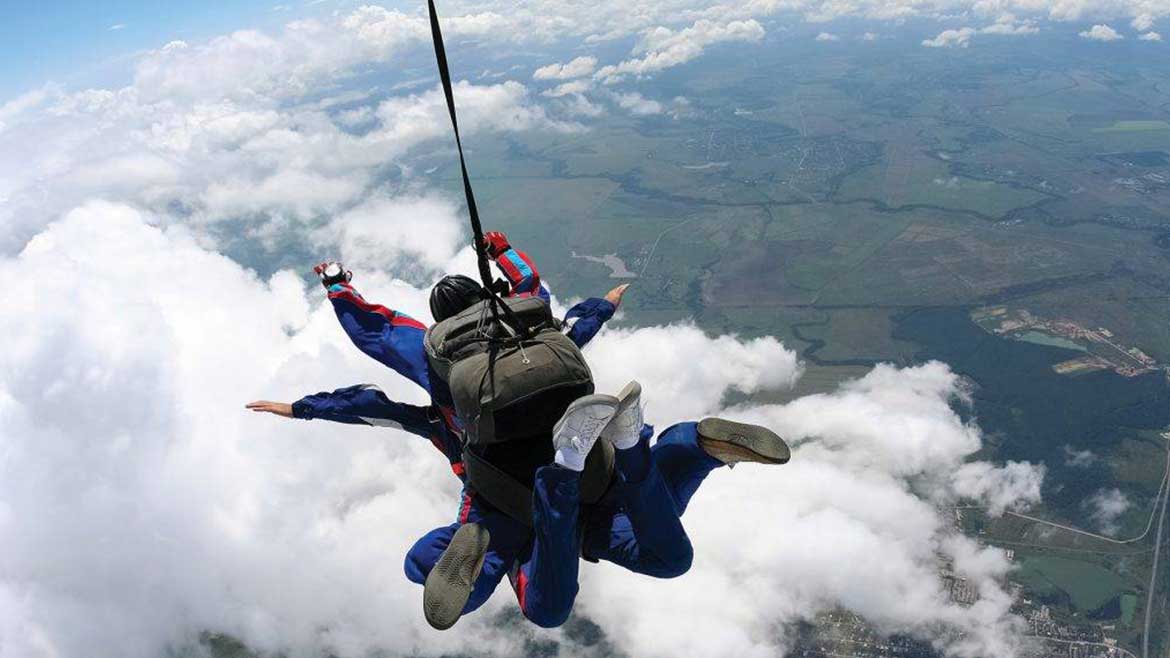 From the moment you board the aircraft to the instant you leap into the void, every second of your skydiving adventure is infused with adrenaline and excitement. Feel the rush as you plummet through the air at incredible speeds, experiencing an exhilarating mix of fear and liberation. The panoramic views and the sensation of floating under the parachute will leave you in awe, offering a sense of freedom and accomplishment like no other.
Why Dare to Experience Skydiving in Dubai?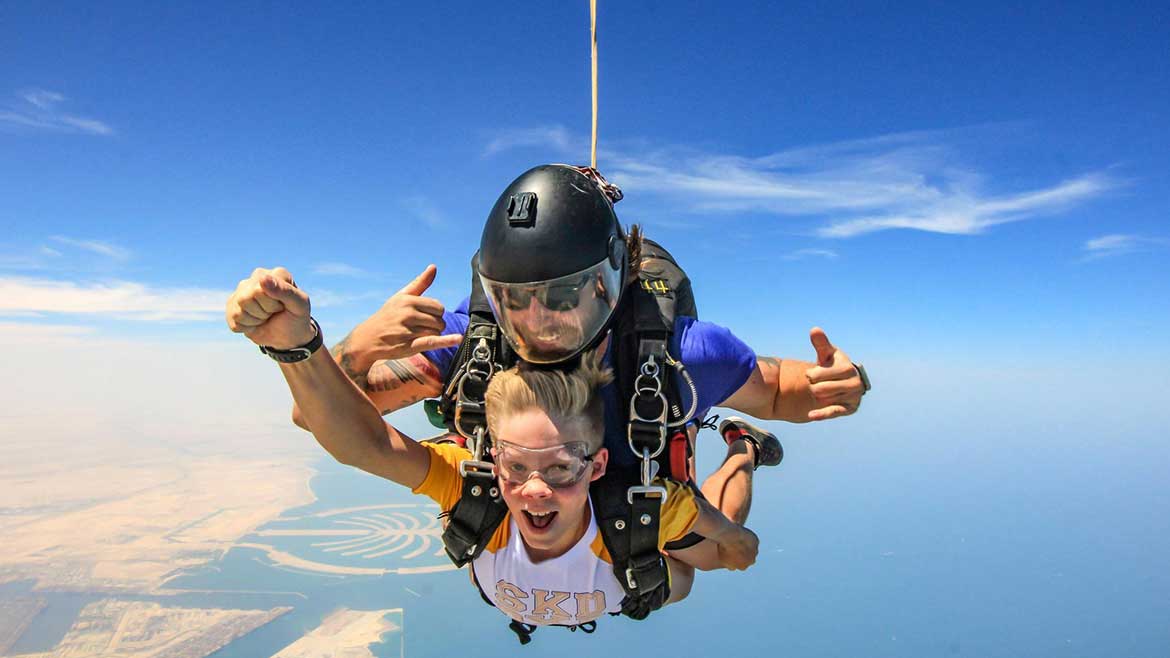 Dubai presents an unparalleled skydiving experience that combines state-of-the-art facilities, professional instructors, and awe-inspiring landscapes. By embracing skydiving, you'll conquer your fears, push your limits, and unlock a world of thrill and adventure. Whether you're a first-time skydiver or an experienced daredevil, Dubai offers a range of options, including tandem jumps and indoor skydiving, ensuring there's something for everyone.
Unveiling Dubai Skydiving Offers – Packages and Training Programs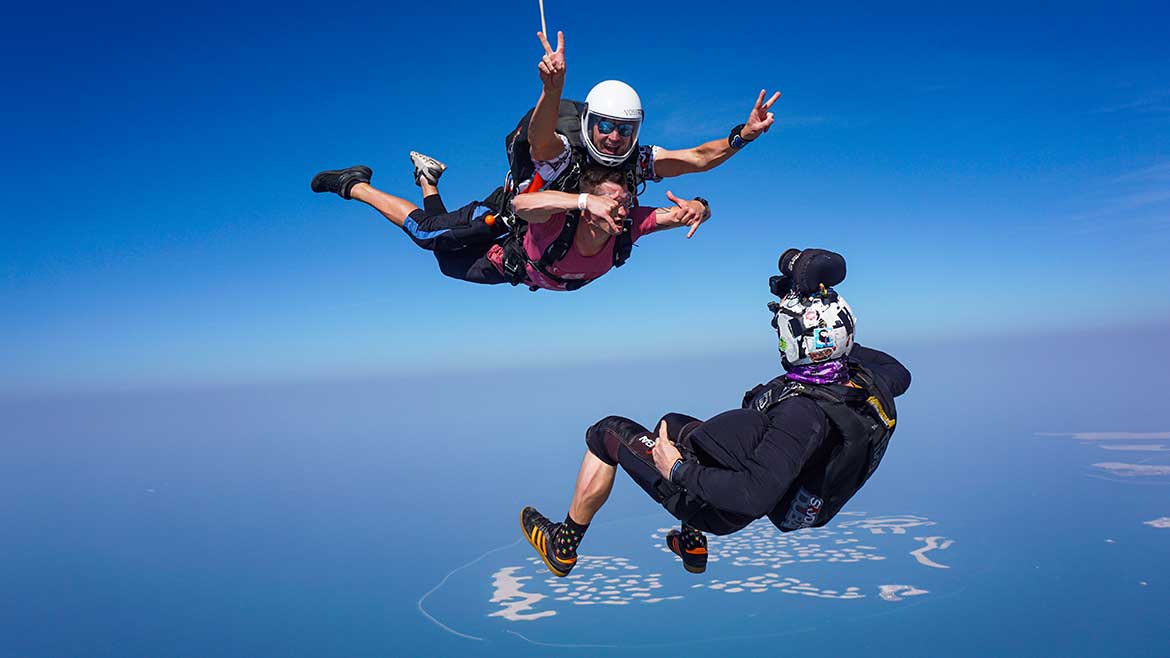 Dubai skydiving caters to adventurers of all levels. Choose from tandem jumps, where you're securely harnessed to an experienced instructor, or solo jumps for those seeking the ultimate adrenaline rush. The city's training programs ensure that even beginners can safely experience the thrill of skydiving. And for those who want to get a taste of the adventure in a controlled environment, Dubai's indoor skydiving facilities provide an exhilarating alternative.
Embark on an Unforgettable Journey
Skydiving in Dubai is not just a thrill-seeking activity; it's an unforgettable journey that allows you to conquer your fears, embrace the unknown, and experience a true sense of freedom. So, dare to take the leap and explore the mesmerizing world of skydiving in Dubai. From the awe-inspiring locations to the heart-pounding moments, this adventure promises to be an experience of a lifetime. Get ready to soar, to feel the rush, and to create memories that will stay with you forever.
Dubai Local, your trusted companion in exploring Dubai, connects adventurous souls with the most thrilling experiences, including skydiving in Dubai. With our extensive knowledge and curated offerings, we ensure that every visitor finds their perfect adventure. Let Dubai Local be your go-to resource for discovering the exhilarating side of Dubai!