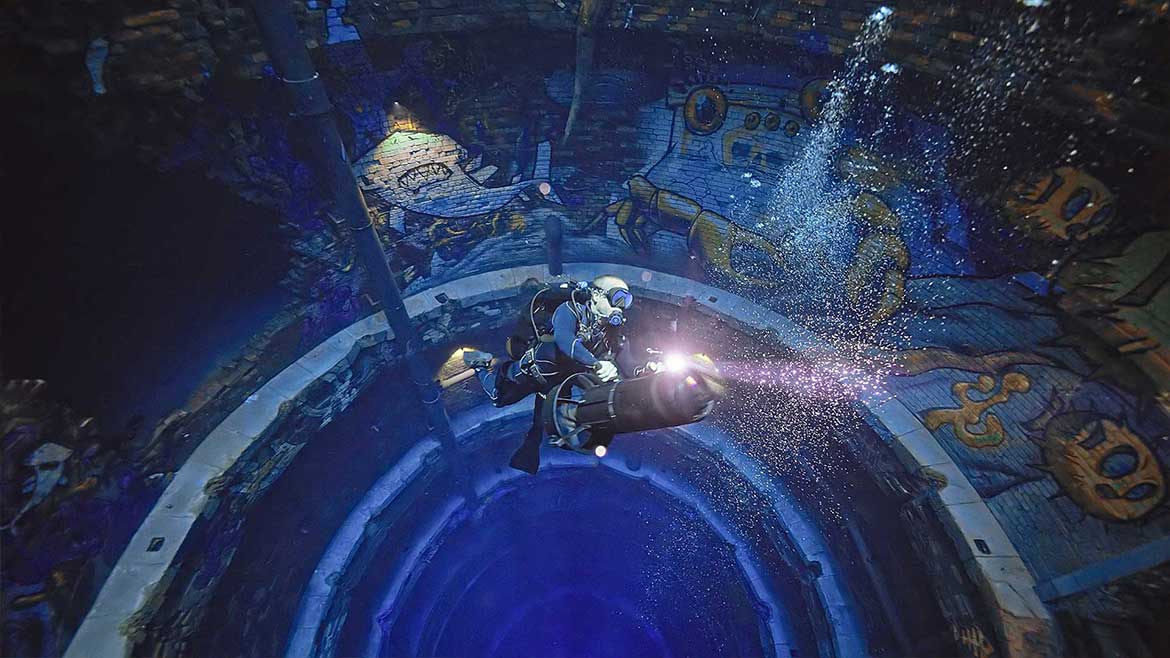 Deep Dive Dubai (The world's deepest diving pool)
With its enormous structure and unique buildings, Dubai is known for breaking world records. Deep Dive Dubai is added to the city's long list of record-breaking accomplishments. This pool is the deepest in the world. 
Deep Dive Dubai enables thrill-seekers to plunge and explore a brand-new underwater realm full of wonder and adventure. 
Deep Dive Dubai- Location
It is situated in Dubai's Nad AI Sheba area,15 minutes from downtown Dubai and 25 minutes from Dubai International Airport. The visiting hours of Dubai's deepest pool are midday to 8 p.m. on Wednesday to Sunday; It is closed on Monday and Tuesday.
Some Facts About Deep Dive Dubai
The pool is designed like a huge oyster to honor the region's history of pearl diving. It has the most cutting-edge hyperbaric chamber in the area as well as a completely buried city for divers to explore. Additionally, the pool has cutting-edge lighting and a sound system. The pool's filtration system recycles water every six hours via siliceous volcanic rock.  These filters are developed by NASA by using filter technology, and UV radiation keeps the water extremely clean.
Divers from all over the world including record-breaking free divers and technical divers are staffed.  Deep Dive Dubai is the ideal location to learn to dive or advance your skills due to favorable conditions and high-quality dive equipment.
It holds Guinness World Record as the deepest swimming pool with a depth of 196.9 feet and a volume of 14 million liters of water. According to the owner, it is a six Olympic-sized swimming pool.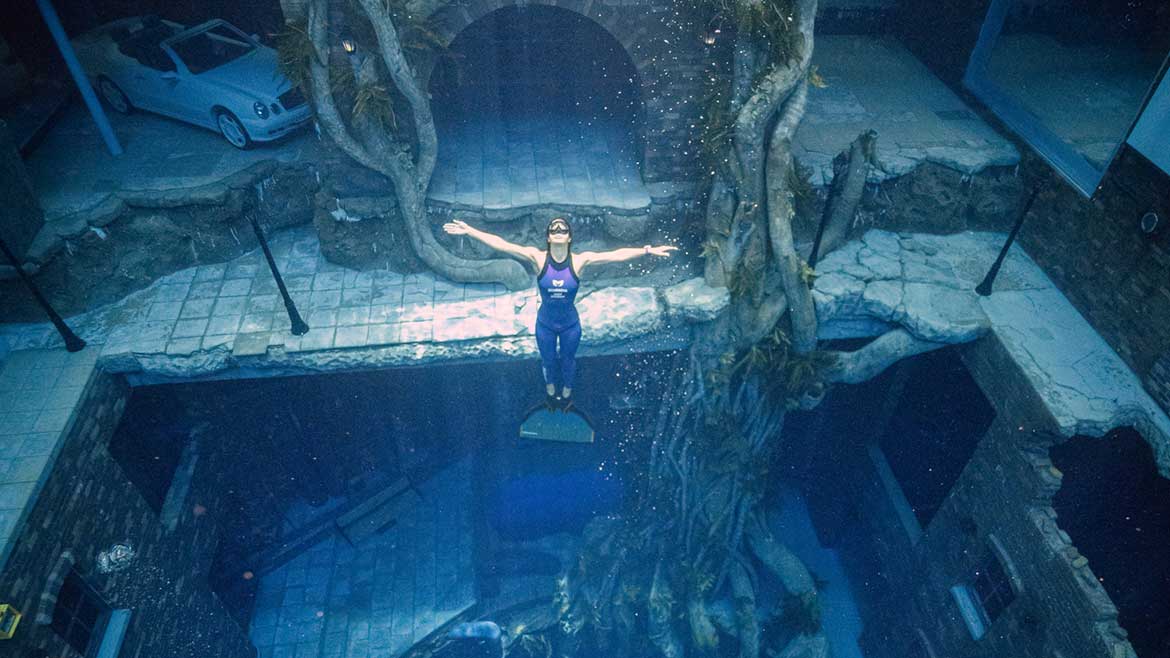 Underwater City Dubai
There is not even a touch of chlorine in the sparkling pool (because there is none). The ambiance is enhanced by mood lighting and music. Dive into the ideal movie set at Deep Dive Dubai, where everything is done with gentle care. There is a restaurant where you can have great food. 
Sunken City
There is a 30-meter-long library with book-lined walls all around it. After leaving the library, hover over the symmetrical, dark hole that only trained technical divers can enter and descends to a depth of 60 meters. Then move to the gaming arcade where you can play football and pool. They also have a little exercise section with heavy weights that are difficult for you to lift. The chambers are dynamically created, which makes the dive interesting. The view is perfect for a movie set, and the world's deepest pool is a producer's dream with its spacious editing room.
Summary of the Pool
Holds World Record
The most recent record-breaking attraction to make an impact in Dubai is Deep Dive Dubai. With its enormous diving depth, it is the only diving pool in the entire world that allows visitors to swim so deeply. Staffed by qualified and experienced scuba and freedivers, Deep Dive Dubai will provide diving tips and ideas, teach you advanced techniques, ensure a safe dive, and provide guidance on how to set up your dive gear.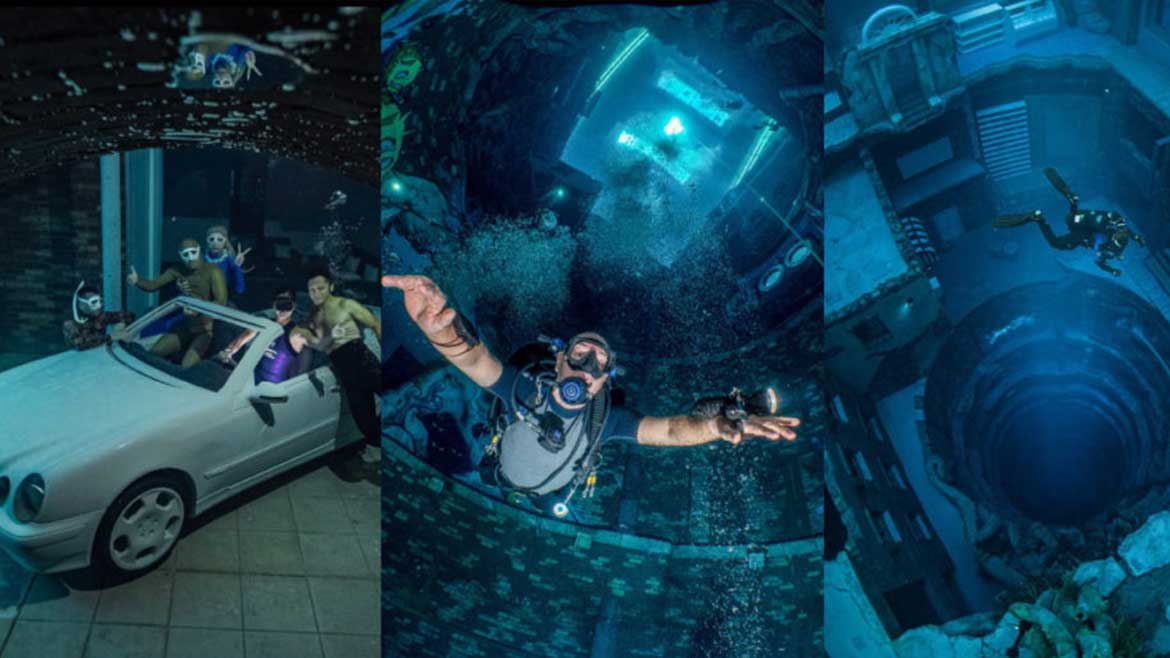 Safety
There is no compromise with safety. Every six hours, water is circulated through filters to ensure the highest levels of hygienic practices and safety. Additionally, the largest and most sophisticated hyperbaric facility in the area with a 12-person crew is available to treat divers in case of an accident. On enormous screens showing the video from the 56 cameras covering the entire pool, all divers are observed for safety.
Unique and Surprising
This pool is unique and surprising. Discover a beautiful underwater attraction with a theme similar to a deserted sunken city. To fully explore this enormous underwater city will require multiple dives. This pool is brimming with adventure and mystery. Diverse underwater moods are created using contemporary sound and lighting systems.
Temperature
The swimming area's temperature is controlled and is kept at 30 degrees Celsius. Wearing a swimsuit or a thin wetsuit is feasible here. The first guest at the facility was Sheikh Hamdan bin Mohammed bin Rashid Al Maktoum, the crown prince of Dubai and an avid diver.
Do you like it?
Share your experience in the comments!