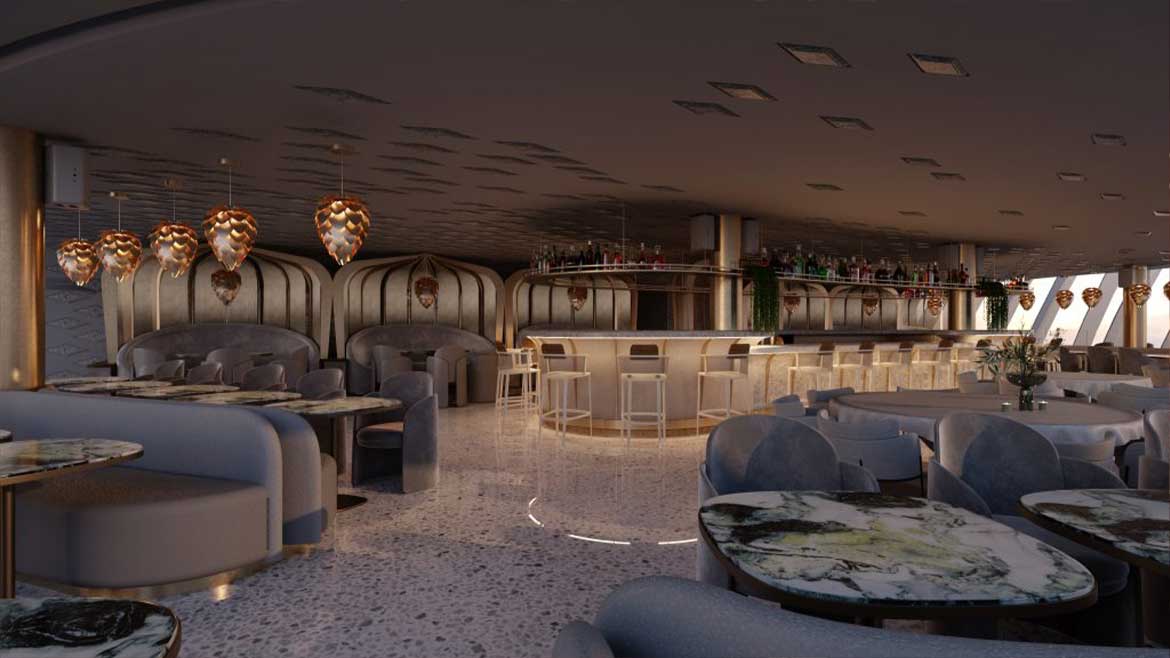 6 New Restaurants to Try In Dubai
Dubai is probably the most fascinating city for cuisine in the Middle East part of world. New hot restaurants open across the city every week, ranging from casual eateries to burger-end joints to high-end restaurants. Whether planning a beautiful date night with your partner or trying to impress a potential client, you can visit these restaurants. With the Dubai Local, you can get in touch with the best restaurants in Dubai, United Arab Emirates. There is nothing wrong if we say that Dubai is the culinary paradise of the UAE. This city is filled with hidden gems, and the restaurants provide you with diverse cuisine to relish. So, in this blog, we will check out the handful of names from an abundance of restaurants in Dubai.
August
August is the French Mediterranean baroque restaurant & lounge that caters you to the modern twist on their mouth-watering cuisine. This restaurant is situated on the 12 floors of The Address Fountain Views in Downtown Dubai. This restaurant provides you with specially organized rooms with surprising experiences. The spaces consist of the Cocktail Room, Terrace Garden, and Dining Room with different fanciful vibes. The menu offers you dishes such as escargot, foie gras brioche, wagyu carpaccio, lobster tagliatelle, sea bass papillote, and many more. For sweet lovers, they offer you an August chocolate dream, caramel fondant, crepes, and Suzette. 
Timing: Mon-Thu (4pm-1am) and Fri-Sun (4pm-2am)
Address: Fountain Views, Downtown Dubai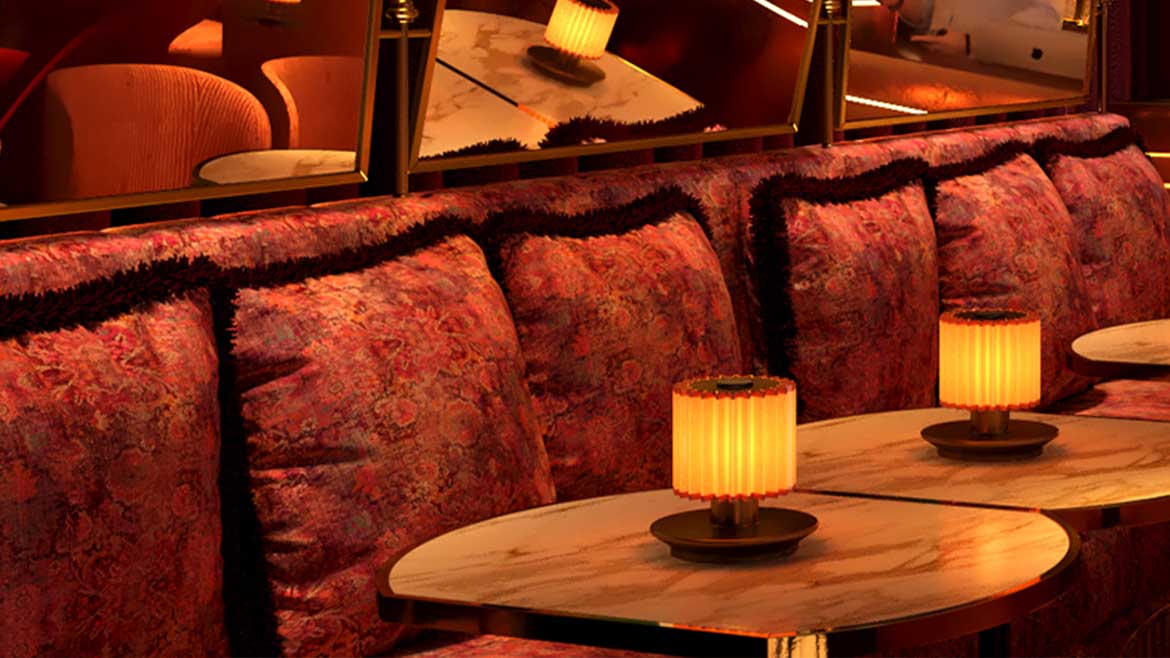 Babylon Dubai
Babylon Dubai is one of the best restaurants in Dubai, inspired by the ancient Mesopotamian city, which was on the list of the seven wonders of the ancient world and is well known for its love of pleasure. You can have a fine dining experience and live entertainment with avant-garde cocktails and a dramatically orchestrated show. You can enjoy a delicious menu consisting of the cold and hot amuse-bouches, a sushi selection & a raw bar. The menu consists of the dishes such as lobster and tuna carpaccios, scallops, caviar, a roasted lamb salad, miso butter striploin, Neapolitan pizzas, tuna and beer tartars, and more. 
Timing: Daily 7 pm-3 am
Address: APodium Level, Gate Village 05, DIFC, Dubai 
CouCou
CouCou is one of the most suitable destinations for the party person and Nightlife lovers. It is located on the 52 of The Palm Tower, soars 240m high & provides you with a 360-degree panoramic view of the Dubai skyline. Coucou is a night restaurant overlooking Palm Jumeirah and located above Aura Sky Pool and Sushisamba Dubai. It caters to you with a Mediterranean-inspired menu consisting of grills, seafood, Lobster linguine, fresh pasta & pizzas, Lobster linguine, and refreshing salads. The DJ plays after every night, giving you a party vibe and adding charm to your party. CouCou also hosts VIP parties for people who want to experience something special. 
Timing: Everyday 9 am-2 pm
Address: Palm Tower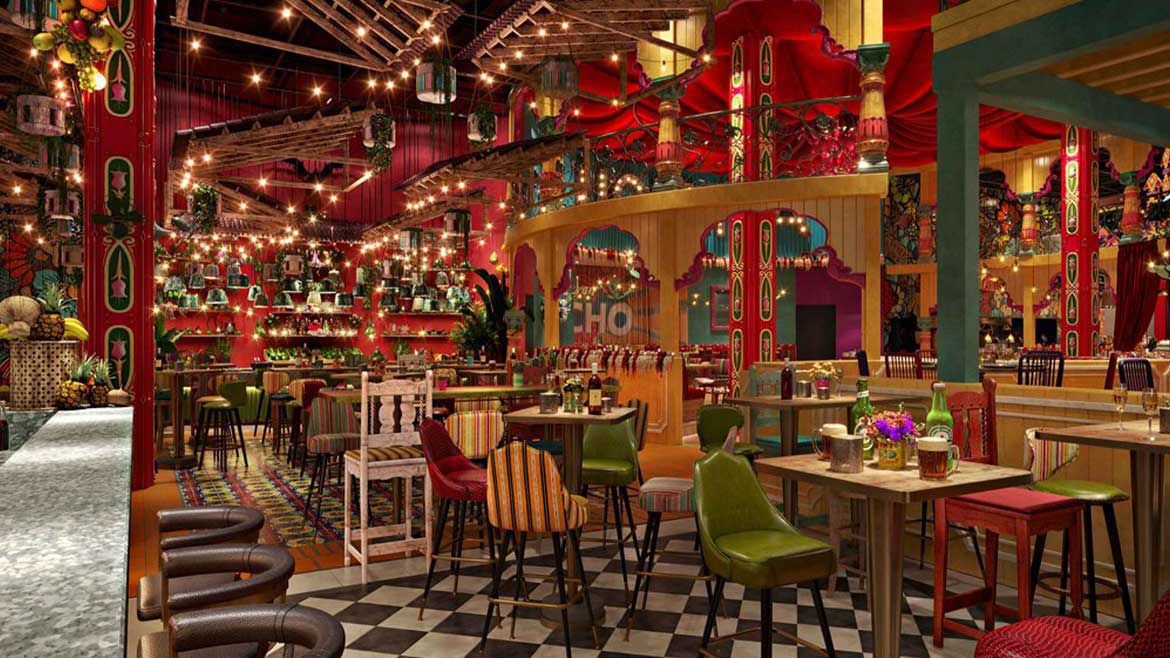 En Fuego
En Fuego is a quirky South American restaurant located at Avenues in space housing Ronda Locatelli. It is one of the most Exotic restaurants in Dubai. Thousands of the decorations and other objects in this hotel, except the ceiling, and bright colors, have been directly sourced from South America. It features an overwhelming dining room with tables & booths, bar counters, and bar seats at the carousel. It has a circus-themed tented roof, decorative pieces that resemble vintage giant cars driving out of the ceiling, llamas, neon signs, and piñatas, which makes it more magnificent. This restaurant's menu features corn-fed chicken, grass-fed sirloin, and Asador rotisserie, which makes it one of the best restaurants in Dubai.
Timing: Mon-Thu, 5pm-1am, Sat noon-2am, Sun noon-1am
Address: The Atlantis, The Palm
Lila Wood-Fired Taqueria
Lila Wood-fired Taqueria is an authentic Mexican street food restaurant present in Jumeirah. It serves three Mexican flavors that were previously unavailable in this region. This restaurant claims it is the first and only wood-fired taqueria in the Middle East part of the globe that uses traditional culinary approaches such as grinding heirloom Mexican corn into masa for tortillas. Except for the chipotle-honey glazed grilled shrimp and spit-roasted lamb tacos al pastor. Here, street tacos used to be complemented by other dishes such as locally sourced whole grilled red snapper a la talla and double-cut grass-fed ribeye carne asada, wood-grilled shareable entrees & Mexican classics; all these dishes are served with the hand-pressed corn tortillas.
Timing: Tue-Thu (9 am to 11 pm), Fri-Sun (9 am to midnight), Monday Closed
Address: Jumeirah Beach Road 
Amaya
The global art galleries inspire Amaya, which is located in a culinary concept. This restaurant's mouth-watering menu consists of popular dishes like sushi and truffle pizza and a wide range of premium meat cuts such as Wagyu, hamachi, ceviche, and carpaccio. The venue takes a more subdued & darker atmosphere as soon as the sun goes down.
Timing: Everyday 10am-1am
Address: The Dubai Mall 
Conclusion
Although Dubai does not hold any record for having the most restaurants per capita, this city still consists of some of the most iconic restaurants in the world. You can visit some of the best restaurants in Dubai that cater you eatery gems. Whether you want Indian, Italian, American, Roman or any other cuisine, you can get every kind of food in this city. However, Dubai is still developing new dishes daily with delectable cuisine, a lively atmosphere, and stylish vibes.