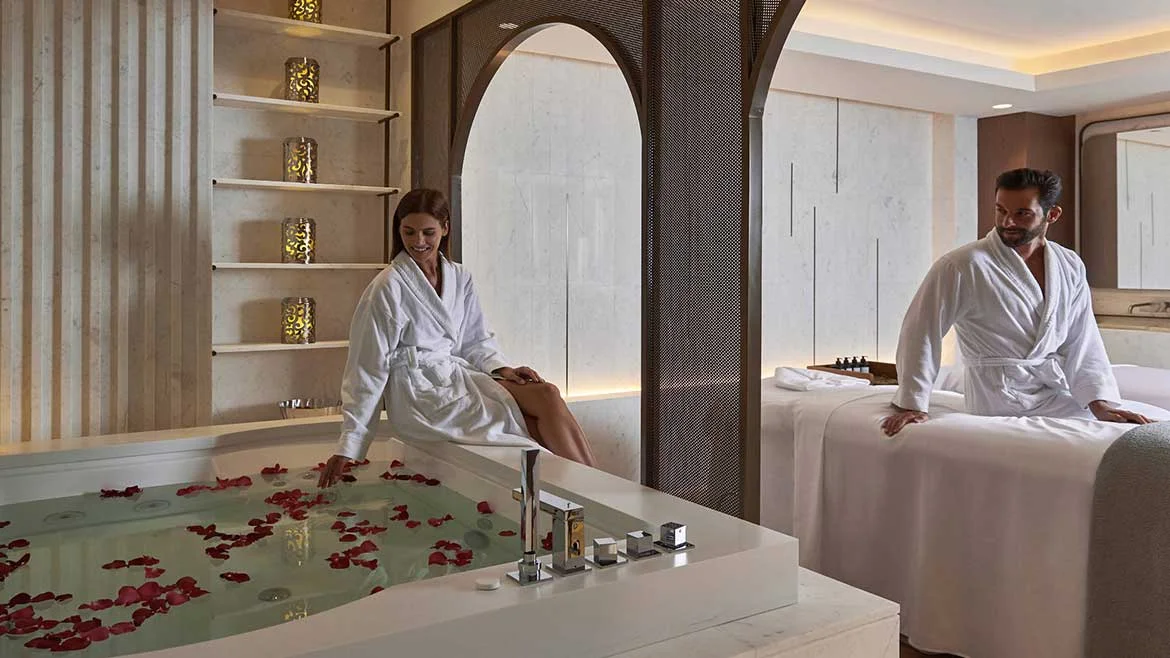 Top 10 Luxury Couple Spas in Dubai in 2023
Wellness treatment centres and spas in Dubai have skilled professionals who can help you restore lost energy levels in a five-star setting. 
While you arrive in Dubai keep the upcoming list handy as it talks about some blissful spas that are not only good for healing. You can spend loveable quality time with your partner while visiting these holistic wellness hubs.
10 Best Reviewed Massage Centres for Your Upcoming Spa-cation in Dubai
Looking to unwind together in the midst of a tightly packed Dubai tour?
Here are some great options that are highly likely to suit your moods:
1. Pause Spa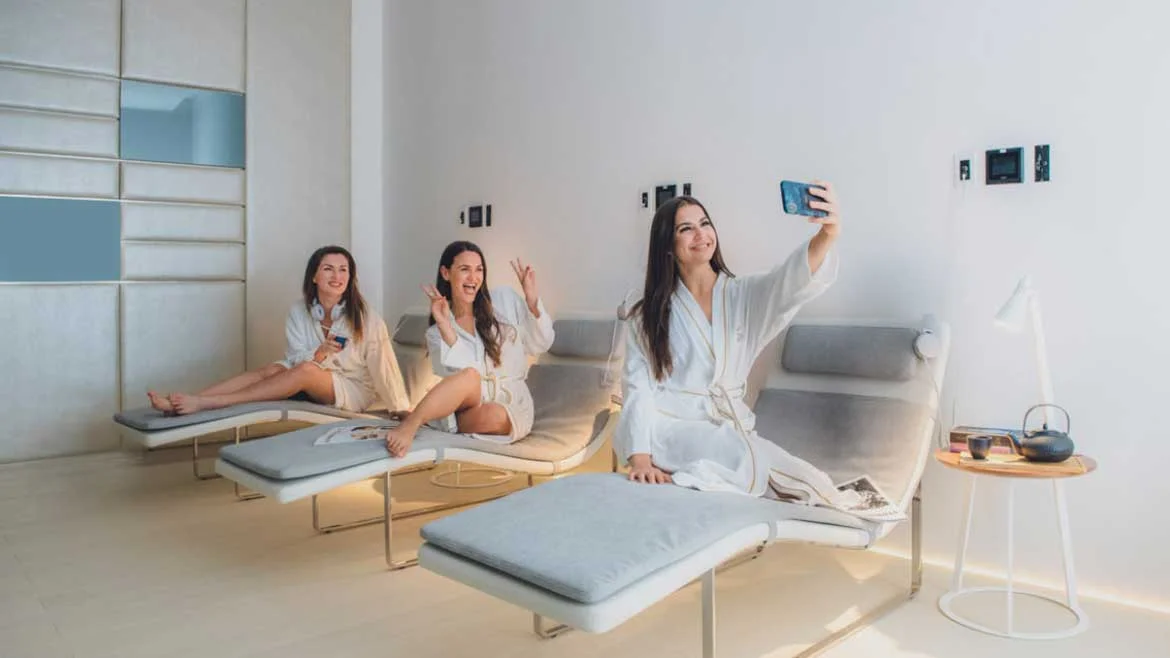 It's a newly opened spa compared to others featured in the list. If you are someone who loves all-white plush interiors, then this is the place for you.
Altogether you will find 9 different treatment rooms and a separate section for private showers. 
Wish to get a special offer?
Then go ahead and book their exclusive cryotherapy facial to get a back and shoulder massage completely free!
Google Rating

: 5.0

Location

: Paramount Hotel Dubai, Business Bay

Timings

: 10 AM – 10 PM
Suggested Duration

: 2 hours
2. Raffles Spa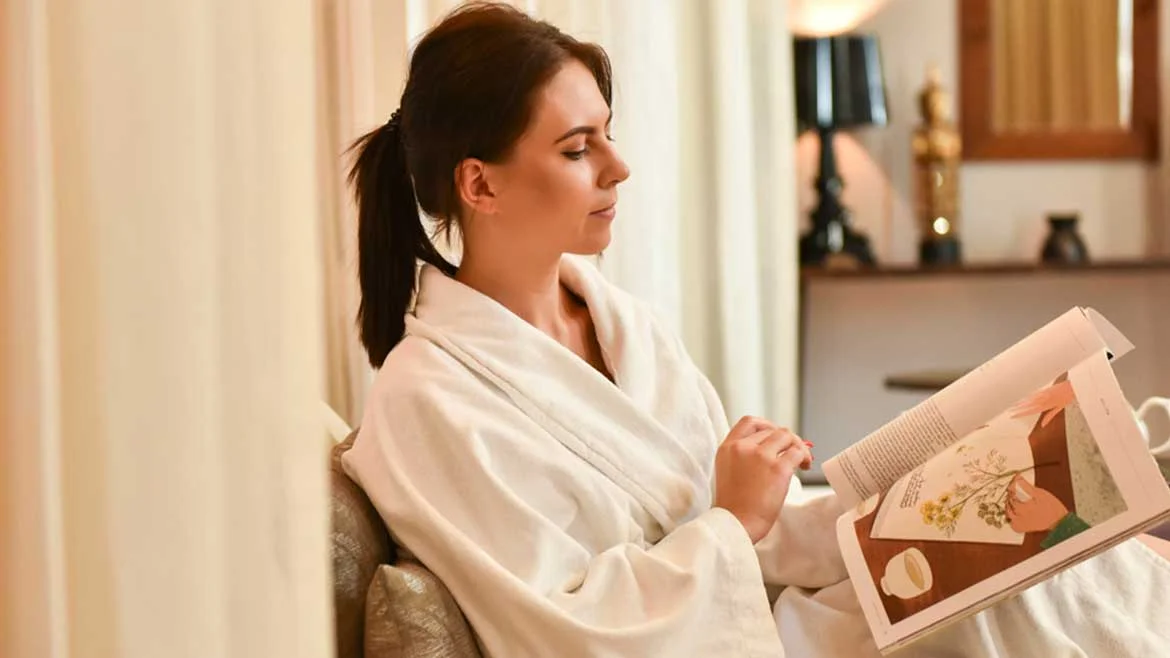 For a head-to-toe rose-scented therapy, you and your partner can consider visiting the Raffles Spa. Also, this place can be heaven if you are longing for a private jacuzzi session. If a 2-hour long facial massage suits you, then this wellness centre is a must-visit. 
Google Rating

: 4.9

Location

: Raffles Dubai

Timings

: 9 AM – 9 PM

Suggested Duration

: 3 hours
3. Armonia Spa Dubai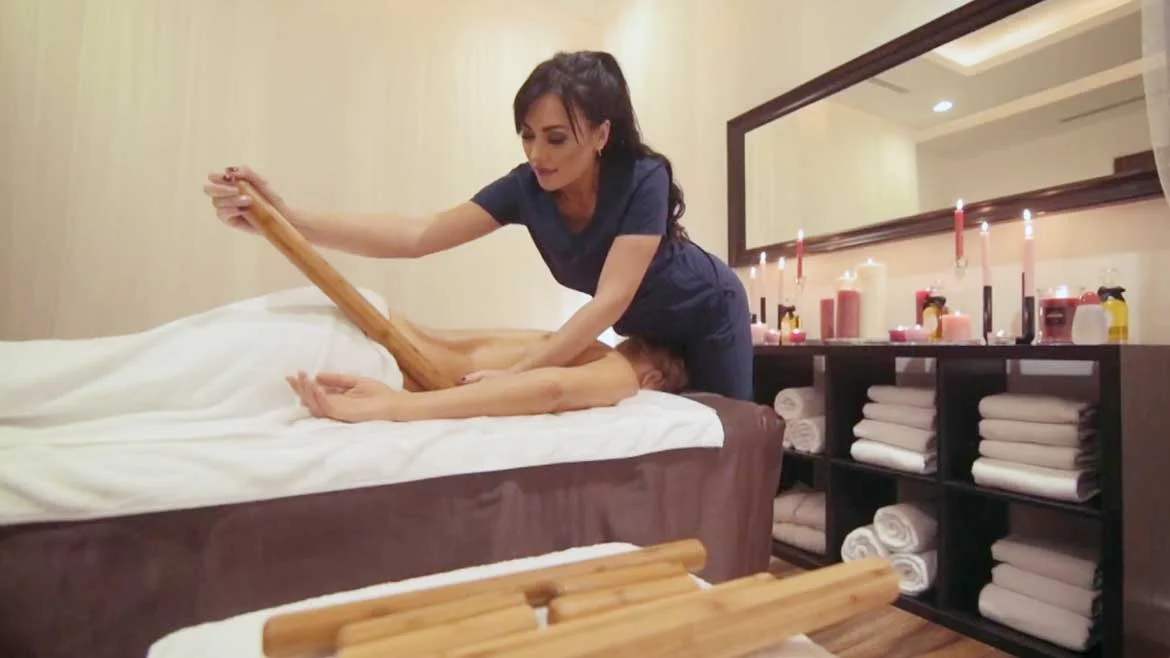 Located in one of the iconic spots in Dubai, the Armonia Spa has designed its catalogue carefully to meet every possible need and budget. Here you can expect to receive rejuvenating body wraps, traditional massage therapies, and almost anything that must be a part of a romantic getaway. 
The price package is quite straightforward and the location is exquisite, which makes this spa a favourite among couples. 
Google Rating

: 4.8

Location

: La Suite Dubai Hotel & Apartments – Sidra Tower, 7th Floor – Sheikh Zayed Road

Timings

: 10 AM – 2 AM

Suggested Duration

: 2 – 3 hours
4. Nikki Spa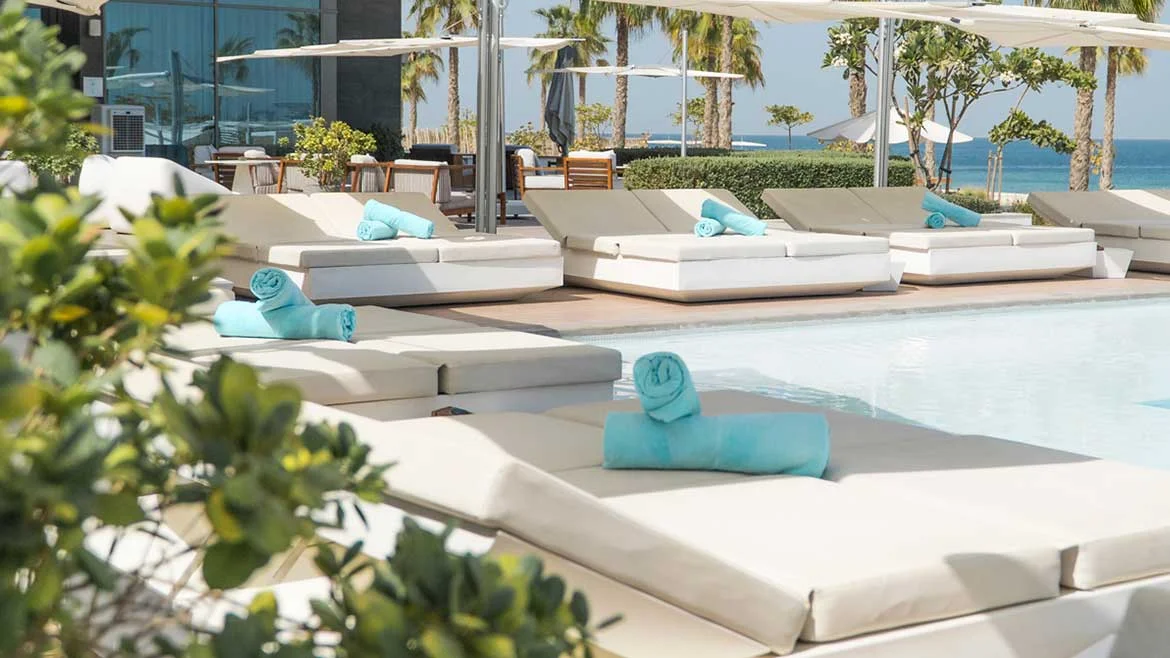 Here both you and your partner can together indulge in a traditional Arabian hammam – a relaxing ritual using ever-popular luxurious ointments. Followed by this, the massage therapists will suggest you select various options for clay masks or deep cleanse. You can select the treatments accordingly and spend a calm day by Nikki Beach next door.  
Google Rating

: 4.5

Location

: Nikki Beach Resort & Spa Dubai, Pearl Jumeirah

Timings

: 9 AM – 10 PM

Suggested Duration

: 1 – 2 hours 
5. Amara Spa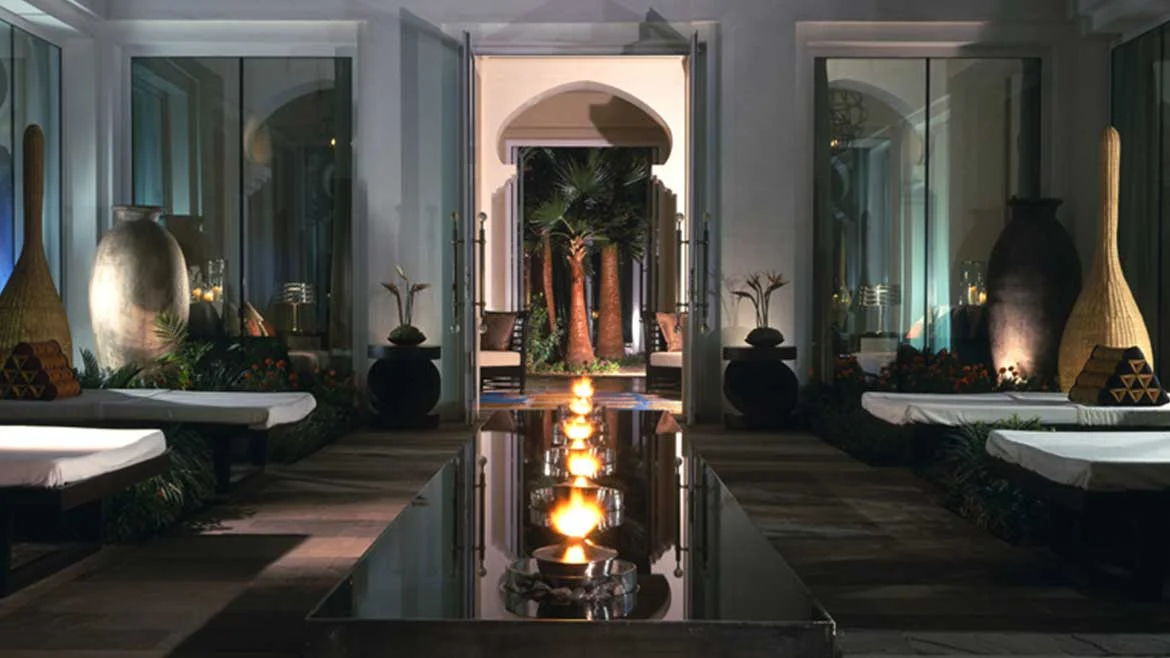 Amara Spa is your go-to spot for relaxation if you are staying in Park Hyatt Dubai. The therapists here offer a wide range of treatments, one-of-a-kind skincare rituals and luxurious facials that will truly rejuvenate you before getting back to your regime. 
Additionally, you get an outdoor space for practising fitness activities.
Google Rating

: 4.6

Location

: Park Hyatt Dubai, Dubai Creek Resort

Timings

: 9 AM – 10 PM

Suggested Duration

: 2 – 3 hours
6. The Ritz-Carlton Spa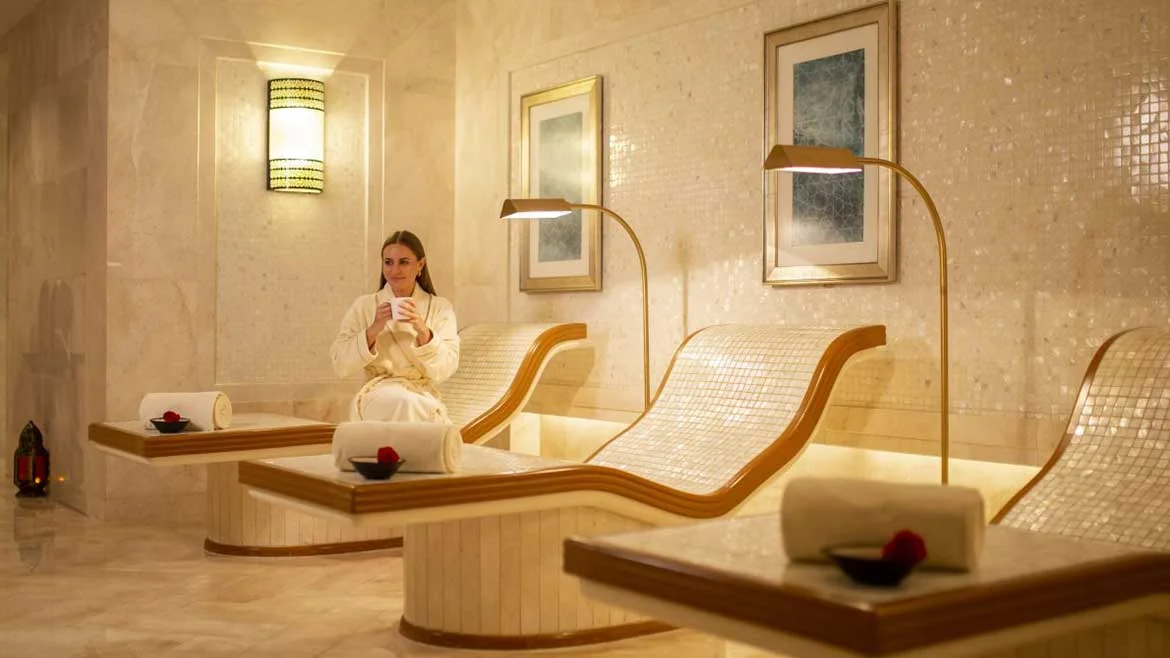 How about enjoying a spacation at JBR?
Now you can easily do so by booking a package with The Ritz-Carlton Spa. This will include a 1-hour full body massage, a complimentary two-course lunch at La Baie and in the end you and your partner will get to savour afternoon tea in the luxurious Lobby Lounge. 
Google Rating

: 4.5

Location

: The Walk, JBR

Timings

: 10 AM – 7 PM

Suggested Duration

: More than 3 hours
7. Talise Ottoman Spa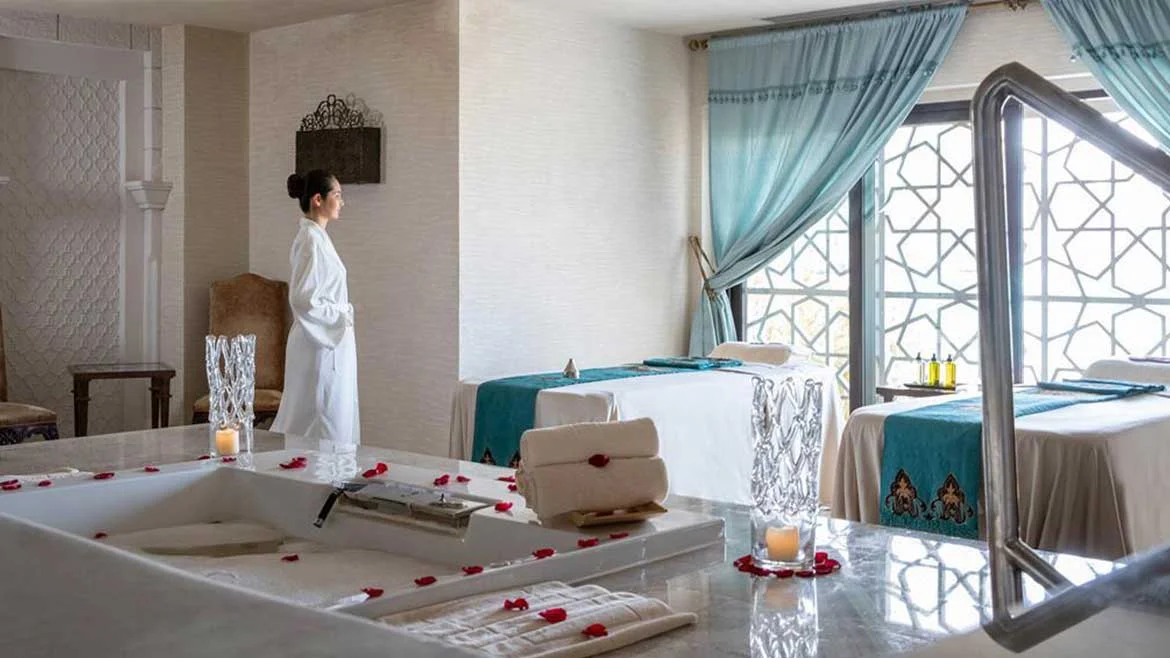 The waterways leading to this blissful spa will give you an experience of a lifetime. As you arrive on the abra boat, the final destination will appear to be pristine with a collection of three luxurious couple suites. 
You and your lover are going to enjoy the best times after you book the package named 'Just the Two of Us'. It will make both of you feel like you have arrived at the ultimate pampering location in Dubai.
Google Rating

: 4.5

Location

:

Jumeirah Zabeel Saray, The Palm Jumeirah, Crescent Road (West)

Timings

: 9 AM – 9:30 PM

Suggested Duration

: 2 – 3 hours
8. ShuiQi Spa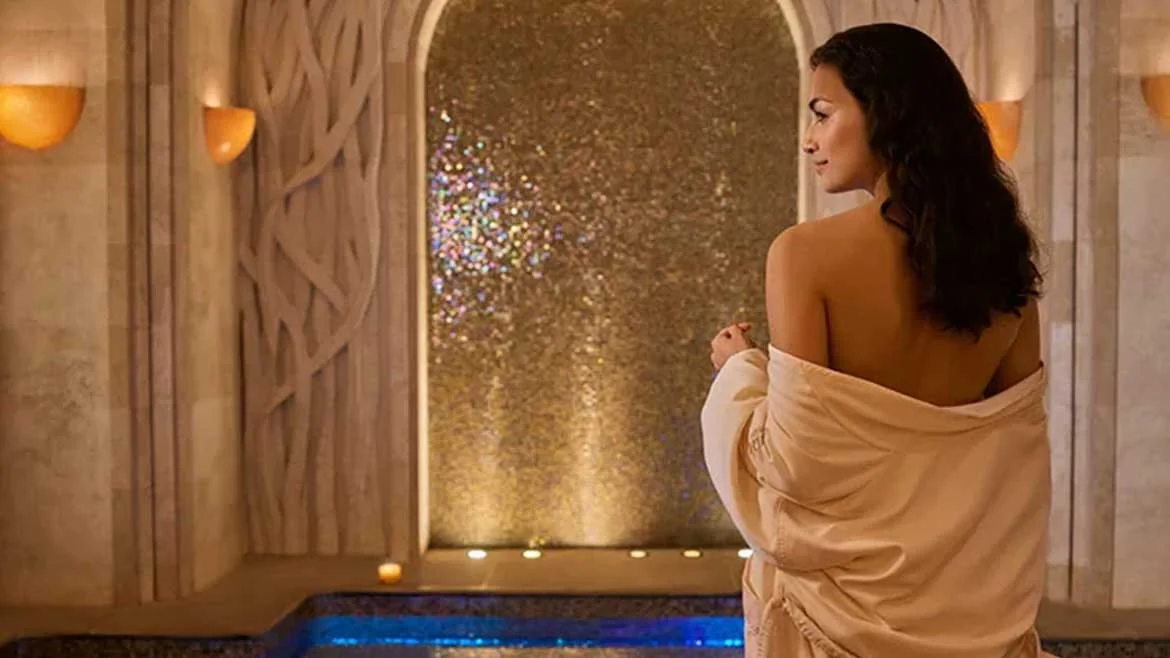 Boasting a 27-room treatment space, this astonishing spa is located in Atlantis. It reflects the theme of an underwater space and houses a mysterious-looking Royal Pool, a private beach and a Zero Entry Pool. 
You can visit here with your partner to get pampered with a 75-minute full-body massage at just AED 295. 
Google Rating

: 4.4

Location

: Atlantis, The Palm

Timings

: 9 AM – 9 PM (from Sunday to Thursday) and 9 PM – 7 PM (on Fridays and Saturdays)

Suggested Duration

: 1 – 2 hours
9. AWAY Spa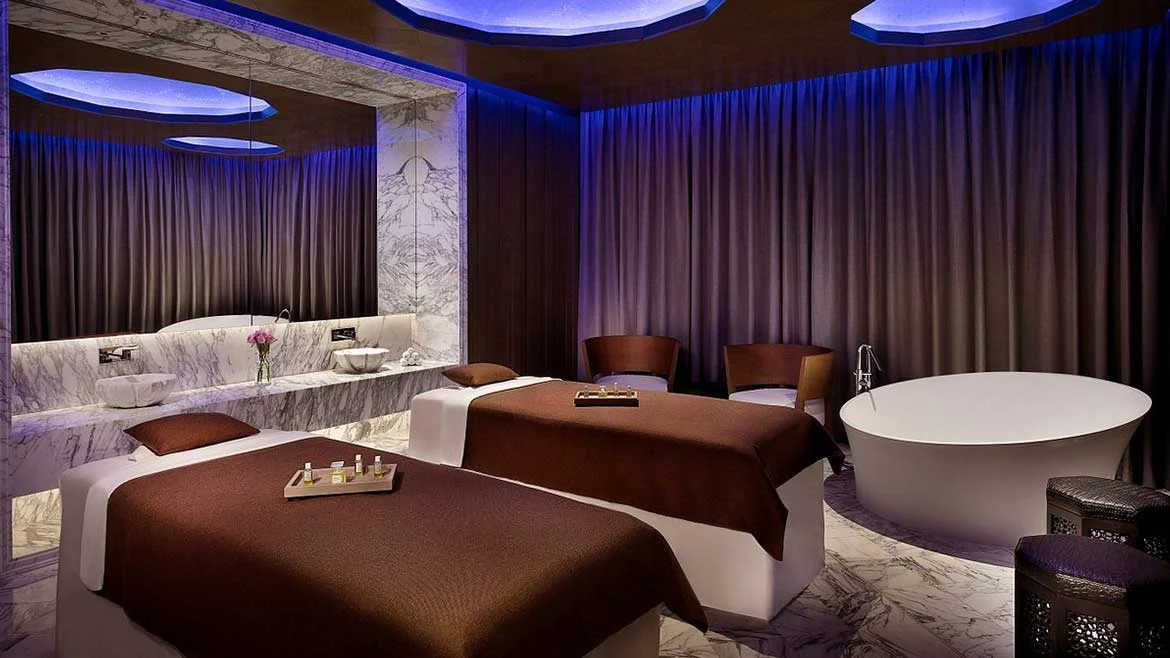 This spa can be your next stop if you're looking to de-stress, detox and reset with a day-cation in Palm Jumeirah. Moreover, if you book a stay at the Palm, you will get a 50% off on all therapies. 
Still, are you waiting for the best part?
You can surely try out the exclusive menu at AWAY Spa Beauty Bar which operates throughout the spa timings.  
Google Rating

: 4.2

Location

:

4446+CR4 – The Palm Jumeirah

Timings

: 10 AM – 10 PM

Suggested Duration

: 2 hours
10. Timeless Spa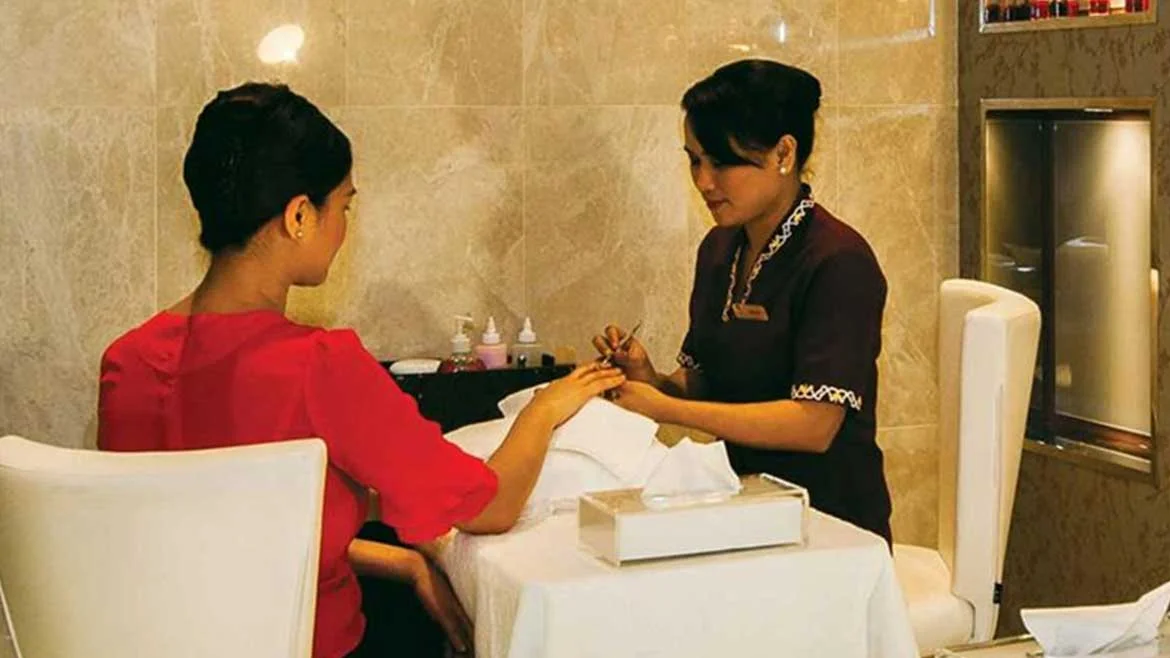 Here you get the ideal pamper one seeks on their honeymoon, that too at a truly secluded setting. Located within a Bedouin-style villa, this spa has private couple's rooms where you may indulge in signature massages. 
Wondering what are the main highlights of the spa menu?
We would definitely recommend you go for the Frankincense Facial and the Herbal Ball Massage for a rejuvenating revival. 
Google Rating

: 4.1

Location

: Dubai International Airport, Terminal 3

Timings

: Open 24 hours

Suggested Duration

: 1 – 2 hours
To receive a romantic couple massage you can visit many spas in Dubai. Meanwhile, some initial research will assure you of getting the luxurious essence and treatment from experienced staff that everyone looks for. 
Go through this list and shortlist any of the locations to make your romantic trip even more memorable.