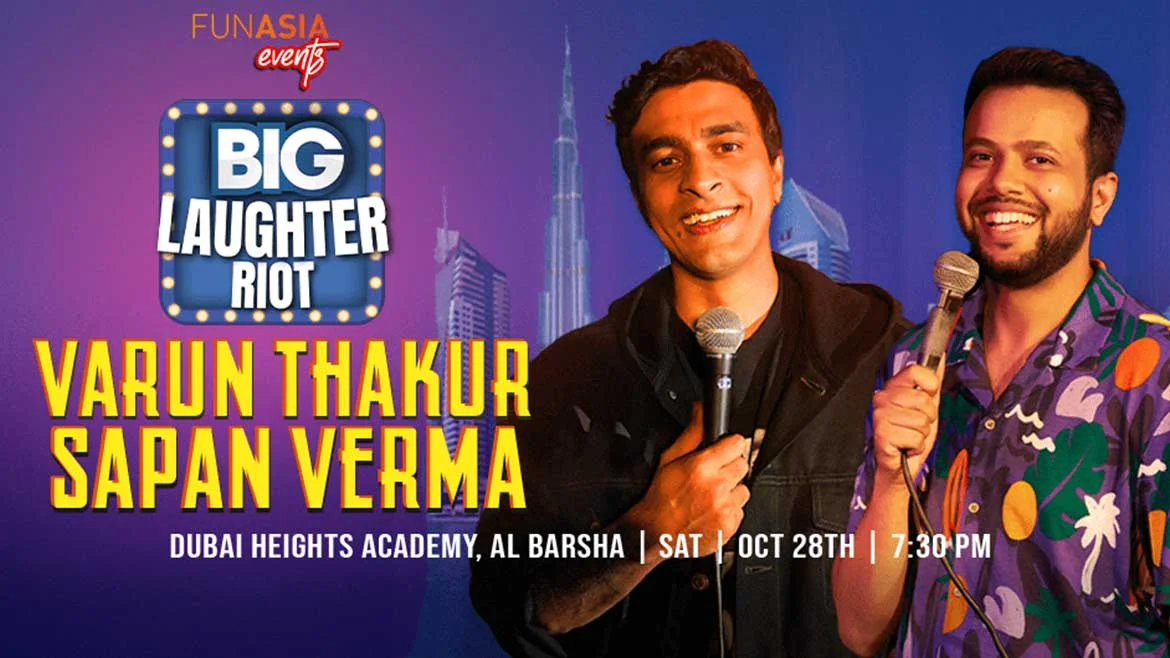 The Big Laughter Riot ft. Varun Thakur & Sapan Verma Live in Dubai
Date & Time – 19:30 Sat 28 Oct 2023
Location – Dubai Heights Academy, Al Barsha Road – Dubai – United Arab Emirates
Description – The 'Big Laughter Riot' returns in yet another edition from Fun Asia Events!
Prepare yourself for a comic extravaganza unlike any other as Sapan Verma and Varun Thakur join forces for a memorable night in Dubai!
Sapan Verma: The Global Comedy Maverick
Sapan Verma is a seasoned performer who has graced stages all over the world. He is renowned for his incisive humor and hilarious storytelling. At India's Global Citizen Festival, he performed onstage with musical luminaries like Coldplay and Jay-Z, and at the Melbourne International Comedy Festival, he created history by hosting the nation's first-ever comedy showcase. Sapan's talent for comedy also extends to coaching famous people in stand-up for the popular show "One Mic Stand" (Amazon Prime). You can't afford to miss his hilarious jokes, so get ready for them!
Varun Thakur: The Comedy Globetrotter
Back in Dubai with yet another funny performance is Varun Thakur. He may be known to you as the creator of the well-known online persona Struggling Actor Vicky Malhotra and as the host of India's most popular comedy podcast, "The Internet Said So". Varun's personal life experiences, hilarious stories, and astute remarks will all be included. Varun will keep you in stitches all night long with his observations on anything from the peculiarities of married life to his love of Mumbai and his unabashed position on marijuana legalization.
Make a note of this comedic spectacular starring Varun Thakur and Sapan Verma on your calendars. Buy your tickets right away for a hilarious, entertaining, and memorable evening!