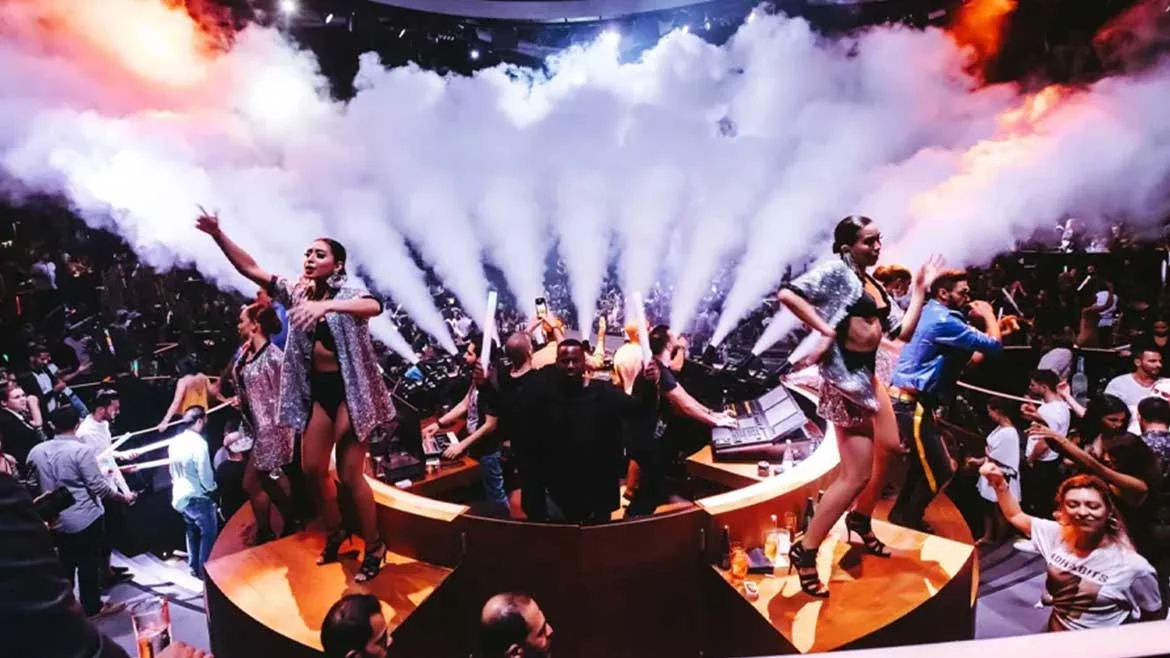 Rules and Regulations of Nightclubs in Dubai
Dubai has a vibrant nightlife scene, and the nightclubs offer various options of entertainment where you can choose from. However, the nightlife in Dubai is unique, and you need to follow specific cultural and legal considerations before partying in this city. In this blog, we will provide you with all the information before you start partying in the nightclubs in Dubai. 
6 Important Nightclub Rules and Regulations in Dubai You Must Follow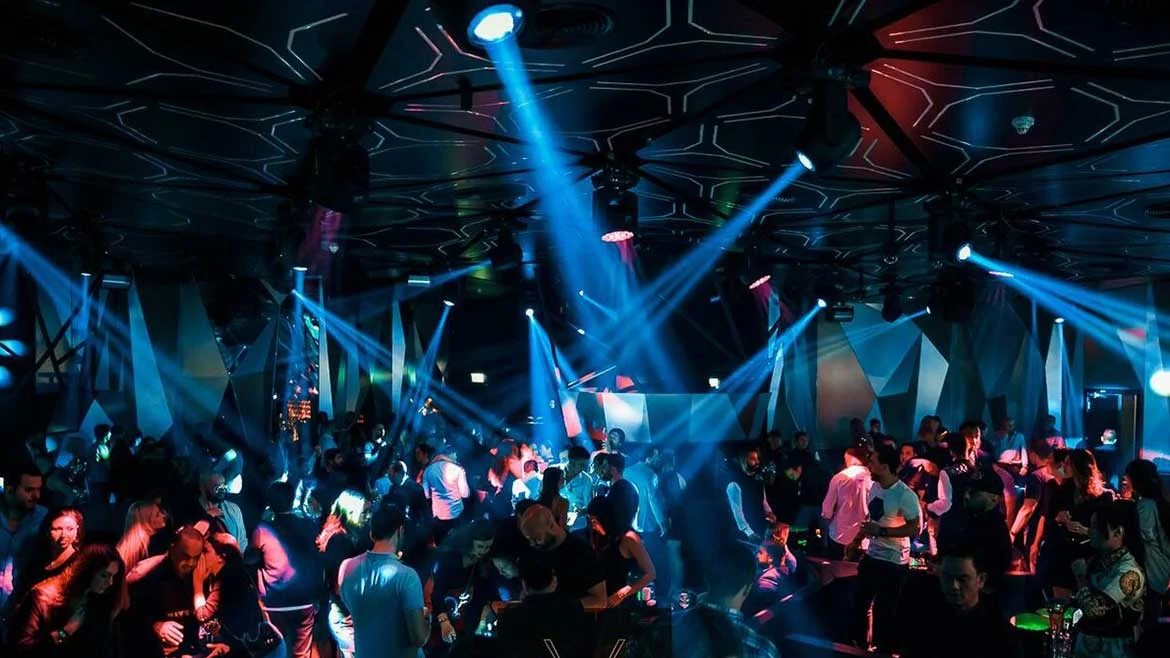 UAE has strict laws when it comes to partying, as you need to follow the bar timing, legal drinking age and dress code. Here are six important rules and regulations to follow in the nightclubs of Dubai:
1. Entry Fee
In Dubai, the entry fees for nightclubs depend on various factors, such as the location, night of the week and popularity of the nightclubs. Some nightclubs charge a cover, or you need to spend a minimum to gain entry into these clubs. The entry fees for nightclubs in Dubai start from AED 50 and can go as high as AED 1000, depending on its popularity. However, some clubs do not charge any money during non-peak seasons. 
2. Drinking Age
Since it is an Islamic city, Dubai has strict laws and regulations for consuming alcohol. The authority of Dubai allows the consumption of alcohol in some nightclubs in Dubai. If a person is above 21 years of age and has a valid liquor licence issued by the government of Dubai, the person can consume alcohol in authorised establishments, like nightclubs.
 The nightclubs have separate drinking areas where you can enjoy your drink. However, you are not allowed to take your drink outside the designated area. You must drink responsibly and follow all rules and regulations of this city related to drinking. 
3. Smoking 
Smoking is prohibited in all indoor public places in Dubai, which includes bars, restaurants, clubs, etc. The administration of this city imposes this ban to promote a clean and healthy environment for all its citizens. 
However, some clubs have designated smoking areas or spaces in their terraces where you can smoke. You must check the smoking policy of the clubs with the staff to respect their guidelines and regulations related to smoking in that area. 
4. Identification
You must carry your ID to enter the nightclubs in Dubai. Identification is mandatory for verifying the identity and age of the guest. If you are a local or a UAE resident, you must carry your Emirates ID or valid driving licence to gain entry into the clubs of Dubai. In case you are a tourist, you must show your passport to enter the clubs. 
The nightclubs in Dubai have strict rules and regulations to follow, as they are not allowed to serve alcoholic beverages to underage guests. Therefore, you must carry a valid ID when visiting clubs in Dubai, or the staff will deny your entry.
5. Dress Code
The dress you want for partying in a nightclub in Dubai depends on the club's dress code policy. Many nightclubs require the guests to dress in a stylish and fashionable manner. You must also consider the atmosphere and theme of the club before dressing up.
If a club has a casual ambience, you can wear jeans and a T-shirt to bring in a relaxed vibe. However, if the club is luxurious, you must wear formal attire. In addition, you must wear comfortable shoes to dance and move around comfortably inside the club. 
6. Age Limit 
In Dubai, the legal drinking age is 21 years, and most clubs have a minimum entry age limit of 21 years. Therefore, you need to show your identification to the staff of the clubs and verify your legal drinking age to enter these venues. 
However, some nightclubs have a higher minimum age limit of 25 or 30 years. These nightclubs serve older clients and guests. 
5 Best Nightclubs in Dubai to Party All Night
Dubai offers a variety of entertainment options, which includes nightclubs. There are several nightclubs in Dubai, and most are jam-packed during the weekends. Here are a few famous nightclubs in Dubai that you must visit to enjoy with your friends or partner.
1. Trilogy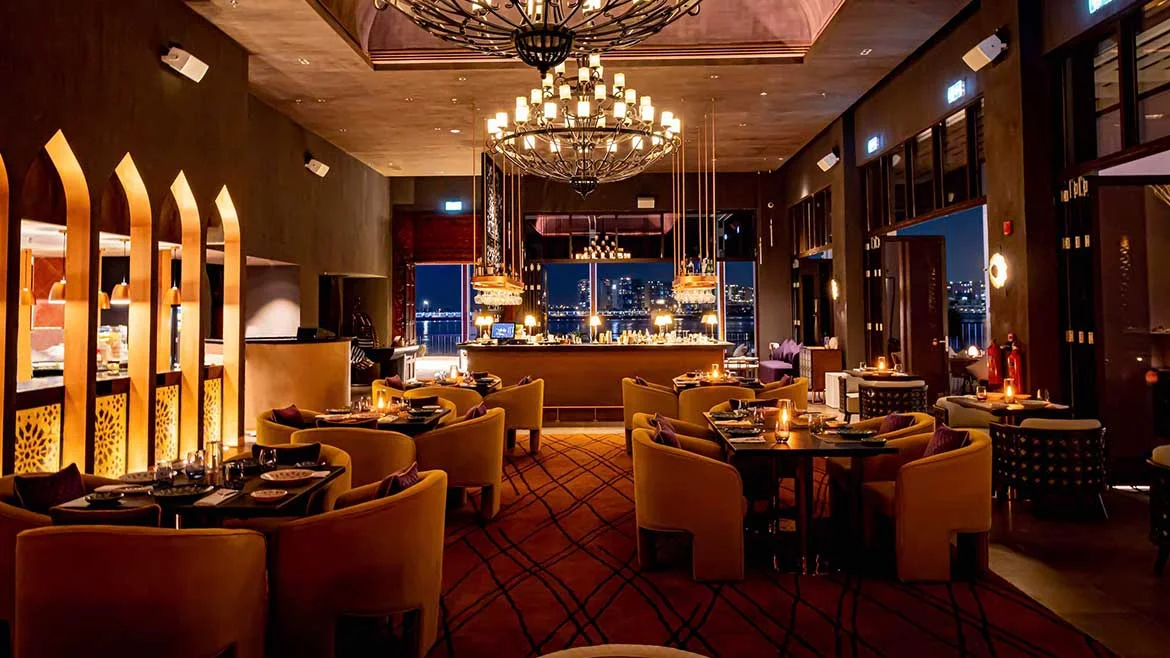 It is a perfect palace for music lovers and partygoers, as it hosts international DJs regularly. Trilogy has a rooftop terrace where you can witness an optimistic and joyful atmosphere. In addition, you can pay to access their VIP areas, from where you can spectate the mesmerising views of Madinat Jumeirah and the city of Dubai. 
Location:

45MP+9FW – Souk Madinat Jumeirah – Dubai
Entry Fee:

It charges AED 60 in case a special DJ or musician comes to perform
2. Club 360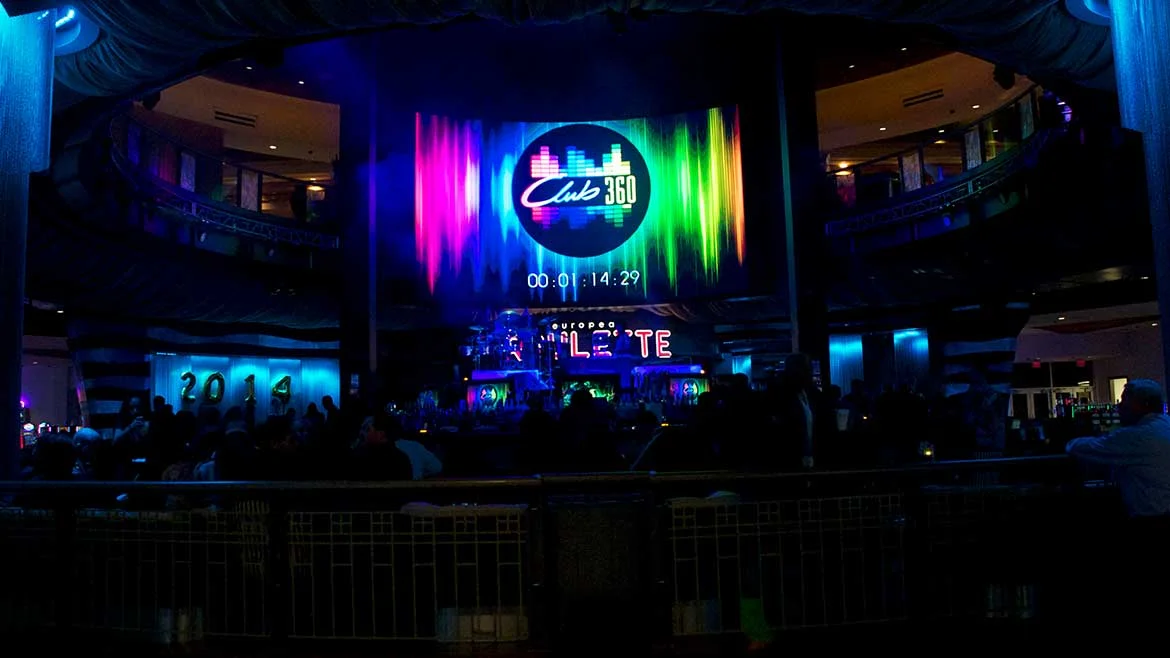 Club 360 has an inviting space for dance, dinner and drinks. The bar features top local and international artists and DJs who will play music according to your wish. It is one of the favourite spots for party lovers. You can visit this bar to witness the amazing sunset while enjoying your drink and dancing to your favourite music. 
Location:

Jumeirah Beach Hotel, End of the Marina Walkway, Jumeirah Road, Dubai, UAE
Entry Fee:

AED 172 per person
3. Zero Gravity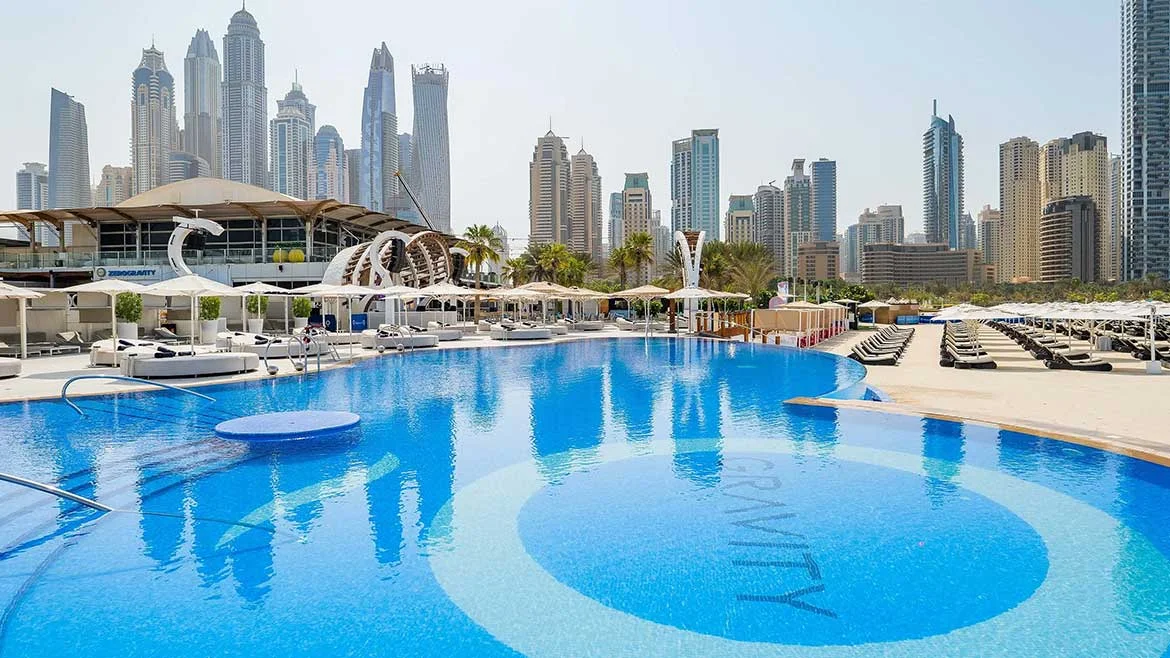 Zero Gravity is an entertainment hotspot in Dubai, including a beach club, garden, restaurant and bar. As the sun goes down, Zero Gravity transforms into a party venue where internationals perform and mix their beats. In addition, you can dine and drink in this venue while enjoying the view of the sea waves. 
Location:

Dubai Marina, Skydive Dubai Drop Zone, King Salman Bin Abdulaziz Al Saud Street, Dubai, UAE
Entry Fee:

Weekdays AED 100 and weekends AED 150 per person
4. Cavalli Club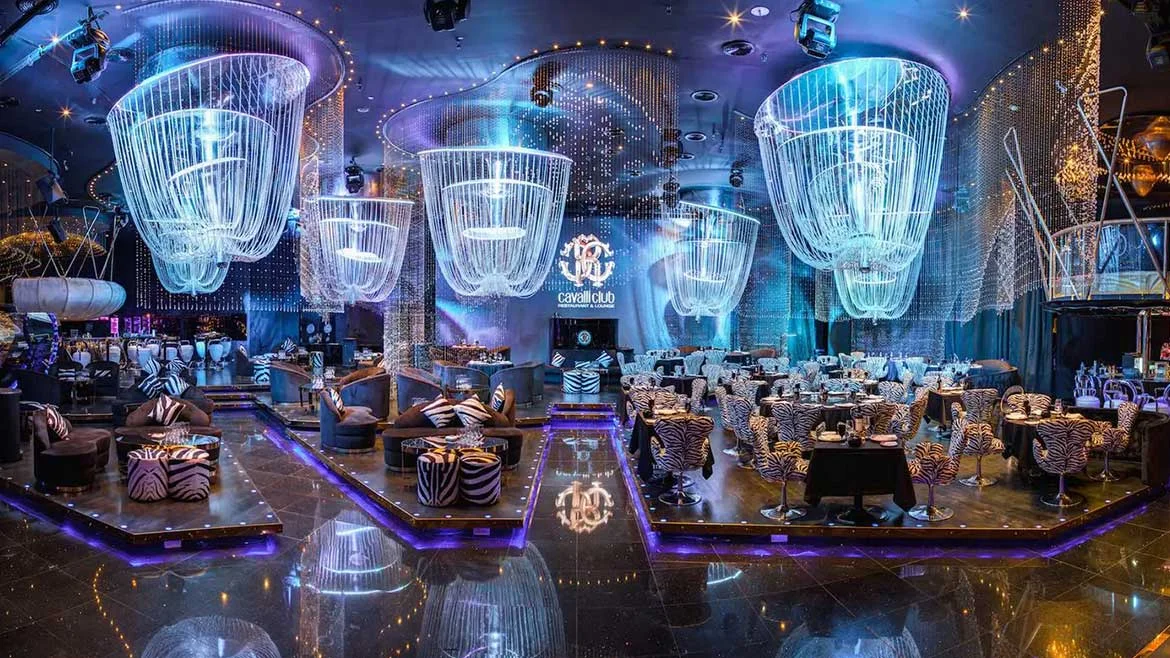 Cavalli Club is one of the oldest nightclubs in Dubai. The club offers an exclusive experience to its guests, as it still has its original charm, which drives huge crowds towards itself. It has a fine interior decoration comprising chandeliers, glamorous furnishing and Swarovski crystals. You must visit Cavalli Club to try their signature mocktails, cocktails and delicacies. 
Location:

Fairmont Dubai, Sheikh Zayed Road, Trade Centre, Trade Centre 1, Dubai, UAE
Entry Fee:

AED 500, which includes the entry fee and dining and drinking costs for two persons.
5. BASE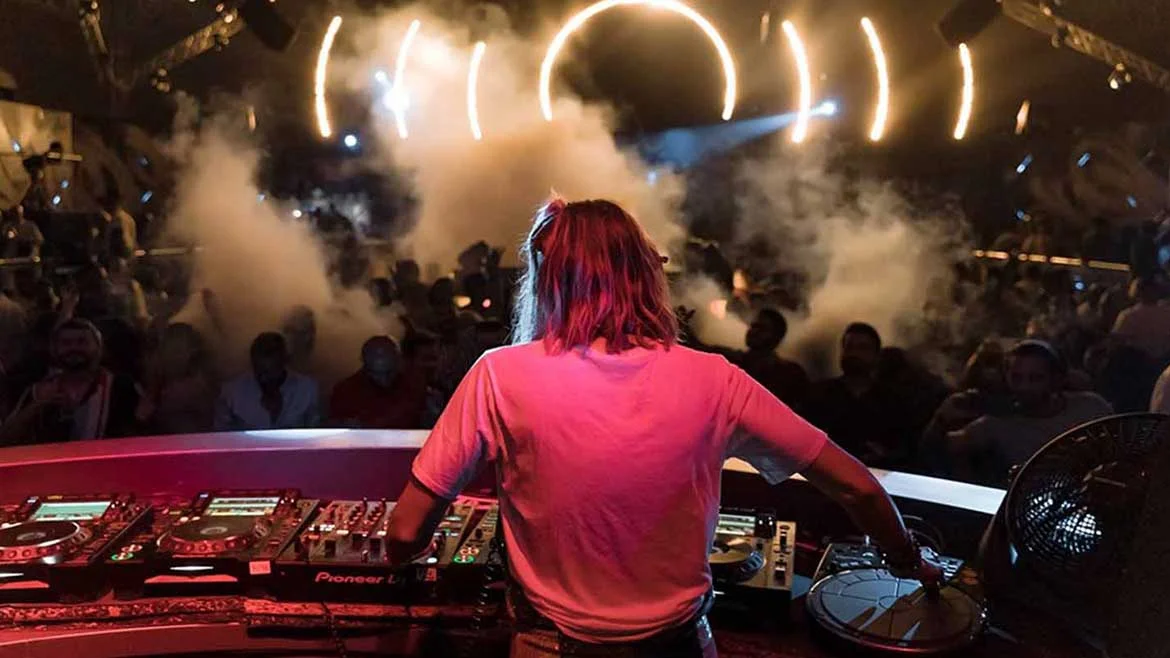 It is one of the most popular nightclubs in Dubai because of the international DJs and dancers who perform next to the pool and private cabanas. All these things make it a perfect place to drink and dance with your buddies. It also features ladies' night, where they offer free drinks until 1 a.m. 
Location:

Ras Al Khor Road – Dubai Design District (D3), Dubai, UAE
Entry Fee:

The tickets and alcohol can cost approximately AED 500 for two persons. However, it is free for ladies excluding any special occasion. 
Hence, if you want to enjoy the nightlife of Dubai, you can visit these nightclubs to party with your squad or partner. These clubs offer one of the best experiences to their guests. However, you must follow the rules and regulations of the administration while visiting these nightclubs.